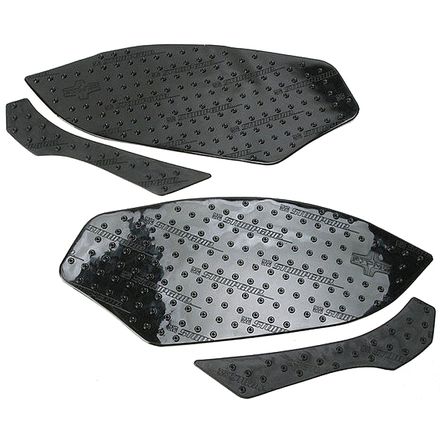 ---
10% Off - Save up to $5.49
---
5 Star
9
4 Star
3
3 Star
0
2 Star
0
1 Star
2
Write a Review
Write your review and you'll automatically be entered in our monthly drawing. Include an image or video to DOUBLE your chances to win!
Write Your Review
1 day 22 hours ago
Long Island, NY
Look great!
Easy to put on and they have stayed put so far and helps from sliding forward on the seat...
1 year 1 month ago
Kuna,Id
Stomp grips
I have adjustable rearsets and wanted a larger grip area for when I move the rearsets. These grips allow me to do that and still maintain a good contact. Being the clear also lets the bikes colors show up. Since there are two curves on the tank it was a little tricky applying them alone. I would would buy them again. Thank you Motosport.
1 year 2 months ago
Lowell ma
Good idea, bad adhesive
So I understand this has nothing to do with Motosport, I tried contacting stomp grip directly before writing this, they never got back to me, long story short followed the instructions, still ended up with air bubbles , no biggie, 1 week later one side is already hanging off the bike, total bs , don't waste your money, still trying to contact stomp grip for a new set, but I basically wasted $40 for nothing
Awesome grip
Feels like it grabs your jeans and dont let go. Definitely a must have to get a better feel of your bike and feel comfortable on your leans. Ride safely ZX6-R
1 year 6 months ago
Santa Monica, CA, USA
Buyer beware
this doesn't stick to matte plastic. i purchased for a friend's 2008 ninja 250.

two dings on the product.

1) the pads aren't cut right. you have to use a heat gun and stretch it a bit to improvise a match.
2) the product is using simple 3m contact adhesive but doesn't provide anything to prepare the surface.

i washed and alcohol-wiped the matte plastic side covers. the pads failed to adhere. They stick fine to glossy material but not matte. Two options i can think of is to mask off and use contact cement on the side panels. Considering I just paid $50 for a slice of silicon, I would think that StompGrips would provide this or at least mention in the instructions. The other option would be to mask off and sand the side panel smooth.

Again, both terrible options considering how much you're paying for a chunk of silicon.

Stomp Grips, fix your template, stop phoning it in and update your product.
1 year 7 months ago
Simi Valley, CA, USA
Zx14 2006
Went on easy, cleaned surfaces before install and had no problems. Provides for enhanced grip while on the bike. Riding the bike with just jeans was ok. Wearing a one piece track suit gives you that next level of grip.
Great product. Fit not exactly perfect.
Bought this for my r6. The fit is good but not perfect. Not as much pad needed as supplied. I kind of wish I had trimmed it down a bit. But...It is great for control of the bike. Excellent grip means no more getting crammed up against the tank during short stops. Also very easy to grip the bike with my knees now so it adds excellent control. Overall I am satisfied with this product.
Over 4 years ago
Minneapolis, MN, USA
Volcano Stomp Grip
I use these Stomp Grip Volcano traction pads on my bike to increase contact & control with my bike. I use my bike for trackday events and these grips reduce fatigue and improves control.

Stompgrip products feature 3M adhesive backing that works very well when applied correctly. I have no problems with adhesion when I follow the instructions. I am also impressed with the quality of the universal and bike specific pads.

I recommend this product to my fellow riders and I certainly install these grips on any trackbike I own.
Over 5 years ago
Port Saint Lucie, FL
Grip pads
Before installing these grip pads i would be sliding back and forth on my seat while i ride. When i would lean into a turn or curve it would be scary cause I would slide too much, now that doesnt happen anymore.
Q: I have a 2016 zx10r will this black stomp grip traction pads fit my bike? and do you have a k+n air filter for my bike also?
MotoSportExpert
2 years 5 months ago
A: The Stomp pad would likely fit. Unfortunately both Stomp Grip and K&N do not yet have fitment for the 2016 Kawasaki ZX10R abs.
Q: Will these be uncomfortable with just jeans? Will they wear out the jeans?
MotoSportExpert
Over 5 years ago
A: Without any knee protection these will more than likely not be so comfortable for you. That would also depend though how hard you grip the bike with your knees and how hard you ride. If you squeeze hard or move around a lot then these can be rough on the knees. Being a gripper material with the raised nubs, there will be more friction on the pants which will wear them out quicker. How much quicker will again depend on how hard you squeeze and how hard you ride.
Q: What pieces are included?
james718
Over 9 years ago
A: Depending on the type of bike/atv will determine what you'll receive.
See all bikes that this part fits...
| Product Variant | Manufacturer Part # |
| --- | --- |
| Clear | 55-10-0011 |
| Black | 55-10-0011B |
| Clear | 55-10-0038 |
| Black | 55-10-0038B |
| Clear | 55-10-0039 |
| Black | 55-10-0039B |
| Clear | 55-10-0045 |
| Black | 55-10-0045B |
| Clear | 55-10-0114 |
| Black | 55-10-0114B |
| Clear | 55-10-0117 |
| Black | 55-10-0117B |
| Clear | 55-10-0125 |
| Clear | 55-10-0128 |
| Clear | 55-10-0135 |
| Clear | 55-10-0137 |
| Clear | 55-10-0142 |
| Clear | 55-10-0072 |
| Clear | 55-10-0075 |
| Clear | 55-10-0083 |
| Clear | 55-10-0080 |
| Clear | 55-10-0081 |
| Clear | 55-10-0082 |
| Clear | 55-10-0064 |
| Clear | 55-10-0063 |
| Clear | 55-10-0065 |
| Clear | 55-10-0067 |
| Clear | 55-10-0066 |
| Clear | 55-10-0021 |
| Clear | 55-10-0016 |
| Clear | 55-10-0019 |
| Clear | 55-10-0017 |
| Clear | 55-10-0015 |
| Clear | 55-10-0020 |
| Clear | 55-10-0018 |
| Clear | 33-10-0008 |
| Clear | 55-10-0036 |
| Clear | 55-10-0035 |
| Clear | 55-10-0030 |
| Clear | 55-10-0034 |
| Clear | 55-10-0040 |
| Clear | 55-10-0033 |
| Clear | 55-10-0029 |
| Clear | 55-10-0031 |
| Clear | 55-10-0032 |
| Clear | 55-10-0037 |
| Clear | 55-10-0058 |
| Clear | 55-10-0059 |
| Clear | 55-10-0050 |
| Clear | 55-10-0049 |
| Clear | 55-10-0053 |
| Clear | 55-10-0056 |
| Clear | 55-10-0047 |
| Clear | 55-10-0048 |
| Clear | 55-10-0052 |
| Clear | 55-10-0054 |
| Clear | 55-10-0057 |
| Clear | 55-10-0055 |
| Clear | 55-10-0051 |
| Clear | 55-10-0077 |
| Clear | 33-10-0007 |
| Clear | 55-10-0008 |
| Clear | 55-10-0009 |
| Clear | 55-10-0001 |
| Clear | 55-10-0002 |
| Clear | 55-10-0006 |
| Clear | 55-10-0007 |
| Clear | 55-10-0004 |
| Clear | 55-10-0005 |
| Clear | 55-10-0010 |
| Clear | 55-10-0003 |
| Clear | 55-10-0022 |
| Clear | 55-10-0023 |
| Clear | 55-10-0068 |
| Clear | 55-10-0042 |
| Clear | 55-10-0078 |
| Clear | 55-10-0012 |
| Clear | 55-10-0024 |
| Clear | 55-10-0026 |
| Clear | 55-10-0043 |
| Clear | 55-10-0044 |
| Clear | 55-10-0060 |
| Clear | 55-10-0061 |
| Clear | 55-10-0062 |
| Clear | 55-10-0069 |
| Clear | 55-10-0070 |
| Clear | 55-10-0071 |
| Clear | 55-10-0079 |
| Clear | 55-10-0084 |
| Clear | 55-10-0086 |
| Clear | 55-10-0087 |
| Clear | 55-10-0092 |
| Clear | 55-10-0093 |
| Clear | 55-10-0094 |
| Clear | 55-10-0095 |
| Clear | 55-10-0097 |
| Clear | 55-10-0098 |
| Clear | 55-10-0099 |
| Clear | 55-10-0100 |
| Clear | 55-10-0101 |
| Clear | 55-10-0102 |
| Clear | 55-10-0103 |
| Clear | 55-10-0104 |
| Clear | 55-10-0105 |
| Clear | 55-10-0106 |
| Clear | 55-10-0107 |
| Clear | 55-10-0108 |
| Clear | 55-10-0109 |
| Clear | 55-10-0110 |
| Clear | 55-10-0112 |
| Clear | 55-10-0113 |
| Clear | 55-10-0115 |
| Clear | 55-10-0120 |
| Clear | 55-10-0121 |
| Clear | 55-10-0122 |
| Clear | 55-10-0123 |
| Clear | 55-10-0124 |
| Clear | 55-10-0129 |
| Clear | 55-10-0130 |
| Clear | 55-10-0131 |
| Clear | 55-10-0132 |
| Clear | 55-10-0136 |
| Clear | 55-10-0138 |
| Black | 55-10-0072B |
| Black | 55-10-0075B |
| Black | 55-10-0083B |
| Black | 55-10-0081B |
| Black | 55-10-0082B |
| Black | 55-10-0064B |
| Black | 55-10-0063B |
| Black | 55-10-0065B |
| Black | 55-10-0067B |
| Black | 55-10-0066B |
| Black | 55-10-0021B |
| Black | 55-10-0016B |
| Black | 55-10-0019B |
| Black | 55-10-0017B |
| Black | 55-10-0015B |
| Black | 55-10-0020B |
| Black | 55-10-0018B |
| Black | 33-10-0008B |
| Black | 55-10-0036B |
| Black | 55-10-0035B |
| Black | 55-10-0030B |
| Black | 55-10-0034B |
| Black | 55-10-0040B |
| Black | 55-10-0033B |
| Black | 55-10-0029B |
| Black | 55-10-0031B |
| Black | 55-10-0032B |
| Black | 55-10-0037B |
| Black | 55-10-0058B |
| Black | 55-10-0059B |
| Black | 55-10-0050B |
| Black | 55-10-0049B |
| Black | 55-10-0053B |
| Black | 55-10-0056B |
| Black | 55-10-0047B |
| Black | 55-10-0048B |
| Black | 55-10-0052B |
| Black | 55-10-0054B |
| Black | 55-10-0057B |
| Black | 55-10-0055B |
| Black | 55-10-0051B |
| Black | 55-10-0077B |
| Black | 33-10-0007B |
| Black | 55-10-0008B |
| Black | 55-10-0009B |
| Black | 55-10-0001B |
| Black | 55-10-0002B |
| Black | 55-10-0006B |
| Black | 55-10-0007B |
| Black | 55-10-0004B |
| Black | 55-10-0005B |
| Black | 55-10-0010B |
| Black | 55-10-0003B |
| Black | 55-10-0022B |
| Black | 55-10-0023B |
| Black | 55-10-0068B |
| Black | 55-10-0041B |
| Black | 55-10-0042B |
| Black | 55-10-0078B |
| Black | 55-10-0012B |
| Black | 55-10-0024B |
| Black | 55-10-0026B |
| Black | 55-10-0043B |
| Black | 55-10-0044B |
| Black | 55-10-0061B |
| Black | 55-10-0062B |
| Black | 55-10-0069B |
| Black | 55-10-0070B |
| Black | 55-10-0071B |
| Black | 55-10-0079B |
| Black | 55-10-0084B |
| Black | 55-10-0086B |
| Black | 55-10-0087B |
| Black | 55-10-0092B |
| Black | 55-10-0093B |
| Black | 55-10-0094B |
| Black | 55-10-0095B |
| Black | 55-10-0097B |
| Black | 55-10-0098B |
| Black | 55-10-0099B |
| Black | 55-10-0100B |
| Black | 55-10-0101B |
| Black | 55-10-0102B |
| Black | 55-10-0103B |
| Black | 55-10-0104B |
| Black | 55-10-0105B |
| Black | 55-10-0106B |
| Black | 55-10-0107B |
| Black | 55-10-0108B |
| Black | 55-10-0109B |
| Black | 55-10-0110B |
| Black | 55-10-0112B |
| Black | 55-10-0113B |
| Black | 55-10-0115B |
| Black | 55-10-0120B |
| Black | 55-10-0121B |
| Black | 55-10-0122B |
| Black | 55-10-0123B |
| Black | 55-10-0124B |
| Black | 55-10-0129B |
| Black | 55-10-0130B |
| Black | 55-10-0131B |
| Black | 55-10-0132B |
| Black | 55-10-0136B |
| Black | 55-10-0138B |