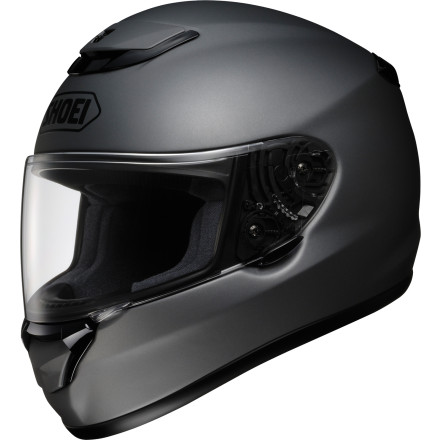 Shoei Qwest Helmet
Product Not Available
Unfortunately, we no longer carry this item. It may be discontinued or have just sold out.
Please contact Customer Service (1-888-676-8853) or search for another product if you continue to see this message.
No matter what we ride, where our final destination, or the path we choose to get there, every motorcyclist shares the same common thread when throwing a leg over their machine. It's the exhilarating search for adventure that draws us to the road, and SHOEI's all-new QWEST embodies what every rider seeks to experience along the way. Revolutionary noise-reduction technology, unsurpassed long-distance comfort, advanced ventilation performance, a light weight, balanced fit and feel, and over 50 years of helmet-building experience have combined to deliver the finest touring helmet known to man. The all-new, groundbreaking QWEST - It's your journey...Enjoy every mile of it.
Noise Reduction Technology: Countless hours in SHOEI's in-house wind tunnel have yielded a reduction of wind noise without blocking the road's "informative sounds" thanks to optimal shell aerodynamics, and liner components designed to prevent unwanted road noises from entering through the bottom of the helmet. The result: A maximum 2.2 dB* reduction in sound. (*Noise levels vary based on motorcycle type, riding position, environmental sounds, etc.)
Q.R.S.A. (Quick Release Self-Adjusting) Base Plate System: Need to change from clear to tint? SHOEI's Quick Release Self-Adjusting (QRSA) base plate system includes a locking mechanism that allows you to do just that in a snap - no tools, no hassle, no problems! Building on the successful QRBP, the QRSA maintains its predecessor's easy-to-use features - like the simple shield release and attachment, and shield preset lever - but offers a significant advantage. SHOEI's patented new spring-loaded technology featured in the QRSA eliminates the need to adjust base plates for proper sealing. Every time the shield is lowered, the spring-loaded base plates pull the shield back to contact the window beading evenly, ensuring a wind and waterproof seal.
CW-1 Shield: The all-new CW-1 shield is both wider and taller than the CX-IV that it replaces. In addition, the CW-1 shield protects SHOEI riders from 99% of the sun's damaging UVA and UVB rays, and the three-dimensional injection-molding process ensures distortion free vision. Another advantage of the CW-1 shield is its ability to work in conjunction with SHOEI's optional Pinlock(r) system to deliver fog-free vision in even the most challenging conditions. The new CW-1 Pinlock(r) lens is larger, and offers fog-free viewing to the very top of the helmet's larger eye port.
AIM+ Shell Construction (Snell M2010 and DOT Approved): SHOEI's proprietary AIM+ technology combines fiberglass with organic fibers that are so strong they can only be cut with a laser. The end result is a stronger, lighter shell that will absorb and distribute the force of an impact safely and efficiently.
Five Shell Sizes: While some competitors rely on foam padding for fitting a wide range of customers, SHOEI offers an industry-leading five shell sizes in the new QWEST to ensure a custom fit for heads between the sizes of XXS - XXL.
Shell-Integrated Spoiler: New shell forming technology created during the development of SHOEI's groundbreaking VFX-W motocross helmet has allowed SHOEI to eliminate the need for a plastic spoiler on the all-new QWEST. This new technology has allowed SHOEI to incorporate the aerodynamic advantages of a spoiler into the shell of the helmet, while maintaining consistent shell thickness to guarantee proper strength and weight. This shell-integrated spoiler works to reduce lift during high-speed riding, just like the spoiler on a sports car.
Ventilation Performance: Utilizing SHOEI's wind tunnel to help reveal the optimal balance between airflow and silence, SHOEI engineers equipped the all-new QWEST with a larger lower vent shutter for easier use with riding gloves; a strategically-positioned upper vent for optimal air intake, and uniquely-positioned upper exhaust vents to take better advantage of negative pressure suction - all yielding dramatically-improved cool-air intake and hot-air expulsion.
Dual-Layer EPS Liner: Dual layer liner yields enhanced impact absorption by adjusting thickness and density in key areas. Inner liner features air channels for efficient cooling. Impact-absorbing EPS liner throughout the entire chin bar.
Interior Comfort System: The all-new QWEST is equipped with a 3D center pad, fully removable, washable, and replaceable multi-layer cheek pads, and removable chinstrap covers. The 3D center pad components are three-dimensionally shaped to match the contours of a rider's head. This 3D fitment allows SHOEI to provide a helmet with an extremely comfortable fit, while maintaining the firm hold that is necessary for distraction-free, high-speed riding. The QWEST's multi-layer cheek pads are available in six different thicknesses to allow riders to customize the fit of their new helmet. In addition, the liner features eyeglass channels and an integrated neck pad.
Chin Curtain: The chin curtain can be inserted into the lower edge of the chin bar to reduce wind turbulence and noise.
Breath Guard: The breath guard can be inserted into the upper edge of the chin bar to help reduce fogging by diverted exhausted breath down out the bottom of the helmet.
Five-Year Warranty: Five-year warranty from purchase date. Seven-year warranty from helmet manufacture date. Whichever comes first.
Meets or exceeds SNELL and DOT standards.
Report Incorrect Product Information