Shinko
Shinko 777 Front Tire - Whitewall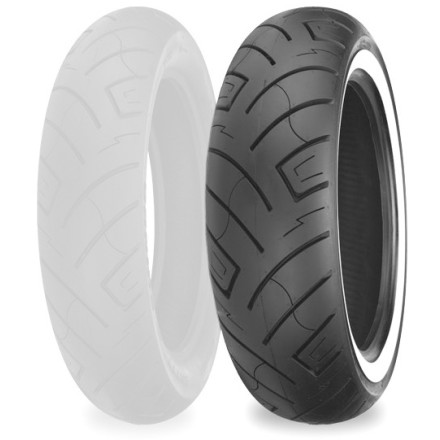 Shinko 777 Front Tire - Whitewall
---
25% Off - Save up to $38.00
---
5 Star
34
4 Star
8
3 Star
1
2 Star
0
1 Star
0
Write a Review
Write your review and you'll automatically be entered in our monthly drawing. Include an image or video to DOUBLE your chances to win!
Write Your Review
9 days 23 hours ago
37821
ROAD KING MILEAGE ON REAR
Easy to chose !!!
First of all the BEST price that you can find.
Second - I have no idea what is my size, and I just entered year and model and size was found automatically!!
OUTSTANDING BEST TIRE I EVER HAD
My 2014 vstar 1300 came with Dunlop, I switched to Michelin, which I didn't like at all (noise vibration) read reviews on shinkos and made the switch bought both front and rear. Wasted 4 years on the other tires. Love these for grip, sound and of course price. Customer service was best I've seen.got my tires within a week! Stop shopping and buy these.
1 month 1 day ago
Middle of NC
Shinko 777 on a '08 Sportster XL1200C
Shinko 777 90/90 21 Front and 777 150/80-16 Reinforced rear review. I just bought this bike and wasn't sure what to put on. I've had good results with Shinko in the past and have read several reviews saying the 777 are good. I went with the "reinforced" rear which means that it handles more weight. I've put around 300 miles on them and they're not broken in... still have the whiskers on them. I guess that means they wear well. The traction is very good in a corner with no squirm or mushy feel at 30 psi front and 35 rear. I'm pretty happy with the performance and very happy with the price. This is a good tire, not just a good tire for the price. If you're not sure what to put on like I was, the 777 will work.
1 month 12 days ago
Goodyear A
Price and performance
Got about 1500 miles on the set , every bit as good as the Avon's I've been riding on for 22 years ..if they get decent mileage , they'll be my go to tire !
2 months 11 days ago
Idaho
The 777 is a great tire for heavy cruisers
I have sold lots of 777 Shinko tires, they have the weight capacity and speed rating for Harley Davidsons a great price and better performance in my opinion than the stock tires, have never had to warranty one! The White walls are really cool on the full fender bikes.
2 months 18 days ago
Madison, In
Great white walls
Bought a month ago. Very happy
2 months 26 days ago
Oklahoma
Great Price Great Package - Good Tires
Purchased this package for 2004 Honda VTX 1300 - They Look and ride great. I Had the dealer do the mounting and alignment. Peace of mind when riding down the Highway.
Baby D
Q: I have a 1998 Honda Shadow VT 750 ACE I was wondering would a 130/80/17 fit on it. It comes with a 120/90/17 tire but I wanted to switch to a white wall. (Wanted to switch to a Shinko 777 white wall Tire Combo)
Toby
Q: Why is there and additional $ charge on tires
Paul
1 month 20 days ago
A: Some states require a "tire disposal" fee.
Overkill71
Q: Would you recomend going with the reinforced front tire for my 1998 harley davidson road king? Also I noticed in some other adds about this tire it's being called heavy duty.... are the reinforced considered heavy duty? 130/90/16
htshack
Q: My 2003 Honda 1800R calls for 150/80R/17 tire on front, and 180/70R/16 on rear. I would like to put Shinko 777 combo on my bike, but my sizes are not
listed for this tire. Will 140/80/17 work on the front and 180/65/16 work on the rear on my bike. My bike has mag wheels and the tires on it now are radial, these Shinko's are not.
David
1 year ago
A: That tire size set it will work but it's always recommended to stick with OEM sizing.
Phreak
Q: Will the reinforced tire fit my bike and will I have to get new tubes
eskorbuto
Q: Would a 150/90-15 fit if my bike runs 140/90-15
Sidney
Q: How much to put this combo on my doors ? The Shinko 777 tire combo ( total price & shipping ) Thanks...
MotoSportExpert
Over 3 years ago
A: To better assist you with your international order, please use the international checkout option on our website as we require that ALL international orders be placed via our website. Just add items to your basket and click on the checkout button. BorderFree will calculate and display a guaranteed and lowest possible order total in your preferred currency, including all shipping costs from the U.S. to your selected international destination, as well as any applicable duties and taxes as determined by the destination customs and revenue authorities. At that time if you are not satisfied with the total price you may simply delete the items from your cart.

http://www.motosport.com/about/international_faq
C3h4i
Q: Can these tires fit a vtx 1300 retro 05
MotoSportExpert
Over 3 years ago
A: No. Front Tire 140/80x17 would fit but the Rear Tire on your bike is a 170/80x15. The 16 would not be the correct rim size. Feel free to give us a call at 888-676-8853 and we would be happy to help you out with your order.
Mack
Q: How wide is the whitewall on a shinko 777 130-90-16
MotoSportExpert
Over 3 years ago
A: The white wall on the Shinko 777 Front Tire would be 1 5/16".
Tay808usa
Q: Are these wide white wall tires
MotoSportExpert
Over 4 years ago
A: The Shinko 777 is a standard Whitewall version
| Product Variant | Manufacturer Part # |
| --- | --- |
| 130/60-23 | 87-4582 |
| 130/70B-18 | 87-4617 |
| 140/80-17 | 87-4562 |
| 90/90-21 | 87-4565 |
| 130/80-17 | 87-4567 |
| 120/70-21 Reinforced | 87-4584 |
| 130/90-16 Reinforced | 87-4586 |
| 100/90-19 Reinforced | 87-4588 |
| 150/80-16 | 87-4605 |
| 130/60-19 | 87-4607 |