Seven
Seven 2019 Zero Combo - Raider
3 Reviews
3

reviews

0

reviews

0

reviews

0

reviews

0

reviews
All Reviews
5 days 8 hours ago
Mill Run, PA
Comfort

5/5

Durability

5/5

Fit

True to Size
Gear
My son loves this gear, great fit and the color combos are awesome
1 month 17 days ago
Tennessee
Comfort

5/5

Durability

4/5

Fit

True to Size
Seven mx gear
Was pleasantly suprised with this gear. Have been a Fox fan forever. Fits great. Gloves fit in the hand part but the band on the wrist makes it difficult to put them on. I like the 2 piece top. You can interchange the too vest to create another look and also wear you chest protector umder it. The pants are very light and not bulky. Have not tried them in cold weather yet.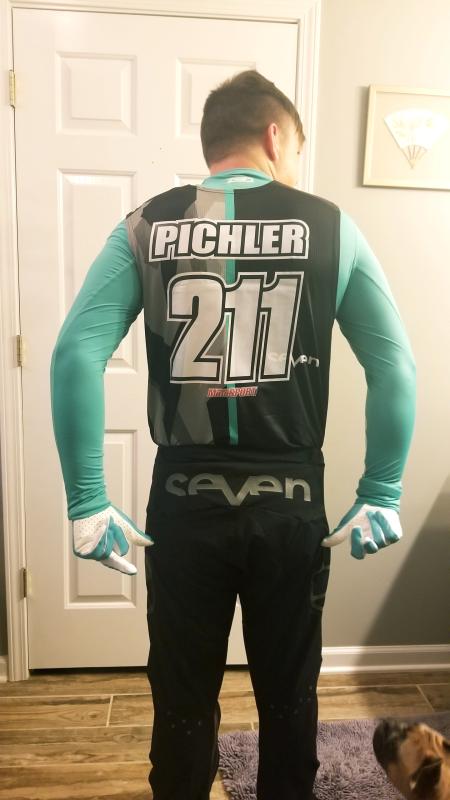 Comfort

5/5

Durability

4/5

Fit

True to Size
Stands Out
Bought the combo-didn't have the glove size I needed but other than that it's a great set. Don't like how the custom numbers cover the Seven brand on the back. The undershirt doesn't have the holes so it's a bit warmer and doesn't breath as easy but it's still comfortable. It's been washed a few times now and no problems with peeling or stains.
Ask a Question
There have been no questions asked about the Seven 2019 Zero Combo - Raider.
# Part Numbers
Compression Jersey
| Product Variant | Manufacturer Part # |
| --- | --- |
| Blue / Large | 2020001-400-L |
| Blue / Small | 2020001-400-S |
| Blue / Medium | 2020001-400-M |
| Aqua / XX-Large | 2020001-405-2XL |
| Aqua / X-Large | 2020001-405-XL |
| Aqua / Large | 2020001-405-L |
| Blue / X-Large | 2020001-400-XL |
| Blue / XX-Large | 2020001-400-2XL |
| Aqua / Small | 2020001-405-S |
| Aqua / Medium | 2020001-405-M |
Gloves
| Product Variant | Manufacturer Part # |
| --- | --- |
| Orange / X-Large | 2210012-800-XL |
| Orange / Large | 2210012-800-L |
| Orange / Medium | 2210012-800-M |
| Orange / Small | 2210012-800-S |
| Aqua Lite / X-Large | 2210012-405-XL |
| Aqua Lite / Large | 2210012-405-L |
| Aqua Lite / Medium | 2210012-405-M |
| Aqua Lite / Small | 2210012-405-S |
| Orange / XX-Large | 2210012-800-2XL |
| Aqua Lite / XX-Large | 2210012-405-2XL |
Over Jersey
| Product Variant | Manufacturer Part # |
| --- | --- |
| Blue / X-Large | 2250034-400-XL |
| Blue / Medium | 2250034-400-M |
| Blue / Large | 2250034-400-L |
| Blue / Small | 2250034-400-S |
| Black / XX-Large | 2250034-001-2XL |
| Black / X-Large | 2250034-001-XL |
| Black / Large | 2250034-001-L |
| Blue / XX-Large | 2250034-400-2XL |
| Black / Medium | 2250034-001-M |
Pants
| Product Variant | Manufacturer Part # |
| --- | --- |
| Blue / 36 | 2330034-400-36 |
| Blue / 38 | 2330034-400-38 |
| Blue / 32 | 2330034-400-32 |
| Blue / 34 | 2330034-400-34 |
| Blue / 28 | 2330034-400-28 |
| Blue / 30 | 2330034-400-30 |
| Black / 38 | 2330034-001-38 |
| Black / 36 | 2330034-001-36 |
| Black / 34 | 2330034-001-34 |
| Black / 32 | 2330034-001-32 |
| Black / 28 | 2330034-001-28 |