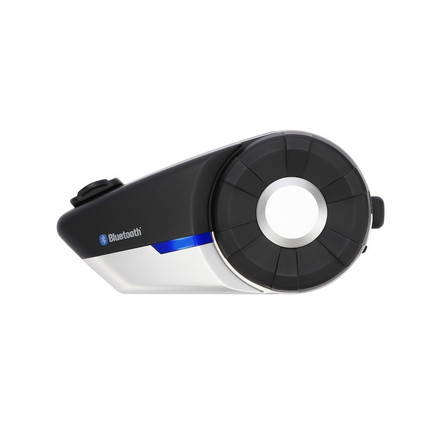 Sena 20S Motorcycle Bluetooth Communication System
Unfortunately, we no longer carry this item. It may be discontinued or have just sold out.
Please contact Customer Service (1-888-676-8853) or search for another product if you continue to see this message.
Find other: Sena Communication Kits
The 20S is a state-of-the-art motorcycle and powersports Bluetooth communication system. The unit provides a sleek and aerodynamic design that offers a versatile jog dial that maximizes the ease of use for riders.
The 20S features several industry firsts for the motorcycle Bluetooth communication headset market. One industry first is the introduction of Bluetooth 4.0 technology with dual Bluetooth communication modules, to create one of the most advanced Bluetooth headsets in the market. The new Bluetooth technology increases the performance and reliability of the headset while also allowing for increased high definition audio quality. The advanced Audio Multitasking allows for a seamless blend of incoming and outgoing audio to create a mixed audio experience versus the traditional interruption based audio technology of other Bluetooth devices.
With the 20S, users can call hands-free with their Bluetooth mobile phones, listen to stereo music or voice instructions of GPS navigation by Bluetooth wirelessly, and have intercom conversations in full duplex with a passenger or other riders.
The Sena Smartphone App is available for users to download on both iPhone and Android smartphones to allow users to adjust the settings of their 20S.
Bluetooth 4.0.
Dual Bluetooth module communication system.
Audio multi-tasking.
Multi-way intercom up to 8 connections.
Group intercom.
Bluetooth intercom up to 2.0 kilometers (1.2 miles) - in open terrain.
Smartphone App for iPhone and Android.
Universal intercom.
Advanced noise control.
Intuitive voice prompts and voice commands.
HD quality crystal clear and natural sound.
Bluetooth audio recording.
Versatile functions using motion sensor technology.
All-in-one helmet clamp kit.
Water resistant for use in inclement weather.
Built-in FM radio tuner with a station scan and save function.
Bluetooth pairing for dual mobile phones.
Bluetooth hands-free for Bluetooth mobile phones.
Bluetooth stereo headset for Bluetooth audio devices such as MP3 players.
Bluetooth stereo headset for Bluetooth GPS navigations.
Firmware upgradeable.
Technical Specifications:
General:
Talk time: 13 hours.
Dimensions (main module): 94.7 mm x 48.3 mm x 25.5 mm (3.7 inches x 1.9 inches x 1.0 inches).

Speaker: driver unit 36 mm - thickness 6.5 mm.
Boom microphone length: 190 mm.
Wire length between speakers: 555 mm.

Weight (module): 60 grams (2.11 ounces).
Bluetooth:
Bluetooth 4.0.
Headset Profile (HSP).
Hands-Free Profile (HFP).
Advanced Audio Distribution Profile (A2DP).
Audio Video Remote Control Profile (AVRCP).
Intercom:
Working distance (intercom): up to 2.0 km (1.2 miles) in open terrain.
Audio:
Built-in SBC Codec.

Advanced noise control.
Wide volume control.
Sample rate: maximum 48kHz (DAC).

Built-in wide-band Codec (HFP).
Sample rate: maximum 16 kHz.
FM Radio:
Built-in FM radio with RDS AF (Radio Data System Alternate Frequencies).
Radio region: Worldwide.
Radio frequency specifications: 64 ~ 108MHz.
10 preset station memory with automatic scan function.
Radio on time: 8 ~ 10 hours.
Battery:
Charging time: 2.5 hours.
Type: Lithium-polymer battery.
Certificates:
Look Ahead Innovation
Bluetooth 4.0 and Sena's Unique Architecture
The 20S features a unique architecture that utilizes the industry's first dual-module Bluetooth communication system as well as the industry's first Bluetooth 4.0 technology. The dual Bluetooth module allows for increased flexibility of functions, performance, and reliability. With the dual Bluetooth system, the features of the 20S can operate at higher capacity and a faster rate of performance. Users can take advantage of simultaneous communication by running multiple applications (music, GPS, mobile phone, intercom) and seamlessly switching back and forth as needed. With the combination of the dual module Bluetooth system and Bluetooth 4.0, the 20S is the most advanced Bluetooth communication device in the market.
Audio Multitasking™
One key feature new for the 20S is Audio Multitasking. The Audio Multitasking feature allows the seamless overlap of two different audio sources by reducing the volume of music, FM radio or GPS directions when using the intercom feature of the 20S. Audio Multitasking is a new feature that replaces the interruption-based audio functions of other Bluetooth communication devices. The 20S intelligently creates a natural audio environment when using multiple audio functions simultaneously.
Bluetooth Audio Recording™
With the use of Sena's Bluetooth headsets, the PRISM and Bluetooth Audio Pack allows users to add their voice to the video on-the-fly using the Bluetooth Audio Recording feature. Allowing users to narrate the video simultaneously with recording not only provides users a whole new experience but also reduces the need for follow-up audio editing providing real-time audio experiences. Along with single voice recording, users can also offer multiple individuals the ability to include their voice commentary on one centrally located camera with the intercom feature.
Intercom
One of the most technologically advanced features Sena Bluetooth offers its users is a bike-to-bike multi-way intercom system with HD quality voice allowing for up to eight companions. With a distance up to 2.0 km or 1.2 miles, the system is the most reliable and versatile intercom motorcycle system. An additional feature that makes the intercom function a standout is intercom group management which enables users to manage intercom participants by group. The intercom is also made to be "universal" allowing it to function seamless with Sena Bluetooth communication devices as well as Bluetooth communication headsets in the market.
HD Quality Audio
The 20S audio system is redesigned for high-definition (HD) quality audio that provides crystal clear, natural sound quality, and is integrated with an audio booster providing sufficient sound level for noisy environments. Users can enjoy a clear and loud level of audio with audio boosting and improved base sound in music listening as well as intercom.
New User Interface
The 20S has integrated the new features that enable users quicker and easier accessibility while using the unit. Intuitive voice commands have been built into the 20S to ensure riders can maintain hands-free control while riding. The voice commands allow riders to operate functions such as intercom connections, mobile phone calls, music playback control and more without needing to take their hands off of the handlebars.
Another key feature allowing for quicker and easier accessibility is the new interface based on motion sensor technology for easy set-up and pairing. The motion sensor feature allows the pairing of Bluetooth devices with a simple shake of the units. The new feature allows users to spend less time setting up and pairing units and more time enjoying their ride. The motion sensor feature is also firmware upgradeable to allow for additional yet to be released features.
Smartphone App
The Sena Smartphone App is available for users to download on both iPhone and Android smartphones to allow users to adjust the settings of their 20S. The Smartphone App offers full control of all device functions including basic configuration settings, speed dials, and FM radio preset stations. Utilizing the Smartphone App, users can reference their Quick Start Guide as well as stay up to date on firmware updates to keep their 20S running at peak performance. The Smartphone App also allows users to manage and create Group Intercom connections. Using the app to scan other nearby 20S devices, a group can be created and saved. By simply pairing a phone with the users 20S headset, they can use the Sena Smartphone App to configure their 20S' settings directly from their smartphone for quick and easier set up and management.
Evolution beyond Evolution
Slimmer Body
One key design element of the 20S is its precision-crafted unit developed with an aerodynamic design for a slim body that maintains the jog dial exclusive to Sena Bluetooth products. The new design keeps with the existing and evolving excellence of the Sena products. The jog dial allows users to easily control volume and provides a simple push button with the ability to access all functions of the device. The 20S provides users with the slim and sleek design that is perfect for riding while still allowing for easy and quick functionality.
Group Intercom™
New to the 20S, the Group Intercom feature will allow users to instantly create a multi-way intercom with up to seven additional participants. Utilizing the Smartphone App, users can easily create and manage their Group Intercom to allow for a quicker and simpler set up process.
Quicker Pairing
The 20S adopted the NFC (Near Field Communication) engine for intelligent communication. It allows users an instant setup process by dramatically decreasing the pairing time required for the phone and intercom. Also, Sena has created a simple new process allowing users to set up intercoms by simply shaking the main unit to create a Bluetooth connection. The 20S is designed to allow riders to spend more time on the road and less time setting up.
Advanced Noise Control™
Along with the HD quality audio the 20S comes equipped with Advanced Noise Control technology, a new feature to the Sena Bluetooth product line up. The noise control technology efficiently suppresses the wind noise from motorcycle riding without distorting original voice during intercom conversation. The Advanced Noise Control™ helps to reduce audio interruptions such as wind and outside elements from the environment.
Designed for Riding
The 20S has been specially designed to meet the needs of riders and encompasses all the features they are looking for while on the road. The 20S is developed with an all-in-one clamp that allows for versatile helmet mounting systems for more flexible and easy to switch capabilities.
The 20S also features a dual microphone one inside the helmet for intercom function and the other on the clamp for listening to environmental sound without taking off the helmet. The dual microphone expands the use for the rider and continues to enhance their experience.
Industry Expertise
The Most Interoperable Communication System
Due to Sena's expertise in the Bluetooth technology industry, Sena has developed units that are highly compatible with other Bluetooth devices in the market, including smartphones, MP3 players, GPS, as well as additional Bluetooth communication systems using Universal Intercom. Providing units with the ability to easily pair and function seamlessly with other Bluetooth devices expands the user's experience and reduces any limitations due to technological complications.
Firmware Upgradeable
All Sena products are firmware upgradeable and it allows Sena's headsets to always operate at their peak and have the most up-to-date functionality and options for rapid technological advancements in smartphone and Bluetooth devices. The firmware upgrades are available for free when available to all registered Sena customers.
And more
The 20S is designed to be fully compatible with other Sena Bluetooth products including Motorcycle Bluetooth and Bluetooth audio adapters. The 20S is also equipped with the same remote control capability of the Sena Bluetooth Action Camera.
A key element of Sena is their continuous commitment to their customers through a full two-year warranty and customer support services.
Report Incorrect Product Information
Find More