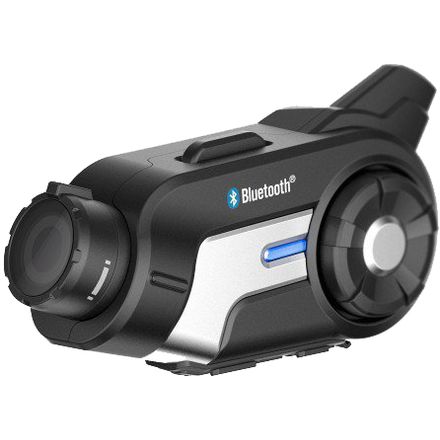 Sena 10C Bluetooth Camera & Communications System
Product Not Available
Unfortunately, we no longer carry this item. It may be discontinued or have just sold out.
Please contact Customer Service (1-888-676-8853) or search for another product if you continue to see this message.
10C - Motorcycle Bluetooth(r) Camera and Communication System.
By combining Sena's Global Bluetooth leadership, innovative headset devices, and camera technology into one powerful setup, the Sena 10C is a truly complete solution.
The World's First Helmet Communication System and Action Camera...In ONE Device - Built to handle all your adventures.

The 10C is the world's first look at a fully integrated Bluetooth helmet communication system and HD camera rolled into one powerful device. It's capable of full HD video (1080p:30fps and 720p:30/60fps) with 3.5 MP still shot image capture and shot, burst and time-lapse photo modes. Built to handle with ease the rigorous demands of outdoor sports, motorsports, and first responders, it is the complete solution for in-helmet communication and action videography under challenging conditions.

Smooth, Simultaneous Use of All Features with Bluetooth(r) 4.1 - Choose what you want to hear every time.

Nobody likes excessive fussing with gear while they're riding, and the 10C doesn't ask you to, with a water-resistant, all-in-one helmet clamp design that is made for the demands of riding in any condition. Meanwhile, Sena 10C technology lets you stay focused on the rolling horizon while playing your favorite FM radio station from the built-in tuner, or piping in your favorite playlist from your MP3 player, hearing GPS directions, or listening to your buddies howling over the intercom. Switch between each of the feeds with ease, or choose just one - it's up to you.

Beautiful Smart Design. Super Simple Operation - Unibody design with one-touch recording.

The innovative unibody design makes for easy installation while simplifying the operation of multiple video and photo modes. The single camera button allows one-touch recording on the fly. Voice prompts make learning and using all of the 10C's features a snap! Meanwhile, linking up your 10C with the Sena smartphone app (for Android or iPhone) allows you to configure device settings and access an interactive quick start guide.

One-Mile Range. 4-Way Universal Intercom Capability - Stay connected, stay in touch, stay safe.

Stay in touch with up to four of your companions, riding up to one mile 1.6 kilometers (1 mile) away. Even if they aren't using Sena gear, Universal Intercom technology allows the 10C to work seamlessly with other brands of Bluetooth headsets on the market.

Keep Only the Good Stuff with Video Tagging - Capture only what you want, when you want.

Video Tagging allows you to save your storage space for capturing only the moments that make your ride - while dramatically reducing editing time. When activated with a single touch of the camera button, Video Tagging saves 60 seconds of past, present, and future footage to give you three one-minute clips that capture the event and the context in which it happened.

Easily Add Voices and Music to Your Video with Smart Audio Mix - Mix your music and intercom audio on the fly.

The 10C mixes audio from the intercom and music from your smartphone into your video, on the fly. This allows you to narrate your footage while it's happening and capture the authenticity of the moment, while reducing the need for follow-up soundtrack editing.

Voice Feedback and Prompts - Understand your device's status instantly with voice feedback.

Integrated voice prompts advise riders on the use of their device, and are available in English, French, German, Italian, and Spanish.

Simple Command and Control Interfaces - Full control at the tip of your fingers.

The innovative Jog Dial control makes for easy operation on the fly. The optional handlebar remote (sold separately) features a joystick controller, phone and reserve buttons that enable riders to easily adjust their helmet communication systems. The 10C mounts easily and carries a three- to six-month charge. Both the remote and Jog Dial allow riders to make adjustments without taking their eyes off the road.

Versatile Connectivity Makes for Versatile Capabilities - Stay connected and in control with the Sena Headset app.

Linking up your 10C with the Sena Headset app (for Android or iPhone) allows you to configure device settings and access a Quick Guide. The 10C also offers the ability to pair with up to two mobile phones for convenient hands-free calling.
Essential Features:
Bluetooth(r) 4.1.
Unibody design.
Lens rotation up to 30deg.
1.6 km. intercom.
Four-way intercom.
Voice prompts.
Smart Audio Mix.
Advanced Noise Control.
Universal intercom.
Remote control.
Technical Specifications:
General:

Talk time: 17 hours.
Recording time: 2 hours.
Operating temperature: -10degC - 55degC (14degF - 131degF).
Dimensions:

Main module: 107 mm x 60 mm x 31 mm (4.2 x 2.4 x 1.2 inches).
Speaker driver unit: 36 mm - thickness 6.5 mm.
Boom microphone: length 190 mm.
Wire between speakers: length 555 mm.

Weight:

Main module: 94 grams (3.32 ounces).

Bluetooth:

Headset Profile (HSP).
Hands-Free Profile (HFP).
Advanced Audio Distribution Profile (A2DP).
Audio Video Remote Control Profile (AVRCP).
Bluetooth(r) 4.1.

Intercom:

Working distance: up to 1.6 kilometers (1.0 mile) in open terrain.
Supports up to 4 riders.

Audio:

Advanced Noise Control.
Built-in SBC Codec:

Wide volume control.
Sample rate: maximum 48 kHz (DAC).

FM Radio:

Built-in FM radio with RDS AF (Radio Data System Alternate Frequencies).
Radio region: worldwide.
Radio frequency specifications: 64 - 108 MHz.
10 preset station memory with automatic scan function.

Optical:

Field of view: 125 degrees.
Aperture: f/2.0.

Video:

1080p:30fps.
720p:30/60 fps.

Photo:

3.5 MP (3:2).
Burst shot: 5 pics.

Time-Lapse Mode:

Single shot in 1 / 10 seconds.

TV-Out:
Battery:

Charging time: 3.5 hours.
Type: Lithium polymer.

External Memory:

MicroSD memory cards up to 32 GB.

Certificates:
In the Box:
10C headset main unit.
Clamp unit.
Glued surface mounting plate.
Helmet speakers.
Attachable boom microphone.
Boom microphone holder.
Microphone sponges.
Wired microphone.
USB power and data cable (straight microUSB type).
Cigarette charger (note: DO NOT apply any other Sena cigarette charger to the 10C main module).
Speaker pads.
Hook-and-loop fasteners for speakers.
Hook-and-loop fastener for boom microphone.
Hook-and-loop fastener for holder.
Hook-and-loop fastener for wired microphone.
Allen wrench.
Foam speaker covers.
Lens cap.
Report Incorrect Product Information
Find More