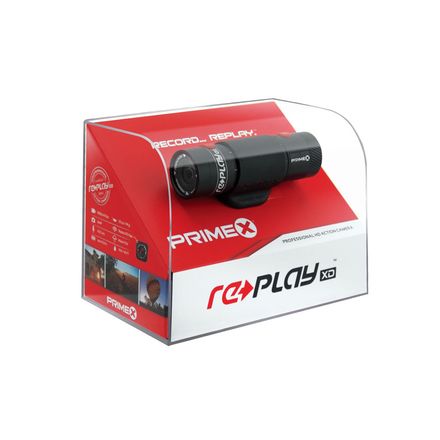 Replay XD Prime X Video Camera
Unfortunately, we no longer carry this item. It may be discontinued or have just sold out.
Please contact Customer Service (1-888-676-8853) or search for another product if you continue to see this message.
Find other: Replay XD Helmet Cameras
Item #
Prime X is a Fourth Generation Replay XD HD camera. Through a culmination of 9 years of experience, incredible industrial design, and ingenious engineering, Prime X combines never before seen size, light weight, power, optics, image sensor, processing, and aerospace-grade materials, all built into an aluminum professional HD camera. Pro users will love the Prime X's beautiful and sharp high quality image, advanced features including Wi-Fi, superior craftsmanship, and Replay XD's trademarked settings and simplicity that allow the everyday video enthusiast to use Prime X with ease. They have combined thousands of hours of R&D, production-world feedback, the best talents, and materials to create the best and most versatile Professional HD POV Action Camera.
True Professional Grade Optics: Prime X is the first HD action camera to feature a custom miniprime cinema lens. The Hyperion CinePrime X lens is exclusively designed to be the worlds first 1/2-inch format lens to incorporate a patent pending, aspherical, multi-element all-glass design, with SLD elements, CineAR Anti-reflection coatings, and superior chromatic correction, all optimized for a cinematic look and feel. Hyperion CinePrime X Lens is professional grade with a 140deg Natural Wide Angle FOV operating at T/2.8, AE/2.7, all protected by a new impact resistant glass window, lens cover.
Where The Lens Meets The Sensor: "...capturing the best image starts with the lens, but it's also where the lens meets the sensor." Hyperion CinePrime X is finely-tuned to match an all new 1/2.3 inch, 16MP CMOS sensor, for tack sharp, high frame rate HD video, and large fine detail still images. The new Prime X sensor also features 33% lower power consumption for better battery life, higher sensitivity, better dynamic range, good lowlight performance with noise-free blacks, allowing you to shoot beautiful video up to 1080p 60 fps, 720p 120 fps, features Cinema 24/48, NTSC 30/60/120, and PAL 25/50 frame rates as well as 4K Ultra high definition time-lapse sequences and large still images at 16MP 4:3, 14MP 3:2, and 12MP 16:9 sizes.
Supercharged: Prime X has been supercharged...aside from optics and image, battery life is the most important function of any camera. Prime X was engineered around an ultra-high capacity, 1700 mAh battery, more than doubling usage up to an outstanding 3.5 hours on a single charge. That's 200% more battery life than most competitors and lasts long enough to use all day for most stop and go activities. Prime X is micro SDXC compatible up to 128GB allowing for extended recording sessions.
iOS / Android App: Quickly control and adjust advanced settings on the Prime X with your iOS or Android device. The Replay XD app lets you do more then ever. Start / Stop recording, LiveView your shots, share videos with the world, and more - all from one familiar place. Frame your shot like a professional with Replay XD's Rule of Thirds or Spot and Level grid and replay your footage after you're done recording. Enable true professional features to fine tune the image: Bitrate, Exposure Control, Exposure Metering, Adjustable White Balance, Contrast Adjustment, Sharpness Adjustment, Saturation Adjustment, Mic Audio Gain Control, Date and Time Adjustment, Slow Motion, Time Stamp and much more. You can also switch Prime X to One-Touch mode for one button recording or Auto Power Start Stop mode for triggered recording and constant charging with any of the RePower kits.
Innovating Since 2005: Replay XD's experience shooting on movie sets, live-streaming events, recording from within world-class race cars, on the helmets of top Motocross athletes, on Olympic snowboarders, and with Gold Medal X Games athletes, the Prime X will deliver color accurate and cinematic quality video where others simply cannot.
Clearly A Standout In Its Class: Replay XD is known for producing some of the smallest and lightest Full HD cameras by mounted volume, without sacrificing professional-grade features. Prime X is no exception, weighing only 3.5 ounces total and measuring in at just 30 mm x 98 mm, all of which includes the new CinePrime X lens, 16MP CMOS sensor, 1700 mAh battery, Wi-Fi, and a powerful image processor, that puts the Prime X at the top of its class.

New raised power level and record LED indicators.
New lower profile and wider buttons.
New FOV button, Wide and Narrow FOV option.
New glass window, lens cover.
Improved user interface, with fewer button presses.
New laser markings for quick alignment.
Same renowned vibration feedback.

Elegant Design: Resolutions and frame rates are simple to adjust through the rear multicolor LED panel. Pick your setting once and replace the waterproof cap, it's that simple. The Power and Record buttons are on the top and only need one simple touch. Power on/off, start/stop recording provides vibration feedback to let you intuitively know the cameras status, great for noisy environments. Prime X remembers the previously used setting and saves it for quick use next time.
Video / Photo:

File type H.264 .MP4.
1080p 60/50/48/30/25/24 fps.
1200p 60/50/48/30/25/24 fps.
960p 60/50/48/30/25/24 fps.
720p 120/100/60/50/48/30/25/24 fps.
480p 240 fps.
16MP Photo per 3, 5, 15, 30 sec.
NTSC and PAL Option.
Cine 24, 48 Option.

Optics:

Hyperion CinePrime X Lens.
T2.8 / AE/2.7 Natural Wide Angle.
140 Degrees @ 1080p, 960p, 720p.
140 Degrees @ Photo.
2x better lowlight sensitivity.

Mount Prime X Anywhere: Mounting Prime X anywhere is easy as no other camera maker gives you over 1 Million finite mounting positions right out of the box. Prime X can be mounted and adjusted quickly due to its small form-factor and infinitely round housing. There are two mounts included with each system, a LowBoy mount, and a Tilt mount, with one Flat SnapTray, one Curved SnapTray, and one Tripod SnapTray to get you recording in no-time. The mounts feature new quick-release tabs that have been extended allowing you to get more leverage on the camera for easier removal and placement.

Ultra-low profile Mounts.
360deg In-place Lens Rotation.
360deg Camera Rotation.
LowBoy Mount (included): Lowest profile mount, offers 360deg lens rotation. Designed to be low and out-of-the-way. Expand this mount with the full line of SnapTray bases.
Tilt Mount (included): Features a forward and backward tilt motion with locking screw. Combined with 360deg lens rotation you can achieve more extreme angles than ever before.

More Mounts...More Accessories:

Hybrid Mounts (sold separately): Popular and ultra-rugged mounts made from plastic-composite that is also inexpensive. Some Hybrid mounts include: Deep dive cases, Goggle snap trays, Suction Cup mounts, Extended tilt mounts, as well as tripod mounts.
Pro Aluminum Mounts (sold separately): Optional billet-aluminum pro mounts are available for the most demanding productions, action, and motorsport applications. Tubular, Flat, Curved, Tripod, Universal, and Specialty mounts are available.

Waterproof: Prime X is waterproof up to 3 meters / 10 feet, so no need for a separate waterproof case for most activities. Water-tight, O-ring seals are used throughout the advanced aluminum housing to ensure water and other elements stay out while you Record. Replay XD designed a new DeepDive 197 housing (sold separately) to fit the Prime X perfectly-snug, rattle-free, with button access to your favorite settings so you can dive to depths of 60 Meters / 197 Feet.

Waterproof to 3 meters / 10 feet.
New sealed bezel and flat rear cap.
Sealed anodized aluminum housing.

Authentic Sound:

Internal Audio: Replay XD spends a lot of time obsessing over audio. Their extreme environment experience has helped them develop, engineer, and test the right combination of acoustic materials and microphones to suppress wind noise yet still capture realistic audio. Prime X can capture audio from fine dialogue to 8,000 horsepower screaming engines.
External Audio: For critical audio applications Replay XD has built in an External Audio option to connect high quality Lav mics, external audio sources, or other in-car radio communication through a standard 3.5 mm mini-jack adapter.

HDMI LiveView: Prime X provides uncompressed HDMI output at 1080p60 or 1080i60, a Replay XD standard that has been utilized to record and stream video simultaneously to popular external HD recorders and transmitters. Combine Prime X with Replay XD's accessory RePower connection kit to reliably power and stream from rugged environments, fixed location points, or even from FPV applications.
Technical Specifications:
Display: Wi-Fi enabled iOS / Android App, external HDMI display option.
Removable Storage: microSDXC compatible, 4GB micro SDHC included, class 10 or UHS recommended.
Ports:

Micro HDMI Output: Live HD 1080p60 video streaming, HD video and photo playback, thumbnail display, play/stop, skip forward/reverse, menu on/off, 3.5 mm aux audio line-in with adapter.
Standard Mini USB: Charge and sync, composite video out.
microSDXC Slot: Backwards compatible with microSD, microSDHC.

Power: Rechargeable internal 1700mAh Li-ion battery, up to 210 minutes (3.5 hours) record time.
Housing:

Durable Aluminum Housing: Black anodized, round for 360deg mounting rotation, impact resistant.
Black with Laser Etched Logos: Easy alignment, discrete placement.
O-ring Sealed: Front and rear bezel, low profile exterior buttons. Waterproof 3 meters (10 feet).

Wi-Fi: Free iOS and Android App, Live Video preview to App, Record and Camera control functions, advanced settings control, playback, copy videos and photos to your device and share them with Facebook, Instagram, and YouTube, delete photos and videos on the camera's memory card.
Size: 30 mm diameter x 99 mm length, 29.5 mm mounting diameter / 1.18 inch diameter x 3.8 inch length, 1.16 inch mounting diameter.
Weight: 99 grams (including internal battery) / 3.5 ounces.
Control:

On Top: Power button: "On / off", "record, stop, playback, clip file" buttons with vibration feedback.
On the Back: Mode button: 1080P, (1200P), 720P, (960P), Photo, Mass storage device mode. FPS button: Video 120 fps, 60 fps, 30 fps, photo manual shutter, 3, 5, 15, 30 seconds, LiveView UI on/off. FOV button: Video mode, super wide 140deg, wide 116deg, narrow 70deg, Photo mode, 16MP, 14MP, 12MP.

Photo Mode: 16 MP JPEG Photo 4608 x 3456, 14 MP JPEG Photo 4608 x 3072, 12 MP JPEG Photo 4608 x 2592, Manual Shutter, Time-lapse Photo per 3, 5, 15, 30 seconds, burst mode, and custom time-lapse duration available in advanced settings.
Video Settings: H.264 Codec, Quicktime .mp4 file type, HD Playback, HD LiveView, Bitrate Adjustment: High, Medium, Low, Exposure Control EV Adjustment, Auto Exposure Metering: Center, Average, Spot, Automatic White Balance, White Balance Presets, Contrast Adjustment, Sharpness Adjustment, Saturation Adjustment, Date and Time Stamp, Frame Per Second Control.
Video Resolution: 16 MP (4608 x 3456) CMOS Sensor, 1920 x 1080 up to 60 fps, 1600 x 1200 up to 60 fps, 1280 x 960 up to 60 fps, 1280 x 720 up to 120 fps, 848 x 480 up to 240 fps, 640 x 480 up to 240 fps, NTSC 60/30, PAL 50/25, Cinema 48/24, LiveView HDMI Output 1080p60, 1080p50.
Optics: Hyperion CinePrime X Lens, T2.8 / AE/2.7 natural wide angle, 140 degrees (@ 1080P, 960P, 720P, photo), 116 degrees (available most resolutions), 70 degrees (available most resolutions), FOV: Superwide 140deg, wide 116deg, narrow 70deg, 2x better low light sensitivity, 1.3V / lux-sec light sensitivity.
Lens Cover: Replaceable aluminum bezel and glass window.
Audio: AAC and AC3 2-channel, 48K, 16-bit, auto gain control, internal mic omnidirectional, 3.5 mm aux line-in with adapter.
Power Supply: 5V +/- 0.5V / 1A-2A.
Note: Power specifications are subject to change prior to shipping.
System Requirements: PC Video Playback.
Windows: Windows(r) 7 and later, 1920 x 1080 screen resolution, USB 2.0 Port, Mouse, VRAM 1GB, RAM 4GB.
Macintosh: RMac OS X 10.7 and later, USB 2.0 Port, Mouse, VRAM 1GB, RAM 4GB.
What's In The Box:
One (1) Prime X Action Camera.
One (1) Tilt adjustable mount.
One (1) LowBoy fixed mount.
One (1) Tripod 1/4-20 SnapTray.
One (1) Flat VHB SnapTray.
One (1) Curved VHB SnapTray.
One (1) SnapTray 3M(r) VHB.
One (1) 4GB UHS microSDHC card.
One (1) Mini USB cable.
One (1) Nylon ballistic case.
One (1) Silk camera bag.
One (1) Windbreaker decal kit.
Two (2) Replay XD decals.
One (1) User guide.
Report Incorrect Product Information