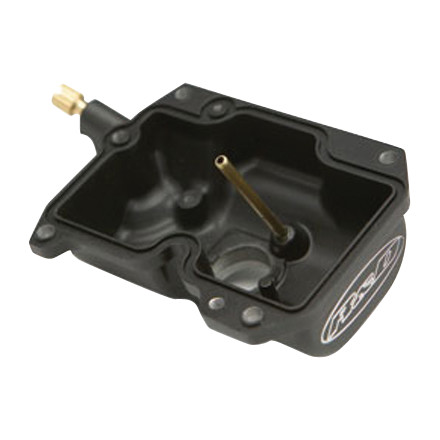 5 Star
17
4 Star
0
3 Star
0
2 Star
0
1 Star
1
Write a Review
Write your review and you'll automatically be entered in our monthly drawing. Include an image or video to DOUBLE your chances to win!
Write Your Review
More than expected
I didn't know it was an upgrade I was thankful just to be able to get the bowl
1 month 12 days ago
missiouri
Easy install
went on easy, hardest part is getting carb off bike
3 months 21 days ago
San Jose, CA, USA
Not good
Said it was an exact it for my 2007 Ktm 450 sxf but it was not. The bowl didn't not create a firm seal to the carb and kept leaking.
3 months 21 days ago
Oklahoma, Tulsa
Great product!!
With this I was able to lower my idle without it dying, easy starts, no hesitation or bogging, fantastic product!! Recommended for all carbureted bikes.
FCR fix......runs great now.
After installing an FCR carb on my 2005 trx450r I had trouble getting the leak jet and accelerator pump just right. After installing this it was a cinch and it now starts every time by the 3rd kick
1 year 1 month ago
Kingman, AZ, USA
Works perfect
I bought this since my float bowl corner cracked ordered this and put it on no problem and fired up first kick
1 year 1 month ago
Florida
Amazing!
Ordered this in hopes of it taking care of some low end bog I got at times. It definitely did the responsiveness is unbelievable no more bogs starts very well the product did exactly as described. I've rode an efi bike and if this would of come out sooner there wouldn't be any efi bikes. I literally think I'm riding a fuel injected bike now lol . Get it!
R&D power bowl ll
A bit on the pricy side but I got it anyway, it's well made and dose the job! I have zero bog and a massive throttle response increase! The Excelerator Pump on the stock carb is very thin and is weak, the one that comes with this is almost a inch deep and is wayyyyy better than stock, it's worth the price
2 years 3 months ago
Ohio
09 yz450f
It works just like they say. The only Downside is the coast
2 years 11 months ago
Billerica, MA, USA
R&D power bowl
This product works great. It does everything it says. I also love the adjustable leak jet accelerator pump cover that comes with it.
Q: Will this float Bowl stop popping on deceleration
I have a 2005 kx250f and my bike pops pretty good on deceleration. The boulder seems to have efficient horsepower and torque. It starts up pretty easily it starts right up with hot. I have the hot start plugged at the carburetor so I do not use it. My exhaust pipe gets very hot but I do not have any problems with overheating coolant. My spark plug looks like there is no lean or Rich condition. But I did tighten up my airbox Last Summer and it helped tremendously. My gut instinct tells me that it is a lean condition. Last year I had about 8 or so problems that were all linked together to the point where my bike would not even run. I seem to have straightened out every condition except for that very annoying pop on deceleration erratic idle. Bike has stock jetting, OEM exhaust. One of the only aftermarket parts on the bike is my air filter. If anyone has a clue of the next move I should make I would appreciate the input
DaveGearhead
3 months 15 days ago
A: The short answer is no. This bowl will not fix the popping issue you are dealing with. The manufacturer states that the bowl will fix the following:
Eliminates hesitation and bogging • Better Holeshots • Provides instant response to throttle movements • Starts easier • Reduces hot engine stalling • Improves low end performance • Bolt-on product that requires no modification • ELIMINATES FLAMEOUT ASSOCIATED WITH REKLUSE CLUTCHES
Q: My drz400 has a fcr carb, the r&d power bowl should fit but is not on the list. was wondering why it will not fit my bike
Thumbs
3 months 23 days ago
A: These bowls only fit the FCR-MX carbs not just the FCR card which comes OEM on your bike. You would have to upgrade the whole carb to the MX version to run this bowl.
Q: 2007 TE 450 Fit?
Does this fit a Husqvarna TE 450 (2007). It's got an FCR 41mm carb on it.
David
Over 6 months ago
A: This will NOT fit your 2007 Husqvarna TE450
Q: My Honda CRF150R Expert has a pretty bad bog in the low RPM's, would this solve my issue?
Motoexpert
Over 7 months ago
A: This product is not made to fix a running issue. It is a product that helps a already good running bike perform better. Sounds to me that the carburetor on the bike needs a good cleaning and maybe a few small adjustments. Again adding this product to a carburetor thats not already performing how it should will not fix the issue.
Q: Can this work with the quickshot 2?
I have a boyesen quick shot 2 accelerator cover and was hoping to pair these two carb mods. Does the power How's accelerator cover have bigger volume vs. The qs2?
Jakeext3453
1 year 2 months ago
A: There is no need as the both products are designed to give you an adjustable leak jet.
Q: I got this and I'm still having problem can you give me any ideas?
My bike bogs at first then build up power I also got a moose racing rebuild kit for it too came with stock size jets I belive do I need bigger jets?
Q: Is there a manual for tuning this product online?
I would like to see a manual on exact adjustments, Bought from a friend and never received a manual for tuning
Q: Does this come with a new gasket?
MotoSportExpert
1 year 7 months ago
A: No it would use the stock boring gasket. Found in our OEM section. Also, feel free to give us a call at 888-676-8853 and we would be happy to help you out with your order.
Q: 2003 ktm 525 sx, will I have to replace the gasket on the bowl if so which do I use?
MotoSportExpert
1 year 7 months ago
A: You will need to inspect the Oring gasket, if it is still in good shape it can be reused. If dried out or damage it will need to be replace. A replacement can be found in the OEM section here:
http://www.motosport.com/dirtbike/oem-parts/ktm/2003/525sx-racing/carburetor-fcr_mx-39~41?fam=Engine

Also, feel free to give us a call at 888-676-8853 and we would be happy to help you out with your order.
Q: Will I need to re-jet my carb after installing this?
MotoSportExpert
1 year 8 months ago
A: No. The R&D Power Bowl 2 Bolt-on product that requires no modification.
See all bikes that this part fits...
| Product Variant | Manufacturer Part # |
| --- | --- |
| R&D Power Bowl 2 | R&D POWER BOWL 2 |