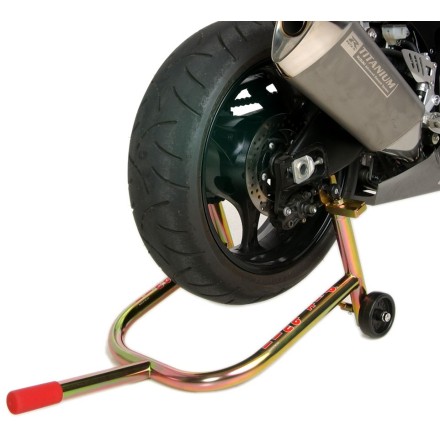 Pit Bull Spooled Rear Stand
---
4.96
5
25
Rating: 5 out of 5 stars
---
25 Reviews
24

reviews

1

reviews

0

reviews

0

reviews

0

reviews
All Reviews
Over 8 months ago
Baltimore, MD
Pit bull is the way to go!
Over 9 months ago
Sarasota, FL
Clearly the industry standard
I've used Pit Bull stands since 1999. IMO they are clearly the standard by which all others are to be judged. I recently purchased another Pit Bull stand to go with my new Ducati 959 Panigale. I bought this one with the removable handle something my others don't have. I liked the look of the new one so much that I sent my original Pit Bull stand back to the company to have the zinc plating restored. They did a great job with the restoration and i couldn't be happier.
Very Happy with my Pit Bull rear stand
Replaced an inexpensive model had for years knew was time to buy a good one this is it! Very happy with my rear Put Bull stand
1 year 1 month ago
Santa Cruz ca
Great stand
Lives up to the hype. Easy to use and bike is very stable
1 year 2 months ago
Naples FL
Badass!!!!!!
The Pitbull rear stand is just amazing. Rock solid, check out a YT video done by a guy that tries to bend it !!!!!
It is the best out there. Racing ready.
Badass.
1 year 5 months ago
Colfax, CA
Best quality alot of money can buy!
These are without a doubt more expensive than other stands and I was going to pay less but it seemed silly to me to lift a $10k+ bike with a cheap stand. I paid the extra money and got a great quality stand. It lifts my 2017 Z900 with very little effort. I got the extended and removable handle. There is a receiver to store the handle on the inside of the stand that works whether the bike is on it or not. You will not regret spending the extra money for this stand. My bike uses 8mm spools.
1 year 7 months ago
Philadelphia
Well built and a nice finish
This is the second pitbull stand I have bought because I really like them.
These stands are well built, lightweight, and easy to use although the assembly and use instructions diagrams are poor ( why 4 stars only ). If you have never used them I recommend checking how-to videos online so as to use the stand correctly and not drop your
bike - also a good idea to have a buddy securing the bike while you move it around the first time. Once you get use to it you'll still need be cautious operating the stand but you will truly love what it alloys you to do, working on a straiggt bike and the access it grants to the underbelly of your ride is just awesome.
I have no doubt that if you keep it dry and clean this is a tool that will last a lifetime.
1 year 9 months ago
Fort Myers, FL, USA
Best stand period!
I could not believe the quality of this stand when it arrived,100%perfection,anyone doing their own maintenance will appreciate the engineering and workmanship of this product.
Top Quality
This stand is awesome, I wouldn't expect anything less from Pit Bull. Although it's a little pricey, you get what you pay for.
2 years 6 months ago
Sterling, Il
Solid
rather easily to use. heavy duty but not overbearing in weight.
# Part Numbers
| Product Variant | Manufacturer Part # |
| --- | --- |
| Fixed Handle | F0003-000 |
| Removable Handle | F0003A-000 |
| Extended Length Removable Handle | F0003AA-000 |