Memphis Shades
Memphis Shades Memphis Slim Windshield With Quick-Change Mounting Kit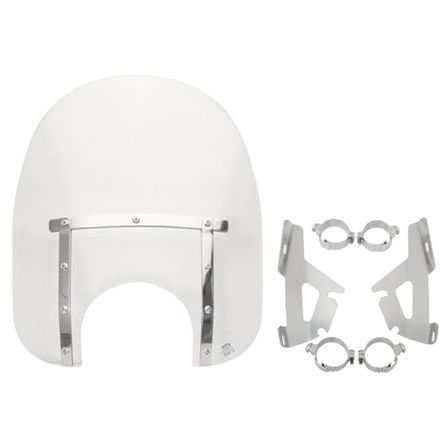 Memphis Shades Memphis Slim Windshield With Quick-Change Mounting Kit
Enter to Win $500
Write your review and you'll automatically be entered in our monthly drawing. Include an image or video to DOUBLE your chances to win!
Write Your Review
There have been no questions asked about the Memphis Shades Memphis Slim Windshield With Quick-Change Mounting Kit.
See all bikes that this part fits...
Mounting Kit
| Product Variant | Manufacturer Part # |
| --- | --- |
| Fats And Slim Windshields | MEM9974 |
| Fats And Slim Windshields | MEM9980 |
| Fats And Slim Windshields | MEM9975 |
| Fats And Slim Windshields | MEM9926 |
| Fats And Slim Windshields | MEM9928 |
| Fats And Slim Windshields | MEM9913 |
| Fats And Slim Windshields | MEM9919 |
| Fats And Slim Windshields | MEM9908 |
| Fats And Slim Windshields | MEM9909 |
| Fats And Slim Windshields | MEM9906 |
| Fats And Slim Windshields | MEM9907 |
| Fats And Slim Windshields | N/A |
| Fats And Slim Windshields | N/A |
Windshield
| Product Variant | Manufacturer Part # |
| --- | --- |
| Night Shades Black / 17 in. Tall / 7 in. Headlight | N/A |
| Night Shades Black / 15 in. Tall / 9 in. Headlight | N/A |
| Night Shades Black / 15 in. Tall / 7 in. Headlight | N/A |
| Gradient Ruby / 17 in. Tall / 9 in. Headlight | MEM4222 |
| Gradient Orange / 15 in. Tall / 9 in. Headlight | N/A |
| Solar / 17 in. Tall / 9 in. Headlight | MEM4229 |
| Solar / 15 in. Tall / 9 in. Headlight | MEM4129 |
| Gradient Purple / 17 in. Tall / 9 in. Headlight | MEM4224 |
| Gradient Purple / 17 in. Tall / 7 in. Headlight | MEM4214 |
| Gradient Purple / 15 in. Tall / 9 in. Headlight | MEM4124 |
| Gradient Purple / 15 in. Tall / 7 in. Headlight | MEM4114 |
| Gradient Orange / 17 in. Tall / 9 in. Headlight | N/A |
| Gradient Orange / 17 in. Tall / 7 in. Headlight | N/A |
| Night Shades Black / 17 in. Tall / 9 in. Headlight | N/A |
| Solar / 15 in. Tall / 7 in. Headlight | MEM4119 |
| Gradient Ruby / 15 in. Tall / 7 in. Headlight | MEM4112 |
| Solar / 17 in. Tall / 7 in. Headlight | MEM4219 |
| Gradient Blue / 17 in. Tall / 9 in. Headlight | MEM4226 |
| Gradient Blue / 15 in. Tall / 9 in. Headlight | MEM4126 |
| Gradient Orange / 15 in. Tall / 7 in. Headlight | N/A |
| Gradient Black / 17 in. Tall / 9 in. Headlight | MEM4221 |
| Gradient Blue / 17 in. Tall / 7 in. Headlight | MEM4216 |
| Gradient Black / 15 in. Tall / 9 in. Headlight | MEM4121 |
| Gradient Blue / 15 in. Tall / 7 in. Headlight | MEM4116 |
| Clear / 17 in. Tall / 9 in. Headlight | MEM4220 |
| Gradient Black / 17 in. Tall / 7 in. Headlight | MEM4211 |
| Clear / 15 in. Tall / 9 in. Headlight | MEM4120 |
| Gradient Black / 15 in. Tall / 7 in. Headlight | MEM4111 |
| Gradient Ruby / 15 in. Tall / 9 in. Headlight | MEM4122 |
| Clear / 17 in. Tall / 7 in. Headlight | MEM4210 |
| Gradient Ruby / 17 in. Tall / 7 in. Headlight | MEM4212 |
| Clear / 15 in. Tall / 7 in. Headlight | MEM4110 |