Kolpin
Kolpin ATV Steel Plow Blade Combo With Winch Lift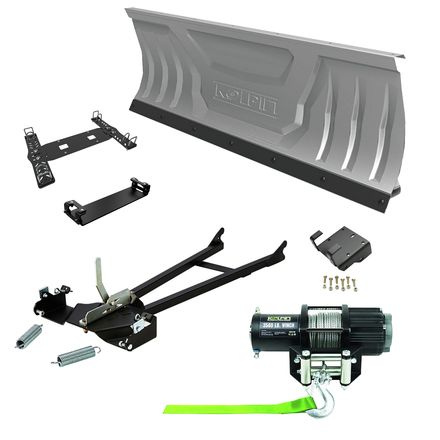 Kolpin ATV Steel Plow Blade Combo With Winch Lift
---
12% Off - Save up to $93.38
---
Enter to Win $500
Write your review and you'll automatically be entered in our monthly drawing. Include an image or video to DOUBLE your chances to win!
Write Your Review
There have been no questions asked about the Kolpin ATV Steel Plow Blade Combo With Winch Lift.
See all bikes that this part fits...
Base/Push Tube
| Product Variant | Manufacturer Part # |
| --- | --- |
| Kolpin ATV Steel Plow Blade Combo With Winch Lift | 33-0070 |
| Kolpin ATV Steel Plow Blade Combo With Winch Lift | 33-0000 |
Blade
| Product Variant | Manufacturer Part # |
| --- | --- |
| 48" | 31-0048 |
| 60" | 31-0060 |
| 52" | 31-0052 |
| 72" | 31-0072 |
| 66" | 31-0066 |
Mount Kit
| Product Variant | Manufacturer Part # |
| --- | --- |
| Kolpin ATV Steel Plow Blade Combo With Winch Lift | 15-4581 |
| Kolpin ATV Steel Plow Blade Combo With Winch Lift | 15-3670 |
| Kolpin ATV Steel Plow Blade Combo With Winch Lift | 15-3620 |
| Kolpin ATV Steel Plow Blade Combo With Winch Lift | 15-3591 |
| Kolpin ATV Steel Plow Blade Combo With Winch Lift | 15-1610 |
| Kolpin ATV Steel Plow Blade Combo With Winch Lift | 15-7561 |
| Kolpin ATV Steel Plow Blade Combo With Winch Lift | 15-5630 |
| Kolpin ATV Steel Plow Blade Combo With Winch Lift | 15-3530 |
| Kolpin ATV Steel Plow Blade Combo With Winch Lift | 15-3520 |
| Kolpin ATV Steel Plow Blade Combo With Winch Lift | 15-2610 |
| Kolpin ATV Steel Plow Blade Combo With Winch Lift | 15-2590 |
| Kolpin ATV Steel Plow Blade Combo With Winch Lift | 15-2570 |
| Kolpin ATV Steel Plow Blade Combo With Winch Lift | 15-1630 |
| Kolpin ATV Steel Plow Blade Combo With Winch Lift | 15-1620 |
| Kolpin ATV Steel Plow Blade Combo With Winch Lift | 15-4590 |
| Kolpin ATV Steel Plow Blade Combo With Winch Lift | 15-5531 |
| Kolpin ATV Steel Plow Blade Combo With Winch Lift | 15-3550 |
| Kolpin ATV Steel Plow Blade Combo With Winch Lift | 15-5640 |
| Kolpin ATV Steel Plow Blade Combo With Winch Lift | 15-1591 |
| Kolpin ATV Steel Plow Blade Combo With Winch Lift | 15-1570 |
| Kolpin ATV Steel Plow Blade Combo With Winch Lift | 15-1600 |
| Kolpin ATV Steel Plow Blade Combo With Winch Lift | 15-3570 |
| Kolpin ATV Steel Plow Blade Combo With Winch Lift | 15-1580 |
| Kolpin ATV Steel Plow Blade Combo With Winch Lift | 15-3562 |
| Kolpin ATV Steel Plow Blade Combo With Winch Lift | 15-1560 |
| Kolpin ATV Steel Plow Blade Combo With Winch Lift | 15-1510 |
| Kolpin ATV Steel Plow Blade Combo With Winch Lift | 15-1550 |
Raising Mechanism
| Product Variant | Manufacturer Part # |
| --- | --- |
| Kolpin ATV Steel Plow Blade Combo With Winch Lift | 25-1200 |
| Kolpin ATV Steel Plow Blade Combo With Winch Lift | 25-1042 |
| Kolpin ATV Steel Plow Blade Combo With Winch Lift | 25-1080 |
| Kolpin ATV Steel Plow Blade Combo With Winch Lift | 25-1161 |
| Kolpin ATV Steel Plow Blade Combo With Winch Lift | 25-5290 |
| Kolpin ATV Steel Plow Blade Combo With Winch Lift | 25-5250 |
| Kolpin ATV Steel Plow Blade Combo With Winch Lift | 25-4210 |
| Kolpin ATV Steel Plow Blade Combo With Winch Lift | 25-2290 |
| Kolpin ATV Steel Plow Blade Combo With Winch Lift | 25-2150 |
| Kolpin ATV Steel Plow Blade Combo With Winch Lift | 25-2131 |
| Kolpin ATV Steel Plow Blade Combo With Winch Lift | 25-1240 |
| Kolpin ATV Steel Plow Blade Combo With Winch Lift | 25-1220 |
| Kolpin ATV Steel Plow Blade Combo With Winch Lift | 25-3350 |
| Kolpin ATV Steel Plow Blade Combo With Winch Lift | 25-2310 |
| Kolpin ATV Steel Plow Blade Combo With Winch Lift | 25-4100 |
| Kolpin ATV Steel Plow Blade Combo With Winch Lift | 25-3043 |
| Kolpin ATV Steel Plow Blade Combo With Winch Lift | 25-5171 |
| Kolpin ATV Steel Plow Blade Combo With Winch Lift | 25-3190 |
| Kolpin ATV Steel Plow Blade Combo With Winch Lift | 25-5280 |
| Kolpin ATV Steel Plow Blade Combo With Winch Lift | 25-3200 |
| Kolpin ATV Steel Plow Blade Combo With Winch Lift | 25-7060 |
| Kolpin ATV Steel Plow Blade Combo With Winch Lift | 25-3260 |
| Kolpin ATV Steel Plow Blade Combo With Winch Lift | 25-1081 |
| Kolpin ATV Steel Plow Blade Combo With Winch Lift | 25-3320 |
| Kolpin ATV Steel Plow Blade Combo With Winch Lift | 25-1061 |
| Kolpin ATV Steel Plow Blade Combo With Winch Lift | 25-3330 |
| Kolpin ATV Steel Plow Blade Combo With Winch Lift | 25-1090 |
| Kolpin ATV Steel Plow Blade Combo With Winch Lift | 25-1190 |
| Kolpin ATV Steel Plow Blade Combo With Winch Lift | 25-1210 |
Winch
| Product Variant | Manufacturer Part # |
| --- | --- |
| Kolpin ATV Steel Plow Blade Combo With Winch Lift | 90250 |
| Kolpin ATV Steel Plow Blade Combo With Winch Lift | 90251 |
| Kolpin ATV Steel Plow Blade Combo With Winch Lift | 89021 |
| Kolpin ATV Steel Plow Blade Combo With Winch Lift | 89020 |
| Synthetic Rope | 25-9355 |
| Steel Cable | 25-9350 |
| Steel Cable | 25-9250 |