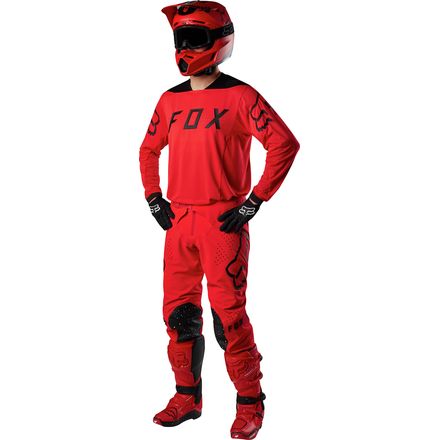 Fox Racing 2017 Flexair Full Combo - Moth LE
Unfortunately, we no longer carry this item. It may be discontinued or have just sold out.
Please contact Customer Service (1-888-676-8853) or search for another product if you continue to see this message.
Find other: Fox Racing Pant Jersey Glove Combos
The MotoSport.com Fox Racing Flexair Full Combo - Moth LE includes ONE each of the following:
Fox Racing V3 Helmet - Moth LE:
If a helmet were the sum of its accolades, the V3 would rein supreme. Born in California, the V3 motocross helmet has been trusted and worn by more Supercross champions in the past two decades than any other brand. Each component was meticulously selected to achieve the high-level of performance demanded by top athletes competing on the world's biggest stages.
The V3 motocross helmet is equipped with the Multi-Directional Impact Protection System (MIPS), mimicking the cerebrospinal fluid, MIPS adds a low-friction layer between the helmet and the head. This technology reduces the rotational violence otherwise transmitted to the brain. Moreover, a dual density EPS liner offers superior impact absorption by using varying foam densities and thickness in critical areas.
With a luxury interior, the V3 helmet is exceptionally comfortable. 14 intake and four exhaust vents blast fresh air through the helmet and allow hot air to escape resulting in a cooler interior. The Dri Lex comfort liner feels luxuriously smooth against your skin and rapidly wicks sweat to keep moisture at bay.
For a precise fit, the V3 helmet is engineered with three shell and four EPS dimensions. The multiple sizes ensure the helmet fits securely without being overly tight or uncomfortable. The V3 helmet is engineered for champions. Fox doesnt do it this way because its easy. They obsess over each detail because its the only way to excel.
Multi-Directional Impact Protection System (MIPS).
Soft density EPS liner cap.
Comfort - Dri Lex comfort liner.
Shell - Multi-composite shell construction technology.
Fit - Three shell and four EPS sizes for a precise fit.
Venting - 14 intake and four exhaust vents for optimum airflow.
Protection - Dual density EPS liner.
Certification - Exceeds ECE22.05 and DOT certifications.
Note: Limited Edition.
Multi-Directional Impact Protection System - MIPS
There is no such thing as a perfect crash. Conventional helmets are tested by dropping them vertically onto a rigid surface. MIPS has had 15 years of study and testing in Sweden by some of the world's leading researchers and neurosurgeons, based on a different principle - reality. Because in reality when you fall, your head most often hits the ground at an angle, creating rotation in the brain, which in turn can cause major damage. With MIPS, the helmet absorbs much of that damaging rotational energy, offering you radically better protection. And if, against all odds, you do fall vertically onto your head, a helmet with MIPS will protect you just as well as an ordinary helmet.
MIPS imitates the brain's protective fluid. The secret behind MIPS' unique patent comes from the human brain. The brain is surrounded by a low-friction cushion of cerebrospinal fluid. MIPS gives the helmet its own low-friction layer between the EPS and comfort liner, to absorb much of the energy created by an angled blow to the head. The combination of the brain's own protection and MIPS ensures maximum protection - simple and effective. In laboratory tests, adding the MIPS layer reduced rotational acceleration by 20 - 35%, dampening crash forces and decreasing stress to the brain.
Fox Racing Flexair Jersey - Moth LE:
Never in motocross history has the link between gear and rider been more important. No longer is your jersey simply a billboard for sponsors or purely for styling - it's a functional piece of riding equipment with one goal: Maximizing athletic performance.
The highly-evolved Flexair Jersey uses TruDri main body fabric for unreal comfort, yet is deceptively durable. This proprietary fabric technology is ultra-soft, insanely lightweight and adaptable to a wide range of conditions. Targeted ventilation and fast wicking properties keep you cool, dry and comfortable while taped seams in the shoulder and collar reduce chafing.
The all new Flexair Jersey is so light and comfortable it virtually disappears on the body. Ride with Flexair for the purest, distraction free riding experience available.
Lightweight construction for complete freedom of movement.
Laser perforation on the chest for added airflow.
TRUDRI main body fabric provides a soft, lightweight fit with true moisture management.
Taped seems in shoulder and collar to reduce chaffing on body.
Bonded cuff provides a slim athletic fit.
Note: Limited Edition Racewear.
TRUDRI: Fox Racing's fabric wicks sweat away form the body where it evaporates faster to help keep you dry and comfortable.
Superior moisture-wicking action.
Keeps skin dry when you sweat.
Rapid dry time.
Fox Racing Flexair Pants - Moth LE:
In 2015, the Flexair Pant was born - the embodiment of Fox Racing's mission to maximize the experience of the world's best action sports athletes. It changed the industry. Fast forward two years and the pursuit continues. Their resolve hardened by race wins, and championships, the 2nd generation FLEXAIR Pant picks up where the original left off, bringing a highly-evolved fit and multiple technical enhancements.
With the proliferation of the new progressive riding style, the ability to continually adapt and modify your position on the bike is paramount. The new Flexair Pant features an entirely new chassis for drastically improved fit. The main body is cut from durable, four-way stretch TruMotion fabric for unmatched mobility. And a new knee design provides a sleek performance fit over braces by removing excess material, eliminating binding, and improving movement.
Not stopping at mobility, Fox Racing also aimed to enhance rider comfort. The updated waistband has a more secure fit for a distraction-free riding experience. They eliminated the internal comfort liner to remove excess weight and heat. Strategically placed venting was incorporated to increase airflow and help regulate body temperature. And taped seams reduce chafing and increase comfort against bare skin.
Completely new chassis for an improved fit.
Updated rigid waist system to firmly hold pant in place.
Durable four-way stretch TruMotion main body fabric provides unmatched mobility.
Laser perforation in key areas for enhanced airflow.
Elimination of internal liner reduces weight and heat.
New knee construction provides a sleek performance fit over braces or guards.
Heat and abrasion-resistant leather knee panels.
Critically taped seams to reduce chaffing.
Note: Limited Edition Racewear.
TRUMOTION: Fox Racing's all-way stretch fabric offers full range of motion increasing mobility.
Durable stretch woven fabric.
Spandex content allows for greater range of motion.
Rapid dry time.
Fox Racing Pawtector Gloves:
Stretch Cordura ripstop construction with compression-molded neoprene.
Double-layered Clarino palm with strategically-placed perforations.
Stretch mesh finger gussets.
Fully articulated, direct-inject TPR knuckle protection.
Compression-molded cuff with hook-and-loop closure for secure fit.
Fox Racing Instinct Boots - Moth LE:
Since its inception, the Fox Instinct Boot has proven itself to be the world's fastest motocross boot by winning the past four Supercross and motocross championship titles. From the sleek profile, which gives you a better connection with the bike, to the unrivaled grip and durability, each attribute was developed to help you dominate the race track.
With a patent pending hinge and buckle system, the Instinct boot provides an immediate step-in comfort and support. The exclusive hinge provides lateral support and locks out to stop motion before hyperflexion, while the easy buckle system flexes fluidly with the boot for ease of movement.
The Instinct boot improves performance by giving you greater command of the dirt bike. A slim medial design gives you an intuitive feel of the bike, with a low ride chassis providing smooth shifting and better control of the rear brake.
The outsole and burn guard utilize Duratac for grip and durability. This proprietary rubber was engineered exclusively by Fox's development team to give you the greatest advantage on the track. See for yourself why the Instinct is the motocross boot of choice for champions like Ryan Dungey and Ken Roczen.
Hinge Lockout: Stops motion before hyperextension.
Duratac: Exclusive Fox rubber compound provides unprecedented grip and durability on the sole.
Interface: A slim medial design keeps you close to the bike with the Duratac burn guard giving grip.
Low Ride Chassis: Gets the rider's foot lower to the ground and closer to the foot peg.
Instinct Buckle: Flawless operation every time.
Slim Toe Box: A slim toe box design for easy shifting and a slimmer overall profile.
Note: Limited Edition.
Report Incorrect Product Information