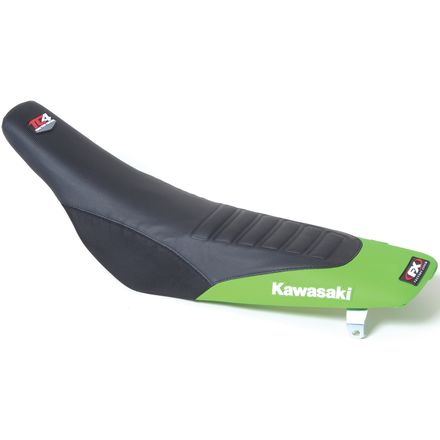 Factory Effex TC-4 Seat Cover With Bump - Kawasaki
---
12% Off - Save up to $11.00
4.68
5
28
Rating: 4.7 out of 5 stars
---
28 Reviews
22

reviews

4

reviews

1

reviews

1

reviews

0

reviews
All Reviews
Seat cover with bump
Perfect was exactly what I was looking for
Over 6 years ago
Colorado Springs, CO, USA
Great seat cover and even better looks
I've had a couple of races with this cover and the durability is great. The bump keeps you in position, kind of like a poke in the back as a reminder. I recommend installing the start of the bump starting on the second bumpout in the cover. If you move it back further it will be to far back on the Kaw-KX450 (2010). I liked the grip and the bump reminder, looks great on the bike to boot. I had mine recovered at an Upholstery Shop for $30, so if you don't have a good stapler let the pros do it right.
Over 6 years ago
Salt Lake City, UT, USA
Amazing cover!
After having this cover on my YZ250F, it was the first thing I needed to get for my 350SXF. Fits perfect! Super grippy, and being able to put the hump where you want, make this the best seat cover I've ever ridden. Looks bitchin too!
Over 8 years ago
Eastern,Ky.
Looks and works good.
I love these gripper seat covers. I installed this on my bike, ('05 RM Z450) in about an hour. It was a pretty standard install, if you have ever installed a seat cover. The bump was a little bit of a pain. The problem was getting all of the wrinkles out. After getting the bump on the seat where I wanted it and getting the front and sides temporarily stapled, I then put the entire seat near a heat source to warm up the cover. After it was warm the wrinkles worked out pretty easy. Good product. Would buy again. Motosport is the best.
Over 8 years ago
Flasher ND
Over 8 years ago
Kahuku, HI
The top of this seat is by far the best part. The grip is pretty good as well as the rigid bumps designed into the seat. However, the fabric on the side I didn't have very much luck with. Installing the seat cover was a little difficult and it ripped twice, luckily I was able to save it. But after riding one time and then pressure washing my bike, the pressure washer did some fair damage to the fabric on the sides. Great grip and all, but not really meant for durability.
Satisfied
Put around 45hrs on it track riding so far, still looks new, keeps you in the sweet spot, and comfortable
Over 9 years ago
Sugar Land, Texas
Great looking seat cover!
This has been one of the best seat covers I've ever purchased! Very durable, good feel and looks awesome on the bike!
Fitment
See all bikes that this part fits...
# Part Numbers
| Product Variant | Manufacturer Part # |
| --- | --- |
| Factory Effex TC-4 Seat Cover With Bump - Kawasaki | 1227130 |
| Factory Effex TC-4 Seat Cover With Bump - Kawasaki | 11-28120 |
| Factory Effex TC-4 Seat Cover With Bump - Kawasaki | 12-28126 |
| Factory Effex TC-4 Seat Cover With Bump - Kawasaki | 22-28138 |