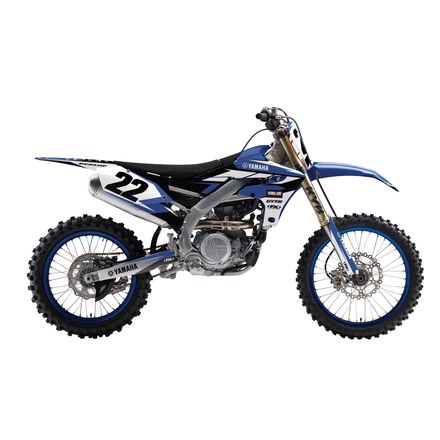 Factory Effex EVO 15 Shroud Graphic Kit - Yamaha
---
10% Off - Save up to $6.96
5.00
5
3
Rating: 5 out of 5 stars
---
3 Reviews
3

reviews

0

reviews

0

reviews

0

reviews

0

reviews
All Reviews
20 days ago
Wichita Falls
Looks cool
I wish I own one but my dad said no
Over 8 months ago
Plano, TX
Good stuff!
These are just what you want from graphics. Thick, perfectly matched to the bike and look amazing. Just installed but seem like they will last a long time.
Perfect fit. Looks great!
Kit came with everything needed for side panels and shrouds, including the upper intake graphics.
Fitment
See all bikes that this part fits...
# Part Numbers
| Product Variant | Manufacturer Part # |
| --- | --- |
| Factory Effex EVO 15 Shroud Graphic Kit - Yamaha | 21-01204 |
| Factory Effex EVO 15 Shroud Graphic Kit - Yamaha | 21-01206 |
| Factory Effex EVO 15 Shroud Graphic Kit - Yamaha | 21-01208 |
| Factory Effex EVO 15 Shroud Graphic Kit - Yamaha | 21-01210 |
| Factory Effex EVO 15 Shroud Graphic Kit - Yamaha | 21-01212 |
| Factory Effex EVO 15 Shroud Graphic Kit - Yamaha | 21-01214 |
| Factory Effex EVO 15 Shroud Graphic Kit - Yamaha | 21-01216 |
| Factory Effex EVO 15 Shroud Graphic Kit - Yamaha | 21-01218 |
| Factory Effex EVO 15 Shroud Graphic Kit - Yamaha | 21-01220 |
| Factory Effex EVO 15 Shroud Graphic Kit - Yamaha | 21-01222 |
| Factory Effex EVO 15 Shroud Graphic Kit - Yamaha | 21-01224 |
| Factory Effex EVO 15 Shroud Graphic Kit - Yamaha | 21-01226 |
| Factory Effex EVO 15 Shroud Graphic Kit - Yamaha | 21-01228 |
| Factory Effex EVO 15 Shroud Graphic Kit - Yamaha | 21-01230 |
| Factory Effex EVO 15 Shroud Graphic Kit - Yamaha | 21-01232 |
| Factory Effex EVO 15 Shroud Graphic Kit - Yamaha | 21-01234 |
| Factory Effex EVO 15 Shroud Graphic Kit - Yamaha | 21-01236 |
| Factory Effex EVO 15 Shroud Graphic Kit - Yamaha | 21-01238 |
| Factory Effex EVO 15 Shroud Graphic Kit - Yamaha | 21-01240 |
| Factory Effex EVO 15 Shroud Graphic Kit - Yamaha | 21-01242 |
| Factory Effex EVO 15 Shroud Graphic Kit - Yamaha | 21-01244 |
| Factory Effex EVO 15 Shroud Graphic Kit - Yamaha | 21-01246 |