EBC
EBC Pro-Lite X Series Brake Rotor - Front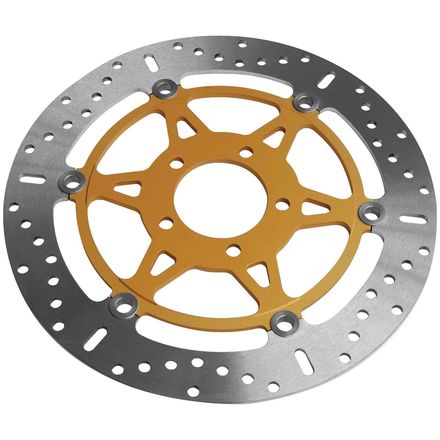 EBC Pro-Lite X Series Brake Rotor - Front
---
5% Off - Save up to $12.43
---
5 Star
2
4 Star
0
3 Star
0
2 Star
0
1 Star
0
1 year 1 month ago
Columbus Ohio
Lighter, better, cheaper!
After warping an OE rotor on my Triumph Speed Triple R i decided to upgrade to EBC. I've been very happy with their products in the automotive arena, so I felt confident I'd be happy. And I am. The X-lite is significantly lighter than the OE rotor on the S3R. I believe the patented SD system is ingenious, and I can see why my stock rotor was more susceptible to warping under stress and hard braking.

I have Brembo calipers and had DP racing pads. Possibly the reason the OE rotor warped to begin with. (Track day)

So far the EBC rotors are holding up great. And they look awesome, too. The brakes on the Speed Triple R are pretty good from the factory. So I can't say that I notice any significant performance gains, but if thy hold up for the life of the bike (as advertised) then it will definitely be well worth it.
See all bikes that this part fits...
| Product Variant | Manufacturer Part # |
| --- | --- |
| Front Right Or Left | MD3098X |
| Front Right Or Left | MD2001X |
| Front Right Or Left | MD2003X |
| Front Right Or Left | MD843X |
| Front Right Or Left | MD841X |
| Front Right Or Left | MD1152X |
| Front Right Or Left | MD1141X |
| Front Right Or Left | MD1153X |
| Front Right Or Left | MD1171X |
| Front Right Or Left | MD1003X |
| Front Right Or Left | MD1014X |
| Front Right Or Left | MD1134X |
| Front Right Or Left | MD1137X |
| Front Right Or Left | MD1138X |
| Front Right Or Left | MD1154X |
| Front Right Or Left | MD1157X |
| Front Right Or Left | MD4154X |
| Front Right Or Left | MD4141X |
| Front Right Or Left | MD4012X |
| Front Right Or Left | MD4136X |
| Front Right Or Left | MD4151X |
| Front Right Or Left | MD4022X |
| Front Right Or Left | MD4153X |
| Front Left | MD844X |
| Front Right | MD848X |
| Front Right Or Left | MD3088X |
| Front Right Or Left | MD3092X |
| Front Right Or Left | MD3006X |
| Front Right Or Left | MD3003X |
| Front Right Or Left | MD3090X |
| Front Right Or Left | MD3058X |
| Front Right Or Left | MD3089X |
| Front Right Or Left | MD3104X |
| Front Right Or Left | MD3091X |
| Front Right Or Left | MD3102X |
| Front Right Or Left | MD3100X |
| Front Right Or Left | MD852X |
| Front Right Or Left | MD800X |
| Front Right Or Left | MD817X |
| Front Right Or Left | MD842X |
| Front Right Or Left | MD2074X |
| Front Right Or Left | MD2089X |
| Front Right Or Left | MD2082X |
| Front Right Or Left | MD2095X |
| Front Right Or Left | MD2101X |
| Front Right Or Left | MD2094X |
| Front Right Or Left | MD2102X |
| Front Right Or Left | MD614X |
| Front Right Or Left | MD1176X |
| Front Right Or Left | MD1180X |
| Front Right Or Left | MD2105X |
| Front Right Or Left | MD3103X |
| Front Right Or Left | MD679X |
| Front Right Or Left | MD856X |
| Front Right Or Left | MD868X |
| Front Right Or Left | MD2124X |
| Front Right Or Left | MD4170X |
| Front Right Or Left | MD3107X |
| Front Right Or Left | MD1188X |
| Front Right Or Left | MD2112X |
| Front Right Or Left | MD2127X |
| Front Right Or Left | MD3109X |