Driven
Driven Complete Clutch Kit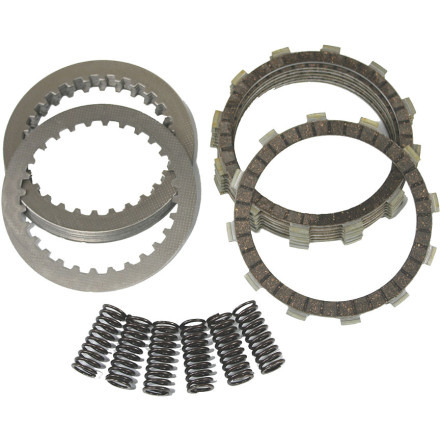 Driven Complete Clutch Kit
---
20% Off - Save up to $17.80
---
5 Star
62
4 Star
19
3 Star
4
2 Star
4
1 Star
11
Great product
Great product, haven't had them slip at all and they've lasted a long time so far
1 year 3 months ago
Athens, GA
Didn't last long!
Purchased and installed in Apr 2018, now in July 2018 it's slipping! Worked great for about 15hrs and now it's shot. Should have spent the extra money and bought a name brand part I guess.
1 year 6 months ago
Winthrop, IA
Great buy
got these for my bike and i didnt realize how bad the old ones were til i rode with these new clutches...recommend buying
Didn't realize how bad my clutch had been
I bought this clutch kit because it's cheap and the reviews seemed good enough, I skipped the spring installation because somebody said the ones that come with it are lackluster and they recommended heavy duty units. I couldn't justify that expense so I refused mine, though they feel about the same so I have a backup set. The clutches perform great though. I didn't know how inconsistent my clutch had been all these years, this is my first cr250, these gave me a lot of low speed confidence that I didn't have before thanks to the predictability they provide.
2 years 6 months ago
Gainesville, FL, USA
Good product
Worked well springs were actually stiffer than stock
2 years 8 months ago
Parsons Tn
Wont work
When I received these cltuches, I was rebuilding the two stroke. We use this bike to play around farm so didnt wont to buy anything to expensive. When I got these. The clutch was working when I replaced just slipping a little. When I installed the DRIVEN clutch they wont do anything. You can only pull the cltuches in half way and then it stops. THought it was an adjutment problem, but wasnt. So took the Driven clutches out and replaced with the ones that come out of it. No problems worked fine, just had a little slippage (reason they where being replaced)SO still not sure what was going on. But i wont purchase these again.. Motosport of course took care of this and gave me a refund. Cant say enough good things about motosport!
2 years 8 months ago
Massachusetts, USA
1999 YZ125
I got this for my YZ125 along with Barnett's heavy duty clutch springs because I like the direct engagement. when I got done I adjust the clutch to much and it was slipping so I put the adjustments as low as they go and the clutch is actually pretty good , so far I'm somewhat impressed. I then rode it around and did some adjustments on it and so far good. I gave it 3 on durability because it's still a new clutch. Overall I would recommend it with the Barnett heavy duty springs. Even if you get the clutch adjusted correctly it still feels like it slips. Other than that a good buy.
Over 3 years ago
Charleston
Great replacement clutch kit
I have purchased two of these kits in the last 2 yrs for my Trx 450er. I get one full race season out of these great clutches. Tuff and durable- stronger than OEM
Plates and fibers are great in these kits
The Steel plates and fiber are a great value in this kit! Dont run the springs. Just toss them out. Same with other value brand kits like Tusk and EBC - toss the springs! Run OEM or spend the money to get a high quality springs. With that being said, I have run the fibers and plates in many different bikes without issue and even with a rekluse added in there. Great value for the money.
See all bikes that this part fits...