Most Recent Dirt Bike Rims Reviews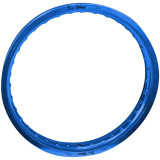 Pro Wheel Front Rim
juicedstang999

- CT
Pro Wheel spokes non-compatible W/ Pro Wheel rims
"I bought the black 16"/19" 3rd Gen set-up for my wife's Yamaha TTR 125LE thinking these are of the same quality as i'm used to with all of the other Pro Wheel rims I've bought for my big bikes BUT, to my dismay, the spokes do not fit through the holes.... I thought the Pro Wheel "play bike" branded spokes would fit with Pro Wheel "play bike" branded rims??? I thought maybe the new spokes were so much more robust than the stock Yamaha counterparts that I had to drill out 72 spoke holes because of this fact until I tried to install the factory spoke/nipple combo and surprisingly they did not fit either... Booo on Pro Wheel for even marketing these as a compatible product. At least include instructions, drill bit & countersink W/ the rims and a disclaimer at point of purchase."

See all reviews for this product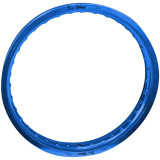 Pro Wheel Front Rim
Shockholler

- Central WV
Didn't work with spokes
"The black rim looks cool. But I bought the Pro Wheel spokes too and I had to drill the holes in the rim the slightest bit because the spikes wouldn't fit through."

See all reviews for this product