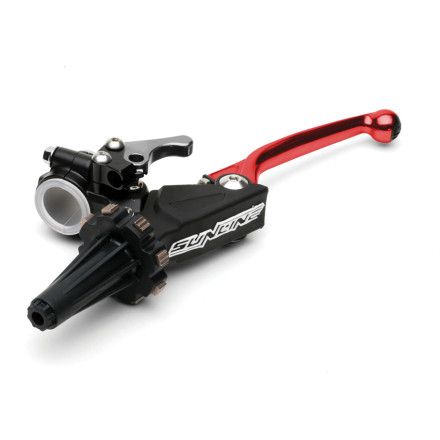 Sunline Clutch Perch Assembly With Vince V-1 MDX Lever
Unfortunately, we no longer carry this item. It may be discontinued or have just sold out.
Please contact Customer Service (1-888-676-8853) or search for another product if you continue to see this message.
Find other: Sunline Clutch Levers
5 Star
21
4 Star
2
3 Star
0
2 Star
0
1 Star
0
Write a Review
Write your review and you'll automatically be entered in our monthly drawing. Include an image or video to DOUBLE your chances to win!
Write Your Review
Great Buy
Great Buy just buy it you will love this Lever...
Over 9 months ago
Bowman, ND 58623, USA
Greast Purchase
Very easy to install and is very reliable for any kind of riding.
Over 9 months ago
Yelm, Wa
Awesome Product
Easy install, looks great!
Over 10 months ago
Texas, USA
Sunline clutch
Bought them because of the sale and the price. Great product. Works great, clutch adjusting, pull, and unbreakable. I've used ASV on every bike, but the sale was to much to pass up. I may be a sunline guy going forward. Put them on a 17 YZ250f.
Over 11 months ago
Springfield, MO, USA
Worth Every Penny!
Don't honestly have one bad thing to say about this clutch kit. Design, looks, function, it has it all. Installed on my '17 YZ250X and it did improve the ease of pull from stock, but the best feature is the break-away design, not only do they go forward but will break away up and down as well. I'd definitely recommend you don't look past this lever!
Over 11 months ago
Birmingham, AL
Great product
Fit perfect on my 04 yz250. Super easy to install and looks amazing.
Almost perfect...
Great and great looking. Super easy installation and adjustment and a bargin price! What more could you ask for...how about a dust cover for the matching brake lever. That's it. Otherwise a really great package. And thanks Motosport for the assistance with the order.
1 year 1 month ago
San Diego, CA, USA
Sunline Clutch perchAssembly With Vince V-1 Lever
This complete clutch perch and the Vince lever are the best hardware you can have on your handlebars. They look awesome and work just as good, fully adjustable to your liking and reach. Lucky to have one on my bike.
1 year 3 months ago
Stockton, ca
Awesome
This clutch perch is by far the nicest setup I've seen. The quality is excellent and the feel of it is great. Bought one for both of my bikes and gave my old ASV setup away.
1 year 3 months ago
Okinawa, Japan
Best I've owned for the price!
For the price that Motorsport offered this I had to buy. Many adjustments and works flawless.
1 year 10 months ago
Fresno, CA, USA
Great but...
This product is great but it was pretty hard to get on. I had to get a longer clutch cable so It could fit. Overall. It looks amazing and I have crashed bad on my yz125 and it still doesn't even have a scratch.
Great insurance!
This is a great option for any racer or trail rider. I've busted so many stock levers out on the trail and had to limp back to the truck to replace it or worse call it a day because I didn't have an extra. No more with these bad boys. I put them on my CRF450r and immediately went and plowed it into the ground. (not on purpose, but ya know these things happen) The lever came up covered in dirt but otherwise good as new. They're a great insurance policy for any rider, take a digger and get right back up and ride. Certainly stylish as well.
Over 3 years ago
Burbank, CA, USA
MDX clutch lever and assy.
So far, so good! The installation was a snap and the ease of use is incredible with the adjustable on the fly clutch cable adjuster. Love it!!
Best Purchase for clutch lever you can buy!
Buy this clutch lever, and you're done. No need to worry about ever breaking it. It's a bit pricey, but well worth it - you get what you pay for. A year riding with the blue lever - has not faded at all. It's nice and easy on the fly adjust. Top Notch.

I swear by Sunline levers now and will not buy anything else.
Good lever and perch assembly. I only whish the perch could have been bought sepratly as we already had the lever. Other then that its a great setup.
Over 5 years ago
Columbia, SC
More than worth it!
You can tell sunline really put in the effort on this lever/perch combo. It have saved me multiple times already!
Over 5 years ago
Vernal Utah
Epic setup
Way awesome! Completely adjustable on any plane, Worth every penny. Saved me a lever or perch or both, once already, after only using it for a week. No more early gear downs on account of a busted clutch lever XD
Over 6 years ago
Hard coal country
Over 6 years ago
danbury ct
Great product
very durable and sturdy. im glad i own this lever/ clutch perch because it has saved me many broken levers. always withstands a wipe out. clutch perch is very sturdy aswell.
Worth the money
Great lever, not sloppy like the stock lever or the msr I just replaced. Looks great and feels great.
Tyler
Q: What are the differences between this one and the SL-4 forged clutch lever?
DKennedy124
1 year 1 month ago
Location: Minnesota, USA
A: The SL-4 V1 setup is with the unbreakable lever. The SL-4 forged is your standard lever like stock just stronger
Alex
Q: Is the host start removable?
My bike doesn't need a hot start
MotoSportExpert
2 years 8 months ago
A: Yes it can be ran with or without the hotstart.
ruffriderzx6r
Q: What does perch do?
Is this for one finger clutching? And will it fit on my after market bars?
MotoSportExpert
2 years 9 months ago
A: The Sunline Clutch Perch Assembly is much stronger and has a Forged perch and rotator clamp with Teflon sleeve allowing the entire assembly to spin out of harms way in a crash. Also has a quick adjustment knob.
Most all offroad handlebars taper down to 7/8" at the control area to fit standard controls. Feel free to give us a call at 888-676-8853 and we would be happy to help you out with your order.
2tall
Location: Atlanta, GA, USA
Q: Will this create an easier clutch pull? That's what I'm really looking for. Thanks!?
MotoSportExpert
2 years 9 months ago
A: The Sunline Clutch Perch Assembly itself may not necessarily give you an easier pull. Usually the first place to start is to replace your clutch cable. Or you could also go with a Magura USA Hydraulic Clutch. Also, feel free to give us a call at 888-676-8853 and we would be happy to help you out with your order.
nuffsaid
Q: Does clutch fold like ,asv unbreakable levers when laid over?
MotoSportExpert
Over 3 years ago
A: The V1 MDX is not a "flex" lever. The V1 uses the new multi-directional or MDX platform. Like no other lever before it, the V1 MDX moves forward, up and down.
Yamaha4Life
Q: How can I contact sunline about their warranty because I was out in Glamis when I took a pretty hard spill and the perch snapped off the bars?
MotoSportExpert
Over 3 years ago
A: You can contact them direct: http://tagmetalsracing.com/sunline
Ricky
Q: I Have the Vince v-1 MDX Lever, I Only Need The Perch, Do You Sell Those Seperately?
MotoSportExpert
Over 4 years ago
Location: Portland, OR, USA
A: Depending on the issue your are having here, whether you purchased the whole kit with perch and lever and need a replacement perch, or want to add the perch to your existing lever the options are limited. If you have the whole system and need a replacement perch, you can give us a call for cost and availability of this item. If you have just the lever designed for your stock perch, unfortunately you will have to buy the whole system as the lever designed for your 2001 RM125 will not fit in this perch assembly, and will only fit perches designed to accept the stock lever.
brokeman
Q: Does the lever bend up down and side to side?
bradlyp
Over 7 years ago
A: yes it does
Trees
Q: Do yall carry this product as a brake lever? If not where can I get the brake lever?
hondarob
Over 7 years ago
A: we sell the brake lever its just the mdx v1 brake lever it is the matching lever.
Fuct
Over 4 years ago
A: There is a brake lever but doesn't come with the awesome perch. I have the brake lever on my bike it feels great! Highly recommend it.
Find More