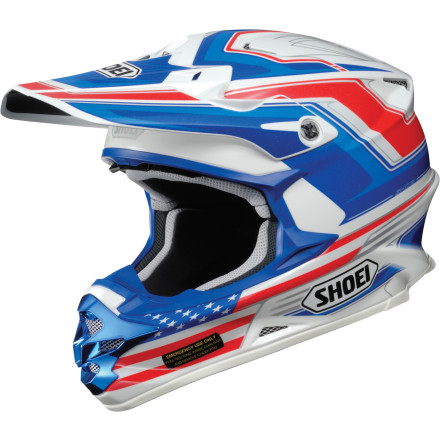 Shoei VFX-W Helmet - Salute
Unfortunately, we no longer carry this item. It may be discontinued or have just sold out.
Please contact Customer Service (1-888-676-8853) or search for another product if you continue to see this message.
Find other: Shoei Helmets
5 Star
186
4 Star
13
3 Star
0
2 Star
0
1 Star
0
Write a Review
Write your review and you'll automatically be entered in our monthly drawing. Include an image or video to DOUBLE your chances to win!
Write Your Review
19 days ago
Michigan, USA
Worth every dollar fit is great looks is sick only way to go
Showi
great helmut size runs lil small . pricy but well worth the money . dont cheap out over a 100$ or so . youll be happy with this helmut
Great helmet
This is a high quality helmet well worth the money. Great fit and finish and very comfortable. Would highly recommend this helmet to anyone in the market for a new helmet.
Over 12 months ago
Tennessee, USA
Awesome fit
In my opinion, one of the safest helmets on the market with many years of real time testing. The fit is awesome.
1 year 1 month ago
Bossier City, LA, USA
BEST HELMET DEAL EVER
Got back in town today w/ my new SHOEI waiting for me. Awesome deal! Perfect fit. Great comfort. All you guys afraid to wear green, this is a metalflake green finish and it is GREAT. Motosport, thanks for the awesome deal and great service.

Toxic Butch
#1999
Shoei VFX-W
Can't go wrong with a Shoei helmet, one of the best helmets out there. Fits as expected... I wear a M in Bell & Troy Lee and Shoei as well. My Spy Omen goggles fit perfect with this helmet. Overall the helmet is what I expected.
1 year 2 months ago
Twin Falls, ID
Awesome!
I picked this helmet up on clearance for $152.99! It has a tight fit, but it hasn't been broken in yet. In excited because with most xs helmets once they are broken in they have a little slop. This on looks like it will fit perfect after the break in period. If not, it came with a padding spacer to make up for it. Definitely a quality made helmet compared to the other helmets that I would pay $150 for! Will post more after some ride time!
1 year 2 months ago
Grantsville, md
Best helmet I've ever had
This is my first expensive helmet and I'm not sorry about getting this one.. you can really tell the difference.
Great helmet
Looks and feels great! Have not rode in it yet, but love it otherwise.
Shoei VFX W
Awesome helmet and a great deal on closeout from Motosport!!!!
1 year 2 months ago
Dallas, TX, USA
Can't go wrong with a Shoei VFX-W
You can't really go wrong with a Shoei VFX-W, some of your riding buddy's may say the cost is out of their range, but who wants to trust their head in a 99.00 helmet, spend the extra money, your head is worth it. My last Shoei helmet was 8-9 years old, the only reason I got a new one is the design on mine was a little out of date. Gotta keep up with the cool new kids on the block.
1 year 3 months ago
California, USA
Best
Such great helmets, I bought 2
1 year 3 months ago
California, USA
Best Helmet
Great price on the best helmet out there
1 year 3 months ago
Bucaramanga, Santander, Colombia
BEST HELMET EVER
Shoei VFX-W is the best helmet ever, the main design is beautiful, the comfort is awesome, the main technology is awesome (cheek pads easy to get out), i love this helmet.
1 year 4 months ago
denver, co
Expensive, but worth every penny
I went through so many helmets, trying to find a good fit. Everything pushed either in the forehead, sides, etc. This one fit perfectly. The size measurements seem to be spot on. Said I was a L and L was a perfect fit.

The material inside does a great job taking out sweat. I don't even realize I'm sweating until I take the helmet off. With others, they felt wet inside eventually.

Easy to take off sides and wash. Don't tumble dry of course. The front piece takes off and you can wash the foam inside. I don't wear the included nose/mud protector, but man, I can say that somehow this thing prevents dust from entering your lungs. I still sneeze out dirt if I've been riding in very dry conditions for hours, but definitely less so with this.

The material feels amazing. I've had matte helmets before, but something about this one feels like a semi matte coat.

This thing is also aerodynamic. Moving your head around during speeds doesn't feel like you have a massive pumpkin on your head. The noise levels are pretty low as well.

Was a little hesitant because of the price, but would buy again. Finally a good fit and awesome features, hoping it will last a long time.
1 year 5 months ago
NorCal
Continued Excellence
As a formerly avid rider who has taken a many-year break, my re-entry into the sport demanded some upgraded gear. With an array of fancy new helmet brands like 6D and options like MIIPS, buying a new helmet can be intimidating. Having tried on several helmets and even having the chance to look up close and personal at some trade shows, I guess sometimes you just can't teach an old dog new tricks. No matter how many helmets I tried on (Bell, Fox, 6D, etc), I always came back to Shoei and Arai as the ultimate in comfort for my particular head shape. For me, the deciding factor was that Motorsport had this Shoei at an incredible price and while I have never gone for a helmet with graphics this "loud", in person, the attention to detail and quality in the overall helmet and graphics is absolutely unreal! I couldn't be more happy and I should expect no less from Shoei. Everything about this helmet is pure luxury and I rated it perfect in every category except for weight only because I tried on a really light helmet from Suomy which was like a feather. BUT, this helmet is in no way a heavyweight and seems in the range comparable to everything else I tried on. And further, when you add up the perfect fit (I have always worn size Medium in Shoei, Arai, Fox, etc - and this size medium is nails), great feel and quality from the graphics, nose piece and even how the inner liner pulls out and attaches, this helmet is a winner and was a great value at Motosport.
Awesome helmet but plastic screws for visor?
Spare no expense on a great helmet.. its your head for God's sake.. the vfx-w is a great helmet. follow sizing chart. only issue was I did not understand the plastic screws that hold the visor on.. seems to cheapen a bit but then again ...there may be a reason for them.
1 year 8 months ago
Michigan
Shoei VFX-W Helmet
First time I spent this kind of money on a helmet. Really nice helmet, but tight in the cheeks & the rubber mud guard sometimes touches my nose. I guess you can buy some thinner cheek pads, but for this kind of cash you really shouldn't need to spend extra money to make the helmet fit right.
1 year 8 months ago
Salt Lake City, UT, USA
Awesome
looks good and it fits amazing
1 year 9 months ago
Asheville, NC, USA
Best helmet purchase so far
Bought this helmet for my12 yo son. It is great and easy to clean.
Bigern
Q: How much does it weigh?
David
3 months 13 days ago
A: This helmet will roughly be around 4.5 lbs depending on size.
Julio
Q: How much does it weigh?
Could compare it with a helmet Airoh Aviator 2.2?
HRG431
Q: How to size this helmet?
How do I go by sizing my head for dis helmet
MotoSportExpert
2 years 4 months ago
A: The Shoei sizing chart can be found in the "sizing chart" tab. Also, feel free to give us a call at 888-676-8853 and we would be happy to help you out with your order.
BraedenBB
Location: Florence, MS, USA
Q: Can i get different size pads for my M helmet or would i have to send it back and get the next size up? And my box is gone too.?
MotoSportExpert
2 years 4 months ago
A: Please contact one of our sales professionals to inquire about special orders and availability.
Dirt Bike / ATV: 1-888-676-8853
bgnoeth
Q: Are extra visors available ?
MotoSportExpert
2 years 11 months ago
A: Yes, If the part is available through one of our suppliers, we would be happy to order it for you. Please contact one of our sales professionals to inquire about special orders and availability.

Dirt Bike / ATV: 1-888-676-8853
Sport Motorcycle: 1-866-677-7338
Cruiser: 1-866-333-8033
Uaehmf
Q: Im using fox v4 size large, should i go with the same size for this shoei?
MotoSportExpert
Over 3 years ago
A: We have a sizing chart listed online for Shoei Helemts on the product page. Fox will have a very similar size, but again refer to that to help with your sizing. We are constantly working to get more size charts added to our site. Sizing can vary between manufacturers so if you have specific questions please call one of our sales professionals.
Moto4Fun
1 year 5 months ago
Location: Northern California, CA, USA
A: I personally have worn size Medium Fox Helmets and also Medium Shoei helmets. I would not switch sizes unless you are really on the edge of the sizing guidelines in which case, you might attempt to try one on in person. Otherwise, I think you can "cross size" a large Fox to a large Shoei and be stoked!
Michele
Q: My son's head circumference is 22.25 inches. Should I purchase a MED or SM?
MotoSportGrantK
MotoSport Staff
Expert
Top 1 Contributor
Over 3 years ago
A: I would recommend going with a size small helmet. Keep in mind that the padding will break in a little and you definitely don't want the helmet too big. Also, we have a great return policy if you need to go with the next size up.
Rick
Q: What year is this helmet?Manufactured when?
Oldguy
Over 4 years ago
Location: York, PA, USA
A: Got mine last week (December 12, 2013). Made in 1/2012 with 2010 SNELL approval. So it may have been sitting for a year and you should replace a helmet every 5 years unless you had a hard hit them replace it. But for the price I lose 1 maybe 2 years of use I am personally fine with for the price I spent. Sort of pro rating the price based on
the manufacture date.
Carl1962
Location: Ballarat VIC, Australia
Q: Do you have this helmet in a XS please?
MotoSportExpert
Over 4 years ago
Location: Portland, OR, USA
A: Unfortunately this is a discontinued helmet and the only sizes available are the ones listed.
Bitsy
Q: The Snell rating shows 2005?
Is this a typo as it shows 2005 on the listing? Did not think this model was produced until couple years ago could you please clarify.Even though its new I dont want to give up warranty period. Thank You
MotoSportExpert
Over 4 years ago
Location: Portland, OR, USA
A: This helmet meets the Snell 2005 rating. This does not mean the helmet was manufactured at this time, but the ratings for which it was certified were created in 2005. This helmet is a 2012 model year helmet.
Oldguy
Over 4 years ago
Location: York, PA, USA
A: Got mine on 12/13/13 & my SNELL approval is 2010.
Find More