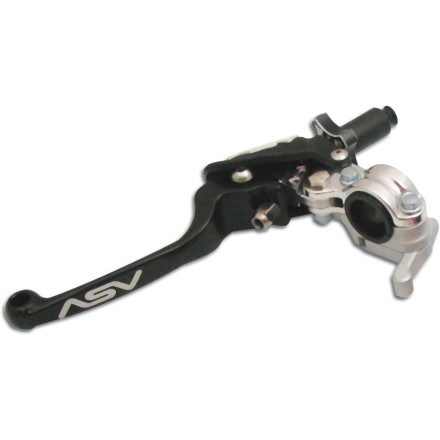 ASV F3 Pro Model Clutch Lever & Perch With Thumb Hot Start
Unfortunately, we no longer carry this item. It may be discontinued or have just sold out.
Please contact Customer Service (1-888-676-8853) or search for another product if you continue to see this message.
Find other: ASV Clutch Levers
5 Star
12
4 Star
2
3 Star
0
2 Star
0
1 Star
0
Write a Review
Write your review and you'll automatically be entered in our monthly drawing. Include an image or video to DOUBLE your chances to win!
Write Your Review
Nice
sent it back,was different than,showed in illistration
Too nice for my '06
This awesome lever looks way too nice for my battered and bruised '06 kx250f! I'm sure I'll get some scratches on it soon but it does not appear it will break anytime soon if ever. Extraction of the stock perch was a pain (I eventually broke the cable adjuster off due to impatience and lack of mechanical skill) but the ASV perch and lever slipped right on. Ease of adjustment was great. If I can install one of these on my own anyone should be able to. Thanks ASV and thanks MotoSport.com!
Excelent product
My stock levers were wore out so i thought i would upgrade to some ASV and it was one of the best upgrades i have put on. The intergration of the hot start lever saves some room and puts it into a more convient place. they look great and the quick adjust makes adjusting the clutch easy. the only problem i encountered was that on the trx450r is there is barley enough space to fit them on the bars with my ODI lock on grips with the handlebar light switch and kill switch on.
Over 5 years ago
San Mateo, CA
Love these levers
Put it on my 2005 CRF250r, works awesome. I love this lever. Also have the brake lever.
Great feel, indestructible, 3 yr warranty
Over 6 years ago
Los Angeles, CA
Great MX levers
If you dont have guards, these are the levers to go with. Well built, and if you break levers like I do then they pay off in the long run.
Over 7 years ago
Waynesburg, PA
The best for the buck
I put this clutch lever on my 250f very easy to install and very well built plus the black looks sweet on my bike since it has the white plastics from yamaha. All in all you cant go wrong with this lever it wont ever fail you.. i also have the matching brake lever i also recommend those
Over 7 years ago
grand rapids, mi
Best lever ever
This was my second folding lever and my other one didnt feel so solid these are nice and the teflon lining lets them slide up instead of snapping. the warranty is really nice to have. my mom tipped my bike into her car and my new lever got wedged between her door and door seal and still didnt snap. the only downfall is there is no spring on the hot start so it sticks a little bit but not bad just gotta lube your cable
ASV levers are a great idea! if you tip your bike over a lot they are very helpful. on the pro series they also have a quick adjustment for the clutch which is great. very easy to install too. they save you from buying multiple clutch/brake levers. worth the money!
Over 7 years ago
spokane wa
A must have
love the levers i have big hands and the asv's just seem to fit my hands the best. have had a few good crashes on them and would have been buying replacements if they where stock levers great buy.
Over 10 years ago
Springfield,Or
TUFF !
Great lever! Its strong ,very well built ,and relocates hot start to a better position.
Over 10 years ago
Salem, OH
Unbreakable!
A very good clutch, is virtually unbreakable, has better feel than stock and looks nice on the bike
Over 10 years ago
Lubbock, TX
Perfect
I just put some red ASV's on my 06 Honda 250r and they are amazing. I am a beginner so I do happen to fall quite often. The way the levers bend back really saves levers and money. The ASV's are definitely worth the money.
Over 10 years ago
brick nj
Asv rules
i put the asv brake and clutch pakage on my 06 crf250r and they are amazing they give get comfort to you hands wall using easy to adjust and i have yet to break them i have fallend right on top of them and nuttin asv are the best
Over 10 years ago
Ft Hood, Tx
Great Levers
I recently put the asv brake and clutch lever with the hot start and they are nice. You can even feel the difference in your grip when you ride. They are practically unbrakeable. The levers also move outward for when you crash they dont get ripped off.
MuricanInGermany
Q: Does this perch fit stock levers?
So, I had the old C5s. They lasted 8 years and finally broke. So I ordered a replacement non-ASV lever and the joining part was too fat.... so I figured: ok, get an ASV replacement lever, maybe ASV perches only match up to ASV levers. So I ordered the F3 (just the lever) and it was the same thickness where it joins up to the perch as the other off-brand I had ordered. So, I now have 2 levers (one an ASV F3) with the same joining width that don't fit in an aftermarket ASV C5 perch. My best guess is that the replacement clutches I bought are designed to match up with the stock perch, but I obviously no longer have the stock perch. Will this perch fit stock levers on an 08 KX450F or is it an ASV proprietary-specific size? Thanks!
rknight
Over 5 months ago
A: No. This perch will only work with ASV levers.
Cja1
Q: Will this work 1 1/8 bars?
MotoSportExpert
Over 12 months ago
A: Yes it will, the 1-1/8 is the diameter of where the bars clamp to the forks. the controls are all the same.
suzuki121
Q: Will the 2004 RMZ250 suzuki ASV levers fit a 2007 CRF250r?
Factory41
Over 8 years ago
A: Your ASV levers should fit any 250cc as long as you have factory handle bars you should be in pretty good shape.
Kawikid47
Q: Does the perch fit SE protaper handlebars?
hondarob
Over 8 years ago
A: a clutch perch will mount to any bars. all bars are 7/8 where to hand grips go nad the contorls mount to. they however, on the down bend start to taper to get bigger making it 1 1/8 so yes it will fit.
moto75
Top 25 Contributor
Top 50 Contributor
Over 7 years ago
Location: Cahttanooga tenn.
A: yes bars are all the same where your grips, and perches go so yes
gth411
Q: Is this shorter than a stock crf150r lever?
james718
Over 8 years ago
Location: Portland, OR
A: All ASV levers are stock factory length unless otherwise specified by "Shorty".
moto75
Top 50 Contributor
Top 25 Contributor
Over 7 years ago
Location: Cahttanooga tenn.
A: possibly but if it is it wont be by much at all
laxkid
Q: Will the perch fit Renthal Twinwall bars?
Drewski
Over 8 years ago
Location: P+RTLAND
A: Yes, the perch will fit with the twin wall bars.
Honda450RIDER
Over 8 years ago
Location: Petaluma CA
A: Yes
moto75
Top 50 Contributor
Top 25 Contributor
Over 7 years ago
Location: Cahttanooga tenn.
A: yes bars are all the same at the tips where your grips and perches go so yes
grizzlyman
Q: Does this come with the clutch perch or just the levers?
Drewski
Over 9 years ago
Location: Portland, OR
A: Yes It includes the perch
moto75
Top 25 Contributor
Top 50 Contributor
Over 7 years ago
Location: Cahttanooga tenn.
A: it should include the perch judging by the fact that it includes the hot start relocation it more than likely should include the whole deal.
Find More