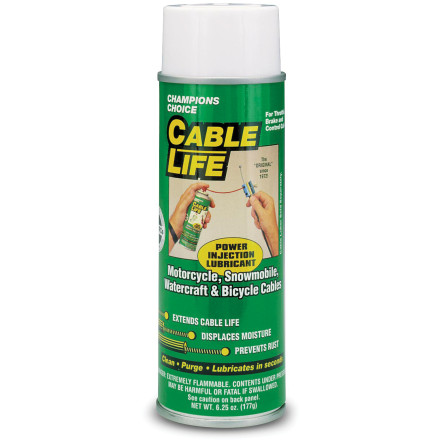 Champions Choice Cable Lubricant
5 Star
27
4 Star
5
3 Star
1
2 Star
1
1 Star
0
1 year 4 months ago
Parsons Tn
Does its job!!
Happy with this purchase. Cables feel like the bike just come off the showroom floor... actually a little better!!
1 year 7 months ago
North carolina
Good product
I find it best to insert the lubricant using a hypodermic needle so access liver cat does not get on the exterior of the cable. Takes quite a bit of time to lubricate a brand new cable
2 years 4 months ago
Houston, TX
A must for maintenance!
Simple product and something that gets overlooked, but man does it ever make a difference in clutch level pull! Super smooth.
2 years 7 months ago
Plant City, FL, USA
Cable lube
This is just what you need to keep your cables sliding smoothly. Use when you do your regular service to keep your cables lubed. A tad messy unless you also purchase the adapter that goes around the cable to help force the lube into the cable instead of all over.
Over 3 years ago
Michigan
Just the right stuff for the task
I use Champions Choice Cable Lubricant (I had to look up the name to write it down here, but it is the cable lube I always use) along with a Motion Pro cable luber to simplify the cable lubing process on my bikes. The lube is thin and travels down the cable quickly and drips out the end of the cable, so I know I when I've used enough lube. I know this is a cable lube review, but cable lubing is a pain unless you use the Motion Pro Cable Luber. Clamp the Motion Pro device on the cable, stick the lube can straw in the Motion Pro luber and you'll actually get most of the lube inside the cable. It's still messy, but it's way better.
Over 3 years ago
Silverado
Goods
Works as intended, lasts long time.
Over 4 years ago
Las Vegas, NV, USA
It works.
It lubes cables just fine.
Over 4 years ago
Jacksonville FL
Questionable
If your cables are not in terrible condition then this will work just fine. However if your one who never changes them or just leaves mud and dirt every time you ride then it will not do as well. good to have if yo do not have a spare cable as it does help.
Over 5 years ago
Eastham, MA, USA
Does the trick
Had sticky throttle cables. It took a while, but it finally worked it's way in and loosened things up. Saved me from buying and installing new ones. Saved me $$$ and time.
Over 6 years ago
Edison, NJ, USA
It lubes
I purchased this with the motion pro cable luber and I have no complaints. It does what it is supposed to do.
Vince
Q: What is the temperature range of this lubricant does it go below zero. I'm looking for something for my snowmobile cables
JamesGearhead
1 year 3 months ago
A: The manufacturer specs show the Operating temperature range -30°C to 120°C.
| Product Variant | Manufacturer Part # |
| --- | --- |
| Champions Choice Cable Lubricant | 25006 |