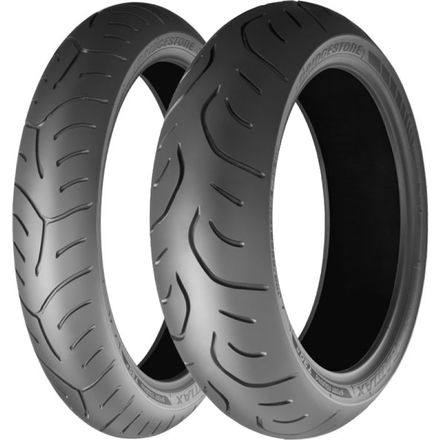 5 Star
10
4 Star
1
3 Star
0
2 Star
0
1 Star
0
4 months 13 days ago
Arizona
Great tread
Little stiff at high speeds
Over 5 months ago
North Georgia
Smooth ride
I installed Bridgestone T30's on front and back of bike. I've only put 400 miles on the new tires (and none of those miles were in the rain), but so far I'm very pleased with their performance. The ride is smooth, and grip in the mountain switchbacks is great. The previous front tire was a T30 also, and it went 7500 miles before replacement. That said, at 7500 miles the tire was worn out of shape; I'd put the usable life at closer to 6500 - 7000 miles.
Over 9 months ago
Vermont
Handling & Above Average Tread Life
Bike is a 2015 GSX-S750. This is my second set of t30 evos. Just over 8000 miles on the first. Center was flattened out around 5k but still felt good and gripped corners very well. When they had about 2k on them I got stuck in a rain storm and rode 130 miles in the rain with no problems. IMO, best tire for the money. So good, I bought them twice!

Install: I'm a do it yourselfer, but these tires are so stiff and tight I could not do it with spoons/hand tools. I brought them to a shop to be installed on my wheels.
Over 11 months ago
In your temp memory
New taaahr
It's round, black and holds air with more tread than the one it replaced. Now quit bothering me about doing reviews. :)
1 year 10 months ago
Marin County, CA, USA
Awesome sport touring tire
This is my first set of running a sport touring tire, coming out of sport orieted tires. I have no regrets choosing this tire. I ride mostly canyons and any season here in northern California. I had this on a 700 miles trip and performed as expected I did not feel ant slippage and stuck to the pavement. Although these are older model I would definitely buy again.
2 years 1 month ago
Catskill Mountains, Shandaken, NY 12464, USA
The ride is a dream
Absolutely love these tires. So much better than the Metzlers before them. They wear about the same, but the ride and handling are so much better.

Can't say enough about MotoSport either. Great company to deal with for my Moto parts and supplies
2 years 11 months ago
NE Florida USA
Bridgestone T30 EVO tire combo
Excellent purchase!
Enjoy riding my Ninja 300 with restraint. It replaced my Kawa 1200ZZR, which was getting to be a handful, at my age (82) .
I only have rear tire in use at present. Only 300 miles and am more than satisfied with its performance. Huge improvement over OEM.
Ease of installation.. done by local shop.
Durability...to be tested.
Overall rating.. should get better when front installed...
I'm really enjoying this "300".
Over 3 years ago
Enola, PA, USA
Sticky
I usually purchase pirelli brand tires which take a few hundred miles to become sticky but the Bridgestones were amazing out of box. I instantly noticed how much more grip they provided. I don't know if they will breakdown fast since only on for 500 miles so far. I would recommend them everytime for quick turn around on grip.
Evolving with the T30's
I've just replaced a set of Bridgestone T30 tires with a set of T30 EVO tires on my ST1100. I stuck with Bridgestone T30's because I was happy with the T30's. They provided good grip, stability, and still had tread at 9000 miles on my rather heavy sport touring bike. My front tire was down to 1/32", the rear was at 2/32" measured as close to the center of the tread as possible, measured the day I took the bike in to have the new tires mounted. My only complaint with the old T30's was the slight cupping of the front tire.
Now the T30 EVO tires take their place on my bike. The first 50-80 miles were a little squirmy feeling. I suspect this was the mold release compound being worn away on my commute to work. The front tire has a lighter feeling than the old T30, but this may only be due to a rounder profile with less cupping. Now that I have 200 miles on the tires they feel every bit as connected to the road as the tires they replaced. For the record, I am not an aggressive rider, and the chicken strips are a bit wide on my bikes. The Harley Clone riders in my motorcycle group think I'm a fast rider, even when I'm taking it easy. Just about any sport rider will out-pace me in the corners.
I'm looking forward to seeing how far these new EVO tires last.
Front Tire
| Product Variant | Manufacturer Part # |
| --- | --- |
| 110/80ZR18 | 005197 |
| 120/60ZR17 | 005196 |
| 110/70ZR17 | 005192 |
| 120/70ZR17 | 008601 |
Rear Tire
| Product Variant | Manufacturer Part # |
| --- | --- |
| 190/50ZR17 | 005206 |
| 160/70ZR17 | 005201 |
| 180/55ZR17 | 003869 |
| 160/60ZR17 | 003867 |