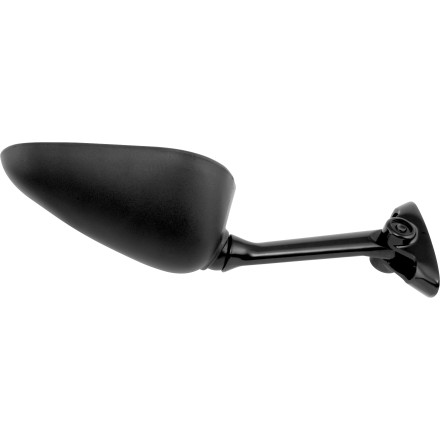 BikeMaster Replacement Mirror
---
10% Off - Save up to $14.99
---
5 Star
8
4 Star
2
3 Star
1
2 Star
0
1 Star
2
Perfect
Looks and acts just like the original.
3 months 13 days ago
Wichita,KS
Functions well
The mirrors are solid and stay exactly where they placed.
4 months 9 days ago
New york
Horrible quality
First let me say I am usually more than satisfied with the parts I've ordered from MotoSport..... however this time I was not the mirror is cheaply made, will crack when you try to adjust, and is not OEM specs. Oh and no hardware.
Perfect match.
Bought this to replace my mirror on my 2007 FZ1. It fit perfect. You can't tell the difference from the OEM and high quality at more than half the price.
Good quality part
Mirror was a perfect fit and match for my 2017 fz09! And it was shipped out very fast! Thanks!
Excellent Mirrors
These mirrors do the job and are very customizable with 360° rotation and an arm that allows you to fold them in/out. The only downside is that on my bike they are a little short and don't provide the maximum visibility you might get with longer mirrors. I ordered them Monday evening and they were at my door Wednesday morning. Overall, a great product and great shipping.
Over 3 years ago
Hawaii Island
BikeMaster Mirror
Love BikeMaster products, great pricing and good quality most of the time. This time ... Not sure.
Had an incident where my bike was knocked over. Instead of the mirror collapsing ( they are designed to ) it just snapped off clean at the pivot hinge. Ordered a new mirror and 1 of 2 studs that hold it to the bike, pulled loose from the mirror- the entire threaded stud loose in my hand. Needed the mirror so I swapped the bottom of the new-now-old mirror and it works. Albeit, a little more vibration on that mirror.
Sooo, I ordered another one. (I know) haven't put it in my bike yet. Still rocking the "slightly rougher" mirror. Going to put the newer one on soon. If I run into the same issue with the threaded studs; I'll just return and order OEM for double the price. Sometimes you get what you pay for. Sometimes the workmanship is just faulty. Let the buyer beware :))
You guys have great products MotoSport!! Thank you!
I am normally the person that finds stuff like this. Don't know why, it just happens to me like that. Hahahaaa
Mntman
Q: If I'm sitting on my bike, I need the mirror on my right? Which one should I order because I ordered one before and your right was diff. from my right? Thanks
DaveGearhead
Over 7 months ago
A: You will always interpret it when ordering as if you were sitting on the bike. You are correct in that you will need to order the right side.
Jacob
Q: How long are the bolts for this mirror?
DaveGearhead
1 year 2 months ago
A: The bolts are not included with the mirror.
Stray
Q: Is this a matte black cause I'm needing a matte black 
Michael
1 year 5 months ago
A: It is the same color black as the manufactuer OEM part.
COCOcabana
Q: Shorter
Ive read other reviews that say the mirrors are shorter than the original for the FZ6 07, is this true? Thanks
motosport
2 years 7 months ago
A: yes, they are slightly shorter then the factory mirrors
matt
Q: Mirror turn signal in the mirror?
my bike has the turn signal in the mirror do these also light up within the mirror?ps my kid ran the pw80 into my bike!
MotoSportExpert
Over 3 years ago
A: No these BikeMaster Replacement Mirrors would not have the turn signals.
See all bikes that this part fits...
| Product Variant | Manufacturer Part # |
| --- | --- |
| Black / Left | FA-61LH |
| Black / Left | FS-139LH |
| Black / Left | UD-M002 |
| Black / Left | UD-M010 |
| Black / Left | UD-M014 |
| Black / Left | UD-M018 |
| Black / Left | UD-M024 |
| Black / Left | UD-M026 |
| Black / Left | 600279 |
| Black / Left | 600285 |
| Black / Left | 600289 |
| Black / Left | 600291 |
| Black / Left | 600293 |
| Black / Left | 600295 |
| Black / Left | MK-008L |
| Black / Left | FK240L |
| Black / Left | FK-289L |
| Black / Left | MS012-L |
| Black / Left | JY-138L |
| Black / Left | MY016-L |
| Black / Left | FY291L |
| Black / Left | FK295L |
| Black / Left | MH028L |
| Black / Left | FK177L |
| Black / Left | FK243L |
| Black / Left | FK-861-2L |
| Black / Left | FS-876L |
| Black / Left | FY287L |
| Black / Left | FS-137LH |
| Black / Left | FK-172 LH |
| Black / Left | FK-929L |
| Black / Left | FK-873L |
| Black / Left | FK-872L |
| Black / Left | FS-292L |
| Black / Left | FY-918L |
| Black / Left | FY-931L |
| Black / Right | FA-61RH |
| Black / Right | FS-139RH |
| Black / Right | UD-M001 |
| Black / Right | UD-M009 |
| Black / Right | UD-M013 |
| Black / Right | UD-M017 |
| Black / Right | UD-M023 |
| Black / Right | UD-M025 |
| Black / Right | 600278 |
| Black / Right | 600284 |
| Black / Right | 600288 |
| Black / Right | 600290 |
| Black / Right | 600294 |
| Black / Right | MK-008R |
| Black / Right | FK240R |
| Black / Right | FK-289R |
| Black / Right | MS012-R |
| Black / Right | JY-138R |
| Black / Right | MY016-R |
| Black / Right | FY291R |
| Black / Right | FK295R |
| Black / Right | MH028R |
| Black / Right | FK177R |
| Black / Right | FK243R |
| Black / Right | FK-861-2R |
| Black / Right | FS-876R |
| Black / Right | FY287R |
| Black / Right | FS-137RH |
| Black / Right | FK-172 RH |
| Black / Right | FK-929R |
| Black / Right | FK-873R |
| Black / Right | FK-872R |
| Black / Right | FS-292R |
| Black / Right | FY-918R |
| Black / Right | FY-931R |
| Black / Left | 600483 |
| Black / Left | 600495 |
| Black / Left | 600504 |
| Black / Right | 600482 |
| Black / Right | 600494 |
| Black / Right | 600505 |
| Black / Right | FH-982 RH |
| Black / Left | FH-982 LH |
| Black / Right | FD-916B RH |
| Black / Left | FD-321LH |
| Black / Right | FD-321RH |
| Black / Left | FD-939 LH |
| Black / Right | FD-939 RH |
| Black / Left | FD-981LH |
| Black / Right | FD-981RH |
| Black / Left | FH-949L |
| Black / Right | FH-949R |
| Black / Left | FH-994 LH |
| Black / Right | FH-994 RH |
| Black / Left | FK-976LH |
| Black / Right | FK-976RH |
| Black / Left | FK-802LH |
| Black / Right | FK-802RH |
| Black / Left | FK-999LH |
| Black / Right | FK-999 RH |
| Black / Left | FK-988 LH |
| Black / Right | FK-988 RH |
| Black / Left | FK-800LH |
| Black / Right | FK-800RH |
| Black / Left | FY-953L |
| Black / Right | FY-953R |
| Black / Left | FY-804 LH |
| Black / Right | FY-804 RH |
| Black / Left | FY-996LH |
| Black / Right | FY-996RH |
| Chrome / Left | FY-923L |
| Chrome / Right | FY-923R |
| Chrome / Right | UD-M019 |
| Chrome / Left | 600469 |
| Chrome / Left | 600471 |
| Chrome / Right | 600468 |
| Chrome / Right | 600470 |
| Chrome / Left | FY-778-TLH |
| Chrome / Right | FY-778-TRH |
| Chrome / Left | FY-997TLH |
| Carbon Look / Left | UD-M004 |
| Carbon Look / Left | UD-M012 |
| Carbon Look / Left | UD-M016 |
| Carbon Look / Left | UD-M028 |
| Carbon Look / Left | 600281 |
| Carbon Look / Left | MH028LCBN |
| Carbon Look / Right | UD-M003 |
| Carbon Look / Right | UD-M011 |
| Carbon Look / Right | UD-M015 |
| Carbon Look / Right | UD-M027 |
| Carbon Look / Right | 600280 |
| Carbon Look / Left | FY236L |
| Carbon Look / Right | FY236R |