Big Gun
Big Gun Eco System Slip-On Exhaust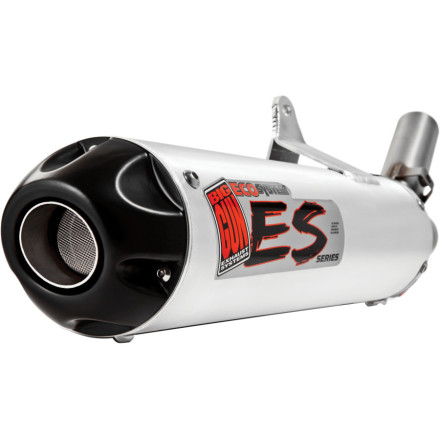 Big Gun Eco System Slip-On Exhaust
---
10% Off - Save up to $27.00
---
5 Star
23
4 Star
5
3 Star
1
2 Star
1
1 Star
1
Write a Review
Write your review and you'll automatically be entered in our monthly drawing. Include an image or video to DOUBLE your chances to win!
Write Your Review
Over 9 months ago
salisbury, ma
Awesome product
bought this slip on for my yfz 450r se. amazing sound and easy to install. great product for the price!
1 year 3 months ago
Tremonton Utah
This thing is AWESOME !!!
The power it adds to my Z400 is amazing but what I really like is the sound that it makes !!! just makes you feel like you can get after it !!!
You know the old saying you can't get down if you don't hear the sound!!!!
Seriously this is an awesome product I am very very pleased with it!! it's added lot to my Suzuki Z400!! it was an awesome wheeler before now it's a totally awesome digger !!! I love what this has added to my machine Power and Sound and I've got So many compliments on it it's pretty cool !!!
Wayze to install takes less than 5 minutes highly recommend the BIG GUN !!!!
1 year 6 months ago
Mississippi, USA
Big Gun ES on 420 Rancher
I bought these big gun for my 420, and saw very little power increase even with the optimizer. Before the optimizer my bike WAS Lean with just the exhaust and I am around 150 about sea level if that helps you any with the air pressures and whatnot. It was ehhh to put on the first time, but I did remove it and put it back on with ease
1 year 9 months ago
Morrisdale pa 16858
It's loudbut doesn'tshake atvbutyoucanhearitintown
This atv exhaust is loud but I don't think man that it shake your quad because it's not shaking my atv it's loud enough that you can hear it in town on the other side in town other than that it's sounds like a raptor without a baffle in
1 year 10 months ago
Mansfield, GA, USA
Sounds great and performers great
Me and my dad put ours on my honda rancher 420 es and it went on like a dream the only hard part was taking the stock off. My fourwheeler only use to do barley 50 now can do about 61mph
1 year 11 months ago
Cecilia, KY 42724, USA
Works great!sounds great!
Sounds great.looks great.motosport service was excellent.had trouble getting it to seal to header pipe.clamp broke trying to get it to seal.big gun sent me new clamps but still wouldn't seal.had to buy heavy duty clamp for a motorcycle slip on pipes and finally it sealed.but all around happy with it and also happy with service from moto sport and big gun.
2 years 2 months ago
Andover, IL, USA
Cool but theres one issue..
(2009 Honda trx250x) got this during the summer and it sounded great but then the gasket between the slip on and header kept popping out. one time it came out in the middle of WV trails at hatfield mccoy, I had no choice but to keep going. the gasket eventually blew out the spark arrestor. So after all of that, I decided to make another notch at the end of slip on so that the clamp can squeeze down harder for a tighter seal. Last night finally I put some jb weld around the gasket (3rd gasket i have bought for this one issue) to prevent it from coming out. Tonight i'm going to put on the slip on and clamp it and hope it works. if not i'm gonna need a better clamp or something. Just wish I didn't have to do all of this un-legit stuff to get it to work but oh well
Wardboy
Q: Will this fit my 2018 Textron Alterra mud pro 700!
Dan Gearhead
1 month 21 days ago
A: Currently the only 2018 Textron this exhaust is available for is the 2018 Textron DVX90.
Jay miller
Q: Will it fit a 2017 renagade 570 can-am and if so will it effect anything 
Paul
4 months 8 days ago
A: Our Big Gun Eco System Slip-On Exhaust will not fit your 2017 Can-Am Renegade 570. We can order the Big Gun Exo Stainless Series Slip-On Exhaust to fit your '17 Renegade 570.
Aric96
Q: How well does this fit on an 08 Honda crf250r with duel exhaust?
JamesGearhead
4 months 20 days ago
A: This will not fit on a 2008 CRF250R, those bikes did not come with duel exhaust set ups from the factory so anything you find would be custom.
Slickrick
Q: Will thus fit my 2004 yfz 450 quad with mega bomb header ?
DaveGearhead
4 months 26 days ago
A: It is not likely. Mixing exhausts from different companies rarely works out for you.
JT88
Q: Would this fit on a 2006 Honda TRX 250ex and would this give me extra power when I need it during a race ?
DaveGearhead
Over 5 months ago
A: You would see some minimal power increases, however, this muffler was not created as a race muffler. It was created for legal offroad use.
Dalton02
Q: I have a 2005 Kawasaki KFX 400 and I have the powerbomb header on there from fmf, I was wondering if this Big Gun Exhaust fit onto this header? Thanks for the help in advance
DaveGearhead
Over 5 months ago
A: Mixing brands of exhaust typically does not work and FMF does not recommend it.
CumminsPower
Q: I have a 2012 Honda Trx250x will I need to mess with the carb after I put the exhaust on?
robert
Over 6 months ago
A: You will want to check jetting after any engine modifications.
Freddie
Q: I have a 2002 Honda 400ex this item fits ?? And how but is the connector ?? 1/8 or 1/4 ??
DaveGearhead
Over 8 months ago
A: There is a muffler for your atv. The manufacturer does not furnish the O.D. measurement for the connector portion of the muffler.
Zack
Q: Do you need to purchase a gasket to seal off any leaks connecting from the header to the muffler
David
1 year 1 month ago
A: You can typically reuse your stock seal but if it's damaged. I would suggest replacing it.
Zack
Q: Does it come with a exhaust gasket
David
1 year 1 month ago
A: It does not.
See all bikes that this part fits...
| Product Variant | Manufacturer Part # |
| --- | --- |
| Big Gun Eco System Slip-On Exhaust | N/A |
| Big Gun Eco System Slip-On Exhaust | 07-1112 |
| Big Gun Eco System Slip-On Exhaust | 07-1172 |
| Big Gun Eco System Slip-On Exhaust | 07-1122 |
| Big Gun Eco System Slip-On Exhaust | 07-1132 |
| Big Gun Eco System Slip-On Exhaust | 07-1142 |
| Big Gun Eco System Slip-On Exhaust | 07-1152 |
| Big Gun Eco System Slip-On Exhaust | 07-1182 |
| Big Gun Eco System Slip-On Exhaust | 07-1192 |
| Big Gun Eco System Slip-On Exhaust | 07-1202 |
| Big Gun Eco System Slip-On Exhaust | 07-1212 |
| Big Gun Eco System Slip-On Exhaust | 07-1222 |
| Big Gun Eco System Slip-On Exhaust | 07-1232 |
| Big Gun Eco System Slip-On Exhaust | 07-1252 |
| Big Gun Eco System Slip-On Exhaust | 07-1262 |
| Big Gun Eco System Slip-On Exhaust | 07-1272 |
| Big Gun Eco System Slip-On Exhaust | 07-1302 |
| Big Gun Eco System Slip-On Exhaust | 07-1312 |
| Big Gun Eco System Slip-On Exhaust | 07-1322 |
| Big Gun Eco System Slip-On Exhaust | 07-1342 |
| Big Gun Eco System Slip-On Exhaust | 07-1412 |
| Big Gun Eco System Slip-On Exhaust | 07-2612 |
| Big Gun Eco System Slip-On Exhaust | 07-7582 |
| Big Gun Eco System Slip-On Exhaust | 07-7702 |
| Big Gun Eco System Slip-On Exhaust | 07-2223 |
| Big Gun Eco System Slip-On Exhaust | 07-2232 |
| Big Gun Eco System Slip-On Exhaust | 07-6902 |
| Big Gun Eco System Slip-On Exhaust | 07-1422 |
| Big Gun Eco System Slip-On Exhaust | 07-1292 |
| Big Gun Eco System Slip-On Exhaust | 07-1432 |
| Big Gun Eco System Slip-On Exhaust | 07-1002 |
| Big Gun Eco System Slip-On Exhaust | 07-1022 |
| Big Gun Eco System Slip-On Exhaust | 07-1042 |
| Big Gun Eco System Slip-On Exhaust | 07-1052 |
| Big Gun Eco System Slip-On Exhaust | 07-1062 |
| Big Gun Eco System Slip-On Exhaust | 07-1072 |
| Big Gun Eco System Slip-On Exhaust | 07-1082 |
| Big Gun Eco System Slip-On Exhaust | 07-1102 |
| Big Gun Eco System Slip-On Exhaust | 07-1362 |
| Big Gun Eco System Slip-On Exhaust | 07-1442 |
| Big Gun Eco System Slip-On Exhaust | 07-1402 |
| Big Gun Eco System Slip-On Exhaust | 07-1502 |
| Big Gun Eco System Slip-On Exhaust | 07-4352 |
| Big Gun Eco System Slip-On Exhaust | 07-1242 |