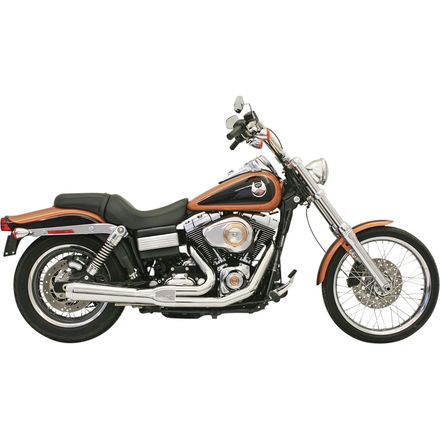 Bassani Xhaust Road Rage 2-Into-1 Exhaust
Knight
Q: W\With this exhaust will I be able to utilize full floorboard by brake pedal for 2008 Dyna Wide Glide ?
Trevor Gearhead
3 months 12 days ago
A: It depends on the floor boards. There are an extremely large amount of floor boards options out there.
See all bikes that this part fits...
| Product Variant | Manufacturer Part # |
| --- | --- |
| Black / Long | 1D28RB |
| Black / Long | FLH-737B |
| Chrome / Long | FLH-737 |
| Black / Long | 13121J |
| Chrome / Long With Black Billet Reverse Cone End Cap With Machined Flutes | 13311R |
| Chrome / Long | 1D28R |
| Black / Straight Can With Mid Controls | 1D48UB |
| Chrome / Long Straight Can With Mid Controls | 1D48R |
| Chrome / Long | 13111J |
| Chrome / Long | 14111J |
| Black / Long | 12121J |
| Chrome / Long | 12111J |
| Black / Mid | 6H22RB |
| Chrome / Mid | 6H22R |
| Black / Long With Mid Controls | 1D42UB |
| Chrome / Long With Mid Controls | 1D42R |
| Black / Mid | 6V22RB |
| Chrome / Mid | 6V22R |
| Chrome / Short With Forward Controls | 1V12J |
| Black / Short | 1V22JB |
| Chrome / Short | 1V22J |
| Black / Short Without Floorboards | 1FXR2B |
| Chrome / Short Without Floorboards | 1FXR2 |
| Black / Short With Floorboards | 1FXRFB |
| Chrome / Short With Floorboards | 1FXRF |
| Black / Short With Forward/Mid Controls | 1X22RB |
| Chrome / Short With Forward/Mid Controls | 1X22R |
| Black / Short Upswept Not Stepped With Forward/Mid Controls | 1D5250B |
| Chrome / Short Upswept Not Stepped With Forward/Mid Controls | 1D5250 |
| Black / Short Upswept | 14122J |
| Chrome / Short Upswept | 14112J |
| Black / Short Upswept | 14222J |
| Chrome / Short Upswept | 14212J |
| Black / Long | 1S31RB |
| Chrome / Long | 1S31R |
| Black / Short | 12122J |
| Chrome / Short | 12112J |
| Black / Show | 1S32RB |
| Chrome / Show | 1S32R |
| Black / Short Upswept With Forward/Mid Controls | 13122J |
| Chrome / Short Upswept With Forward/Mid Controls | 13112J |