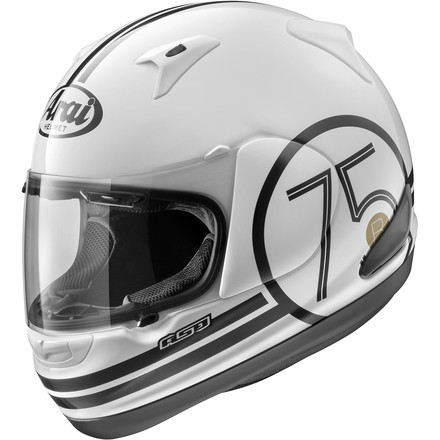 Arai RX-Q Helmet - 75 Retro
Product Not Available
Unfortunately, we no longer carry this item. It may be discontinued or have just sold out.
Please contact Customer Service (1-888-676-8853) or search for another product if you continue to see this message.
The brand new RX-Q. Purpose-built to be the "The Ultimate Street Helmet." A new benchmark in comfort, quiet, stability and ventilation in a street helmet. The helmet you'd build if you wanted to treat yourself to a dream. Every feature optimized for the conditions, speeds, and environments of the real world. A helmet for others' top-of-the-line models to envy.
Even its name tells you it's special. To anyone familiar with Arai's model lineage, the RX prefix is well-known. It began with the original X-7 back in 1979, evolving a few years later into the iconic RX-7 model series that effectively changed the face, literally and figuratively, of helmet design.
The RX-Q is the Corsair-V for the street with features created for the extremes of racing while being tailored to the needs of the street. The complexity and sophistication of the design is hidden in the simplicity of it's execution. With a slew of features including a removable neckroll, Emergency Cheek Pad Removal System and an enhanced lower hyper ridge, the RX-Q site in a class all by itself for street helmets.
Extremely wide peripheral view: Extremely wide peripheral view for better visibility and awareness of the world around you. The RX-Q uses the same wider-eyeport SAI faceshield as the Corsair-V, 5 mm wider on each side.
Hand-formed natural shell shape: Small, more aerodynamic, hand-formed natural shell shape and size aids stability and stillness - not only in straight-line wind-tunnel stability, but it also minimizes the negative aerodynamic effect when turning your head to check traffic or in a cross wind. And, it looks better on your head than other bigger, rounder balloon-style shell designs on the market.
Advanced ventilation: Advanced ventilation combines more efficiency with even less interior noise. Arai's ability to further refine proven designs to increase helmet performance proves that you don't have to reinvent the wheel to make substantial improvements. The vents have been refined to be extremely efficient, flowing huge volumes of air through the interior to improve ventilation at road speeds. Not a lot of vent holes - just the right ones, in the right size, in the right place.
Lower center gravity: A uniquely-designed lower Hyper-Ridge circles the shell bottom to improve strength and aerodynamics. Its design lowers the center-of-gravity for an exceptionally light feeling on your head, and provides a larger bottom opening for easier on-off without enlarging the helmet.
Removable neckroll: The RX-Q has both a removable neckroll and Arai's (now copied) innovation, the Emergency Cheek Pad Removal System. Both come directly from its Corsair-V "big brother."
New one-piece bottom edge trim: Brand new, one-piece bottom edge trim, gives an incredibly clean look by eliminating the need for seams. Another example of Arai's attention to the smallest detail, born of Mr. Arai's belief: There Is no unimportant part of an Arai helmet.
Even more comfort: The RX-Q's truly-unique, newly-sculpted cheekpad shape cradles the head from underneath for a level of comfort and security that needs to be felt to be believed. With more surface area, it moves away from the typical "pressure fit" to a more "comfort fit" based on the design's "cradle" support. The design was influenced by Arai's F-1 drivers, the most demanding of all for fit. Very, very quiet: mostly owed to the new cheekpad design. The newly sculpted lower portion of the cheek pad better cradles the jaw, blocking more noise entering the helmet from underneath - the major source of helmet noise - by creating a better noise seal. This, combined with new sound-deadening foam in the ear pocket, gives you an extremely quiet helmet. Plus, the cheekpad also has Arai's innovative Emergency Cheekpad Removal System.
Aerodynamic exhaust vent cowling: New, more aerodynamic upper and side exhaust vent cowling, sculpted to enhance stability while increasing exhaust efficiency. The side vent cowls are tailored to the needs and speeds of the street. Compared to the C-V, the RX-Q's cowlings are larger and more aggressively styled, as lower street speeds require more surface area and a more refined shaping in order to deliver the increased stability. High speed performance is also excellent.
Handmade craftsmanship: Arai's exceptional handmade craftsmanship, made to a higher standard of protection, comfort, and quality that':s difficult to put a "price" on.
A philosophy of evolution, not revolution: True to Arai's successful generations-long philosophy of evolution rather than revolution, the complexity and sophistication of the RX-Q design is hidden in the simplicity of its execution. Its typical "Arai look" belies the considerable performance this helmet delivers for the street rider. The "look" is purpose-driven by Arai's belief that you can make changes to a helmet shell as long as you never forget its primary function: Impact energy management; thereby leading to the use of more natural, smoother surfaces without exaggerated ridges or protrusions that may look impressive, but that in a crash could possibly have an adverse effect on the helmet's main job - manage impact energy.
Testing feedback: Testing feedback has centered on how light the RX-Q feels in your hands - and even lighter on your head. Peripheral vision, comfort, and stability seem to be immediately recognizable, and a new level of quiet that impresses everybody who experiences it, proving that this helmet needs to be ridden in to fully appreciate the features that make it stand out among its competition.
Brow-vent channeling: The faceshield Brow Vents, like those of the Corsair-V, redirect incoming air to the temples instead of the forehead, and around the ear area (missed by many helmet ventilations systems). The stale air is then extracted out the side exhaust cowls. The airflow over the temple artery reportedly also helps cool the blood flow to the brain area. This simple re-purposing of two existing vent features greatly improves helmet performance and rider comfort.
Intermediate oval interior shape: The RX-Q has an evolved version of Arai's very popular Intermediate-Oval (IO) interior shape. Arai is the only company offering multiple interior-fit packages to better address the infinite variety of consumers' head shapes and sizes. Its interior fit shapes evolve and improve as company research recognizes trends based on consumer feedback. The RX-Q shape is similar to the current Corsair-V and Vector models, and the former RX-7 Corsair and Quantum-2 represents a further refinement of interior shape configuration based on market feedback and Arai's continual comparison, measurement and research of human head shapes.
Meets or exceeds SNELL and DOT standards.
Report Incorrect Product Information
Find More