Applied
Applied R/S Triple Clamp Kit With Renthal Fat Bar Handlebar Combo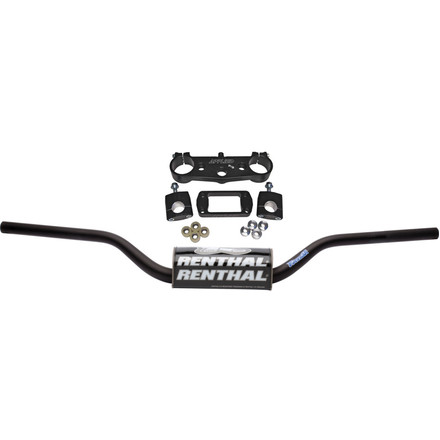 Applied R/S Triple Clamp Kit With Renthal Fat Bar Handlebar Combo
---
12% Off - Save up to $34.99
---
Enter to Win $500
Write your review and you'll automatically be entered in our monthly drawing. Include an image or video to DOUBLE your chances to win!
Write Your Review
Calen
Q: Does this kit need longer clutch and brake cables/lines in order to work?
DaveGearhead
1 month 21 days ago
A: This kit should not require longer cables for most bikes.
See all bikes that this part fits...
Clamp Kit
| Product Variant | Manufacturer Part # |
| --- | --- |
| Red / 24mm | N/A |
| Red / No Offset | N/A |
| Red / 22.5mm | N/A |
| Red / 22mm | N/A |
| Silver / 22mm | N/A |
| Red / No Offset | N/A |
| Black / 23.5mm | N/A |
| Silver / 23.5mm | N/A |
| Black / 20mm | N/A |
| Black / No Offset | N/A |
| Black / 25mm | N/A |
| Black / 25mm | N/A |
| Black / 25mm | N/A |
| Silver / 25mm | N/A |
| Black / 22.5mm | N/A |
| Silver / 20mm | N/A |
| Black / 21.5mm | N/A |
| Black / 22mm | N/A |
| Black / 22mm | N/A |
| Silver / No Offset | N/A |
| Black / 22mm | N/A |
| Red / 23.5mm | N/A |
| Black / 24mm | N/A |
| Red / 21.5mm | N/A |
| Black / No Offset | N/A |
| Red / 22mm | N/A |
| Black / No Offset | N/A |
| Red / No Offset | N/A |
| Red / 22mm | N/A |
| Silver / 25mm | N/A |
| Red / 22mm | N/A |
| Silver / 25mm | N/A |
| Red / 25mm | N/A |
| Silver / No Offset | N/A |
| Red / 25mm | N/A |
| Silver / 22.5mm | N/A |
| Red / 25mm | N/A |
| Silver / 22mm | N/A |
| Red / 20mm | N/A |
| Silver / 24mm | N/A |
| Silver / 21.5mm | N/A |
| Black / 22mm | N/A |
Handlebar
| Product Variant | Manufacturer Part # |
| --- | --- |
| Red / 604 - Carmichael | 604-01-RD |
| Red / 603 - Reed/Windham | 603-01-RD |
| Titanium / 745 - Enduro | 745-01-TT |
| Titanium / 671 - RC Mini | 671-01-TT |
| Titanium / 827 - KTM SX 125-450 13 | 827-01-TT |
| Titanium / 605 - CR High | 605-01-TT |
| Black / 821 - Short/McGrath | 821-01-BK |
| Titanium / 609 - RC High | 609-01-TT |
| Black / 602 - YZ/YZF 07+ | 602-01-BK |
| Black / 609 - RC High | 609-01-BK |
| Blue / 603 - Reed/Windham | 603-01-BU |
| Blue / 605 - CR High | 605-01-BU |
| Blue / 604 - Carmichael | 604-01-BU |
| Green / 609 - RC High | 609-01-GN |
| Black / 822 - KTM Low | 822-01-BK |
| Blue / 609 - RC High | 609-01-BU |
| Black / 826 - KTM High | 826-01-BK |
| Titanium / 821 - Short/McGrath | 821-01-TT |
| Black / 604 - Carmichael | 604-01-BK |
| Titanium / 604 - Carmichael | 604-01-TT |
| Black / 605 - CR High | 605-01-BK |
| Titanium / 672 - CR Low | 672-01-TT |
| Black / 672 - CR Low | 672-01-BK |
| Titanium / 603 - Reed/Windham | 603-01-TT |
| Black / 745 - Enduro | 745-01-BK |
| Red / 609 - RC High | 609-01-RD |
| Black / 603 - Reed/Windham | 603-01-BK |
| Red / 605 - CR High | 605-01-RD |
| Black / 671 - RC Mini | 671-01-BK |
| Red / 672 - CR/MX Low | 672-01-RD |
| Titanium / 602 - YZ/YZF 07+ | 602-01-TT |
| Green / 604 - Carmichael | 604-01-GN |
| Blue / 602 - YZ/YZF 07+ | 602-01-BU |