Yana Shiki
Yana Shiki Left & Right Front Rotor Combo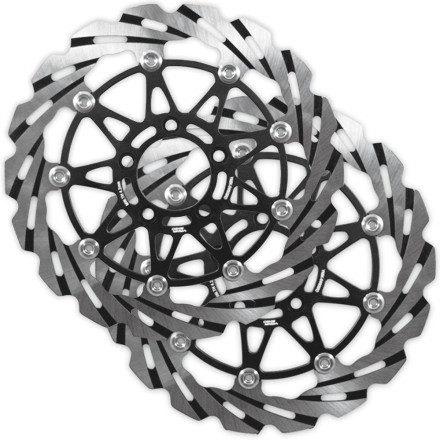 Yana Shiki Left & Right Front Rotor Combo
---
15% Off - Save up to $32.08
---
5 Star
2
4 Star
2
3 Star
0
2 Star
0
1 Star
0
2 months 9 days ago
Dallas, Texas
Excellent product
Best bang for your buck, not a better deal out there
Over 6 years ago
tempe az
Yana shiki front rotor combo
Rotors are a hot touch to my R1 and fit perfect in place of stock. They arrived in a reasonable time and," just my luck", went on sale the week after I bought them!
Over 7 years ago
Miami,FL & Nashville,TN
Great purchase
This is a great buy. The price was a bargain with the product being great. Perfect for everyday driving as long as not overusing the brakes as you might use on a track.
trpl7man
Q: How much do these Yana Shiki rotors for the BMW S1000rr weigh ?
Chowe
2 months 3 days ago
A: You will want to call Yana Shiki directly at (888) 524 5535 for that information.
Dracula11
Q: Are thses rotors made from china for your company or usa made?
MotoSportExpert
Over 4 years ago
A: Yes, Yana Shiki products are manufactured in China.
Frank
Q: How do these come shipped? Protective packaging?
MotoSportExpert
Over 4 years ago
A: They come packaged from the manufacture and would be shipped in a box.
See all bikes that this part fits...
Left Rotor
| Product Variant | Manufacturer Part # |
| --- | --- |
| Left | SW926LD |
| Left | SW927LD |
| Left | SW924LD |
| Left | SW925LD |
| Left | SW950LD |
| Left | SW922LD |
| Left | SW915LD |
| Left | SW941LD |
| Left | SW913LD |
| Left | SW914LD |
| Left | SW911LD |
| Left | SW910LD |
| Left | SW906LD |
| Left | SW933LD |
| Left | SW920LD |
| Left | SW934LD |
| Left | SW921LD |
| Left | SW949LD |
| Left | SW955LD |
| Left | SW901LD |
| Left | SW902LD |
| Left | SW964LD |
| Left | SW903LD |
| Left | SW959LD |
| Left | SW958LD |
| NON-Floating Left | SW881SLD |
| Left | SW944LD |
| Left | SW951LD |
| Left | SW939LD |
| Left | SW905LD |
| Full-Floating Left | SW881LD |
Right Rotor
| Product Variant | Manufacturer Part # |
| --- | --- |
| Right | SW934RD |
| Right | SW933RD |
| Right | SW927RD |
| Right | SW926RD |
| Right | SW925RD |
| Right | SW924RD |
| Right | SW941RD |
| Right | SW949RD |
| Right | SW950RD |
| Right | SW955RD |
| Right | SW901RD |
| Full-Floating Right | SW881RD |
| Right | SW905RD |
| NON-Floating Right | SW881SRD |
| Right | SW906RD |
| Right | SW958RD |
| Right | SW910RD |
| Right | SW959RD |
| Right | SW911RD |
| Right | SW964RD |
| Right | SW913RD |
| Right | SW903RD |
| Right | SW914RD |
| Right | SW902RD |
| Right | SW915RD |
| Right | SW944RD |
| Right | SW920RD |
| Right | SW951RD |
| Right | SW921RD |
| Right | SW939RD |
| Right | SW922RD |