Wiseco
Wiseco Pro-Lite Piston Kit - 2-Stroke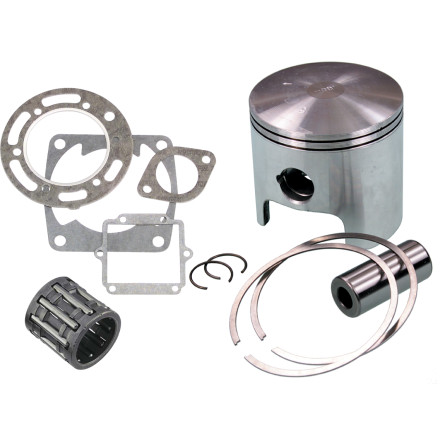 Wiseco Pro-Lite Piston Kit - 2-Stroke
---
18% Off - Save up to $22.98
---
5 Star
183
4 Star
17
3 Star
0
2 Star
4
1 Star
3
Write a Review
Write your review and you'll automatically be entered in our monthly drawing. Include an image or video to DOUBLE your chances to win!
Write Your Review
Best piston made for the money
Sounds really good and tight...
Over 6 months ago
China Grove, NC 28023, USA
Great topend kit
Nice quality and everything in one package
Over 6 months ago
Holly springs
Dont purchase if u have a exhaust bridge
put it in my kx125 04 and it seized up and burnt the ring to a crisp. all measurements were on point, it was broken in, oil holes were pre drilled not sure what happened but it ruined the piston and the new nikasil cylinder. it does come with bearing and all gaskets for topened. i would not purchase if i have a exhaust bridge in the cylinder.
2003 CR250R TOP END REBUILD
Installation was easy, all parts and gaskets came in the kit. Good quality made gaskets. The pro lite piston kit bumped up my compression a tiny bit. And while swapping out reeds i was able to check how the wiseco pro lite piston kit is doing, and it looked perfect after the first track day. About 1 hr on the new top end so far.
Cant go wrong with a wiseco forged piston, and the dual rings is a plus instead of the single racer ring.

10/10 in all aspects
Over 10 months ago
Noti, OR
Excellent
Excellent quality as expected. Wouldn't expect anything less.
Over 11 months ago
Pittsfield Massachusetts
Amazing
The kit came in fast, and it was all packaged great! Everything went together smooth and fit perfect I couldn't of asked for a better product. The power my bike has now is remarkable! I am definitely buying this kit
Again!!
1 year ago
Frederick Maryland
Exceeded expectations.
This was the first time I've ever changed the top end of a bike before but I knew enough to go with the Wiseco kit. The shipping was fast and free and the packaging was extremely organized, all the parts were unharmed! The first thing you'll notice is how pretty your piston lookes and how strong it feels, second you'll notice how light that sucker is and how strong all the parts look. Everything bolted and slipped right in and I had the entire bike back together and started first kick in about 45 minutes. (remember this is my first ever top end change) Immediately after starting your bike your going to notice a little bit of a sound difference, or at least I did. The bike is going to sound like a lean mean torquing 2-Stroke machine and the preformance is nothing but the same! This kit brought much or my torque back and make the bike run better than brand new! I would be dumbfounded if I heard someone did not buy the Wiseco kit. Too bad I forgot to take pictures to upload in this review because you got to see how sweet this kit looks!
1 year 2 months ago
Massachusetts, USA
Wiseco Pro-Lite Piston Kit
Have had great success with these pistons. Have used them on 125's, 85's, 80's, and 65's. Never an issue. motorsport.com is what works best for me. Quick shipping, ease of ordering on there website is the best.
1 year 2 months ago
Kerrville, TX 78028, USA
Dang ol' deal
I just threw this booger on my newly aquired and abused RM125. The freshened top end woke it right up, idles and revs smoother and fit perfectly. I wreckon I'll be buying this one again.
Q: Domed
is the piston flat topped or dome
robert
2 months 3 days ago
A: It will be a domed piston for your cr 125.
Q: Will this fit my 2005 rm125 with a cylinder 1mm overbore
Will this fit and if not is there a piston out there that will fit a 1mm overbore rm
David
2 months 13 days ago
A: We don't have a piston that will accommodate your bore size. We only offer STD size and 2mm over for your bike.
Q: Will this piston work to a 2003 kx250 if my cylinder is measured to 66.4
David
3 months 7 days ago
A: Yes be sure to select standard piston size.
Q: I have a kx250 1998 and it measured to 66.4 what size piston do I get
David
3 months 21 days ago
A: You'll need a standard size piston for you '98 KX250.
Q: If you have a cylinder re sleeved with a steel sleeve will the rings work?
David
4 months 3 days ago
A: It should. Be sure to measure your bore size before ordering.
Q: Do you need to drill holes in the piston
Motoexpert
4 months 28 days ago
A: No absolutely not. These are direct fitment ready to go no modification needed. DO NOT DRILL HOLES IN THE PISTON
Q: Do the pistons come pre drilled
robert
4 months 28 days ago
A: These do not come pre-drilled for 2 strokes.
Q: '16 300 XC-W Rebuild
First time doing a top end on my own. The more I read online about selecting pistons for 2 strokes the more confused I find myself. I have a 2016 KTM 300 XC-W I bought new. It has about 60 hours on it and this is the first time it will be rebuilt. Will I be alright ordering this stock-bore Wiseco piston or do I need to break my bike down to measure the bore to order a more specific size piston? I'm sure it's a good practice, but will it be necessary in this case? Thanks, -Brian
robert
Over 5 months ago
A: Its is recommended to disassemble before ordering parts to verify nothing else is needed. Checking your bore size would also be highly recommended to insure the piston gap is set correctly.
Q: Are these pro lite pistons single ring
robert
Over 5 months ago
A: The ring count depend on the make and model. They produce single and duel ring pistons.
Q: Will this piston fit my bike is 53.94
CustomerAccountManager
Over 6 months ago
A: Before ordering any piston I would highly recommend getting your cylinder miked out. After that you can order accordingly to your bore.


Feel free to give me a call

Jason Robbins
Customer account manager
Motosport.com
503-783-5613
See all bikes that this part fits...
Bearing
| Product Variant | Manufacturer Part # |
| --- | --- |
| Wiseco Pro-Lite Piston Kit - 2-Stroke | B1018 |
| Wiseco Pro-Lite Piston Kit - 2-Stroke | B1042 |
| Wiseco Pro-Lite Piston Kit - 2-Stroke | B1037 |
| Wiseco Pro-Lite Piston Kit - 2-Stroke | B1082 |
| Wiseco Pro-Lite Piston Kit - 2-Stroke | B1083 |
| Wiseco Pro-Lite Piston Kit - 2-Stroke | B1043 |
| Wiseco Pro-Lite Piston Kit - 2-Stroke | B1080 |
| Wiseco Pro-Lite Piston Kit - 2-Stroke | B1036 |
| Wiseco Pro-Lite Piston Kit - 2-Stroke | B1038 |
| Wiseco Pro-Lite Piston Kit - 2-Stroke | B1016 |
| Wiseco Pro-Lite Piston Kit - 2-Stroke | B1022 |
| Wiseco Pro-Lite Piston Kit - 2-Stroke | B1013 |
| Wiseco Pro-Lite Piston Kit - 2-Stroke | B1014 |
| Wiseco Pro-Lite Piston Kit - 2-Stroke | B1008 |
| Wiseco Pro-Lite Piston Kit - 2-Stroke | B1012 |
| Wiseco Pro-Lite Piston Kit - 2-Stroke | B1005 |
| Wiseco Pro-Lite Piston Kit - 2-Stroke | B1006 |
| Wiseco Pro-Lite Piston Kit - 2-Stroke | B1003 |
| Wiseco Pro-Lite Piston Kit - 2-Stroke | B1004 |
| Wiseco Pro-Lite Piston Kit - 2-Stroke | B1001 |
| Wiseco Pro-Lite Piston Kit - 2-Stroke | B1000 |
| Wiseco Pro-Lite Piston Kit - 2-Stroke | B1002 |
Gasket Kit
| Product Variant | Manufacturer Part # |
| --- | --- |
| Wiseco Pro-Lite Piston Kit - 2-Stroke | C7036 |
| Wiseco Pro-Lite Piston Kit - 2-Stroke | C7012 |
| Wiseco Pro-Lite Piston Kit - 2-Stroke | C7816 |
| Wiseco Pro-Lite Piston Kit - 2-Stroke | C7285 |
| Wiseco Pro-Lite Piston Kit - 2-Stroke | C7117 |
| Wiseco Pro-Lite Piston Kit - 2-Stroke | C7087 |
| Wiseco Pro-Lite Piston Kit - 2-Stroke | C7158 |
| Wiseco Pro-Lite Piston Kit - 2-Stroke | C7139 |
| Wiseco Pro-Lite Piston Kit - 2-Stroke | C7084 |
| Wiseco Pro-Lite Piston Kit - 2-Stroke | C3105 |
| Wiseco Pro-Lite Piston Kit - 2-Stroke | C7936 |
| Wiseco Pro-Lite Piston Kit - 2-Stroke | C7853 |
| Wiseco Pro-Lite Piston Kit - 2-Stroke | C7349 |
| Wiseco Pro-Lite Piston Kit - 2-Stroke | C7045 |
| Wiseco Pro-Lite Piston Kit - 2-Stroke | C7062 |
| Wiseco Pro-Lite Piston Kit - 2-Stroke | C7399 |
| Wiseco Pro-Lite Piston Kit - 2-Stroke | C7091 |
| Wiseco Pro-Lite Piston Kit - 2-Stroke | C7855 |
| Wiseco Pro-Lite Piston Kit - 2-Stroke | C7242 |
| Wiseco Pro-Lite Piston Kit - 2-Stroke | C7113 |
| Wiseco Pro-Lite Piston Kit - 2-Stroke | C7416 |
| Wiseco Pro-Lite Piston Kit - 2-Stroke | C7250 |
| Wiseco Pro-Lite Piston Kit - 2-Stroke | C7007 |
| Wiseco Pro-Lite Piston Kit - 2-Stroke | C7337 |
| Wiseco Pro-Lite Piston Kit - 2-Stroke | C7031 |
| Wiseco Pro-Lite Piston Kit - 2-Stroke | C7507 |
| Wiseco Pro-Lite Piston Kit - 2-Stroke | C7034 |
| Wiseco Pro-Lite Piston Kit - 2-Stroke | C7137 |
| Wiseco Pro-Lite Piston Kit - 2-Stroke | C7042 |
| Wiseco Pro-Lite Piston Kit - 2-Stroke | C7851 |
| Wiseco Pro-Lite Piston Kit - 2-Stroke | C7057 |
| Wiseco Pro-Lite Piston Kit - 2-Stroke | C3211 |
| Wiseco Pro-Lite Piston Kit - 2-Stroke | C7083 |
| Wiseco Pro-Lite Piston Kit - 2-Stroke | C3416 |
| Wiseco Pro-Lite Piston Kit - 2-Stroke | C7089 |
| Wiseco Pro-Lite Piston Kit - 2-Stroke | C7093-EST |
| Wiseco Pro-Lite Piston Kit - 2-Stroke | C7098 |
| Wiseco Pro-Lite Piston Kit - 2-Stroke | C7678 |
| Wiseco Pro-Lite Piston Kit - 2-Stroke | C7133 |
| Wiseco Pro-Lite Piston Kit - 2-Stroke | C7757 |
| Wiseco Pro-Lite Piston Kit - 2-Stroke | C7258 |
| Wiseco Pro-Lite Piston Kit - 2-Stroke | C7181 |
| Wiseco Pro-Lite Piston Kit - 2-Stroke | C7333 |
| Wiseco Pro-Lite Piston Kit - 2-Stroke | C3085 |
| Wiseco Pro-Lite Piston Kit - 2-Stroke | C7456 |
| Wiseco Pro-Lite Piston Kit - 2-Stroke | C7115 |
| Wiseco Pro-Lite Piston Kit - 2-Stroke | C7943 |
| Wiseco Pro-Lite Piston Kit - 2-Stroke | C7394 |
| Wiseco Pro-Lite Piston Kit - 2-Stroke | C7009 |
| Wiseco Pro-Lite Piston Kit - 2-Stroke | C7191 |
| Wiseco Pro-Lite Piston Kit - 2-Stroke | C7857 |
| Wiseco Pro-Lite Piston Kit - 2-Stroke | C3089 |
| Wiseco Pro-Lite Piston Kit - 2-Stroke | C7391 |
| Wiseco Pro-Lite Piston Kit - 2-Stroke | C7015 |
| Wiseco Pro-Lite Piston Kit - 2-Stroke | C7013 |
| Wiseco Pro-Lite Piston Kit - 2-Stroke | C7016 |
| Wiseco Pro-Lite Piston Kit - 2-Stroke | C7035 |
| Wiseco Pro-Lite Piston Kit - 2-Stroke | C7116 |
| Wiseco Pro-Lite Piston Kit - 2-Stroke | C7039 |
| Wiseco Pro-Lite Piston Kit - 2-Stroke | C7020 |
| Wiseco Pro-Lite Piston Kit - 2-Stroke | C7043 |
| Wiseco Pro-Lite Piston Kit - 2-Stroke | C7003 |
| Wiseco Pro-Lite Piston Kit - 2-Stroke | C7046 |
| Wiseco Pro-Lite Piston Kit - 2-Stroke | C7126 |
| Wiseco Pro-Lite Piston Kit - 2-Stroke | C7058 |
| Wiseco Pro-Lite Piston Kit - 2-Stroke | C7392 |
| Wiseco Pro-Lite Piston Kit - 2-Stroke | C7082 |
| Wiseco Pro-Lite Piston Kit - 2-Stroke | C7762 |
| Wiseco Pro-Lite Piston Kit - 2-Stroke | C7086 |
| Wiseco Pro-Lite Piston Kit - 2-Stroke | C7921 |
| Wiseco Pro-Lite Piston Kit - 2-Stroke | C7088 |
| Wiseco Pro-Lite Piston Kit - 2-Stroke | C7203 |
| Wiseco Pro-Lite Piston Kit - 2-Stroke | C7090 |
| Wiseco Pro-Lite Piston Kit - 2-Stroke | C7241 |
| Wiseco Pro-Lite Piston Kit - 2-Stroke | C7092 |
| Wiseco Pro-Lite Piston Kit - 2-Stroke | C7393 |
| Wiseco Pro-Lite Piston Kit - 2-Stroke | C7099 |
| Wiseco Pro-Lite Piston Kit - 2-Stroke | C7040 |
| Wiseco Pro-Lite Piston Kit - 2-Stroke | C7119 |
| Wiseco Pro-Lite Piston Kit - 2-Stroke | C7764 |
| Wiseco Pro-Lite Piston Kit - 2-Stroke | C7134 |
| Wiseco Pro-Lite Piston Kit - 2-Stroke | C7861 |
| Wiseco Pro-Lite Piston Kit - 2-Stroke | C7257 |
| Wiseco Pro-Lite Piston Kit - 2-Stroke | C7269 |
| Wiseco Pro-Lite Piston Kit - 2-Stroke | C7268 |
| Wiseco Pro-Lite Piston Kit - 2-Stroke | C3096 |
| Wiseco Pro-Lite Piston Kit - 2-Stroke | C7298 |
| Wiseco Pro-Lite Piston Kit - 2-Stroke | C7041 |
| Wiseco Pro-Lite Piston Kit - 2-Stroke | C7384 |
| Wiseco Pro-Lite Piston Kit - 2-Stroke | C7100 |
| Wiseco Pro-Lite Piston Kit - 2-Stroke | C7423 |
| Wiseco Pro-Lite Piston Kit - 2-Stroke | C7135 |
| Wiseco Pro-Lite Piston Kit - 2-Stroke | C7690 |
| Wiseco Pro-Lite Piston Kit - 2-Stroke | C7155 |
| Wiseco Pro-Lite Piston Kit - 2-Stroke | C7942 |
| Wiseco Pro-Lite Piston Kit - 2-Stroke | C7047 |
| Wiseco Pro-Lite Piston Kit - 2-Stroke | C3222 |
| Wiseco Pro-Lite Piston Kit - 2-Stroke | C7154 |
| Wiseco Pro-Lite Piston Kit - 2-Stroke | C7008 |
| Wiseco Pro-Lite Piston Kit - 2-Stroke | C7501 |
| Wiseco Pro-Lite Piston Kit - 2-Stroke | C7010 |
| Wiseco Pro-Lite Piston Kit - 2-Stroke | C7505 |
| Wiseco Pro-Lite Piston Kit - 2-Stroke | C7156 |
| Wiseco Pro-Lite Piston Kit - 2-Stroke | C7054 |
| Wiseco Pro-Lite Piston Kit - 2-Stroke | C7065 |
| Wiseco Pro-Lite Piston Kit - 2-Stroke | C7280 |
| Wiseco Pro-Lite Piston Kit - 2-Stroke | C3099 |
| Wiseco Pro-Lite Piston Kit - 2-Stroke | C7123 |
| Wiseco Pro-Lite Piston Kit - 2-Stroke | C7779 |
| Wiseco Pro-Lite Piston Kit - 2-Stroke | C7064 |
| Wiseco Pro-Lite Piston Kit - 2-Stroke | C7112 |
| Wiseco Pro-Lite Piston Kit - 2-Stroke | C7467 |
| Wiseco Pro-Lite Piston Kit - 2-Stroke | C7120 |
| Wiseco Pro-Lite Piston Kit - 2-Stroke | C7136 |
| Wiseco Pro-Lite Piston Kit - 2-Stroke | C7778 |
| Wiseco Pro-Lite Piston Kit - 2-Stroke | C7059 |
| Wiseco Pro-Lite Piston Kit - 2-Stroke | C7072 |
| Wiseco Pro-Lite Piston Kit - 2-Stroke | C7508 |
| Wiseco Pro-Lite Piston Kit - 2-Stroke | C7030 |
| Wiseco Pro-Lite Piston Kit - 2-Stroke | C7073 |
| Wiseco Pro-Lite Piston Kit - 2-Stroke | C7682 |
| Wiseco Pro-Lite Piston Kit - 2-Stroke | C7071 |
| Wiseco Pro-Lite Piston Kit - 2-Stroke | C7760 |
| Wiseco Pro-Lite Piston Kit - 2-Stroke | C7859 |
Piston
| Product Variant | Manufacturer Part # |
| --- | --- |
| .020" Oversize | 595M05450 |
| .040" Oversize | 571M06800 |
| .040" Oversize | 564M05500 |
| .040" Oversize | 561M08700 |
| .060" Oversize | 559M05750 |
| .084" Oversize | 556M06950 |
| Stock Bore | 631M07200 |
| .040" Oversize | 645M04850 |
| .080" Oversize | 644M05000 |
| .020" Oversize | 644M04850 |
| .040" Oversize | 643M04800 |
| .080" Oversize | 642M06900 |
| .020" Oversize | 642M06750 |
| .060" Oversize | 641M05550 |
| .025" Oversize | 607M06800 |
| .025" Oversize | 617M06700 |
| .080" Oversize | 645M04950 |
| .080" Oversize | 553M05600 |
| .040" Oversize | 646M04800 |
| .080" Oversize | 558M06900 |
| .020" Oversize | 647M05450 |
| .100" Oversize | 561M08850 |
| .080" Oversize | 647M05600 |
| .040" Oversize | 562M06700 |
| .040" Oversize | 648M04400 |
| .040" Oversize | 566M05700 |
| .020" Oversize | 651M05300 |
| .080" Oversize | 575M08800 |
| .020" Oversize | 652M05450 |
| .040" Oversize | 603M05700 |
| .080" Oversize | 652M05600 |
| .065" Oversize | 614M06800 |
| .040" Oversize | 676M05500 |
| .040" Oversize | 626M05500 |
| .020" Oversize | 677M06850 |
| Stock Bore | 546M08700 |
| .080" Oversize | 677M07000 |
| Stock Bore | 555M05600 |
| .020" Oversize | 702M06700 |
| Stock Bore | 557M05400 |
| .060" Oversize | 702M06800 |
| .020" Oversize | 559M05650 |
| .020" Oversize | 711M06650 |
| .020" Oversize | 560M06850 |
| .080" Oversize | 711M06800 |
| .140" Oversize | 561M08950 |
| .080" Oversize | 719M05600 |
| .080" Oversize | 561M08800 |
| Stock Bore | 740M05425 |
| .080" Oversize | 562M06800 |
| .080" Oversize | 746M04700 |
| .080" Oversize | 564M05600 |
| Stock Bore | 748M07800 |
| .040" Oversize | 568M05500 |
| .080" Oversize | 752M04650 |
| .020" Oversize | 575M08650 |
| .040" Oversize | 754M05500 |
| .040" Oversize | 589M05700 |
| .080" Oversize | 754M05600 |
| Stock Bore | 595M05400 |
| .080" Oversize | 770M06600 |
| .020" Oversize | 605M06850 |
| Stock Bore | 774M06640 |
| .024" Oversize | 614M06700 |
| .080" Oversize | 783M05600 |
| .040" Oversize | 616M05500 |
| .080" Oversize | 804M06850 |
| .085" Oversize | 617M06850 |
| .160" Oversize | 806M05200 |
| .040" Oversize | 629M05700 |
| .080" Oversize | 822M05600 |
| .020" Oversize | 641M05450 |
| .120" Oversize | 833M05050 |
| .040" Oversize | 553M05500 |
| .080" Oversize | 834M05600 |
| Stock Bore | 553M05400 |
| Stock Bore | 856M06640 |
| .045" Oversize | 556M06850 |
| Stock Bore | 858M07200 |
| .040" Oversize | 557M05500 |
| .100" Oversize | 526M06850 |
| .040" Oversize | 558M06800 |
| .140" Oversize | 526M06950 |
| Stock Bore | 558M06700 |
| .030" Oversize | 526M06675 |
| .040" Oversize | 559M05700 |
| .050" Oversize | 526M06725 |
| Stock Bore | 559M05600 |
| .080" Oversize | 526M06800 |
| Stock Bore | 560M06800 |
| Stock Bore | 835M05400 |
| .120" Oversize | 561M08900 |
| Stock Bore | 641M05400 |
| .020" Oversize | 561M08650 |
| Stock Bore | 642M06700 |
| .060" Oversize | 561M08750 |
| Stock Bore | 756M06640 |
| .020" Oversize | 562M06650 |
| Stock Bore | 823M06640 |
| .060" Oversize | 562M06750 |
| Stock Bore | 681M06640 |
| .020" Oversize | 564M05450 |
| Stock Bore | 723M06640 |
| .060" Oversize | 564M05550 |
| Stock Bore | 743M06640 |
| Stock Bore | 564M05400 |
| Stock Bore | 645M04750 |
| Stock Bore | 566M05600 |
| Stock Bore | 806M04800 |
| .020" Oversize | 571M06750 |
| Stock Bore | 562M06600 |
| .080" Oversize | 571M06900 |
| Stock Bore | 797M05400 |
| .040" Oversize | 575M08700 |
| .080" Oversize | 797M05600 |
| .040" Oversize | 582M05700 |
| Stock Bore | 845M05400 |
| Stock Bore | 589M05600 |
| Stock Bore | 594M05600 |
| .040" Oversize | 595M05500 |
| Stock Bore | 629M05600 |
| .020" Oversize | 601M06800 |
| Stock Bore | 647M05400 |
| Stock Bore | 603M05600 |
| Stock Bore | 693M05400 |
| Stock Bore | 605M06800 |
| Stock Bore | 726M05400 |
| .045" Oversize | 607M06850 |
| Stock Bore | 804M06640 |
| .044" Oversize | 614M06750 |
| Stock Bore | 677M06800 |
| .085" Oversize | 614M06850 |
| Stock Bore | 646M04700 |
| Stock Bore | 616M05400 |
| Stock Bore | 805M04750 |
| .045" Oversize | 617M06750 |
| .020" Oversize | 546M08750 |
| .020" Oversize | 626M05450 |
| .040" Oversize | 546M08800 |
| Stock Bore | 626M05400 |
| .060" Oversize | 546M08850 |
| .040" Oversize | 631M07300 |
| .080" Oversize | 546M08900 |
| .020" Oversize | 871M08950 |
| .080" Oversize | 871M09100 |
| Stock Bore | 640M05400 |
| Stock Bore | 786M05400 |
| .040" Oversize | 641M05500 |
| Stock Bore | 869M05600 |
| .080" Oversize | 641M05600 |
| Stock Bore | 864M04500 |
| .040" Oversize | 642M06800 |
| Stock Bore | 746M04500 |
| .020" Oversize | 643M04750 |
| Stock Bore | 855M04700 |
| .080" Oversize | 643M04900 |
| Stock Bore | 573M06600 |
| .040" Oversize | 644M04900 |
| .010" Oversize | 573M06625 |
| .020" Oversize | 645M04800 |
| .020" Oversize | 573M06650 |
| .060" Oversize | 645M04900 |
| .030" Oversize | 573M06675 |
| .020" Oversize | 646M04750 |
| .040" Oversize | 573M06700 |
| .080" Oversize | 646M04900 |
| .050" Oversize | 573M06725 |
| .040" Oversize | 647M05500 |
| .060" Oversize | 573M06750 |
| .020" Oversize | 648M04350 |
| .070" Oversize | 573M06775 |
| .080" Oversize | 648M04500 |
| .080" Oversize | 573M06800 |
| .080" Oversize | 651M05450 |
| .090" Oversize | 573M06825 |
| .040" Oversize | 652M05500 |
| Stock Bore | 676M05400 |
| .020" Oversize | 676M05450 |
| Stock Bore | 841M05400 |
| .080" Oversize | 676M05600 |
| Stock Bore | 859M05400 |
| .040" Oversize | 677M06900 |
| Stock Bore | 614M06640 |
| Stock Bore | 694M06750 |
| Stock Bore | 801M06640 |
| .040" Oversize | 702M06750 |
| Stock Bore | 860M06640 |
| .080" Oversize | 702M06850 |
| Stock Bore | 702M06640 |
| .040" Oversize | 711M06700 |
| Stock Bore | 643M04700 |
| Stock Bore | 712M07200 |
| Stock Bore | 833M04750 |
| .080" Oversize | 726M05600 |
| Stock Bore | 711M06600 |
| .080" Oversize | 741M05600 |
| Stock Bore | 750M06900 |
| .040" Oversize | 748M07900 |
| Stock Bore | 651M05250 |
| .040" Oversize | 750M07000 |
| Stock Bore | 783M05400 |
| .020" Oversize | 754M05450 |
| Stock Bore | 822M05400 |
| .060" Oversize | 754M05550 |
| Stock Bore | 834M05400 |
| .080" Oversize | 756M06850 |
| Stock Bore | 652M05400 |
| Stock Bore | 770M06400 |
| Stock Bore | 719M05400 |
| .080" Oversize | 782M05050 |
| Stock Bore | 741M05400 |
| .080" Oversize | 801M06850 |
| Stock Bore | 607M06740 |
| .080" Oversize | 805M04950 |
| Stock Bore | 799M06640 |
| .080" Oversize | 806M05000 |
| Stock Bore | 843M06640 |
| Stock Bore | 824M06640 |
| Stock Bore | 556M06740 |
| .080" Oversize | 833M04950 |
| Stock Bore | 617M06640 |
| .080" Oversize | 835M05600 |
| Stock Bore | 575M08600 |
| Stock Bore | 857M06640 |
| Stock Bore | 648M04300 |
| .010" Oversize | 526M06625 |
| Stock Bore | 752M04450 |
| .120" Oversize | 526M06900 |
| Stock Bore | 644M04800 |
| .020" Oversize | 526M06650 |
| Stock Bore | 782M04850 |
| .040" Oversize | 526M06700 |
| Stock Bore | 571M06700 |
| .060" Oversize | 526M06750 |
| Stock Bore | 561M08600 |
| Stock Bore | 526M06600 |
| Stock Bore | 754M05400 |