VForce
VForce

3 Reed Valve System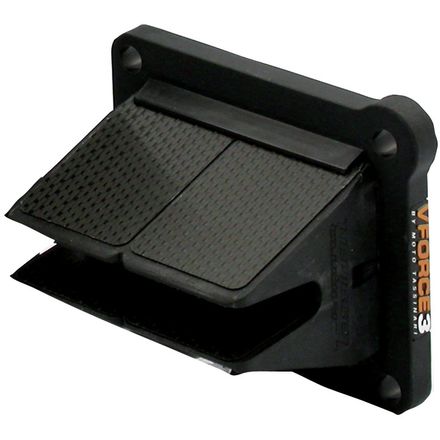 VForce 3 Reed Valve System
---
11% Off - Save up to $18.00
---
5 Star
146
4 Star
14
3 Star
1
2 Star
1
1 Star
5
Write a Review
Write your review and you'll automatically be entered in our monthly drawing. Include an image or video to DOUBLE your chances to win!
Write Your Review
VForce
Always been a fan of VForce.
Over 8 months ago
Massachusetts, USA
Easy installation
Quick fix for great response feel the difference
Over 9 months ago
China Grove, NC 28023, USA
Super fast shipping, works great
works great! great price and super fast shipping
Over 11 months ago
Elwood, IN
03 cr125r
Awesome part, a must have, at my door in 2 days. Thanks a lot Motorsport! Pure power at an instant!
Over 11 months ago
Joliet Il
Put on my Grandsons RM 85
Put this on my Grandsons RM 85, it really made a big difference. Seem to scream now. and he's happy and that's what counts.
Over 11 months ago
Amarillo
Massive increase in power.
1 year 2 months ago
Boonville, IN 47601, USA
2016 KTM 65
Noticeable bark off the bottom end to mid with smoother performance overall....A class mini contender .
V force reed valve kx 65
Put these in, my son said the bike rode like never before. Highly recommend.
1 year 2 months ago
Homestead, FL, USA
Vforce 3 reeds
Great place to order from I received my product in 3 days and I live in Florida I felt the difference immediately I have a more snappier throttle and power band kicks in faster I would definitely recommend this product to anyone!!!! I have been purchasing from Motorsport.com ever since.
1 year 3 months ago
Staten Island, NY, USA
Great Buy !
The Moto Tassinari V Force 3 reed valve system helps wake the sleeping giant ! It provides instant ultra crisp throttle response thruout the entire rmp ! A must have bolt on product !!!
Delivers
I did have to follow the easy instructions to trim the tabs on the stock reed cage for my son's 09 KX85 but no problem. I installed this with stock exhaust and muffler, could definitely hear and feel the difference just from start up and cracking the throttle...crisp. however I added a custom exhaust system before my son rode it so can't really attest to performance gains by itself. Definitely quality product with a cleaner, crisp throttle response...no jetting changes required here in Oklahoma at 2000 ft above sea level. Add this and an exhaust to completely wake up a sluggish powerband.
1 year 4 months ago
Ridgeley, WV 26753, USA
This really works for 2004 rm85 .
Vforce 3 really works for my 2004 rm85 to go up very steep gnarlly hills uni air filter makes vforce 3 system work better midrange and up to high range.
1 year 4 months ago
Connecticut, USA
Great reeds
I personally dont have vforce reeds myself yet but I am going to buy them for my kx85. I recently went over to my friends house and his bike has got these vforce 3 reeds and I rode the bike and they felt great! The bike was awesome! But I have one question. If I bought this product right now does it come with the boot? to hook it up to my carburetor?
1 year 6 months ago
Minnesota, USA
03 KTM 65 SX
installed on sons bike, has so much better throttle response. He loves it. best investment i ever made for his bike.
Great for my 2015 yz250
Throttle is a lot more responsive, and feels like it has more bottom end power.
V force fan
I have v force reeds in all three of my 2 strokes. More power everywhere they are worth every penny!
Well first the reeds strait out of the box had a big chip in them and then after tearing old power valve out they dont fit in my cr250. Overall they may be great if they were to fit but i returned them and just went to a boysen rad valve.
1 year 7 months ago
East coast central Florida
Increased throttle response and power in minutes!
I have an 04 Yz 125 that was a garage decoration for about 10 years 100% stock original everything low low hours.. Anyways I have to say after torque ing down bolts, new plugs, cleaning a gummed up carb and getting the bike running it just had terrible throttle response no low to mid range control and the high end power band was a slap in the face everytime it's almost too sketchy. After bolting on this reed system (very very easy install) I noticed an immediate crispy throttle and sound, so much smoother I just roll that throttle back and I finally feel like I have total control of this machine, also leaned out my bike which was exactly what it needed to eliminate fouled plugs and splooge. I am 110% satisfied and can't wait to get an exhaust kit and jet kit to really make her rip, thanks Moto Tassinari for helping me build an awesome machine!
Vforce reeds
This product really made my bike more snappy.
1 year 8 months ago
Charlotte,NC
Doesn't fit
Bond
Q: Have new reeds see alittle light through them at end should I be able to see any light at all?
Jake
Location: Buckley, WA, USA
Q: Is it worth it on a new bike?
I have a 2016 YZ250X would it be worth upgrading the reed valve system or is the factory one good enough.
BenC
Location: Humansville, MO 65674, USA
Q: When installing these will i need to re-jet my bike for these reeds?
i have a 2002 rm 125 with a pro circuit platinum expansion chamber a nd a procircuit 304 silencer running a 430 main and a 27.5 pilot and the needle moved up one notch
racer11x
Q: Will these fit a 1984-87 KX250?
I'm going to run this on a modified KX250 Kart engine directly under the Mikuni flat plate carb. Will these fit and is there a stuffer available?
Hondarider194
Q: Do they fit my 2001 cr250?
In the picture I see that it's 4 mounting holes and on my 01 cr250 I need it to be 6 mounting holes
Dusty
Location: Saginaw, MI, USA
Q: 1996 rm250, do you sell the boot with the vforce3 reeds?
I recently bought a 96 rm250 and it has the vforce 3 reeds on it but they cut the intake boot to make the reeds fit correctly so I was wondering if you sold the correct boot?
Akke
Q: Do i need to change anything after installation?
Example mouth piece? Adjust the carburetor settings?
VForce3Reed
Q: Will this VForce 3 Reed Valve system fit on a 2000 Suzuki RM 250?
MotoSportExpert
Over 11 months ago
A: I'm sorry but we do not have this system for your 2000 RM 250
Jc228
Location: Pine City, NY 14871, USA
Q: Does this come with the reeds too. Or just the cage?
MotoSportExpert
1 year 6 months ago
A: The VForce 3 Reed Valve System is a complete system. (reeds included)
Derrick
Location: Graham, WA 98338, USA
Q: Jetting with these reeds and pro circuit pipe and muffler on cr 85r expert?
I have an 04 Honda Cr85r big wheel with a full pro circuit exhaust system and was wondering if I need to re jet after I put the V Force 3 Reeds on the bike? Help will be greatly appreciated! Thankyou!
MotoSportExpert
1 year 7 months ago
A: I would recommend installing the VForce and riding the bike to see how it is running then tuning your carburetor from there if necessary. It really depends on your location (altitude/temperature) and how your bike is running with the current jetting. Jetting can be very tricky, there isn't one setting that will work everywhere with every bike.
See all bikes that this part fits...
| Product Variant | Manufacturer Part # |
| --- | --- |
| Single | V301A |
| Single | V301B |
| Single | V302A |
| Single | V302B |
| Single | V303A |
| Single | V304A |
| Single | V305A |
| Single | V305B |
| Single | V306A-H |
| Single | V306A-M |
| Single | V307A |
| Single | V307B |
| Single | V308A |
| Single | V311A |
| Single | V313A |
| Single | V315A |
| Single | V315B |
| Single | V321A |
| Single | V325A |
| Single | V351B |
| Single | V364A |
| Single | N/A |
| Single | V382A |
| Single | V383A |
| Single | V384A |
| Single | V385A |
| VForce 3 Reed Valve System | V382S-A |