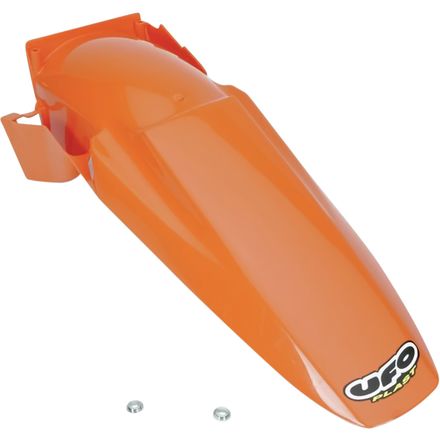 ---
9% Off - Save up to $5.00
---
5 Star
57
4 Star
14
3 Star
4
2 Star
2
1 Star
3
Write a Review
Write your review and you'll automatically be entered in our monthly drawing. Include an image or video to DOUBLE your chances to win!
Write Your Review
Just like OEM
Came in the mail fast. Nice thick plastic and color matches perfectly
Rear fender for 2001 KTM 65sx
Just what you would expect for a quality fender. The only thing that would make install easier is predrilled holes.
Over 9 months ago
Cattaraugus County, NY, USA
Sweet fenders
Fit awesome on my son's 03 kx 85
Over 9 months ago
Colorado, USA
Excellent Product
Excellent product and company!

Fender is a higher quality then the original. I highly recommend this product.
The fender was shipped fast and packaged well.
Amazing fender for the price
I recommend this fender to anyone looking for a replacement
Over 10 months ago
Oregon, USA
Stronger
Got this for my son's bike. He races pretty aggressively and the factory fender just couldn't take the beating. But this one has really been standing up w/ much stronger connection points. If you look at the photos, you'll notice that I use zip ties in the back. This is not a connection issue. When you race things get knocked around and I rather a zip tie pop then plastic break.
A little crooked may be my frame maybe not
fit good and bolted up well but a little crooked?
Over 11 months ago
Houston, TX, USA
Nice addition
Gave the 2001 a more stylish look and fit perfect!
1 year 2 months ago
Sacramento, CA, USA
Great plastics
Ufo is durable. Fit is good to. Bolts right up every time. No forcing or pulling, stretching plastic to make bolt holes line up.
1 year 6 months ago
point of dust trail streaking across the desert
UFO = WFO WR450F
UFO product fit well and matched other colors perfectly, I would recommend their products to anyone thinking about cleaning up their ride with a new set of plastics.
1 year 9 months ago
Indiana
Built like a diving board
when the bike gets stuck in the mud or a deep rut i use the rear fender as a pry bar. i have never broke one. but scratches abound.
Okay..
It's nice really good but it didn't fit my bike so i'm getting a new size
2 years 10 months ago
Torrance, CA, USA
Got the right look i wanted
I was looking for a white rear fender and UFO was the only one that made it for my 200 cr 250. I wanted that factory honda look. It did just that. Bolted right on.
2 years 11 months ago
tacoma wash.
Great buy
great fit very happy with ufo. products
Good plastics
The red is a little pinkish in color but they fit good and overall look good.
Perfect
use ufo on all my bikes. Perfectly clear white to make my cr250 stand out from the croud
Over 3 years ago
Fairview mt
RM 250 rear fender
I have a RMX 250 that I put it on and it was a great fit, it was made well and color was pretty close to my slightly faded side covers. I think it is a little over priced compared to my newer KX plastic but at least I was able to get my RMX back to looking pretty sharp.
Over 3 years ago
wilsonville
ordered the new KFX style for my kx85/100 bike and these have the rounded tips on the fenders. It makes the bike look SO much more modern. Just a great product here!
Over 3 years ago
Colorado
Fits great but color does not match other brands
This fender bolted right up no issues, I guess there is a small issue, the ufo white rear fender doesnt match the white acrebis side number plates. It is hard to tell in the sun but under the lights in the garage its pretty bad.
Perfect
Perfect fit in my honda cr 250 02´
Tazpitts
Q: Fender Price?
Which fenders are 6.97 and what colors do you have available ? Thanks Dan
Thumbs
3 months 9 days ago
Location: Portland, OR, USA
A: Depending on your bike will then depict which fender you'd need. the one that is the lowest price is a black fender.
Will
Q: Will this fit my 96 honda cr125?
Noah
Q: Is this the same rear fender in the restyle kit?
I have a 08 yz125 and I don't like the curved rear fender I like the straight rear fender that comes on the ufo restyle kit.
MotoSportExpert
1 year 3 months ago
A: No this would not be a restyled fender. Feel free to give us a call at 888-676-8853 and we would be happy to help you out with your order.
Anonymous
Q: Do any fenders fit a honda xr100r?
I really need it
MotoSportExpert
1 year 4 months ago
A: No aftermarket fenders available for the XR100. You would need to go with the OEM fenders in our OEM section.

http://www.motosport.com/dirtbike/oem-parts/honda/
GoinForARip
Location: Nanaimo, BC, Canada
Q: Why won't it fit?
My YZ 125 01 isn't fitting with this fender do i have to cut it or something? it looks like it's for a 250.. ???
MotoSportExpert
2 years 1 month ago
A: The UFO Rear Fender fits the YZ125 and YZ250 1996-2001 (same fender). Please give us a call so we can get more information from you and help determine whats going on with the fender.
888-676-8853
ryguy
Q: Is there eny way i can get this on my 01 wr250f?
MotoSportExpert
2 years 5 months ago
A: Unfortunately the UFO Rear Fender is not available for your 2001 Yamaha WR250F.
Montana
Location: Gore, VA 22637, USA
Q: With this rear fender have and curve in it?
i have a 01 yz125 and there is a slight curve to the fender and it bugs the living daylights out of me. Just wondering if this one does too?
MotoSportExpert
2 years 5 months ago
A: This UFO Rear Fender would be built to the same specifications as the stock OEM fender (same shape).
killian
Location: Auberry, CA, USA
Q: Can i get the fender in white for a 2002 rm 250?
MotoSportExpert
2 years 5 months ago
A: If the white fender for your bike is available through one of our suppliers, we would be happy to order it for you. Please contact one of our sales professionals to inquire about special orders and availability.
Dirt Bike / ATV: 1-888-676-8853
Mitchell
Q: Can i get a blue rear fender for my 1993 kx 125?
MotoSportExpert
2 years 10 months ago
A: No, unfortunately there is not a blue rear fender available for your 1993 Kawasaki KX125.
royal
Q: I've heard this kxf fender can be modified to fit a klr650.is this true (ish)?
MotoSportExpert
Over 3 years ago
A: With enough fabrication anything is possible. We have no knowledge on if or how to modify a fender to fit for you.

Keep in mind that we cannot return any item once it is used and/or modified to fit.
See all bikes that this part fits...
| Product Variant | Manufacturer Part # |
| --- | --- |
| 02+ Red | HO03663-070 |
| 02+ Red | HO03688-070 |
| 02+ Red | HO02624-070 |
| 02+ Red | HO03627-070 |
| 02+ Red | HO03695-070 |
| 02+ Red | HO03657-070 |
| 02+ Red | HO04607-070 |
| 02+ Red | HO03636-070 |
| Black | HO03663-001 |
| Black | HO03688-001 |
| Black | HO02652-001 |
| Black | HO03600-001 |
| Black | HO02624-001 |
| Black | HO03627-001 |
| Black | N/A |
| Black | N/A |
| Black | HO04636001 |
| Black | KA03798-001 |
| Black | KA04721-00 |
| Black | KA03766-001 |
| Black | HO04618-001 |
| Black | N/A |
| Black | KA02710-001 |
| Black | HO03636-001 |
| Black | KA02746-001 |
| Black | KA02767-001 |
| Black | KA03737-001 |
| Black | KA03722-001 |
| Black | KA03757-001 |
| Black | SU02933001 |
| Black | SU02944-001 |
| Black | SU03971-001 |
| Black | SU04903-001 |
| Black | SU04930-001 |
| Black | SU03912-001 |
| Black | YA03845-001 |
| Black | YA02897-001 |
| Black | YA02858-001 |
| Black | YA03863-001 |
| Black | YA03881-001 |
| Black | YA04810-001 |
| Black | SU03986-001 |
| Black | KA03715-001 |
| Black | KA03731001 |
| Black | KT03042-001 |
| Black | N/A |
| Black | SU02957001 |
| Black | N/A |
| Black | YA04818-001 |
| Black | HO04660-001 |
| Red | HO02652-067 |
| Red | HO04636-070 |
| Red | HO04618-070 |
| Red | HO04630-070 |
| Red | HO03645-070 |
| Red | HO04660-070 |
| White | HO03663-041 |
| White | HO03688-041 |
| White | HO02652-041 |
| White | HO03600-041 |
| White | HO02624-041 |
| White | HO03627-041 |
| White | HO03695-041 |
| White | HO03657-041 |
| White | HO04636-041 |
| White | KA04721-04 |
| White | HO04618-041 |
| White | HO04607-041 |
| White | HO03636-041 |
| White | HO04630-041 |
| White | HO03645-041 |
| White | YA04818-046 |
| White | YA03845-046 |
| White | YA02858-046 |
| White | YA02801-045 |
| White | YA02833-046 |
| White | YA02897-046 |
| White | YA03863-046 |
| White | YA03881-046 |
| White | YA04810-046 |
| White | YA02877-046 |
| White | HO04660-041 |
| 92-99 Red | HO03600-067 |
| 92-99 Red | HO02624-067 |
| 88-89 Red | HO02601-061 |
| Solid Green | KA03798-026 |
| Green | KA04721-02 |
| Green | KA03766-026 |
| Green | KA03757-026 |
| Green | KA02710-026 |
| Green | KA02746-026 |
| Green | KA02731-026 |
| Green | KA03737-026 |
| Green | KA03722-026 |
| Green | KA03715-026 |
| Green | KA02786-026 |
| Green | KA03731-026 |
| Green | KA02758-026 |
| Yellow | SU02957-101 |
| Yellow | SU03929-102 |
| Yellow | SU04921-102 |
| Yellow | SU02905-101 |
| Yellow | SU02933101 |
| Yellow | SU02944-101 |
| Yellow | SU04903-102 |
| Yellow | SU04930-101 |
| Yellow | SU03934-102 |
| Yellow | SU03912-102 |
| Yellow | SU03986-102 |
| Yellow | SU03964-101 |
| 01+ Yellow | SU03971-102 |
| Blue | YA03845-089 |
| Blue | YA02897T-089 |
| Blue | YA03863-089 |
| Blue | YA03881-089 |
| Blue | YA04810-089 |
| Blue | YA04818-089 |
| Blue | YA02877-089 |
| Blue | YA03857-089 |
| Black (KXF Style) | KA03715K001 |
| Green (KXF Style) | KA03715K026 |
| Silver | KT03053-340 |
| Silver | KT03042340 |
| Orange | KT03042-127 |