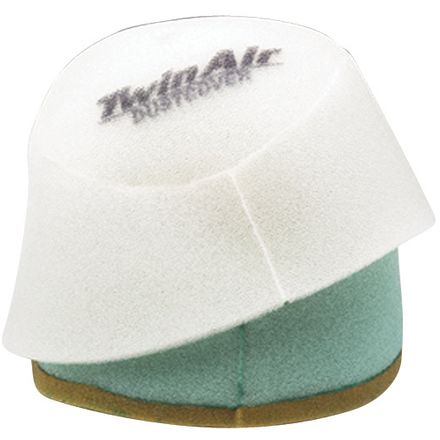 ---
10% Off - Save up to $2.00
---
5 Star
21
4 Star
8
3 Star
1
2 Star
0
1 Star
0
Write a Review
Write your review and you'll automatically be entered in our monthly drawing. Include an image or video to DOUBLE your chances to win!
Write Your Review
So far so good
It's doing it's job protecting the air filter.
1 year 2 months ago
Alabama, USA
Great Product
Works well in just dusty environment.
1 year 6 months ago
Santa Fe, NM, USA
This product will save you hours a week
I bought this unconvinced it would work, the only question would be why did i not purchase this sooner. Treat your normal filter as you normally would, then after the 15 min dry time, add your dry dust filter. It has reduced my air filter cleaning to once a week riding nearly everyday. It has also saved me money buying filter cleaning solution which is way over priced to begin with. Thank you Twin Air for saving me time and money.
Filter cover
If you know you are going to be riding in the dust this is a must. Just peel it off and have a new fresh air cleaner ready to go. I only wish it came with a rubber mount. They do not.
Great product
Perfect fit. Great product!
Clean Air
I use the Twin Air Dust Cover on my 2004 and 2009 YZ450Fs. They are affordable and are great for blocking sand, dust, and mud. I don't oil them and it still catches most of the dirt. I wash it in soap (Dawn) and water. The normal air filter stays really clean so the motor is safer from any dirt getting through and the air filter doesn't get clogged.
Over 3 years ago
Hyannis, MA
I expected more
can be good for the bike, but hard to put on the bike (especially if it's a KTM), hard to clean, should come with some fitting
Over 3 years ago
Spokane, WA, USA
Great product
Motosport gave excellent service....easy to order, arrived on time, prefilter was as advertised....perfect fit, very sensible addition to the OEM air filter....thanks guys...I have placed a second order....
Over 4 years ago
Pasadena, CA, USA
Keeps air filter clean
Keeps air filter clean longer and much easier to clean than actual filter. I did not notice any power loss but I'm no expert. I did find it be a pain to squeeze into air box on my 2012 ktm, but not that big of a deal. I only use on real dusty weekend trips to keep from having to clean air filter which I hate doing.
Great
This cover keeps the filter like new when removed. Good buy.
Extra dust protection
i was getting a little bit of fine dust through air filter out in the desert and put this on and seems to help. can't feel any difference in power. if it protects the engine just a little for $20, i am all for it
Over 5 years ago
Allentown, PA
If I ride both days on the weekend this cover is perfect. I oil the filter and cover and take the cover off after the first day. The filter underneath is perfectly clean and I'm ready to go. Really easy to put on and take off.
They do tear up faster than a filter, but overall hold up well and certainly do their job.
Over 5 years ago
Delray beach, fl
Benefit worth drawback
If anyone hates cleaning filters as much as I do, this is a go. It extended my filter cleaning by one ride, which to me is killer. There is, however a slight reduction in power. I personally don't think it is anywhere near enough to win or lose a race; as ability and stamina are much more important. Def needs to be oiled, as I tried without oiling it and dirt comes thru...
Good riding!
Over 5 years ago
Lakes Region NH
KEEP THE DIRT OUT
WORKS! WISH i HAD THIS PRODUCT YEARS AGO...
Over 5 years ago
Roanoke, VA
Good product
Help reduce the number of cleanings and added extra protection. We run these on all our bikes.
Over 5 years ago
Conyers, GA
Excellent added protection
I bought on the recommendation of a friend who was having the same problem I was with super fine dust getting by the filter. WIth this extra layer of protection over the original filter I have been able to virtually eliminate the fine dust problem. Plus it makes cleaning the underlying filter easier since most of the heavy stuff gets caught by the dust cover. I only wish I had ordered one long ago!
Over 5 years ago
Ruidoso, NM
Over 5 years ago
Charlotte, NC
A must for dust
These work great and save me a lot of time and filter cleaner/oil...
Over 6 years ago
valders, wi
Amazing product
I bought this hoping to extend filer cleaings ever three two four riders but now i oil it with chainsaw bar oil only 7dollars gallon and i am 25hours in and there hasnt been i spot of dirt on my air filter thats oiled with belray!!! Saves tons of time and money everyone should buy!
Over 6 years ago
Mt. Airy North Carolina
i got the dust cover becasue i was curious to see how it worked and i needed over a hundred dollars to get free shipping. i was actually very impressed. works great for really dusty days. i oil the dust cover too and it adds around 1 to 3 hours(depending on how dusty it is) between filter changes. i like it a lot.
Rob250r
Q: Which Twin Air filters does the cover fit on?
There are 3 different types listed for my bike (2005 Honda Crf250r)
MotoSportExpert
Over 4 years ago
Location: Portland, OR, USA
A: This dust cover will fit either the standard Twin Air filter or the Power Flow air filter. The Loudmouth style filter will not fit your bike though, unless you have the loudmouth intake kit installed.
cdonutman
Q: Does this affect the power of the bike?
dirt
Over 7 years ago
A: possibly, but not enough you would notice.
Loop
Top 50 Contributor
Top 25 Contributor
Over 7 years ago
Location: El Paso, Texas
A: I did not notice any change at all
Motomadness2
Q: Can it be cleaned and resused?
james718
Over 8 years ago
A: Sure, this could be washed and re-used. Keep in mind though, this is made of coarse foam and smaller particles will lodge themselves in the pre-filter and may be need to be cleaned carefully, or you'll risk the chance of tearing the foam.
Loop
Top 50 Contributor
Top 25 Contributor
Over 7 years ago
Location: El Paso, Texas
A: yes it can be cleaned over and over again
Kasey
1 year 2 months ago
Location: Alabama, USA
A: Yes it can. Be sure to make sure it's completely dry before riding.
weston6
Q: How many are in a package?
james718
Over 9 years ago
A: These are sold individually.
Loop
Top 25 Contributor
Top 50 Contributor
Over 7 years ago
Location: El Paso, Texas
A: just one
ilovemyYZF
Q: Are you supposed to oil this too?
Drewski
Over 9 years ago
Location: Portland, OR
A: Yes I would. If you don't it's not going to hurt anything though.
KD15
2 years 2 months ago
Location: Orlando, FL, USA
A: I have oiled the Dust Covers but I no longer do. I use Soap (Dawn) and water to clean the Dust Cover now that I don't oil it. Try it each way and see what you feel works best for your riding conditions. I change my air filter pretty much every time I ride and these just help my normal oiled air filter stay cleaner and protect my motor more.
budy
Q: Can the twin air dust cover fit over a k@n air filter?
james718
Over 9 years ago
A: These are designed to fit Twin Air Filters only. The profile of the K&N filter is lower than any stock or after market foam filter.
See all bikes that this part fits...
| Product Variant | Manufacturer Part # |
| --- | --- |
| Twin Air Dust Cover | 150207DC |
| Twin Air Dust Cover | 150004DC |
| Twin Air Dust Cover | 150209DC |
| Twin Air Dust Cover | 150219DC |
| Twin Air Dust Cover | N/A |
| Twin Air Dust Cover | 153156DC |
| Twin Air Dust Cover | 154113DC |
| Twin Air Dust Cover | N/A |
| Twin Air Dust Cover | 154112DC |
| Twin Air Dust Cover | 154514DC |
| Twin Air Dust Cover | 151116DC |
| Twin Air Dust Cover | 151115DC |
| Twin Air Dust Cover | 151009DC |
| Twin Air Dust Cover | 151119DC |
| Twin Air Dust Cover | 153217DC |
| Twin Air Dust Cover | 153215DC |
| Twin Air Dust Cover | 153214DC |
| Twin Air Dust Cover | 153009DC |
| Twin Air Dust Cover | 153006DC |
| Twin Air Dust Cover | 152215DC |
| Twin Air Dust Cover | 152213DC |
| Twin Air Dust Cover | 152012DC |
| Twin Air Dust Cover | 154116DC |