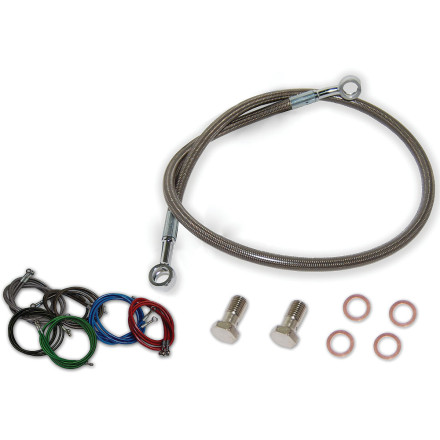 Streamline Rear Brake Line
---
10% Off - Save up to $4.00
---
5 Star
4
4 Star
1
3 Star
0
2 Star
0
1 Star
0
Write a Review
Write your review and you'll automatically be entered in our monthly drawing. Include an image or video to DOUBLE your chances to win!
Write Your Review
This wasn't exact fit and was kind of difficult to install.
Rear brake line
Installed this red line on TRX 450R and it fit and looked great
Over 5 years ago
lindenhurst, Il
Fits great & looks great, nice heavy coating on the braided sleeve to help fight abrasion
Over 6 years ago
miami,fl
Great
Great brake line for the price.Does what its supposed to and has not fadded or given me a soft pedal.
Over 6 years ago
hagerstown,md
Good brake line
i have these brake lines front and rear great product i have had no problems with them
Floppy
Q: Do the +2", +4", and +6" mean how much extra slack you get?
David
12 days ago
A: Correct.
See all bikes that this part fits...
| Product Variant | Manufacturer Part # |
| --- | --- |
| Clear / Stock | TRX250R-R-CL |
| Clear / Stock | 300EX-R |
| Clear / Stock | 400EX-R-0 |
| Clear / Stock | BAN-R |
| Clear / Stock | BLAST-R- |
| Clear / Stock | Z400-R |
| Clear / Stock | LT250-R-0 |
| Clear / Stock | LT500-R-0 |
| Clear / Stock | LTR450-R-CL |
| Clear / Stock | Z400-R-0 |
| Clear / Stock | PRED500-R |
| Clear / Stock | RAP-R-0 |
| Clear / Stock | RAP350-R |
| Clear / Stock | RAP700-R |
| Clear / Stock | TRX450R-R |
| Clear / Stock | WARR-R-CL |
| Clear / Stock | YFZ450-R |
| Clear / Stock | YFZR-R |
| Clear / +2" | 300EX-R-2 |
| Clear / +2" | 400EX-R-2 |
| Clear / +2" | BAN-R-2 |
| Clear / +2" | BLAST-R-2 |
| Clear / +2" | KAW400-R-2 |
| Clear / +2" | KAW700-R-2 |
| Clear / +2" | LT250-R-2 |
| Clear / +2" | LT500-R-2 |
| Clear / +2" | LTR450-R-2-CL |
| Clear / +2" | Z400-R-2 |
| Clear / +2" | PRED500-R-2 |
| Clear / +2" | RAP-R-2 |
| Clear / +2" | RAP350-R-2 |
| Clear / +2" | RAP700-R-2 |
| Clear / +2" | WARR-R-2 |
| Clear / +2" | YFZ450-R-2 |
| Clear / +4" | BAN-R-4 |
| Clear / +6" | BAN-R-6 |
| Blue / Stock | TRX250R-R-BLUE |
| Blue / Stock | 300EX-R-BLUE |
| Blue / Stock | 400EX-R-BLUE |
| Blue / Stock | KAW400-R-BLU |
| Blue / Stock | KAW700-R-BLU |
| Blue / Stock | LT250-R-BLU |
| Blue / Stock | LT500-R-BLUE |
| Blue / Stock | LTR450-R-BL |
| Blue / Stock | Z400-R-BLU |
| Blue / Stock | PRED500-R-BLUE |
| Blue / Stock | RAP-R-BLUE |
| Blue / Stock | RAP350-R-BLU |
| Blue / Stock | RAP700-R-BLUE |
| Blue / Stock | TRX450-R-BLU |
| Blue / Stock | YFZ450-R-BLU |
| Blue / Stock | YFZR-R-BLU |
| Blue / +2" | TRX250R-R-2-BLUE |
| Blue / +2" | 300EX-R-2-BLUE |
| Blue / +2" | 400EX-R-2-BLU |
| Blue / +2" | BAN-R-2-BLUE |
| Blue / +2" | KAW400-R-2-BLU |
| Blue / +2" | KAW700-R-2-BLU |
| Blue / +2" | LT250-R-2-BLUE |
| Blue / +2" | LT500-R-2-BLUE |
| Blue / +2" | LTR450-R-2-BLUE |
| Blue / +2" | Z400-R-2-BLU |
| Blue / +2" | PRED500-R-2-BLUE |
| Blue / +2" | RAP-R-2-BLU |
| Blue / +2" | RAP350-R-2-BLUE |
| Blue / +2" | RAP700-R-2-BLUE |
| Blue / +2" | WARR-R-2-BLUE |
| Blue / +2" | YFZ450-R-2-BLU |
| Blue / +2" | YFZR-R-2-BLU |
| Blue / +6" | BAN-R-6-BLU |
| Red / Stock | TRX250R-R-RD |
| Red / Stock | 300EX-R-RD |
| Red / Stock | 400EX-R-RD |
| Red / Stock | BLAST-R-RED |
| Red / Stock | KAW400-R-RED |
| Red / Stock | LT500-R-RED |
| Red / Stock | Z400-R-RD |
| Red / Stock | RAP-R-RED |
| Red / Stock | RAP350-R-RED |
| Red / Stock | RAP700-R-RED |
| Red / Stock | TRX450-R-RD |
| Red / Stock | WARR-R-RED |
| Red / Stock | YFZ450-R-RD |
| Red / +2" | TRX250R-R-2-RED |
| Red / +2" | 300EX-R-2-RED |
| Red / +2" | BLAST-R-2-RED |
| Red / +2" | KAW400-R-2-RED |
| Red / +2" | KAW700-R-2-RD |
| Red / +2" | LT250-R-2-RED |
| Red / +2" | LT500-R-2-RED |
| Red / +2" | LTR450-R-2-RED |
| Red / +2" | Z400-R-2-RED |
| Red / +2" | RAP-R-2-RD |
| Red / +2" | RAP350-R-2-RED |
| Red / +2" | YFZ450-R-2-RD |
| Red / +2" | YFZR-R-2-RD |
| Smoke / Stock | TRX250R-R-SM |
| Smoke / Stock | 300EX-R-SM |
| Smoke / Stock | 400EX-R-SM |
| Smoke / Stock | BAN-R-SMOKE |
| Smoke / Stock | BLAST-R-SM |
| Smoke / Stock | KAW400-R-SM |
| Smoke / Stock | LT250-R-SM |
| Smoke / Stock | LT500-R-SMOKE |
| Smoke / Stock | LTR450-R-SM |
| Smoke / Stock | Z400-R-SM |
| Smoke / Stock | RAP-R-SMOKE |
| Smoke / Stock | RAP700-R-SMOKE |
| Smoke / Stock | TRX450-R-SM |
| Smoke / Stock | WARR-R-SM |
| Smoke / Stock | YFZ450-R-SM |
| Smoke / Stock | YFZR-R-SM |
| Smoke / +2" | TRX250R-R-2-SMOKE |
| Smoke / +2" | 300EX-R-2-SM |
| Smoke / +2" | 400EX-R-2-SM |
| Smoke / +2" | BAN-R-2-SMOKE |
| Smoke / +2" | BLAST-R-2-SMOKE |
| Smoke / +2" | KAW400-R-2-SMOKE |
| Smoke / +2" | LT250-R-2-SMOKE |
| Smoke / +2" | LT500-R-2-SMOKE |
| Smoke / +2" | LTR450-R-2-SMOKE |
| Smoke / +2" | Z400-R-2-SM |
| Smoke / +2" | PRED500-R-2-SM |
| Smoke / +2" | RAP-R-2-SM |
| Smoke / +2" | RAP350-R-2-SMOKE |
| Smoke / +2" | RAP700-R-2-SMOKE |
| Smoke / +2" | TRX450-R-2-SM |
| Smoke / +2" | WARR-R-2-SMOKE |
| Smoke / +2" | YFZR-R-2-SM |
| Smoke / +4" | BAN-R-4-SMOKE |