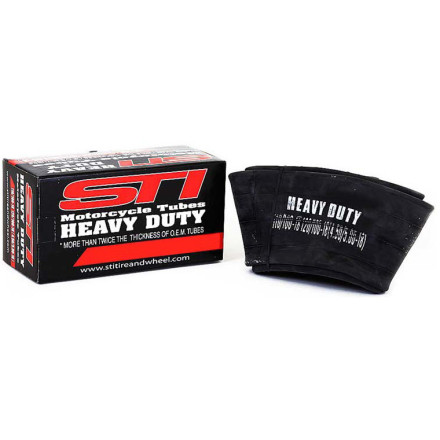 5 Star
94
4 Star
23
3 Star
9
2 Star
4
1 Star
11
Write a Review
Write your review and you'll automatically be entered in our monthly drawing. Include an image or video to DOUBLE your chances to win!
Write Your Review
Perfect for all conditions
Perfect for all conditions.Easy to mount and holds up very well
Good tube
Fit and worked like it should
Good value
Hard to justify paying more when these do the job.
1 month ago
Wimberley, TX
Superb Customer Service
I ordered the wrong size tube- my fault plain and simple. Called the customer service number and they were amazing. They had the new tubes shipped that day and took the wrong tubes back. The STI tube seems to work great- much thicker than the tube that was flat- and holds air fine. I'd recommend Motosport and will use them again. Thanks for the great help.
1 month 1 day ago
Sylacauga, Alabama
STI Heavy Duty Tube Not durable
I bought this and used it in a new back tire for my son's dirt bike. It held air for a day. keeps leaking down. Took it off found a pin hole near the stem, patched it and it held air for a day or so. Still leaked. Not sure if it's a defective tube?? Needless to say I guess I'll have to buy another one to find out. Which sucks...
1 month 7 days ago
port st lucie florida
Overall Good Tube
Have used STI tubes quite a few times with excellent results. Never a Failure to date. Different sizes also, so yea Durable
1 month 7 days ago
Virginia
1 month 8 days ago
Michigan
1 month 25 days ago
New York
Seemed a little small!!
Don't really know how this tube wii hold up in riding conditions. Found it to be a little small as if for a 20" tire, so was very hard to keep the tube to the center of the rim when installing the tire. That resulted in me getting a leak in the tube no matter how careful i was. Can't say anything bad about how it will holdup.
2 months 2 days ago
Valencia CA
Heavy duty
Good tubes for the price better than the cheap one's at CYCLE GEAR
Mahdiyi
Q: I am buying one for my dad's Honda CG125 in another country. He says the tire specifications are 300-17 for the front and 300-18 for the rear. What size should I get?
Trevor Gearhead
8 days 5 hours ago
A: 3.00 = 90X90. 90X90-17 and 90X90-18
larry
Q: What size tube do i need to fit a 25-10-r12 4-wheeler tire
JerryGearhead
1 month 8 days ago
A: The tube that will fit your quad, will show the same size of the tire. You will need to be under the ATV header to find them.
Jerry559
Q: Will this fifth a 1989 yz250 rear tire
Dan Gearhead
Over 5 months ago
A: Yep! The size 110-120/90-19 will fit your 89 YZ250.
Rodney
Q: What size inner tubes do I order for a 2005 honda crf70
robert
Over 7 months ago
A: You will want a 60/100-14 and a 80/100-12.
avery
Q: What size would I use for a 2004 yamaha ttr125L rear
Michael
Over 11 months ago
A: If you are still running the OEM spec rear tire than the tube you would want to purchase is going to be a 90/100-16.
Paul
Over 11 months ago
A: The stock tire sizes on the 2004 Yamaha TTR125L are 70/100-19 in front, and 90/100-16 at the rear. The STI Heavy Duty Tubes are available in these same exact sizes.
1thumper
Q: I have a 2009 Honda CRF 80F. Front tire size is 2.50- 16. Looking for inner tube. I can't seem to find the tube size I need, from your chart. Any help is appreciated. Thank you.
Paul
Over 12 months ago
A: the STI Heavy Duty Tube is available in size 90/100-16 which will fit your 2.50x16 tire.
TXoutlaw
Q: How much does this tube weigh in 80/100-21?
I am looking for a light weight tube for my 2015 KTM 250sxf
Eazy
Q: I need the 3.00 by 12 inner tube! is it under a different #
Chirs
2 years 8 months ago
A: As far as I can tell, there's no 3.00x12 available for this tube. You could try a 2.50x12 and run a little higher pressure, but there's a good chance that'll shorten the tube's life. I'd suggest checking other tubes to see if they fit.
Jake
Q: Will this tube (80/100-21) fit in a 90/100-21 front tire?
twosmoketom
Over 3 years ago
A: Yes it will,excellent choice.
MotoSportExpert
Over 3 years ago
A: Yes the 80/100-21 tube would work in the 90/100-21 tire.
matt
Q: Does this tube fit a 90/100-16 tire?
MotoSportExpert
Over 3 years ago
A: Yes, if you select the 2003 Honda XR100R the drop down will allow you to select the 90/100-16 tube. Also, feel free to give us a call at 888-676-8853 and we would be happy to help you out with your order.
See all bikes that this part fits...