Renthal
Renthal

Twin Ring Rear Sprocket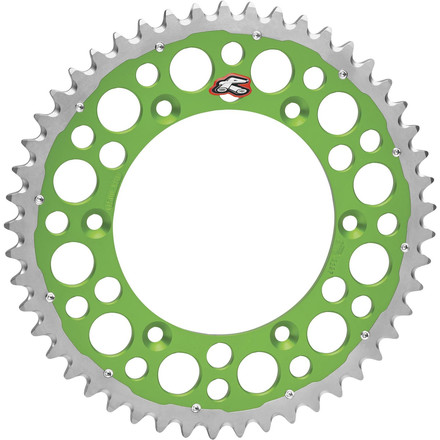 Renthal Twin Ring Rear Sprocket
5 Star
34
4 Star
5
3 Star
2
2 Star
3
1 Star
0
Write a Review
Write your review and you'll automatically be entered in our monthly drawing. Include an image or video to DOUBLE your chances to win!
Write Your Review
17 days ago
Wilmington, MA, USA
Great looking sprocket
The sprocket went in with no problem and looks insane !
29 days ago
Coeur d'Alene, ID, USA
Best sprocket I've ever used
Worth every penny. I've had this sprocket on for a full season and still shows no signs of wear. I was previously using up 2 aluminum sprockets a season with how many hours we log.
Over 9 months ago
Athens, AL, USA
Best sprocket ever
This sprocket is awesome tough and light weight
Over 10 months ago
Redondo Beach, CA, USA
Nothing to complain about
Looks great and has even greater durability with the weight of an aluminum sprocket. Will out last your chain for sure.
Over 10 months ago
New England, USA
Sprocket to Yaa
Got this Renthal in a 51 tooth version to help with the lower end power on my 17 Honda CFR 450 RX . It looks killer and could notice the difference in the lower part of power delivery right away . It is extremely well built and it shows compared to the stock sprocket . Install was easy and I upgraded to a O Ring chain from Pro Taper at the same time .
Over 11 months ago
Sandy, OR
This sprocket works
Having steel teeth and aluminum body helps to cut weight and increase lifespan. Also, it does a pretty good job at putting the power to the wheel.
#1 Rear Sprocket
This sprocket looks great and lasts longer than any other off-road sprocket out there. Would recommend to any rider.
Will buy sgain
Awesome purchase! Will be getting these on all 5 bikes!
1 year 2 months ago
Ohio, USA
Worth the money
I have been using the Renthal Twin Ring rear sprocket for a few years now, and they are bullet proof. I have a 450 and they hold up and get almost a full season of racing and riding on it. Quality is top notch, what you come to expect from Renthal. Highly recommend it, no need to try any other sprockets.
1 year 4 months ago
Michigan
Double the life of aluminum sprockets
This is a fantastic sprocket that appears to have a life expectancy exactly equal to the life of the chain you choose. I always replace both sprockets and the chain, slider, guide all together. The weakest link in my sprockets/chain/slider/guide set is the chain. The chain stretches to the point of replacement before either the counter shaft sprocket or the driven Twin Ring is sharp/ready for replacement. The chain you buy (haven't tested with an 'O' or 'X' ring yet) will give up the ghost before the Twin Ring sprocket. These look great as well, but my interest is primarily performance and durability. NOBODY can tell a difference in power due to the minimal extra weight of this sprocket. If you're worried about extra weight - DON'T WORRY.
Sprocket
Looks great and will last a lot longer than aluminum.
Looks Good!!
Looks great..my only question will be durability since it's not steel.
1 year 8 months ago
Mission Viejo, CA, USA
Renthal chain wheel
Great product for a great price, delivered to my doorstep on time!
1 year 9 months ago
Anchorage, AK, USA
Twin Ring
Little to say...light weight, excellent durability. The only sprocket we run once we've established best gearing.
1 year 11 months ago
Wailuku, HI, USA
Nice sprocket
Nice light and strong sprocket. No complaints here. This thing can take some punishment.
1 year 11 months ago
Oregon, USA
Light/Durable
Big displacement fourstrokes eat sprockets. If your the average rider wanting durability, this leaves you with normally two options, steel sprockets which are very heavy or lightweight aluminum that wears fast. TwinRing bridges the gap, offering great lightweight performance with steel teeth that last much longer. Renthal quality is always a plus side.
2 years 2 months ago
mcarlo
Mcarlo1011
Very durable, not very heavy. We have about 15 hours on the sprocket and no problems, looks brand new.
Great sprocket!
I have a ton of hours on my Twin Ring and still no saw tooth! I am a bigger rider and used to run full steel sprockets for strength. Not anymore. This is a big bang for the buck sprocket.
2 years 10 months ago
Honolulu, HI, USA
Excellent Purchase if your looking to gain an edge
I was looking for a product to stand up to the demands that motocross racing put on these bikes and Renthal was our answer.
Jefe
Q: I want the black color but it doesnt give that option on a 47 tooth sprocket for a 2003 CR250. Can I get that option somehow?
Only gives all the color options for the other tooth count sizes. Restricts the 47 tooth option to silver only.
MotoSportExpert
2 years 5 months ago
A: Sorry, Renthal only offers the 47T in silver for your bike. The 48T comes in black.

http://www.renthal.com/shop/fit-my-bike
Dewit
Q: What is the standard size of a 2011 crf450r rear sprocket?
MotoSportExpert
Over 3 years ago
A: The stock size rear sprocket for your 2011 Honda CRF450R is a 48T.
COWBOY
Location: Burleson, TX, USA
Q: CA N YOU CHANGE OUT THE OUTER RING FOR DIFFERENT CONDITIONS UP OR DOWN ON # OF TEETH ? THANKS J. HOOVER?
MotoSportRyanT
Over 3 years ago
Location: Portland, OR, USA
A: No. Renthal does not sell the outer and inner rings separately from one an other. Also, the 2 rings are riveted together with a special type of rivet and you would not be able to disassemble the sprocket and separate the 2 rings and then reassemble the sprocket.
bongchavas
Q: What renthal twin ring sprocket fit to my honda xr 200?
what renthal twin ring scprocket fit to my honda xr 200?
MotosportStaff
Over 4 years ago
Location: Portland, OR, USA
A: Unfortunately Renthal does not have an product listing for the Honda XR200.
See all bikes that this part fits...
| Product Variant | Manufacturer Part # |
| --- | --- |
| Silver / 47T | 1540-520-47GPSI |
| Silver / 48T | 1540-520-48GPSI |
| Silver / 49T | 1540-520-49GPSI |
| Silver / 50T | 1540-520-50GPSI |
| Silver / 51T | 1540-520-51GPSI |
| Silver / 52T | 1540-520-52GPSI |
| Silver / 48T | 2240-520-48GPSI |
| Silver / 49T | 2240-520-49GPSI |
| Silver / 50T | 2240-520-50GPSI |
| Silver / 51T | 2240-520-51GPSI |
| Silver / 52T | 2240-520-52GPSI |
| Silver / 48T | 1120-520-48GPSI |
| Silver / 49T | 1120-520-49GPSI |
| Silver / 50T | 1120-520-50GPSI |
| Silver / 51T | 1120-520-51GPSI |
| Silver / 52T | 1120-520-52GPSI |
| Silver / 48T | 1230-520-48GPSI |
| Silver / 49T | 1230-520-4 |
| Silver / 50T | 1230-520-50GPSI |
| Silver / 51T | 1230-520-51GPSI |
| Silver / 49T | 1500-520-49GPSI |
| Silver / 50T | 1500-520-50GPSI |
| Silver / 47T | 1500-520-47GPSI |
| Silver / 48T | 1500-520-48GPSI |
| Silver / 51T | 1500-520-51GPSI |
| Silver / 52T | 1500-520-52GPSI |
| Black / 49T | 1540-520-49GPBK |
| Black / 48T | 2240-520-48GPBK |
| Black / 50T | 2240-520-50GPBK |
| Black / 52T | 2240-520-52GPBK |
| Black / 50T | 1120-520-50GPBK |
| Black / 51T | 1120-520-51GPBK |
| Black / 49T | 1230-520-49GPBK |
| Black / 50T | 1230-520-50GPBK |
| Black / 49T | 1500-520-49GPBK |
| Black / 50T | 1500-520-50GPBK |
| Red / 48T | 1540-52048GPRD |
| Red / 49T | 1540-52049GPRD |
| Red / 50T | 1540-52050GPRD |
| Red / 51T | 1540-52051GPRD |
| Orange / 48T | 2240-520-48GPOR |
| Orange / 50T | 2240-520-50GPOR |
| Orange / 52T | 2240-520-52GPOR |
| Blue / 49T | 1500-520-49GPBU |
| Green / 49T | 1120-520-49GPGN |
| Green / 50T | 1120-520-50GPGN |
| Green / 51T | 1120-520-51GPGN |