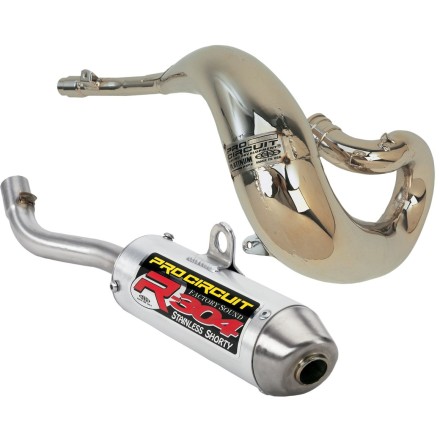 Pro Circuit Pipe And Silencer Combo
---
13% Off - Save up to $47.95
---
5 Star
52
4 Star
11
3 Star
3
2 Star
0
1 Star
1
Write a Review
Write your review and you'll automatically be entered in our monthly drawing. Include an image or video to DOUBLE your chances to win!
Write Your Review
Amazing exhaust and pipe
it makes the bike sound amazing!
Pro Circuit quality
Every one want to have Pro Circuit parts
Over 10 months ago
Oklahoma City, OK, USA
Best Pipe and Silencer Combo Available
This combo replaced the FMF pipe and stock silencer on my trusty old 1997 KDX 200. Better power, more acceleration and sounds great! Highly recommend this setup.
Great
Matched up to a mod motor on a 2017 yz125 and the responsiveness is significantly improved. Didn't come with o rings which I would expect from PC. Visible rust inside the pipe due to storage - this should clean up with use.

Overall a solid product, you just expect the fine details to be there with a high priced performance product. All in all it is a solid PC product.
1 year 1 month ago
boston
Amazing
this pipe gave me an amazing power increase and looks alwsome
Great combo for performance gains
I provided reviews for the individual items as well. Stock exhaust system was holding back our Kx85...with this PC system the power band initiates sooner, wirh crisper throttle response and pulls longer. As a rider myself, watching and listening to my son ride with this setup, I can see the improvements in motion and hear the difference...my son says he has more confidence in the power of the bike. Enough said.
Pro Circuit Sound and Power
Awesome sound and power from Pro Circuit. Easy install and great performance. Motosport.com is awesome too!
1 year 6 months ago
Pittsburgh
Awesome pipe
Looks and sounds great. I'm running it on my son's 2014 Kx100. You do need to re- jet the carb though.
1 year 11 months ago
Fresno
Great exhaust
The exhaust is amazing. It gives my 2015 yz125 more top end power. But it rusts a little bit after a few months. But it is not that noticeable.
2 years ago
McHenry, IL, USA
Factory
If your going for a factory look on your two smoker there's no better piece that will give you that factory style your looking for! The raw metal provides a killer look on any bike and like any product with the name pro circuit on it you know your getting the best quality and amazing performance out of any part you can buy. The only and obvious down side is that with great raw looks come great oiling responsibilitys. You need to keep this pipe oiled so it dosnt rust up. But if you fall a little behind on your maintenance and small surface rust appears it's nothing some WD-40 and a scotch brite pad can't cure.
Well worth it
I got this for my 03 yamaha blaster. Big enprovement over stock , its lighter , sounds way better it opened it up and well worth the money
2 years 9 months ago
Ithaca, NY, USA
KX85
Best thing I have put on this bike for performance.
Over 3 years ago
California, USA
Awesome Pro circuit Combo for 2013 kx65
Makes our 2013 kx65 look great. Also sounds and runs awesome now.
Power and sound is very nice. n
Over 3 years ago
Sacramento, CA, USA
PULL THIRD GEAR CORNERS BEST POWER INCREASE FOR $$
PRO CIRCUIT WORKS PIPE SHORTY COMBO IS LIGHT - POWER INCREASE MAKES YOU SMILE EAR TO EAR - 2 STROKE MX RACING , 2 THROTTLE POSITIONS OFF AND FULL THROTTLE, PRO CIRCUIT TOP END RIPS, PROS CHOICE FOR SURE - FITS PERFECT, BETTER THAN STOCK - SOUND ALONE GETS IN COMPETITION'S HEAD - TAKE PRIDE AND CARE , WORKS FACTORY FINISH, SCOTCH BRITE PAD AND WD-40 - FACTORY - I RUN, 1 QUART OF VP C12 TO 1.75 GALLONS OF 91 OCTANE PUMP GAS - INCREASE MAIN JET 1 SIZE FROM STOCK - READY FOR VICTORY. PRO CIRCUIT IS NOT FLUFF IT IS THE REAL DEAL - CLOSED COURSE COMPETITION READY !!!
Over 3 years ago
Oklahoma City, OK, USA
Sick
Great looking pipe, I got the works finish. The mid range on my yz 250 is definitely stronger, lost a little on bottom vs. stock.You can tell a difference for sure.
Over 4 years ago
Oklahoma
Awesome exhaust system.
Looks great, feels great, sounds great, easy installation. This is the 2nd bike I have installed this system on. Very satysfied.
Pro Circuit Pipe And Silencer Combo
Pipe was rusted in the bag? It must have sat on the shelf for some time, enough that i had to oil it and hit it with scotch brite to remove..quality control should have caught this before shipping?
Over 4 years ago
East Falmouth, ma
Pro circuit pipe and silencer
I will have to tell you that with the yz125s the stock pipe is great but i was looking for more top end and the pc pipe does exactly that but it takes away from the bottom end a bit to give you more top. this pipe also definitley requires jetting changes because this pipe runs lean on top and i mean really lean. had to from i beleive stock which was a 430 to a 450 main jet. Anyone looking to buy this for their 125 just know what your getting into before buying it. I also think a vforce reed would be such a good compliment of the pipe and thats most certainly my next purchase for the bike. thanks guys
Awsome Pipe
Great pipe, it fit perfect, looks amazing and sound even better. I got the Platinum pipe wih Factory 304 silencer. Ive had an fmf fatty on the bike before and I like this setup a lot better. It really seems to pull a lot harder across the whole power band. 02 CR250r
Awesome buy
got the platinum pipe with the shorty silencer, made my 02 cr 250 really come to life and sounds amazing! also looks great. I would highly recommend this exhaust!
Matty
Q: Hi.. I would like to purchase the platinum pipe and the R304 setup for my 1989 Cr 250 but it's not in stock.?
Can you order it in for me and what shipping cost would I be looking at I live in Evans head,nsw,2473. Australia
David
12 days ago
A: You'll need to place your order online first and then we'll reach out to Pro Circuit on getting you one. Shipping cost will be calculated during them of checkout.
Matty
Q: Will the R304 silencer fit my bike?
David
12 days ago
A: Yes this will fit your 1989 CR250. Be sure to profile your ride properly before adding to cart.
Steve
Q: Will this fit a 98 kx 250? It says it will fit a 97 kx 250 I thought they were the same?
David
1 month 27 days ago
A: Yes it will work.
Andrew
Q: Does the combo come with new springs and gaskets or is it just the pipe and silencer?
David
Top 25 Contributor
Top 500 Contributor
Top 50 Contributor
Top 10 Contributor
Top 100 Contributor
Top 250 Contributor
3 months ago
A: Just the pipe and silencer.
DJUKES
Q: Will my carb require rejeting to accommodate the pipes on a Yamaha 200 Blaster? I have the power reeds on order also.?
MotoStaff
Over 10 months ago
A: Yes, re-jetting will let you get the most out of your new pipe as well. Profile your ride and search for "Jet Kit", there should be a couple of options you can choose from - they'll all include what you need to dial it in.
Collin
Q: When will platinum2 be in stock?
03 kx 125 head pipe isn't in stock, silencer shows in stock
Will
Location: Birmingham, United Kingdom
Q: Are there any import charges if i purchase this product from the UK?
Motoman
Q: I really want to get this for my 2014 kx85, I'm just worried about the jetting. I'm in Colorado were the altitude is about 5300ft.?
How should I jet the bike.
MotoSportExpert
1 year 5 months ago
A: Due to the variations that may come into effect when tuning an engine (i.e. pipes, intake, altitude, cams, displacement, standard or high compression pistons, etc.) we CANNOT offer jetting recommendations.
Jake
Q: I have a kdx 125 SR 1997 Does anyone know what exhausts would fit my bike I've searched everywhere any replies would be helpful thanks?
MotoSportExpert
1 year 5 months ago
A: All products sold on MotoSport.com are for US models only. We unfortunately do not have product fitment for non-us models.
Bjorn
Q: Ktm 125?
Do this FIT ktm 125 exc?
MotoSportExpert
1 year 6 months ago
A: All products sold on MotoSport.com are for US models only. We unfortunately do not have product fitment for non-us models.
See all bikes that this part fits...
Pipe
| Product Variant | Manufacturer Part # |
| --- | --- |
| Pro Circuit Pipe And Silencer Combo | N/A |
| Pro Circuit Pipe And Silencer Combo | PY04125P |
| Pro Circuit Pipe And Silencer Combo | PY02085P |
| Pro Circuit Pipe And Silencer Combo | PS02125P |
| Pro Circuit Pipe And Silencer Combo | PS04250P |
| Pro Circuit Pipe And Silencer Combo | PS93125P |
| Pro Circuit Pipe And Silencer Combo | PY91250P |
| Pro Circuit Pipe And Silencer Combo | PH98125P |
| Pro Circuit Pipe And Silencer Combo | PH99125P |
| Pro Circuit Pipe And Silencer Combo | PH05125P |
| Pro Circuit Pipe And Silencer Combo | PH92125P |
| Pro Circuit Pipe And Silencer Combo | PH04125P |
| Pro Circuit Pipe And Silencer Combo | PH03125P |
| Pro Circuit Pipe And Silencer Combo | PH02125P |
| Pro Circuit Pipe And Silencer Combo | N/A |
| Pro Circuit Pipe And Silencer Combo | PH00250P |
| Pro Circuit Pipe And Silencer Combo | N/A |
| Pro Circuit Pipe And Silencer Combo | PH01250P |
| Pro Circuit Pipe And Silencer Combo | N/A |
| Pro Circuit Pipe And Silencer Combo | PH02250P |
| Pro Circuit Pipe And Silencer Combo | PY96250P |
| Pro Circuit Pipe And Silencer Combo | PH03250P |
| Pro Circuit Pipe And Silencer Combo | 0851550 |
| Pro Circuit Pipe And Silencer Combo | PH05250P |
| Pro Circuit Pipe And Silencer Combo | PY01125P |
| Pro Circuit Pipe And Silencer Combo | PH95250P |
| Pro Circuit Pipe And Silencer Combo | PY00250P |
| Pro Circuit Pipe And Silencer Combo | PH97250P |
| Pro Circuit Pipe And Silencer Combo | PQS87080P |
| Pro Circuit Pipe And Silencer Combo | PH99250P |
| Pro Circuit Pipe And Silencer Combo | PH90250P |
| Pro Circuit Pipe And Silencer Combo | PH89500P |
| Pro Circuit Pipe And Silencer Combo | PK99125P |
| Pro Circuit Pipe And Silencer Combo | PH03085P |
| Pro Circuit Pipe And Silencer Combo | PS90250P |
| Pro Circuit Pipe And Silencer Combo | PH05085P |
| Pro Circuit Pipe And Silencer Combo | N/A |
| Pro Circuit Pipe And Silencer Combo | PT00125P |
| Pro Circuit Pipe And Silencer Combo | PY84490P |
| Pro Circuit Pipe And Silencer Combo | PT09150P |
| Pro Circuit Pipe And Silencer Combo | PY93080P |
| Pro Circuit Pipe And Silencer Combo | PT00250P |
| Pro Circuit Pipe And Silencer Combo | PY98250P |
| Pro Circuit Pipe And Silencer Combo | PT09050P |
| Pro Circuit Pipe And Silencer Combo | 0881250 |
| Pro Circuit Pipe And Silencer Combo | PT09065P |
| Pro Circuit Pipe And Silencer Combo | PS01250P |
| Pro Circuit Pipe And Silencer Combo | 0851385 |
| Pro Circuit Pipe And Silencer Combo | PS02085P |
| Pro Circuit Pipe And Silencer Combo | PT03250P |
| Pro Circuit Pipe And Silencer Combo | PY03125P |
| Pro Circuit Pipe And Silencer Combo | PK00125P |
| Pro Circuit Pipe And Silencer Combo | PY05125P |
| Pro Circuit Pipe And Silencer Combo | PK01125P |
| Pro Circuit Pipe And Silencer Combo | PY05250P |
| Pro Circuit Pipe And Silencer Combo | PK03125P |
| Pro Circuit Pipe And Silencer Combo | PY00125P |
| Pro Circuit Pipe And Silencer Combo | PK04125P |
| Pro Circuit Pipe And Silencer Combo | N/A |
| Pro Circuit Pipe And Silencer Combo | PK00250P |
| Pro Circuit Pipe And Silencer Combo | N/A |
| Pro Circuit Pipe And Silencer Combo | PK01250P |
| Pro Circuit Pipe And Silencer Combo | N/A |
| Pro Circuit Pipe And Silencer Combo | PK03250P |
| Pro Circuit Pipe And Silencer Combo | PK94250P |
| Pro Circuit Pipe And Silencer Combo | PK05250P |
| Pro Circuit Pipe And Silencer Combo | PQH86250P |
| Pro Circuit Pipe And Silencer Combo | PK95250P |
| Pro Circuit Pipe And Silencer Combo | PS03250P |
| Pro Circuit Pipe And Silencer Combo | PK99250P |
| Pro Circuit Pipe And Silencer Combo | N/A |
| Pro Circuit Pipe And Silencer Combo | N/A |
| Pro Circuit Pipe And Silencer Combo | N/A |
| Pro Circuit Pipe And Silencer Combo | PK02065P |
| Pro Circuit Pipe And Silencer Combo | PS99250P |
| Pro Circuit Pipe And Silencer Combo | PK91080P |
| Pro Circuit Pipe And Silencer Combo | PT04085P |
| Pro Circuit Pipe And Silencer Combo | 0821085 |
| Pro Circuit Pipe And Silencer Combo | N/A |
| Pro Circuit Pipe And Silencer Combo | 0821485 |
| Pro Circuit Pipe And Silencer Combo | N/A |
| Pro Circuit Pipe And Silencer Combo | N/A |
| Pro Circuit Pipe And Silencer Combo | N/A |
| Pro Circuit Pipe And Silencer Combo | PQY88200P |
| Pro Circuit Pipe And Silencer Combo | N/A |
| Pro Circuit Pipe And Silencer Combo | PS00125P |
| Pro Circuit Pipe And Silencer Combo | PY99250P |
| Pro Circuit Pipe And Silencer Combo | PS01125P |
| Pro Circuit Pipe And Silencer Combo | 0851125 |
| Pro Circuit Pipe And Silencer Combo | PS04125P |
| Pro Circuit Pipe And Silencer Combo | 0881265 |
| Pro Circuit Pipe And Silencer Combo | 0751550 |
| Pro Circuit Pipe And Silencer Combo | N/A |
| Pro Circuit Pipe And Silencer Combo | 0751212 |
| Pro Circuit Pipe And Silencer Combo | 0781265 |
| Pro Circuit Pipe And Silencer Combo | 0721185 |
| Pro Circuit Pipe And Silencer Combo | PY02085 |
| Pro Circuit Pipe And Silencer Combo | 0721485 |
| Pro Circuit Pipe And Silencer Combo | PY05125 |
| Pro Circuit Pipe And Silencer Combo | PY05250 |
| Pro Circuit Pipe And Silencer Combo | PS04250 |
| Pro Circuit Pipe And Silencer Combo | PS02085 |
| Pro Circuit Pipe And Silencer Combo | PS00125P |
| Pro Circuit Pipe And Silencer Combo | PS04125 |
| Pro Circuit Pipe And Silencer Combo | PK8950002 |
| Pro Circuit Pipe And Silencer Combo | PK02065 |
| Pro Circuit Pipe And Silencer Combo | PK04250 |
| Pro Circuit Pipe And Silencer Combo | N/A |
| Pro Circuit Pipe And Silencer Combo | 0751125 |
| Pro Circuit Pipe And Silencer Combo | PK04125 |
| Pro Circuit Pipe And Silencer Combo | 0751385 |
| Pro Circuit Pipe And Silencer Combo | PT03250 |
| Pro Circuit Pipe And Silencer Combo | PT09065 |
| Pro Circuit Pipe And Silencer Combo | N/A |
| Pro Circuit Pipe And Silencer Combo | PT09050 |
| Pro Circuit Pipe And Silencer Combo | PT02065 |
| Pro Circuit Pipe And Silencer Combo | PH05085 |
| Pro Circuit Pipe And Silencer Combo | PT04125 |
| Pro Circuit Pipe And Silencer Combo | PH05250 |
| Pro Circuit Pipe And Silencer Combo | N/A |
| Pro Circuit Pipe And Silencer Combo | PH02250 |
| Pro Circuit Pipe And Silencer Combo | PH03250 |
| Pro Circuit Pipe And Silencer Combo | PH05125 |
| Pro Circuit Pipe And Silencer Combo | PH01250 |
| Pro Circuit Pipe And Silencer Combo | PY93250P2 |
| Pro Circuit Pipe And Silencer Combo | PH01125P |
| Pro Circuit Pipe And Silencer Combo | 0781250 |
| Pro Circuit Pipe And Silencer Combo | 0951130 |
| Pro Circuit Pipe And Silencer Combo | PK05250P2 |
| Pro Circuit Pipe And Silencer Combo | PY05250P2 |
| Pro Circuit Pipe And Silencer Combo | PS04250P2 |
| Pro Circuit Pipe And Silencer Combo | PK89500P2 |
| Pro Circuit Pipe And Silencer Combo | PT04300P2 |
| Pro Circuit Pipe And Silencer Combo | PK04250P2 |
| Pro Circuit Pipe And Silencer Combo | PK03250P2 |
| Pro Circuit Pipe And Silencer Combo | PT09300P2 |
| Pro Circuit Pipe And Silencer Combo | PH05250P2 |
| Pro Circuit Pipe And Silencer Combo | 0951125 |
| Pro Circuit Pipe And Silencer Combo | PT03250P2 |
| Pro Circuit Pipe And Silencer Combo | PH03250P2 |
| Pro Circuit Pipe And Silencer Combo | PK95200DP2 |
Silencer
| Product Variant | Manufacturer Part # |
| --- | --- |
| Pro Circuit Pipe And Silencer Combo | ST03250SE |
| Pro Circuit Pipe And Silencer Combo | 1051130 |
| Pro Circuit Pipe And Silencer Combo | 1181250 |
| Pro Circuit Pipe And Silencer Combo | ST98250SE |
| Pro Circuit Pipe And Silencer Combo | SY96250SE |
| Pro Circuit Pipe And Silencer Combo | N/A |
| Pro Circuit Pipe And Silencer Combo | SS89250304 |
| Pro Circuit Pipe And Silencer Combo | SK05250SE |
| Pro Circuit Pipe And Silencer Combo | SK95250SE |
| Pro Circuit Pipe And Silencer Combo | SK99125SE |
| Pro Circuit Pipe And Silencer Combo | SK03250SE |
| Pro Circuit Pipe And Silencer Combo | SK03125SE |
| Pro Circuit Pipe And Silencer Combo | ST04085SE |
| Pro Circuit Pipe And Silencer Combo | 1051125 |
| Pro Circuit Pipe And Silencer Combo | SH89250304 |
| Pro Circuit Pipe And Silencer Combo | SK99250SE |
| Pro Circuit Pipe And Silencer Combo | N/A |
| Pro Circuit Pipe And Silencer Combo | SK88500304 |
| Pro Circuit Pipe And Silencer Combo | SQH86250304 |
| Pro Circuit Pipe And Silencer Combo | N/A |
| Pro Circuit Pipe And Silencer Combo | ST04300SE |
| Pro Circuit Pipe And Silencer Combo | SK02065304 |
| Pro Circuit Pipe And Silencer Combo | SY88250304 |
| Pro Circuit Pipe And Silencer Combo | SK98080304 |
| Pro Circuit Pipe And Silencer Combo | SY98250SE |
| Pro Circuit Pipe And Silencer Combo | SH91500SE |
| Pro Circuit Pipe And Silencer Combo | ST09085-SE |
| Pro Circuit Pipe And Silencer Combo | SQS87080304 |
| Pro Circuit Pipe And Silencer Combo | SS02125SE |
| Pro Circuit Pipe And Silencer Combo | SH96080SE |
| Pro Circuit Pipe And Silencer Combo | SH89500SE |
| Pro Circuit Pipe And Silencer Combo | SS93125304 |
| Pro Circuit Pipe And Silencer Combo | SH89125304 |
| Pro Circuit Pipe And Silencer Combo | SS96125SE |
| Pro Circuit Pipe And Silencer Combo | SH90250304 |
| Pro Circuit Pipe And Silencer Combo | SS01250SE |
| Pro Circuit Pipe And Silencer Combo | N/A |
| Pro Circuit Pipe And Silencer Combo | SS02250SE |
| Pro Circuit Pipe And Silencer Combo | SK95200DSE |
| Pro Circuit Pipe And Silencer Combo | SS04250SE |
| Pro Circuit Pipe And Silencer Combo | SS89125304 |
| Pro Circuit Pipe And Silencer Combo | SS96250SE |
| Pro Circuit Pipe And Silencer Combo | ST04125SE |
| Pro Circuit Pipe And Silencer Combo | SS99250SE |
| Pro Circuit Pipe And Silencer Combo | ST98125SE |
| Pro Circuit Pipe And Silencer Combo | SS89080304 |
| Pro Circuit Pipe And Silencer Combo | SY84490304 |
| Pro Circuit Pipe And Silencer Combo | SY00125SE |
| Pro Circuit Pipe And Silencer Combo | SY91250304 |
| Pro Circuit Pipe And Silencer Combo | SY02125SE |
| Pro Circuit Pipe And Silencer Combo | SY97250304 |
| Pro Circuit Pipe And Silencer Combo | SY00250SE |
| Pro Circuit Pipe And Silencer Combo | SY99250SE |
| Pro Circuit Pipe And Silencer Combo | SY03250SE |
| Pro Circuit Pipe And Silencer Combo | ST09065-SE |
| Pro Circuit Pipe And Silencer Combo | SY93250SE |
| Pro Circuit Pipe And Silencer Combo | 1051525 |
| Pro Circuit Pipe And Silencer Combo | SH97250SE |
| Pro Circuit Pipe And Silencer Combo | 1181265 |
| Pro Circuit Pipe And Silencer Combo | SH04250SE |
| Pro Circuit Pipe And Silencer Combo | SH92250SE |
| Pro Circuit Pipe And Silencer Combo | SH99250SE |
| Pro Circuit Pipe And Silencer Combo | SH00250SE |
| Pro Circuit Pipe And Silencer Combo | SH02125SE |
| Pro Circuit Pipe And Silencer Combo | SH93125SE |
| Pro Circuit Pipe And Silencer Combo | SH02250SE |
| Pro Circuit Pipe And Silencer Combo | 1051212 |
| Pro Circuit Pipe And Silencer Combo | N/A |
| Pro Circuit Pipe And Silencer Combo | 1151550 |
| Pro Circuit Pipe And Silencer Combo | SH00125SE |
| Pro Circuit Pipe And Silencer Combo | SY03250RE |
| Pro Circuit Pipe And Silencer Combo | SK03125RE |
| Pro Circuit Pipe And Silencer Combo | SY02250RE |
| Pro Circuit Pipe And Silencer Combo | SY93080RE |
| Pro Circuit Pipe And Silencer Combo | SS02250RE |
| Pro Circuit Pipe And Silencer Combo | SS04250RE |
| Pro Circuit Pipe And Silencer Combo | ST09085RE |
| Pro Circuit Pipe And Silencer Combo | 1121485 |
| Pro Circuit Pipe And Silencer Combo | ST09065RE |
| Pro Circuit Pipe And Silencer Combo | ST02065R |
| Pro Circuit Pipe And Silencer Combo | 1151525 |
| Pro Circuit Pipe And Silencer Combo | ST09050RE |
| Pro Circuit Pipe And Silencer Combo | SH96080RE |
| Pro Circuit Pipe And Silencer Combo | ST04125RE |
| Pro Circuit Pipe And Silencer Combo | SH02250RE |
| Pro Circuit Pipe And Silencer Combo | SH04250RE |
| Pro Circuit Pipe And Silencer Combo | SH98125RE |
| Pro Circuit Pipe And Silencer Combo | SH00250RE |
| Pro Circuit Pipe And Silencer Combo | SH02125RE |
| Pro Circuit Pipe And Silencer Combo | SH93125RE |
| Pro Circuit Pipe And Silencer Combo | SY00250RE |
| Pro Circuit Pipe And Silencer Combo | SH00125RE |
| Pro Circuit Pipe And Silencer Combo | SS01125RE |
| Pro Circuit Pipe And Silencer Combo | SY00125RE |
| Pro Circuit Pipe And Silencer Combo | SS96125RE |
| Pro Circuit Pipe And Silencer Combo | SS89080R |
| Pro Circuit Pipe And Silencer Combo | SK02065R |
| Pro Circuit Pipe And Silencer Combo | SS02125RE |
| Pro Circuit Pipe And Silencer Combo | SK05250RE |
| Pro Circuit Pipe And Silencer Combo | SK00065R |
| Pro Circuit Pipe And Silencer Combo | SK99250RE |
| Pro Circuit Pipe And Silencer Combo | SK03250RE |
| Pro Circuit Pipe And Silencer Combo | SY93080SE |
| Pro Circuit Pipe And Silencer Combo | SK99125RE |
| Pro Circuit Pipe And Silencer Combo | SQY87350SE |
| Pro Circuit Pipe And Silencer Combo | SQY88200304 |
| Pro Circuit Pipe And Silencer Combo | SY02125RE |
| Pro Circuit Pipe And Silencer Combo | 1151212 |