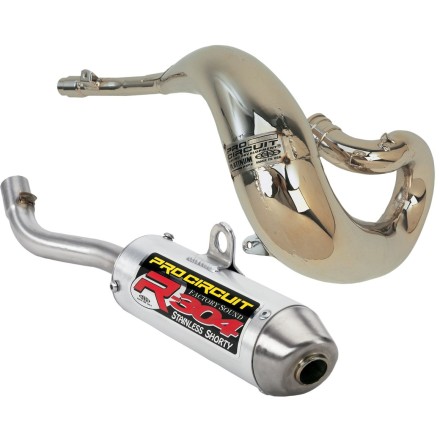 Pro Circuit Pipe And Silencer Combo
---
12% Off - Save up to $44.96
---
5 Star
52
4 Star
11
3 Star
3
2 Star
1
1 Star
3
Write a Review
Write your review and you'll automatically be entered in our monthly drawing. Include an image or video to DOUBLE your chances to win!
Write Your Review
3 months 20 days ago
Latchford Ontario
4 months 28 days ago
las vegas
POOR QUALITY
pipe had rust scratches,small dent. and they dont even stock this pipe to exchange it. big disappointment from motosport
Flange
This aply for the Yamaha Blaster
It does not come with the flange and you can't find it anywhere, not even from the pro circuit company, so make sure you buy one with the flange
Amazing exhaust and pipe
it makes the bike sound amazing!
Pro Circuit quality
Every one want to have Pro Circuit parts
1 year 5 months ago
Oklahoma City, OK, USA
Best Pipe and Silencer Combo Available
This combo replaced the FMF pipe and stock silencer on my trusty old 1997 KDX 200. Better power, more acceleration and sounds great! Highly recommend this setup.
1 year 8 months ago
Colorado
Great
Matched up to a mod motor on a 2017 yz125 and the responsiveness is significantly improved. Didn't come with o rings which I would expect from PC. Visible rust inside the pipe due to storage - this should clean up with use.

Overall a solid product, you just expect the fine details to be there with a high priced performance product. All in all it is a solid PC product.
1 year 8 months ago
boston
Amazing
this pipe gave me an amazing power increase and looks alwsome
Great combo for performance gains
I provided reviews for the individual items as well. Stock exhaust system was holding back our Kx85...with this PC system the power band initiates sooner, wirh crisper throttle response and pulls longer. As a rider myself, watching and listening to my son ride with this setup, I can see the improvements in motion and hear the difference...my son says he has more confidence in the power of the bike. Enough said.
See all bikes that this part fits...
Pipe
| Product Variant | Manufacturer Part # |
| --- | --- |
| Pro Circuit Pipe And Silencer Combo | 0851725 |
| Pro Circuit Pipe And Silencer Combo | 0861725 |
| Pro Circuit Pipe And Silencer Combo | 0851612 |
| Pro Circuit Pipe And Silencer Combo | 0851665 |
| Pro Circuit Pipe And Silencer Combo | 0821665 |
| Pro Circuit Pipe And Silencer Combo | 0851212 |
| Pro Circuit Pipe And Silencer Combo | 0761730 |
| Pro Circuit Pipe And Silencer Combo | 0761885 |
| Pro Circuit Pipe And Silencer Combo | 0751725 |
| Pro Circuit Pipe And Silencer Combo | 0751665 |
| Pro Circuit Pipe And Silencer Combo | 0751612 |
| Pro Circuit Pipe And Silencer Combo | 0861885 |
| Pro Circuit Pipe And Silencer Combo | 751725�  |
| Pro Circuit Pipe And Silencer Combo | 0721665 |
| Pro Circuit Pipe And Silencer Combo | 0721185 |
| Pro Circuit Pipe And Silencer Combo | 0781250 |
| Pro Circuit Pipe And Silencer Combo | 0781265 |
| Pro Circuit Pipe And Silencer Combo | 0721485 |
| Pro Circuit Pipe And Silencer Combo | 0751212 |
| Pro Circuit Pipe And Silencer Combo | PY05250 |
| Pro Circuit Pipe And Silencer Combo | PY02085 |
| Pro Circuit Pipe And Silencer Combo | PS04250 |
| Pro Circuit Pipe And Silencer Combo | PY05125 |
| Pro Circuit Pipe And Silencer Combo | PS00125P |
| Pro Circuit Pipe And Silencer Combo | PS04125 |
| Pro Circuit Pipe And Silencer Combo | PK8950002 |
| Pro Circuit Pipe And Silencer Combo | PK02065 |
| Pro Circuit Pipe And Silencer Combo | PK04250 |
| Pro Circuit Pipe And Silencer Combo | N/A |
| Pro Circuit Pipe And Silencer Combo | 0751125 |
| Pro Circuit Pipe And Silencer Combo | PK04125 |
| Pro Circuit Pipe And Silencer Combo | 0751385 |
| Pro Circuit Pipe And Silencer Combo | PY04125P |
| Pro Circuit Pipe And Silencer Combo | PY02085P |
| Pro Circuit Pipe And Silencer Combo | 0881265 |
| Pro Circuit Pipe And Silencer Combo | PS04250P |
| Pro Circuit Pipe And Silencer Combo | PS99250P |
| Pro Circuit Pipe And Silencer Combo | N/A |
| Pro Circuit Pipe And Silencer Combo | PH05125P |
| Pro Circuit Pipe And Silencer Combo | PQH86250P |
| Pro Circuit Pipe And Silencer Combo | PH03125P |
| Pro Circuit Pipe And Silencer Combo | PH04125P |
| Pro Circuit Pipe And Silencer Combo | PH02125P |
| Pro Circuit Pipe And Silencer Combo | PH01125P |
| Pro Circuit Pipe And Silencer Combo | N/A |
| Pro Circuit Pipe And Silencer Combo | N/A |
| Pro Circuit Pipe And Silencer Combo | PH92125P |
| Pro Circuit Pipe And Silencer Combo | N/A |
| Pro Circuit Pipe And Silencer Combo | PH98125P |
| Pro Circuit Pipe And Silencer Combo | N/A |
| Pro Circuit Pipe And Silencer Combo | PH99125P |
| Pro Circuit Pipe And Silencer Combo | PY84490P |
| Pro Circuit Pipe And Silencer Combo | PH00250P |
| Pro Circuit Pipe And Silencer Combo | PY99250P |
| Pro Circuit Pipe And Silencer Combo | PH01250P |
| Pro Circuit Pipe And Silencer Combo | PS04125P |
| Pro Circuit Pipe And Silencer Combo | PH02250P |
| Pro Circuit Pipe And Silencer Combo | PY01125P |
| Pro Circuit Pipe And Silencer Combo | PH03250P |
| Pro Circuit Pipe And Silencer Combo | PY00250P |
| Pro Circuit Pipe And Silencer Combo | PH05250P |
| Pro Circuit Pipe And Silencer Combo | PQS87080P |
| Pro Circuit Pipe And Silencer Combo | PH95250P |
| Pro Circuit Pipe And Silencer Combo | N/A |
| Pro Circuit Pipe And Silencer Combo | PH97250P |
| Pro Circuit Pipe And Silencer Combo | PK94250P |
| Pro Circuit Pipe And Silencer Combo | PH99250P |
| Pro Circuit Pipe And Silencer Combo | PS03250P |
| Pro Circuit Pipe And Silencer Combo | PH89500P |
| Pro Circuit Pipe And Silencer Combo | N/A |
| Pro Circuit Pipe And Silencer Combo | PH03085P |
| Pro Circuit Pipe And Silencer Combo | PT04085P |
| Pro Circuit Pipe And Silencer Combo | PH05085P |
| Pro Circuit Pipe And Silencer Combo | PY91250P |
| Pro Circuit Pipe And Silencer Combo | PT00125P |
| Pro Circuit Pipe And Silencer Combo | N/A |
| Pro Circuit Pipe And Silencer Combo | PT09150P |
| Pro Circuit Pipe And Silencer Combo | 0851125 |
| Pro Circuit Pipe And Silencer Combo | PT00250P |
| Pro Circuit Pipe And Silencer Combo | 851725�  |
| Pro Circuit Pipe And Silencer Combo | PT09050P |
| Pro Circuit Pipe And Silencer Combo | PS01250P |
| Pro Circuit Pipe And Silencer Combo | PT09065P |
| Pro Circuit Pipe And Silencer Combo | PS02085P |
| Pro Circuit Pipe And Silencer Combo | N/A |
| Pro Circuit Pipe And Silencer Combo | PY03125P |
| Pro Circuit Pipe And Silencer Combo | 0851385 |
| Pro Circuit Pipe And Silencer Combo | PY05125P |
| Pro Circuit Pipe And Silencer Combo | PT03250P |
| Pro Circuit Pipe And Silencer Combo | PY05250P |
| Pro Circuit Pipe And Silencer Combo | PK00125P |
| Pro Circuit Pipe And Silencer Combo | PY00125P |
| Pro Circuit Pipe And Silencer Combo | PK01125P |
| Pro Circuit Pipe And Silencer Combo | N/A |
| Pro Circuit Pipe And Silencer Combo | PK03125P |
| Pro Circuit Pipe And Silencer Combo | N/A |
| Pro Circuit Pipe And Silencer Combo | PK04125P |
| Pro Circuit Pipe And Silencer Combo | PH90250P |
| Pro Circuit Pipe And Silencer Combo | PK00250P |
| Pro Circuit Pipe And Silencer Combo | N/A |
| Pro Circuit Pipe And Silencer Combo | PK01250P |
| Pro Circuit Pipe And Silencer Combo | PK99125P |
| Pro Circuit Pipe And Silencer Combo | PK03250P |
| Pro Circuit Pipe And Silencer Combo | N/A |
| Pro Circuit Pipe And Silencer Combo | PK05250P |
| Pro Circuit Pipe And Silencer Combo | PS90250P |
| Pro Circuit Pipe And Silencer Combo | PK95250P |
| Pro Circuit Pipe And Silencer Combo | PS93125P |
| Pro Circuit Pipe And Silencer Combo | PK99250P |
| Pro Circuit Pipe And Silencer Combo | N/A |
| Pro Circuit Pipe And Silencer Combo | N/A |
| Pro Circuit Pipe And Silencer Combo | N/A |
| Pro Circuit Pipe And Silencer Combo | PK02065P |
| Pro Circuit Pipe And Silencer Combo | PT98200P |
| Pro Circuit Pipe And Silencer Combo | PK91080P |
| Pro Circuit Pipe And Silencer Combo | N/A |
| Pro Circuit Pipe And Silencer Combo | 0821085 |
| Pro Circuit Pipe And Silencer Combo | PY93080P |
| Pro Circuit Pipe And Silencer Combo | 0821485 |
| Pro Circuit Pipe And Silencer Combo | PY96250P |
| Pro Circuit Pipe And Silencer Combo | N/A |
| Pro Circuit Pipe And Silencer Combo | PY98250P |
| Pro Circuit Pipe And Silencer Combo | PQY88200P |
| Pro Circuit Pipe And Silencer Combo | PS02125P |
| Pro Circuit Pipe And Silencer Combo | PS00125P |
| Pro Circuit Pipe And Silencer Combo | 0881250 |
| Pro Circuit Pipe And Silencer Combo | PS01125P |
| Pro Circuit Pipe And Silencer Combo | 0851550 |
| Pro Circuit Pipe And Silencer Combo | PT03250 |
| Pro Circuit Pipe And Silencer Combo | PT09065 |
| Pro Circuit Pipe And Silencer Combo | PT09050 |
| Pro Circuit Pipe And Silencer Combo | 0751550 |
| Pro Circuit Pipe And Silencer Combo | PT02065 |
| Pro Circuit Pipe And Silencer Combo | PH05085 |
| Pro Circuit Pipe And Silencer Combo | PT04125 |
| Pro Circuit Pipe And Silencer Combo | PH05250 |
| Pro Circuit Pipe And Silencer Combo | N/A |
| Pro Circuit Pipe And Silencer Combo | PH02250 |
| Pro Circuit Pipe And Silencer Combo | PH03250 |
| Pro Circuit Pipe And Silencer Combo | PH05125 |
| Pro Circuit Pipe And Silencer Combo | PH01250 |
| Pro Circuit Pipe And Silencer Combo | PY93250P2 |
| Pro Circuit Pipe And Silencer Combo | 0951130 |
| Pro Circuit Pipe And Silencer Combo | PS04250P2 |
| Pro Circuit Pipe And Silencer Combo | PY05250P2 |
| Pro Circuit Pipe And Silencer Combo | PK05250P2 |
| Pro Circuit Pipe And Silencer Combo | PK89500P2 |
| Pro Circuit Pipe And Silencer Combo | PK03250P2 |
| Pro Circuit Pipe And Silencer Combo | PK04250P2 |
| Pro Circuit Pipe And Silencer Combo | PT04300P2 |
| Pro Circuit Pipe And Silencer Combo | PT09300P2 |
| Pro Circuit Pipe And Silencer Combo | PT03250P2 |
| Pro Circuit Pipe And Silencer Combo | 0951125 |
| Pro Circuit Pipe And Silencer Combo | PH05250P2 |
| Pro Circuit Pipe And Silencer Combo | 8101430 |
| Pro Circuit Pipe And Silencer Combo | PK95200DP2 |
| Pro Circuit Pipe And Silencer Combo | 0741585 |
| Pro Circuit Pipe And Silencer Combo | PH03250P2 |
| Pro Circuit Pipe And Silencer Combo | N/A |
Silencer
| Product Variant | Manufacturer Part # |
| --- | --- |
| Pro Circuit Pipe And Silencer Combo | SS01250SE |
| Pro Circuit Pipe And Silencer Combo | SK98080304 |
| Pro Circuit Pipe And Silencer Combo | SK99250SE |
| Pro Circuit Pipe And Silencer Combo | SY99250SE |
| Pro Circuit Pipe And Silencer Combo | ST98125SE |
| Pro Circuit Pipe And Silencer Combo | N/A |
| Pro Circuit Pipe And Silencer Combo | SQY87350SE |
| Pro Circuit Pipe And Silencer Combo | SS99250SE |
| Pro Circuit Pipe And Silencer Combo | SY02125RE |
| Titanium | 1131425K |
| Titanium | 1151485K |
| Titanium | 1151425K |
| Pro Circuit Pipe And Silencer Combo | ST02065R |
| Pro Circuit Pipe And Silencer Combo | SY00250SE |
| Pro Circuit Pipe And Silencer Combo | 1051612 |
| Pro Circuit Pipe And Silencer Combo | SH89125304 |
| Pro Circuit Pipe And Silencer Combo | N/A |
| Pro Circuit Pipe And Silencer Combo | SS89125304 |
| Pro Circuit Pipe And Silencer Combo | 1151550 |
| Pro Circuit Pipe And Silencer Combo | SY91250304 |
| Pro Circuit Pipe And Silencer Combo | 1151725�  |
| Pro Circuit Pipe And Silencer Combo | 1051525 |
| Pro Circuit Pipe And Silencer Combo | SH02125296 |
| Pro Circuit Pipe And Silencer Combo | SK05250SE |
| Pro Circuit Pipe And Silencer Combo | SH02250296 |
| Pro Circuit Pipe And Silencer Combo | N/A |
| Pro Circuit Pipe And Silencer Combo | SH91500296 |
| Pro Circuit Pipe And Silencer Combo | SS93125304 |
| Pro Circuit Pipe And Silencer Combo | SH96080296 |
| Pro Circuit Pipe And Silencer Combo | SS04250SE |
| Pro Circuit Pipe And Silencer Combo | ST04125-296 |
| Pro Circuit Pipe And Silencer Combo | SY00125SE |
| Pro Circuit Pipe And Silencer Combo | ST98125296 |
| Pro Circuit Pipe And Silencer Combo | SY93250SE |
| Pro Circuit Pipe And Silencer Combo | ST98200296 |
| Pro Circuit Pipe And Silencer Combo | SH89500SE |
| Pro Circuit Pipe And Silencer Combo | ST03250296 |
| Pro Circuit Pipe And Silencer Combo | SH90250304 |
| Pro Circuit Pipe And Silencer Combo | 1351125 |
| Pro Circuit Pipe And Silencer Combo | SK95200DSE |
| Pro Circuit Pipe And Silencer Combo | ST98250296 |
| Pro Circuit Pipe And Silencer Combo | ST04125SE |
| Pro Circuit Pipe And Silencer Combo | ST04300296 |
| Pro Circuit Pipe And Silencer Combo | SY84490304 |
| Pro Circuit Pipe And Silencer Combo | N/A |
| Pro Circuit Pipe And Silencer Combo | SY97250304 |
| Pro Circuit Pipe And Silencer Combo | SK03125-296 |
| Pro Circuit Pipe And Silencer Combo | ST09065-SE |
| Pro Circuit Pipe And Silencer Combo | SK03250-296 |
| Pro Circuit Pipe And Silencer Combo | 1181265 |
| Pro Circuit Pipe And Silencer Combo | SK05250296 |
| Pro Circuit Pipe And Silencer Combo | ST09065RE |
| Pro Circuit Pipe And Silencer Combo | SK98080296 |
| Pro Circuit Pipe And Silencer Combo | SK95250SE |
| Pro Circuit Pipe And Silencer Combo | SS02125296 |
| Pro Circuit Pipe And Silencer Combo | SK88500304 |
| Pro Circuit Pipe And Silencer Combo | SS02250296 |
| Pro Circuit Pipe And Silencer Combo | SK02065304 |
| Pro Circuit Pipe And Silencer Combo | SS89080296 |
| Pro Circuit Pipe And Silencer Combo | SS02125SE |
| Pro Circuit Pipe And Silencer Combo | SY02125296 |
| Pro Circuit Pipe And Silencer Combo | SS96125SE |
| Pro Circuit Pipe And Silencer Combo | SY03250296 |
| Pro Circuit Pipe And Silencer Combo | SS02250SE |
| Pro Circuit Pipe And Silencer Combo | SY93080296 |
| Pro Circuit Pipe And Silencer Combo | SS96250SE |
| Pro Circuit Pipe And Silencer Combo | SK95200D-296 |
| Pro Circuit Pipe And Silencer Combo | SS89080304 |
| Pro Circuit Pipe And Silencer Combo | 1351212 |
| Pro Circuit Pipe And Silencer Combo | SY02125SE |
| Pro Circuit Pipe And Silencer Combo | 1351130 |
| Pro Circuit Pipe And Silencer Combo | SY03250SE |
| Pro Circuit Pipe And Silencer Combo | 1351725�  |
| Pro Circuit Pipe And Silencer Combo | SY93080SE |
| Pro Circuit Pipe And Silencer Combo | 1051212 |
| Pro Circuit Pipe And Silencer Combo | SQY88200304 |
| Pro Circuit Pipe And Silencer Combo | SH00125SE |
| Pro Circuit Pipe And Silencer Combo | SQS87080304 |
| Pro Circuit Pipe And Silencer Combo | SH02125SE |
| Pro Circuit Pipe And Silencer Combo | SH89250304 |
| Pro Circuit Pipe And Silencer Combo | SH93125SE |
| Pro Circuit Pipe And Silencer Combo | N/A |
| Pro Circuit Pipe And Silencer Combo | SH00250SE |
| Pro Circuit Pipe And Silencer Combo | N/A |
| Pro Circuit Pipe And Silencer Combo | SH02250SE |
| Pro Circuit Pipe And Silencer Combo | SQH86250304 |
| Pro Circuit Pipe And Silencer Combo | SH04250SE |
| Pro Circuit Pipe And Silencer Combo | SS89250304 |
| Pro Circuit Pipe And Silencer Combo | SH92250SE |
| Pro Circuit Pipe And Silencer Combo | ST04300SE |
| Pro Circuit Pipe And Silencer Combo | SH97250SE |
| Pro Circuit Pipe And Silencer Combo | ST98250SE |
| Pro Circuit Pipe And Silencer Combo | SH99250SE |
| Pro Circuit Pipe And Silencer Combo | SY88250304 |
| Pro Circuit Pipe And Silencer Combo | SH91500SE |
| Pro Circuit Pipe And Silencer Combo | SY96250SE |
| Pro Circuit Pipe And Silencer Combo | SH96080SE |
| Pro Circuit Pipe And Silencer Combo | SY98250SE |
| Pro Circuit Pipe And Silencer Combo | ST03250SE |
| Pro Circuit Pipe And Silencer Combo | 1051130 |
| Pro Circuit Pipe And Silencer Combo | 1051125 |
| Pro Circuit Pipe And Silencer Combo | ST09085-SE |
| Pro Circuit Pipe And Silencer Combo | ST04085SE |
| Pro Circuit Pipe And Silencer Combo | 1181250 |
| Pro Circuit Pipe And Silencer Combo | SK03125SE |
| Pro Circuit Pipe And Silencer Combo | 1057125�  |
| Pro Circuit Pipe And Silencer Combo | 1151525 |
| Pro Circuit Pipe And Silencer Combo | SH96080RE |
| Pro Circuit Pipe And Silencer Combo | ST09050RE |
| Pro Circuit Pipe And Silencer Combo | SH02250RE |
| Pro Circuit Pipe And Silencer Combo | ST04125RE |
| Pro Circuit Pipe And Silencer Combo | SH98125RE |
| Pro Circuit Pipe And Silencer Combo | SH04250RE |
| Pro Circuit Pipe And Silencer Combo | SH02125RE |
| Pro Circuit Pipe And Silencer Combo | SH00250RE |
| Pro Circuit Pipe And Silencer Combo | SY00250RE |
| Pro Circuit Pipe And Silencer Combo | SH93125RE |
| Pro Circuit Pipe And Silencer Combo | SS01125RE |
| Pro Circuit Pipe And Silencer Combo | SH00125RE |
| Pro Circuit Pipe And Silencer Combo | SS96125RE |
| Pro Circuit Pipe And Silencer Combo | SY00125RE |
| Pro Circuit Pipe And Silencer Combo | SK02065R |
| Pro Circuit Pipe And Silencer Combo | SS89080R |
| Pro Circuit Pipe And Silencer Combo | SK05250RE |
| Pro Circuit Pipe And Silencer Combo | SS02125RE |
| Pro Circuit Pipe And Silencer Combo | SK99250RE |
| Pro Circuit Pipe And Silencer Combo | SK00065R |
| Pro Circuit Pipe And Silencer Combo | SK03125RE |
| Pro Circuit Pipe And Silencer Combo | SK03250RE |
| Pro Circuit Pipe And Silencer Combo | SK99125SE |
| Pro Circuit Pipe And Silencer Combo | SK99125RE |
| Pro Circuit Pipe And Silencer Combo | SK03250SE |
| Pro Circuit Pipe And Silencer Combo | 1151212 |
| Pro Circuit Pipe And Silencer Combo | 1361725 |
| Pro Circuit Pipe And Silencer Combo | 1361885 |
| Pro Circuit Pipe And Silencer Combo | 1351612 |
| Pro Circuit Pipe And Silencer Combo | 1351665 |
| Titanium | 1161885K |
| Pro Circuit Pipe And Silencer Combo | 13101430 |
| Titanium | 1161725K |
| Pro Circuit Pipe And Silencer Combo | 1161885 |
| Pro Circuit Pipe And Silencer Combo | 1151725 |
| Pro Circuit Pipe And Silencer Combo | 1161725 |
| Pro Circuit Pipe And Silencer Combo | 1151612 |
| Titanium | 1151665K |
| Titanium | 1121465 |
| Titanium | 1121485K |
| Pro Circuit Pipe And Silencer Combo | 1061725 |
| Pro Circuit Pipe And Silencer Combo | 1061885 |
| Pro Circuit Pipe And Silencer Combo | SY02250RE |
| Pro Circuit Pipe And Silencer Combo | 1051665 |
| Pro Circuit Pipe And Silencer Combo | SY03250RE |
| Pro Circuit Pipe And Silencer Combo | SY93080RE |
| Pro Circuit Pipe And Silencer Combo | ST09085RE |
| Pro Circuit Pipe And Silencer Combo | 10101430 |
| Titanium | 1151412K |
| Pro Circuit Pipe And Silencer Combo | 1121485 |
| Titanium | 1131412K |
| Pro Circuit Pipe And Silencer Combo | SS02250RE |
| Titanium | 1151725K |
| Pro Circuit Pipe And Silencer Combo | SS04250RE |