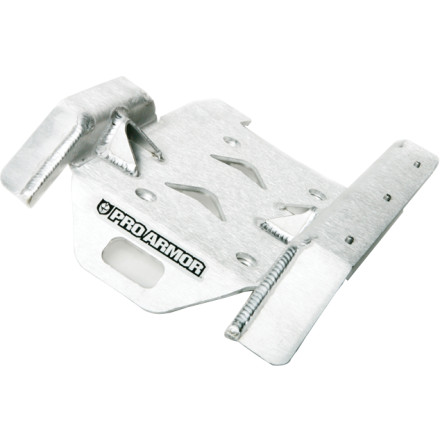 Unfortunately, we no longer carry this item. It may be discontinued or have just sold out.
Please contact Customer Service (1-888-676-8853) or search for another product if you continue to see this message.
Find other: Pro Armor Swing Arm Skid Plates
5 Star
31
4 Star
8
3 Star
0
2 Star
4
1 Star
6
Write a Review
Write your review and you'll automatically be entered in our monthly drawing. Include an image or video to DOUBLE your chances to win!
Write Your Review
1 year 10 months ago
Williston, ND 58801, USA
Great buy!
It's a little heavier than i thought, but it's extremely durable!
Over 3 years ago
Tucson, AZ, USA
Protects, but not that strong
Easy installation, about 10 minutes. No issues with bolt hole alignment. First ride I hit a rock and it bent slightly at the chain guard. Second ride it bent again at the disk brake guard. When it finally bends to non-repairable terms I will use a different product.
07' TRX450ER
Desert terrain
05 TRX450R Honda
Dropped some bills on this swing arm skid, didn't like just having plastic down there to protect the rear sprocket and disc brake area. God knows when your out riding and your traveling fast in some rocky terrain what can end up underneath your quad. Easy install. Holes lined right up. Make sure you have the right tools for install. Would recommend some Loctite if you do not plan to remove the skid when desert riding. Definitely saved my bikes bacon on this last ride.....rock was as big as a newborn baby.
Over 3 years ago
Tampa, FL, USA
Great product!
Installed this on my 2014 raptor 700 and it has saved me every time so far so good. Excellent product!
Over 4 years ago
Oklahoma City, OK, USA
Great Product!
This stuff has been very tuff. I have this product on many of my families atvs! Very good product!!!
Over 4 years ago
Brownstown, IN 47220, USA
Love it!
This is my second ProArmor Swingarm gaurd, the first got ripped off in the woods for whatever reason but I plan on putting locktite on these bolts. I wouldn't ride in the woods without this, great protection for your sprocket, chain and brake rotor!
Not with $135
I have always like pro armor but this skid let me down
... I haven't had it long and it looks like a tin can now
Over 5 years ago
King, North Carolina
Installed on a honda trx 400ex. Installed easy, all the bolt holes lined up. Only flaw is that it does not come with bolts to install it. Rode hard for 8hours on it, and was concerened because there was several hits that were hard enough that they would have broken my last one. Afterwards i was fully surprized to see it in excellent condition and still strong. Pro Armor will now be my permant brand of skid plates.
Over 5 years ago
Chatham NY
Worth Every Penny
Should be the first mod to any sport quad ridden in the trails. Fitment was spot on and took less than 2 minutes to install. Have tried other brands that often require modifying the mounting holes for proper fitment.
Over 5 years ago
Mount holly, nj
Nive piece
Great piece. Went together fast. Very strong. Looks 10x better.
Well worth the money!
ive had one on both my quads! wouldn't buy anything else, i ride really rocky trails an this has saved my sprocket and rotor almost every time i ride. VERY STRONG!
Over 6 years ago
Cheboygan, MI
i would recomend this product to anyone. Pro Armour protects all of my under body. and all plates fit with no hassel on my 2006 yamaha raptor. To make things even better they look great.
Over 6 years ago
Johnstown, PA
Waste of Time and Money
This product is not worth the $135. I'm only 16 and have a yfz450x and ride mainly on weekends on trails. First ride with this Pro Armor skid plate and 3 of the 4 piece of junk bolts that come with the product did not do there job, i went over a little rock that never even bothered my plastic stock skidplate, but this time 3 of the bolts broke off in the swing arm and the plate bent.....whatever you do, dont waste your time and money on this poor product
Strong!!!!!!!
I've bashed this thing off a few rocks pretty hard still looks like new . make sure you check the bolts after a few rides i lost a couple after two riding trips.
Over 6 years ago
pawcatuck, Ct
Holds up
i baught this for my 400ex, i ride in the most rocky area's you can imagine, flying through trails ur bound to hit it off something, took me 6 months to finally brake this one, nothing else compares, ive tryed many but at the end of the day their trashed... dont waster your money buy this one
TRX450R Elka Elite LT & Linkage
Honda TRX450R with Elka Elite LT and Lonestar linkage. I did have to cut out some of the metal to make room for the linkage, took me ten minutes, added som extra bushings to get a little more clearance. All holes did fit right away. You can't see the custom work since it is inside the protection well. Great protection! Regards Seiern
Over 7 years ago
Ridgecrest,CA
Good guard
It is a good guard, but the first time i rode with it, it did bend pretty good. but did its job, besides a boulder and aluminum, guards going to lose. but did protect my swingarm.
Over 7 years ago
Missouri
JUNK
Ever time I rode had to put it back on, after I went and found it. It hangs to low and the front catches everthing. I threw it in the trash.
Not so good
easily bends and much small then pictures look.
Over 7 years ago
Grand Rapids, MI
Very nice
I don't do very much rock crawling or extreme riding but this product has been great for whenever a rock sneeks up on me, I would certainly recomend this product though
Alan
Location: Buffalo, NY, USA
Q: Will this fit my 2005 yfz 450?
According to what I see In the picture the mounting holes are in the wrong place to fit my 05 yfz, even though the Web site says it would fit.
MotoSportExpert
2 years 5 months ago
A: Yes the Pro Armor Swingarm Armor fits your 2005 Yamaha YFZ450. The image is a generic image supplied by the manufacturer for reference only. It may not be displaying the exact part for your bike. Just be sure to correctly select the Year/Make/Model of your bike before ordering so we can be sure to send you the correct armor for your bike. Also, feel free to give us a call at 888-676-8853 and we would be happy to help you out with your order.
brodie
Location: Warren, PA 16365, USA
Q: Where can I just get the bolts for this product. I've got a 2009 yfz450r.?
MotoSportExpert
Over 3 years ago
A: You can contact Pro Armor directly, or take the hardware you have to a nut & bolt distributor like Fastenal for replacement bolts.
Tayler
Q: Can you still fit a sprocket quard on your quad with this skid plate on?
MotoSportExpert
Over 4 years ago
Location: Portland, OR, USA
A: Unfortunately this opens up a big can of worms. Pro Armor does not test their products for compatibility with competitors products. There would be so many combinations to test between all the different brands and models of ATVS with the different sprocket guards, that it would not be practical. In addition it is even harder to answer without knowing which sprocket guard you do have as there are different models. What I can say is this skid plate should provide adequate protection for the sprocket, and should not require the use of an additional sprocket guard.
Topher
Q: Does your skid plate come with a chain guide already installed ?
MotoSportExpert
Over 4 years ago
Location: Portland, OR, USA
A: Yes, this skid plate for your 2003 LTZ400, will have the chain buffer already installed like the stock skidplate.
corkie
Q: Does it fit on a 2005 400ex?
Drewski
Over 7 years ago
Location: P+RTLAND
A: If you can profile your machine in the drop down menu, then the product will fit.
05honda400
Over 7 years ago
Location: Grand Rapids, MI
A: yes, I have an 05 400ex and I didn't have a problem getting it to fit
cowdog
Q: Tow?
does this one have a tow strap slot?
Drewski
Over 8 years ago
Location: P+RTLAND
A: Yes, this does have the tow slots.
Find More