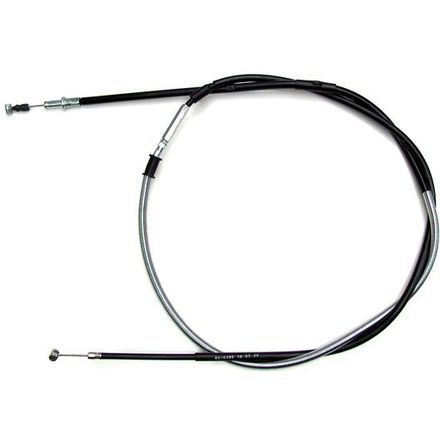 Motion Pro Hand Brake Cable
---
10% Off - Save up to $3.10
---
5 Star
5
4 Star
0
3 Star
0
2 Star
0
1 Star
0
Write a Review
Write your review and you'll automatically be entered in our monthly drawing. Include an image or video to DOUBLE your chances to win!
Write Your Review
2 years 1 month ago
Sumner, WA, USA
Brake cable
It fit just like it should.
Over 5 years ago
Milord pa
The cable went in nice and easy would buy again
As Advertised
I am a novice at 4-Wheeler repair, but the brake cable seemed like a job I could handle. Worked perfectly, but a few helpful installation hints (1) Gas tank removal helped a lot, valve to off, disconnect hose, one bolt and tank slips off (2) thread new cable in before removing old (3) in couple of places metal part of cable fits into a slot, this is accomplished by exposing the cable, slip cable in slot, then larger metal piece (4) hook up handle end before brake end (5) I had to remove handle to see how the end of wire fit into slots, also the old broken piece was still there and had to be removed, be careful and notice how the brake hold spring is positioned.
Over 5 years ago
Hopewell Pa.
RM250Matt
Price was like $23. im so glad i checked here cause all the other ones i saw were around 60 and i didnt wanna spend that. very adjustable and was quick to install! Good product!
Over 10 years ago
Georgia
Similar to OEM
It hard to get too excited about a brake cable, but this was easy to install and works just fine... no problems.
Q: Will this work for the front bakes of a 2002 raptor 80?
Im needing to replace the front brake cables on a 2002 raptor 80
jbam19
1 year 1 month ago
A: Yes it will replace 1 cable, since the raptor 80 has 2 cables you will want to order 2 if you are trying to replace both front brake cables,
Q: Is this for rear brake drum
Q: I'm not sure of the year of my Suzuki Quad runner. I know it's older. Which parking brake cable will I need?
I've had this quad a long time. Bought it used. There isn't any serial number plate to be found anywhere. I think it is somewhere around a 1990 but I'm not sure. I've added a picture to help with this. Thanks for your help.
MotoSportRyanT
Over 3 years ago
A: Unfortunately, I wouldn't be able to accurately tell you the year of your ATV without the VIN number. There should be a 17 digit VIN number stamped into the frame. The tenth digit of the vin would tell you the year, this digit may be a letter or a number.

Here is a link that will help you decode the year of your ATV once you have the VIN number:
http://en.wikipedia.org/wiki/Vehicle_identification_number#Model_year_encoding
Q: I'm new to these ATV's but I need the cable that works the lefthand park brake is this the one I need. Thank y'all
MotoSportRyanT
Over 4 years ago
A: Yes, for your 1986 Honda TRX200SX this would be the lefthand parking brake cable.
Q: Does this cable have the fittings needed on both ends, the picture just shows the handle bar end.
MotoSportExpert
Over 4 years ago
A: Yes, these are OEM replacement cables and will have the correct fittings on both ends.
Q: Which cable is this
is this for the rear brake hand cable
MotoSportExpert
Over 4 years ago
A: Yes, this cable would be for ATVS that have a handbrake setup on the left side of the handlebar for the rear brakes. Please make sure to profile your bike as these cables are model specific.
See all bikes that this part fits...
| Product Variant | Manufacturer Part # |
| --- | --- |
| Motion Pro Hand Brake Cable | 02-0015 |
| Motion Pro Hand Brake Cable | 02-0024 |
| Motion Pro Hand Brake Cable | 02-0410 |
| Motion Pro Hand Brake Cable | 02-0425 |
| Motion Pro Hand Brake Cable | 02-0056 |
| Motion Pro Hand Brake Cable | 02-0078 |
| Motion Pro Hand Brake Cable | 02-0081 |
| Motion Pro Hand Brake Cable | 02-0084 |
| Motion Pro Hand Brake Cable | 02-0092 |
| Motion Pro Hand Brake Cable | 02-0141 |
| Motion Pro Hand Brake Cable | 02-0287 |
| Motion Pro Hand Brake Cable | 02-0288 |
| Motion Pro Hand Brake Cable | 02-0355 |
| Motion Pro Hand Brake Cable | 02-0356 |
| Motion Pro Hand Brake Cable | 02-0357 |
| Motion Pro Hand Brake Cable | 02-0385 |
| Motion Pro Hand Brake Cable | 02-0495 |
| Motion Pro Hand Brake Cable | 02-0538 |
| Motion Pro Hand Brake Cable | 02-0559 |
| Motion Pro Hand Brake Cable | 02-0573 |
| Motion Pro Hand Brake Cable | 03-0270 |
| Motion Pro Hand Brake Cable | 03-0279 |
| Motion Pro Hand Brake Cable | 03-0311 |
| Motion Pro Hand Brake Cable | 03-0361 |
| Motion Pro Hand Brake Cable | 03-0373 |
| Motion Pro Hand Brake Cable | 04-0044 |
| Motion Pro Hand Brake Cable | 04-0071 |
| Motion Pro Hand Brake Cable | 04-0159 |
| Motion Pro Hand Brake Cable | 04-0188 |
| Motion Pro Hand Brake Cable | 04-0195 |
| Motion Pro Hand Brake Cable | 05-0089 |
| Motion Pro Hand Brake Cable | 05-0126 |
| Motion Pro Hand Brake Cable | 05-0169 |
| Motion Pro Hand Brake Cable | 05-0173 |
| Motion Pro Hand Brake Cable | 05-0174 |
| Motion Pro Hand Brake Cable | 05-0192 |
| Motion Pro Hand Brake Cable | 05-0222 |
| Motion Pro Hand Brake Cable | 05-0240 |
| Motion Pro Hand Brake Cable | 05-0290 |
| Motion Pro Hand Brake Cable | 05-0370 |
| Motion Pro Hand Brake Cable | 05-0371 |
| Motion Pro Hand Brake Cable | 05-0372 |
| Motion Pro Hand Brake Cable | 05-0373 |
| Motion Pro Hand Brake Cable | 05-0374 |
| Motion Pro Hand Brake Cable | 05-0375 |
| Motion Pro Hand Brake Cable | 02-0186 |
| Motion Pro Hand Brake Cable | 02-0583 |
| Motion Pro Hand Brake Cable | 02-0585 |
| Motion Pro Hand Brake Cable | 03-0096 |
| Motion Pro Hand Brake Cable | 03-0277 |
| Motion Pro Hand Brake Cable | 03-0381 |
| Motion Pro Hand Brake Cable | 04-0300 |
| Motion Pro Hand Brake Cable | 04-0312 |
| Motion Pro Hand Brake Cable | 04-0313 |
| Motion Pro Hand Brake Cable | 05-0046 |
| Motion Pro Hand Brake Cable | 05-0378 |
| Motion Pro Hand Brake Cable | 05-0390 |