JT
JT Steel Rear Sprocket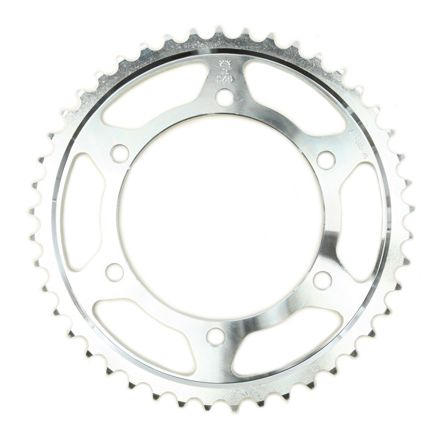 ---
10% Off - Save up to $6.89
---
5 Star
13
4 Star
2
3 Star
1
2 Star
0
1 Star
0
Write a Review
Write your review and you'll automatically be entered in our monthly drawing. Include an image or video to DOUBLE your chances to win!
Write Your Review
1 year 2 months ago
Scottsville, VA 24590, USA
Perfect Fit
Fit perfectly, nice machining, excellent quality.
1 year 4 months ago
Redford Charter Twp, MI, USA
Great sprocket
Fast delivery, fit well, am very satisfied
1 year 4 months ago
Tulsa, OK, USA
Quality Product
This is a perfect fit replacement for the OEM sprocket that my son wore out. When it was time I ordered a combo that came with this sprocket and it went on with ease. Super durable. My only complaints are that it is heavy, yes I know its a steel sprocket, and its plain looking. It's a fairly priced sprocket and offers good bang for your buck
Good for the price
For the price the sprocket is pretty good. I changed mine right before going to the sand dunes and it still looks like new.
1 year 10 months ago
Prescott Az
Works great!
Works as expected, haven't had it on long so I can't comment on durability, but for the price this is great
1 year 11 months ago
Allyn-Grapeview, WA, USA
Excellant fit for my 2016 YZ450F
This sprocket was exactly what was needed to help with hole shots
1 year 11 months ago
Indiana
Sprocket
The sprocket looks great. Looks like its chromed. Makes my gold chain stand out. Havent got that much time on it to see the durability of the product.
2 years 2 months ago
Tennessee, USA
Heavy Sprocket
Good sprocket for the money for someone that just likes to ride and is looking for long term durability. For racing, the weight of this sprocket is way too much, and has to eat up considerably more power to rotate it than the lighter weight sprockets.
2 years 3 months ago
Connecticut
Affordable and durable!
I have always bought jt products, they last long and are very affordable
Well made and durable
it came with a nice black coating and didn't have. A single flaw. Holding up very well.
Q: I was looking for a 41 tooth 530 steel rear sprocket.
MotoSportExpert
2 years 6 months ago
A: Sorry, JT does not offer a 41T for your 2000 Kawasaki ZRX1100.
Q: I have a 2000 yz80 and my sprocket has 4 bolts. i was just wondering if this would still fit?
MotoSportExpert
2 years 7 months ago
A: The image is a generic image supplied by the manufacturer for reference only. It may not be displaying the exact part for your bike. Just be sure to correctly select the Year/Make/Model of your bike before ordering so we can be sure to send you the correct sprocket for your bike. Also, feel free to give us a call at 888-676-8853 and we would be happy to help you out with your order.
Q: I would like to perchase a 39th rear sprocket fore klx250s
jtr 460-39 is what i need
MotoSportExpert
Over 3 years ago
A: Please give us a call at 888-676-8853 and we would be happy to help you out with your order.
See all bikes that this part fits...
| Product Variant | Manufacturer Part # |
| --- | --- |
| Black / 525 / 40T | N/A |
| Black / 525 / 41T | N/A |
| Black / 525 / 41T / 10.5mm Bolt Holes | N/A |
| Black / 525 / 42T | N/A |
| Black / 525 / 43T | N/A |
| Black / 525 / 44T | N/A |
| Black / 525 / 45T | N/A |
| Black / 525 / 47T | N/A |
| Black / 525 / 48T | N/A |
| Black / 530 / 40T | N/A |
| Black / 530 / 42T | N/A |
| Black / 530 / 43T | N/A |
| Black / 530 / 44T | N/A |
| Black / 530 / 45T | N/A |
| Black / 530 / 48T | N/A |
| Standard / 420 / 34T | N/A |
| Standard / 420 / 35T | N/A |
| Standard / 420 / 37T | N/A |
| Standard / 428 / 51T | N/A |
| Standard / 520 / 30T | N/A |
| Standard / 520 / 32T | N/A |
| Standard / 520 / 33T | N/A |
| Standard / 520 / 35T | N/A |
| Standard / 520 / 36T | N/A |
| Standard / 520 / 37T | N/A |
| Standard / 520 / 38T | N/A |
| Standard / 520 / 39T | N/A |
| Standard / 520 / 40T | N/A |
| Standard / 520 / 41T | N/A |
| Standard / 520 / 42T | N/A |
| Standard / 520 / 43T | N/A |
| Standard / 520 / 44T | N/A |
| Standard / 520 / 45T | N/A |
| Standard / 520 / 46T | N/A |
| Standard / 520 / 47T | N/A |
| Standard / 520 / 48T | N/A |
| Standard / 520 / 49T | N/A |
| Standard / 520 / 51T | N/A |
| Standard / 525 / 36T | N/A |
| Standard / 525 / 37T | N/A |
| Standard / 525 / 38T | N/A |
| Standard / 525 / 39T | N/A |
| Standard / 525 / 40T | N/A |
| Standard / 525 / 41T | N/A |
| Standard / 525 / 41T / 10.5mm Bolt Holes | N/A |
| Standard / 525 / 41T / 8.5mm Bolt Holes | N/A |
| Standard / 525 / 42T | N/A |
| Standard / 525 / 42T / 10.5mm Bolt Holes | N/A |
| Standard / 525 / 42T / 8.5mm Bolt Holes | N/A |
| Standard / 525 / 43T | N/A |
| Standard / 525 / 44T | N/A |
| Standard / 525 / 45T | N/A |
| Standard / 525 / 46T | N/A |
| Standard / 525 / 47T | N/A |
| Standard / 525 / 47T / 8.5mm Bolt Holes | N/A |
| Standard / 525 / 48T | N/A |
| Standard / 525 / 49T | N/A |
| Standard / 525 / 50T | N/A |
| Standard / 530 / 34T | N/A |
| Standard / 530 / 41T | N/A |
| Standard / 530 / 42T | N/A |
| Standard / 530 / 43T | N/A |
| Standard / 530 / 44T | N/A |
| Standard / 530 / 45T | N/A |
| Standard / 530 / 46T | N/A |
| Standard / 530 / 47T | N/A |
| Standard / 530 / 48T | N/A |
| Standard / 530 / 49T | N/A |
| Standard / 520 / 48T | JTR897.48 |
| Standard / 520 / 50T | JTR897.50 |
| Standard / 520 / 52T | JTR897.52 |
| Standard / 520 / 47T | JTR460.47 |
| Standard / 520 / 48T | JTR460.48 |
| Standard / 520 / 49T | JTR460.49 |
| Standard / 520 / 50T | JTR460.50 |
| Standard / 520 / 51T | JTR460.51 |
| Standard / 520 / 52T | JTR460.52 |
| Standard / 520 / 53T | JTR460.53 |
| Standard / 420 / 44T | JTR464.44 |
| Standard / 420 / 48T | JTR464.48 |
| Standard / 420 / 50T | JTR464.50 |
| Standard / 420 / 46T | JTR1465.46 |
| Standard / 420 / 47T | JTR1465.47 |
| Standard / 420 / 49T | JTR461.49 |
| Standard / 420 / 50T | JTR461.50 |
| Standard / 420 / 51T | JTR461.51 |
| Standard / 420 / 53T | JTR461.53 |
| Standard / 420 / 54T | JTR461.54 |
| Standard / 520 / 48T | JTR808.48 |
| Standard / 520 / 49T | JTR808.49 |
| Standard / 520 / 50T | JTR808.50 |
| Standard / 520 / 51T | JTR808.51 |
| Standard / 520 / 52T | JTR808.52 |
| Standard / 520 / 53T | JTR808.53 |
| Standard / 520 / 47T | JTR210.47 |
| Standard / 520 / 48T | JTR210.48 |
| Standard / 520 / 49T | JTR210.49 |
| Standard / 520 / 50T | JTR210.50 |
| Standard / 520 / 51T | JTR210.51 |
| Standard / 520 / 52T | JTR210.52 |
| Standard / 520 / 53T | JTR210.53 |
| Standard / 420 / 49T | JTR215.49 |
| Standard / 420 / 50T | JTR215.50 |
| Standard / 420 / 51T | JTR215.51 |
| Standard / 420 / 55T | JTR215.55 |
| Standard / 520 / 48T | JTR853.48 |
| Standard / 520 / 49T | JTR853.49 |
| Standard / 520 / 50T | JTR853.50 |
| Standard / 520 / 51T | JTR853.51 |
| Standard / 520 / 52T | JTR853.52 |
| Standard / 428 / 44T | JTR798.44 |
| Standard / 428 / 47T | JTR798.47 |
| Standard / 428 / 48T | JTR798.48 |
| Standard / 428 / 49T | JTR798.49 |
| Standard / 428 / 50T | JTR798.50 |
| Standard / 520 / 48T | JTR245/2.48 |
| Standard / 520 / 49T | JTR245/2.49 |
| Standard / 520 / 50T | JTR245/2.50 |
| Standard / 520 / 51T | JTR245/2.51 |
| Standard / 520 / 52T | JTR245/2.52 |
| Standard / 520 / 53T | JTR245/2.53 |
| Standard / 520 / 36T | JTR1350.36 |
| Standard / 520 / 38T | JTR1350.38 |
| Standard / 520 / 39T | JTR1350.39 |
| Standard / 520 / 37T | JTR1480.37 |
| Standard / 520 / 36T | JTR1760.36 |
| Standard / 520 / 38T | JTR1760.38 |
| Standard / 520 / 39T | JTR1826.39 |
| Standard / 520 / 40T | JTR1826.40 |
| Standard / 520 / 41T | JTR1826.41 |
| Standard / 520 / 42T | JTR1826.42 |
| Standard / 520 / 37T | JTR1857.37 |
| Standard / 520 / 38T | JTR1857.38 |
| Standard / 520 / 39T | JTR1857.39 |
| Standard / 520 / 40T | JTR1857.40 |
| Standard / 520 / 40T | JTR853.40 |
| Standard / 520 / 41T | JTR853.41 |
| Standard / 520 / 42T | JTR853.42 |
| Standard / 520 / 43T | JTR853.43 |
| Standard / 520 / 38T | JTR1857.38 |
| Standard / 520 / 40T | JTR857.40 |
| Standard / 520 / 42T | JTR857.42 |
| Standard / 520 / 45T | JTR857.45 |
| Standard / 525 / 41T | JTR1304.41 |
| Standard / 525 / 43T | JTR1304.43 |
| Standard / 525 / 45T | JTR1304.45 |
| Standard / 525 / 45T | JTR1307.45 |
| Standard / 525 / 37T | JTR1332.37 |
| Standard / 525 / 38T | JTR1332.38 |
| Standard / 525 / 41T | JTR1332.41 |
| Standard / 525 / 44T | JTR1332.44 |
| Standard / 525 / 40T | JTR1489.40 |
| Standard / 525 / 43T | JTR1489.43 |
| Standard / 525 / 42T | JTR1792.42 |
| Standard / 525 / 43T | JTR1792.43 |
| Standard / 525 / 44T | JTR1792.44 |
| Standard / 525 / 45T | JTR1792.45 |
| Standard / 525 / 47T | JTR1792.47 |
| Standard / 530 / 41T | JTR302.41 |
| Standard / 530 / 43T | JTR302.43 |
| Standard / 530 / 45T | JTR302.45 |
| Standard / 525 / 39T | JTR498.39 |
| Standard / 525 / 40T | JTR498.40 |
| Standard / 525 / 44T | JTR498.44 |
| Standard / 525 / 47T | JTR807.47 |
| Standard / 530 / 40T | JTR1306.40 |
| Standard / 530 / 42T | JTR1306.42 |
| Standard / 530 / 36T | JTR1334.36 |
| Standard / 530 / 40T | JTR1334.40 |
| Standard / 530 / 42T | JTR1334.42 |
| Standard / 530 / 43T | JTR1334.43 |
| Standard / 530 / 44T | JTR1334.44 |
| Standard / 530 / 46T | JTR1334.46 |
| Standard / 530 / 47T | JTR1479.47 |
| Standard / 530 / 40T | JTR1800.40 |
| Standard / 530 / 42T | JTR1800.42 |
| Standard / 530 / 43T | JTR1800.43 |
| Standard / 530 / 44T | JTR1800.44 |
| Standard / 530 / 45T | JTR1800.45 |
| Standard / 530 / 46T | JTR1800.46 |
| Standard / 530 / 48T | JTR1871.48 |
| Standard / 530 / 39T | JTR479.39 |
| Standard / 530 / 41T | JTR479.41 |
| Standard / 530 / 42T | JTR479.42 |
| Standard / 530 / 43T | JTR479.43 |
| Standard / 530 / 45T | JTR479.45 |
| Standard / 530 / 38T | JTR488.38 |
| Standard / 530 / 40T | JTR488.40 |
| Standard / 530 / 41T | JTR488.41 |
| Standard / 530 / 42T | JTR488.42 |
| Standard / 530 / 45T | JTR488.45 |
| Standard / 530 / 46T | JTR488.46 |
| Standard / 530 / 38T | JTR499.38 |
| Standard / 530 / 39T | JTR499.39 |
| Standard / 530 / 40T | JTR499.40 |
| Standard / 530 / 43T | JTR499.43 |
| Standard / 530 / 45T | JTR499.45 |
| Standard / 530 / 46T | JTR499.46 |
| Standard / 530 / 42T | JTR502.42 |
| Standard / 530 / 45T | JTR502.45 |
| Standard / 530 / 47T | JTR502.47 |
| Standard / 530 / 38T | JTR816.38 |
| Standard / 530 / 43T | JTR816.43 |
| Standard / 530 / 45T | JTR816.45 |
| Standard / 530 / 47T | JTR816.47 |
| Standard / 530 / 42T | JTR829.42 |
| Standard / 530 / 45T | JTR829.45 |
| Standard / 530 / 46T | JTR829.46 |
| Standard / 530 / 47T | JTR829.47 |
| Standard / 530 / 48T | JTR829.48 |
| Standard / 530 / 47T | JTR859.47 |
| Standard / 530 / 45T | JTR865.45 |
| Standard / 530 / 46T | JTR865.46 |
| Standard / 520 / 42T | JTR1308.42 |
| Standard / 520 / 45T | JTR1308.45 |
| Standard / 520 / 34T | JTR1478.34 |
| Standard / 520 / 36T | JTR1478.36 |
| Standard / 520 / 38T | JTR1478.38 |
| Standard / 520 / 40T | JTR1478.40 |
| Standard / 520 / 42T | JTR1478.42 |
| Standard / 520 / 42T | JTR1793.42 |
| Standard / 520 / 45T | JTR1793.45 |
| Standard / 520 / 47T | JTR245/3.47 |
| Standard / 520 / 33T | JTR279.33 |
| Standard / 520 / 43T | JTR478.43 |
| Standard / 520 / 45T | JTR478.45 |
| Standard / 520 / 46T | JTR478.46 |
| Standard / 520 / 44T | JTR486.44 |
| Standard / 520 / 45T | JTR486.45 |
| Standard / 520 / 39T | JTR823.39 |
| Standard / 520 / 47T | JTR855.47 |
| Standard / 520 / 48T | JTR855.48 |
| Standard / 532 / 48T | JTR1873.48 |
| Standard / 532 / 48T | JTR1875.48 |
| Standard / 520 / 46T | JTR245/3.46 |