IMS
IMS

Pro Series 4 Motorcycle Footpegs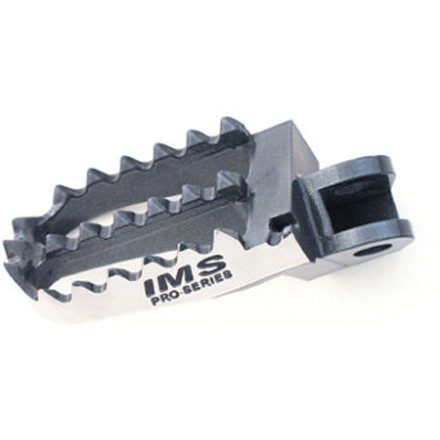 IMS Pro Series 4 Motorcycle Footpegs
5 Star
39
4 Star
12
3 Star
0
2 Star
2
1 Star
0
Write a Review
Write your review and you'll automatically be entered in our monthly drawing. Include an image or video to DOUBLE your chances to win!
Write Your Review
7 days 16 hours ago
New Hampshire, USA
Great Deal
For the money, these are hands down the best pegs you can buy.
These four pegs are one of the best out there. you can't beat the price in the product. Your foot will never slip off with these. and they're not too wide like the Raptor foot pegs. I really like these pegs
Over 11 months ago
austin,tx
Fits 2017 DRZ400SM
Only acceptable replacement for my new 2017 DRZ 400 Sm that i could find, BTW a 95 RM450 has he same pegs as the 2017
Lasted 1 ride before I caved in the right foot peg while single tracking. Product looks cool but is not sturdy enough if you ride outdoors product would probably work great for riding a track.
Easy install, looks great
Wider than stock pegs and look great. Really easy to install on my 03 kx250. Defiantly easier on the feet and great grip. Easy on the wallet compared to other pegs.
1 year 8 months ago
Fort Worth, TX, USA
Best peg for the $
I installed these foot pegs on my 2009 YZ125. They work great and feel wide under my boots. They are not to sharp either like some aftermarket foot pegs. They are approximately as sharp as the OEM pegs on my 2015 YZ250F (perfect). Only four stars because one of these pegs weighs more than both of the OEM pegs together. I would but them again definitley.
1 year 10 months ago
Ohio
Great so far... Very pleased !!!
I have only rode 50 miles or so and highly impressed. Not much different in size compared to stock klr pegs but noticeably better. I thought they would be a little larger and was let down until i rode my bike with them and was impressed! I recommend these if your looking for pegs under $100.
1 year 11 months ago
Cocoa, Fl.
Awesome foot pegs!!
Great looking foot pegs that keep your feet secure. Wider than my stock crf450 pegs. Great price and very good quality!!
2 years 2 months ago
Lancaster, CA, USA
IMS FOOTPEGS
IMS ARE A GREAT FOOT PEG I USE THEM ON ALL MY BIKES!
Great grip
Awesome grip and great great upgrade from OEM
Over 3 years ago
Rural Retreat, VA, USA
Good pegs
These are great if you are looking for a quality replacement for your wore out stock pegs. The platform size was the exact same as my stock ones although the description said they would be bigger but it was not an issue for me. Good grip, good looks, and sturdy.
Over 3 years ago
Denver, CO, USA
Amazing!
I replaced the OEM pegs on my '07 Yamaha YZ450F with these meat hammers, and have not looked back. Super sharp outer spikes keep your feet planted firmly on the pegs and don't want to let go. Just be sure to keep clear when wearing shorts around your bike, have the shin scars to prove it. They will also mark up the bottom of your boots, but I think it's a good trade off.
Over 3 years ago
Fairfax, VT, USA
IMS Pro Series 4
I have had a chance to race now with these pegs and totally love them. A lot of bang for the buck, with a solid feeling under my boots.
Good purchase
Great fit, nice and wide with good grip and look they great as well.
IMS Pro Serise 4 Footpags
Traction for DAYS! along with a very "Factory" look. Just buy them dude, you wont be disappointed!
Over 4 years ago
Milpitas, CA, USA
Better than stock pegs
The larger footpegs provides a more secure feel. Stable footing. Make sense to me. A no-brainer.
Over 4 years ago
Scotts Valley CA
Stable and Good But one Broke
These footpegs are great. Good grip and look cool but a piece of mine broke off. It wasn't manufactured correctly and a chunk came off of the footbed and was not due to a crash or hit of any kind. Good news I called IMS and got a real human without any wait time and they say they are going to make good and send me a new one. He did emphasize that these "are not unbreakable" because they are meant to break under a huge load so your frame doesn't break instead but he said he would send me a new set so I am happy.
Over 5 years ago
johnston ri
Great purchase
Bought this for my 2003 cr250r bolted up nice wider then stock made me more comfortable on the bike really good grip wears old the oot a little faster all in all great buy
Kris
Q: Do these pegs come with mounting hardware?
BillyEXT3407
Top 250 Contributor
Top 100 Contributor
Top 50 Contributor
Top 25 Contributor
Top 1000 Contributor
4 months 12 days ago
A: IMS pegs will not be solid with mounting hardware. The OEM hardware will be required for installation.
Paul
Top 1000 Contributor
Top 500 Contributor
Top 250 Contributor
4 months 12 days ago
Location: Portland
A: The IMS Footpegs are the footpegs only, and don't include installation hardware. These are model-specific and will mount with the original hardware on that motorcycle.
Isaac
Top 250 Contributor
Top 100 Contributor
Top 50 Contributor
Top 25 Contributor
4 months 8 days ago
A: The mounting hardware is not included with the foot pegs as you would use your stock mounting hardware.
Keedan
Q: Foot pegs?
I need a new set of foot pegs for my 2001 cr250. I need everything new including the brackets and bolts that mount to the frame of the bike. i'm having trouble finding them in the OEM section. thoughts?
motosport
Over 9 months ago
A: Please give our Gearheads a call so we can further assist you
jodee95
Q: Pegs?
I am looking for a good after market set of pegs for a 1982 Yamaha IT 465 anything? regards Joe
MotoSportExpert
2 years ago
A: If available through one of our suppliers, we would be happy to order it for you. Please contact one of our sales professionals to inquire about special orders and availability.
Dirt Bike / ATV: 1-888-676-8853
SAL1
Q: Will these Pegs or the regular IMS Pegs fit the 2012 Super Tenere?
I have a 2012 Yamaha Super Tenere. Will these IMS Pro Taper 4 or the Regular IMS Footpegs for the WR450F fit the Super Tenere?
MotoSportExpert
2 years 10 months ago
A: No, the IMS Pro Series 4 Motorcycle Footpegs will not fit the 2012 Yamaha XT1200Z Super Tenere. The 2012 Yamaha XT1200Z Super Tenere require a foot peg specific to that model only. Unfortunately there are not many options out there and we do not stock a set that will fit.
You can find a set here: http://www.pivotpegz.net/fitment.html
DKM8
Location: Edmonton, AB, Canada
Q: Are these footpegs available in different colors? i.e. Honda red?
Just purchased a 06 CR85 for our 10 yr old. Have to replace the footpegs and would like to get red footpegs if they are available.
MotoSportRyanT
Over 3 years ago
Location: Portland, OR, USA
A: The IMS Pro Series 4 Footpegs would just come in the silver color shown. Unfortunately, I could not find any Red anodized footpegs that would be made to fit your 2006 Honda CR85R.
ASnapp
Q: Will these fit my crf 150 rb?
I want to make sure these will fit before I buy them.
MotosportStaff
Over 4 years ago
Location: Portland, OR, USA
A: Yes, these are available for the CRF150RB. Just make sure to select the correct model desired when adding to the cart.
hendo
Q: Do u sell these without hardware included and if soo why would you do that. i want to install my new pegs with new spring and pins not old junk?
why is this not explained in the description of the item, if you don't offer the hardware to put them on. I need to know stuff like that before I buy. how do u put new pegs on if the hardware fell out in the woods????
MotosportStaff
Over 4 years ago
Location: Portland, OR, USA
A: We certainly offer replacement hardware on our OEM parts diagram pages. Just select your model information to pull up the correct parts. These footpegs are sold as footpegs and don't list any details about coming with complete hardware. All footpegs aftermarket and OEM are sold just as footpegs alone.
jeff120
Q: Does the quanity one include two foot pegs? if not why would some one only buy one foot peg?
Drewski
Over 8 years ago
Location: P+RTLAND
A: These are sold in pairs..

People tweek pegs all the times and sometime only need to replace one, but that pretty much limits your options to OEM since most after market companies sell them in pairs.
1BRP
Q: Are you sure they will fit a 2001 XR650R?
Pro Circuit shows there pegs will fit my 01 XR650R but they don't fit, holes don't quite line up. The list here shows the IMS PRO will fit, Is this so?
james718
Over 8 years ago
Location: Portland, OR
A: these foot pegs are made by IMS and they list manufacture part number 292211-4 as the pegs that fit an 01 XR650R.
2009crfowner
Q: "list of rides" says will fit 09 CRF 450 but previous answer to question said will not fit 09 CRF 450, which is correct?
MotoMoo2
Over 9 years ago
Location: Portland
A: Yes, we now carry this for your bike!
See all bikes that this part fits...
| Product Variant | Manufacturer Part # |
| --- | --- |
| IMS Pro Series 4 Motorcycle Footpegs | 292216-4 |
| IMS Pro Series 4 Motorcycle Footpegs | 292219-4 |
| IMS Pro Series 4 Motorcycle Footpegs | 292214-4 |
| IMS Pro Series 4 Motorcycle Footpegs | 293301-4 |
| IMS Pro Series 4 Motorcycle Footpegs | 293118-4 |
| IMS Pro Series 4 Motorcycle Footpegs | 293119-4 |
| IMS Pro Series 4 Motorcycle Footpegs | 293112-4 |
| IMS Pro Series 4 Motorcycle Footpegs | 293111-4 |
| IMS Pro Series 4 Motorcycle Footpegs | 2931204 |
| IMS Pro Series 4 Motorcycle Footpegs | 293121-4 |
| IMS Pro Series 4 Motorcycle Footpegs | 295511-4 |
| IMS Pro Series 4 Motorcycle Footpegs | 295517-4 |
| IMS Pro Series 4 Motorcycle Footpegs | 292211-4 |
| IMS Pro Series 4 Motorcycle Footpegs | 293116-4 |
| IMS Pro Series 4 Motorcycle Footpegs | 297313-4 |