HOT RODS
HOT RODS

Crank Bearings And Seals Kit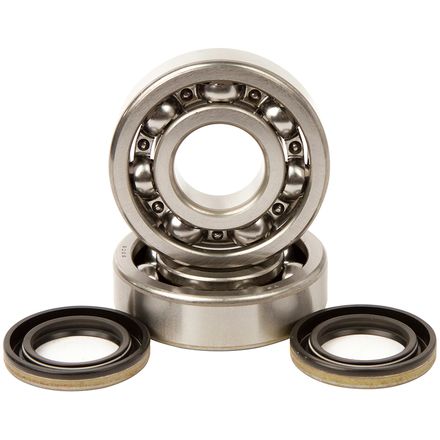 HOT RODS Crank Bearings And Seals Kit
5 Star
14
4 Star
1
3 Star
0
2 Star
0
1 Star
1
Write a Review
Write your review and you'll automatically be entered in our monthly drawing. Include an image or video to DOUBLE your chances to win!
Write Your Review
Bearings
They're bearings. They work
Over 8 months ago
Fort Kent, Maine
Good buy
Bought a full rebuild kit for a 99 cr 250r and everything was a perfect fit. The customer service was amazing, they even called me personally to make sure someone didn't steal my card because my delivery address was different than the address on my card. Couldn't be happier with this company
Over 9 months ago
Augusta, ks
one of the best bearing and seal kits on the market.
Great price excellent product
Great bearing have excellent choice
Fit 99 yz250
Got them in a kit and it fits my 99yz250 make sure you use dry ice and heat when installing bearings
Best bearings and seals
Quality bearings and seals. Installed with no problem.
1 year 2 months ago
Livermore, CA, USA
DOES NOT MATCH 05 CRF450 OEM BEARING
I HAVE AN 05 CRF 450. I ONLY GAVE 1 STAR DUE TO THE FACT THE BEARING WITH THE OUTSIDE NOTCH FOR THE CLAMP TABS DOES NOT MEET THE OEM DIMENSION. IT IS .005 DEEP. IF I HAD NOT CHECKED FOR THIS WHEN INSTALLED IN A STOCK CASE THE CLAMP TABS WILL NOT CLAMP THE BEARING AND IT IS POSSIBLE FOR THE BEARING TO SPIN IN THE CASE. :( ONLY REASON I DID NOT RETURN FOR OEM'S IS I HAVE A MACHINE SHOP AND WAS ABLE TO TRIM THE CASE WERE THE TABS MOUNT. ( WOULD NOT RECOMMEND FOR ANYONE THAT DOES NOT HAVE MOTOR BUILDING SKILLS & TOOLS ) * HOPEFULLY THEY WILL BE GOOD QUALITY *
Over 3 years ago
Yakima, WA, USA
Over 3 years ago
Portland, OR, USA
Great OEM replacment at a fraction of the cost.
Used this with a hotrods crank in my 2007 crf450r.

Super awesome!
Pleased Customer
Almost a year after rebuilding and still great.
Over 5 years ago
Wahiawa,HI
Best fitment and strength!
Fast shipping on hot rods bearing kit for my cr80
Perfect fitment and ease of installation
Motosport was a lot of help especially being all the way from Hawaii they made it easy to order! A+++++
Over 5 years ago
Paso Robles, CA
OEM Quality
OEM quality at about half the price. After 40 hours on the bike no problems with either the bearings or the seals.
Over 6 years ago
new mexico
Great product
Install went smooth 15hours on the lower end and every thing still going strong...
Instalation was a breeze they went in with no problems. seals fit perfect.
Calvin
Q: Is this the same thing as a bottom end bearing?
a guy on craigslist is telling me that his rm85 wont run because "the bearing is needed to allow a full cycle on the crank shaft and if you run it with out fixing it, the pieces will be sucked into the cylinder and ruin the top end" is this part what i need?
MotoSportExpert
1 year 7 months ago
A: Without tearing it down and inspecting the engine its difficult to say what would be needed.
See all bikes that this part fits...
| Product Variant | Manufacturer Part # |
| --- | --- |
| HOT RODS Crank Bearings And Seals Kit | K065 |
| HOT RODS Crank Bearings And Seals Kit | K014 |
| HOT RODS Crank Bearings And Seals Kit | K020 |
| HOT RODS Crank Bearings And Seals Kit | K064 |
| HOT RODS Crank Bearings And Seals Kit | K017 |
| HOT RODS Crank Bearings And Seals Kit | K002 |
| HOT RODS Crank Bearings And Seals Kit | K003 |
| HOT RODS Crank Bearings And Seals Kit | K001 |
| HOT RODS Crank Bearings And Seals Kit | K041 |
| HOT RODS Crank Bearings And Seals Kit | N/A |
| HOT RODS Crank Bearings And Seals Kit | K019 |
| HOT RODS Crank Bearings And Seals Kit | N/A |
| HOT RODS Crank Bearings And Seals Kit | K063 |
| HOT RODS Crank Bearings And Seals Kit | K071 |
| HOT RODS Crank Bearings And Seals Kit | K074 |
| HOT RODS Crank Bearings And Seals Kit | N/A |
| HOT RODS Crank Bearings And Seals Kit | N/A |
| HOT RODS Crank Bearings And Seals Kit | N/A |
| HOT RODS Crank Bearings And Seals Kit | N/A |
| HOT RODS Crank Bearings And Seals Kit | N/A |
| HOT RODS Crank Bearings And Seals Kit | N/A |
| HOT RODS Crank Bearings And Seals Kit | N/A |
| HOT RODS Crank Bearings And Seals Kit | K049 |
| HOT RODS Crank Bearings And Seals Kit | K005 |
| HOT RODS Crank Bearings And Seals Kit | K227 |
| HOT RODS Crank Bearings And Seals Kit | K004 |
| HOT RODS Crank Bearings And Seals Kit | K043 |
| HOT RODS Crank Bearings And Seals Kit | K056 |
| HOT RODS Crank Bearings And Seals Kit | K016 |
| HOT RODS Crank Bearings And Seals Kit | K006 |
| HOT RODS Crank Bearings And Seals Kit | K044 |
| HOT RODS Crank Bearings And Seals Kit | K057 |
| HOT RODS Crank Bearings And Seals Kit | K233 |
| HOT RODS Crank Bearings And Seals Kit | K013 |
| HOT RODS Crank Bearings And Seals Kit | K046 |
| HOT RODS Crank Bearings And Seals Kit | K047 |
| HOT RODS Crank Bearings And Seals Kit | K010 |
| HOT RODS Crank Bearings And Seals Kit | K045 |
| HOT RODS Crank Bearings And Seals Kit | K009 |
| HOT RODS Crank Bearings And Seals Kit | K012 |
| HOT RODS Crank Bearings And Seals Kit | K011 |
| HOT RODS Crank Bearings And Seals Kit | K007 |
| HOT RODS Crank Bearings And Seals Kit | K008 |
| HOT RODS Crank Bearings And Seals Kit | K042 |
| HOT RODS Crank Bearings And Seals Kit | K048 |
| HOT RODS Crank Bearings And Seals Kit | K051 |
| HOT RODS Crank Bearings And Seals Kit | K052 |
| HOT RODS Crank Bearings And Seals Kit | K059 |
| HOT RODS Crank Bearings And Seals Kit | K060 |
| HOT RODS Crank Bearings And Seals Kit | K066 |
| HOT RODS Crank Bearings And Seals Kit | K067 |
| HOT RODS Crank Bearings And Seals Kit | K068 |
| HOT RODS Crank Bearings And Seals Kit | K069 |
| HOT RODS Crank Bearings And Seals Kit | K081 |
| HOT RODS Crank Bearings And Seals Kit | K084 |
| HOT RODS Crank Bearings And Seals Kit | K085 |
| HOT RODS Crank Bearings And Seals Kit | K226 |
| HOT RODS Crank Bearings And Seals Kit | K228 |
| HOT RODS Crank Bearings And Seals Kit | K229 |
| HOT RODS Crank Bearings And Seals Kit | K230 |
| HOT RODS Crank Bearings And Seals Kit | K231 |
| HOT RODS Crank Bearings And Seals Kit | K232 |
| HOT RODS Crank Bearings And Seals Kit | K235 |
| HOT RODS Crank Bearings And Seals Kit | K236 |
| HOT RODS Crank Bearings And Seals Kit | K237 |
| HOT RODS Crank Bearings And Seals Kit | K238 |