HOT RODS
HOT RODS

Complete Crank Assembly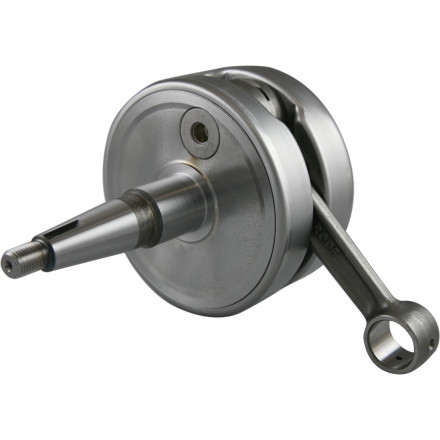 HOT RODS Complete Crank Assembly
5 Star
51
4 Star
6
3 Star
0
2 Star
0
1 Star
2
Write a Review
Write your review and you'll automatically be entered in our monthly drawing. Include an image or video to DOUBLE your chances to win!
Write Your Review
4 months ago
Topeka, KS, USA
Hotrods crankshaft
I've been installing Hotrod crankshafts and bearings for years in 2 strokes.... All good to go...
Great price excellent product
Hot rod crank works great in the new motor.
Over 10 months ago
Roscommon, MI 48653, USA
2009 KTM 85 SX
I had my stepsons bike rebuilt with ALL HOT RODS parts not quite 2 years ago and I can tell you how good these parts are, we had a complete rebuild done and I just checked the compression and it's STILL the same no drop. These parts hold up great and it helps to have an knowledgeable person to take it apart and put it together right and we had a nice long break in time. Now I'm getting ready to do a complete rebuild on my 2012 KTM 250 XC . THANKS AGAIN!!.
Good purchase
My crank no longer makes any noise bought this as a replacement since my bearing went out on my old one
This was a good replacement
Great product
Hot rods are the standard replacement crank I use. Never had an issue with 2 or 4 stroke crank replacements.
Over 12 months ago
K-city . Mass 02364
Hotrod crank cr125
Direct fit. Easy instal. Would buy again. Went 3 on performance just because its oem spec . And 2 or durability because i only have maybe 5 hours on the rebuild but so far so good
Perfect
Awesome crank
1 year 10 months ago
Mass
Best bottom end solution
Used this crank in a kx100, and used in a few CR125's. Good power delivery and can't beat the price and quality
2 years 4 months ago
Callala Beach NSW 2540, Australia
Would never use stock again
it has given my bike more power than my old yz250 my ktm 250sx has great power, always starts first kit since installed, going to order new one as i have done about 200hrs on the bottom but still running like a treat
2 years 6 months ago
Gruetli, Gruetli-Laager, TN 37339, USA
True fit
Bought this kit complete with athena gaskets, wisco piston, boysen power reeds. The engine was an easy assembly. Haven't ran it yet but I guarantee it will run better than new.
Over 3 years ago
Kingston, TN, USA
Fit bike like it should and has the power
Had to rebuild the KTM 65sx and this did the job. The bearings they sent did not feel right when I pressed them in. But no worrys HOT RODS over night me a set to replace them. We have ran this crank for a whole season with no problems and plenty of power.
Over 3 years ago
Portland, OR, USA
Great OEM replacment at a fraction of the cost.
used this as a replacement in my 2007 crf 450r. Only 3 hours on it so far but no complaints.
Over 3 years ago
Louisiana, USA
Ive had 2 of these and both did the same thing!!
the main bearing went out after 8 hours of run time then the rod craked and is lodged into my case
Although the Rod is stamped, "made in the USA", the Hotrods crank and bearings are made in Taiwan, which is the Republic of China. The lower bearing on the one I purchased lasted exactly seven tenths of an hour. Adding insult to injury, Hotrods customer service is non-existent.
Over 4 years ago
Gulf Breeze, FL, USA
Piece of mind
We've been racing bikes for years. When you go to trouble of tearing your motor down all the way to put a crank in it, you want to know you're doing the Right Thing. You want a piece of mind. We can tell you without a doubt
the Hot Rods Crank is the Best Value and most of all we know our engines can take the Pounding of All Out Racing! Hot Rods Crank kits are for sure the best!
Over 4 years ago
Citrus Heights, CA, USA
Awsome!
Just fully rebuilt my bike. Feels brand new again! This crank is solid and is working great!
Over 4 years ago
Crowley, LA, USA
Hot rods crank assembly
This is a great product and fits perfectly and if know how to install in very easy and includes the crank and connecting rod assembly
Over 5 years ago
Lancaster, ca
So far so good
put it in my yz125 after i destroyed stock one. seems good quality. raced it hard a couple of times and hasn't blown apart yet. bought it in the whole kit with bearings and seals and gaskets and piston. went together smooth and engine feels fresh.
Over 5 years ago
cader rapids, ia
Great crank assy
this is my third hot rods crank ive used to replace oem and they always pop right in with no problem and are strong and last good product
Over 5 years ago
Belton, SC
Great product
This is a little harder to install than the Wiseco since the bearings aren't on it already. Great product though. Hopefully it will be as durable or more than the WISECO
Hamboe
Location: Fort Collins, CO, USA
Q: Is there an aftermarket or own crank assy for a 2000 of 125?
Looking to have it rebuilt but wanted a new one
robert
7 days 14 hours ago
A: This is an aftermarket one for a 2000 cr 125 we can also get oem ones. oem crank13300-KZ4-B00.
jimmy
Q: Does this come with the bearings installed already and gasket kits or just the crank? 2008 yz250f?
MotoSportExpert
2 years 10 months ago
A: No. The HOT RODS Complete Crank Assembly does not include main bearings. Feel free to give us a call at 888-676-8853 and we would be happy to help you out with your order.
billy
Q: Can a kx100 krank fit in kx85 casses?
MotoSportExpert
2 years 10 months ago
A: Yes the HOT RODS Complete Crank Assembly would be the same for both the KX100 and KX85.
Part Number: 4016
For Models:
1995 - 2005 Kawasaki KX 100,
1991 - 2000 Kawasaki KX 80,
2001 - 2005 Kawasaki KX 85,
2003 - Suzuki RM 100
steph
Q: Do you sell the whole crank case for a 2004 yzf250?
MotoSportExpert
2 years 11 months ago
A: Yes. The crankcase assembly can be found in the OEM section for your 2004 Yamaha YZ250F here:
http://www.motosport.com/dirtbike/oem-parts/yamaha/2004/yz250f/crankcase
Johnny
Q: I have a 2010kx450f with a athena big boar490cc i would like a stroker crank?
MotoSportExpert
2 years 12 months ago
A: We are sorry, we do not carry a stroker crank for your 2010 Kawasaki KX450F
pesambili
Location: Dar es Salaam, Tanzania
Q: How can i get this crank complete in dar es salaam tanzania? na how mane days will it take?
My mater bike details Kawasaki kx 250f
MotoSportExpert
Over 3 years ago
A: To better assist you with your international order, please use the international checkout option on our website as we require that ALL international orders be placed via our website. Just add items to your basket and click on the checkout button. BorderFree will calculate and display a guaranteed and lowest possible order total in your preferred currency, including all shipping costs from the U.S. to your selected international destination, as well as any applicable duties and taxes as determined by the destination customs and revenue authorities.
jess
Q: Will i 1994 cr250 crank shaft fit in a cr250 1986 motor?
MotoSportExpert
Over 3 years ago
A: The cranks are different OEM part numbers, so no. I would suggest to talk to an experienced engine builder such as Forward Motion Racing to see what options you have for your 1986 Honda CR250
jamie
Q: Will this work with a big bore kit on my 2007 yfz?
MotoSportExpert
Over 3 years ago
A: Yes the Hot Rods Cranks will work with an oversized piston
collns
Location: Alberta, Canada
Q: Does this assembly come with the bearings and gaskets?
MotoSportRyanT
Over 3 years ago
Location: Portland, OR, USA
A: No. This would only be the crank assembly for your KTM 250SX. You would need to order the main bearings and gaskets separately.
Jake89
Location: San Diego, CA, USA
Q: Does the Crank fit tight into the left roller bearing for the CRFs?
I bought this crank and bearing kit for my 2006 crf250R. The crank slides right in the right main ball bearing but fits very tight into my left main roller bearing. I have to pound it in with a rubber mallet? Should it be this tight or maybe could i have been shipped the wrong size crank/bearing combo by mistake? The bearing fits perfect into the case but some reason the crank wont slide into the bearing.
dirtboy333
Over 3 years ago
A: Some fit very tight in other bikes. Generally if you get it started, put all the gears and drum in place, push together, it will fall into place with some tapping, and gently tightening bolts in a circular pattern.
See all bikes that this part fits...
| Product Variant | Manufacturer Part # |
| --- | --- |
| HOT RODS Complete Crank Assembly | 4005 |
| HOT RODS Complete Crank Assembly | 4006 |
| HOT RODS Complete Crank Assembly | 4007 |
| HOT RODS Complete Crank Assembly | 4040 |
| HOT RODS Complete Crank Assembly | 4089 |
| HOT RODS Complete Crank Assembly | N/A |
| HOT RODS Complete Crank Assembly | N/A |
| HOT RODS Complete Crank Assembly | N/A |
| HOT RODS Complete Crank Assembly | N/A |
| HOT RODS Complete Crank Assembly | N/A |
| HOT RODS Complete Crank Assembly | N/A |
| HOT RODS Complete Crank Assembly | N/A |
| HOT RODS Complete Crank Assembly | N/A |
| HOT RODS Complete Crank Assembly | 4053 |
| HOT RODS Complete Crank Assembly | 4056 |
| HOT RODS Complete Crank Assembly | 4002 |
| HOT RODS Complete Crank Assembly | 4012 |
| HOT RODS Complete Crank Assembly | 4068 |
| HOT RODS Complete Crank Assembly | 4030 |
| HOT RODS Complete Crank Assembly | 4083 |
| HOT RODS Complete Crank Assembly | 4097 |
| HOT RODS Complete Crank Assembly | 4095 |
| HOT RODS Complete Crank Assembly | 4048 |
| HOT RODS Complete Crank Assembly | 4093 |
| HOT RODS Complete Crank Assembly | 4080 |
| HOT RODS Complete Crank Assembly | 4024 |
| HOT RODS Complete Crank Assembly | 4025 |
| HOT RODS Complete Crank Assembly | 4026 |
| HOT RODS Complete Crank Assembly | 4047 |
| HOT RODS Complete Crank Assembly | 4031 |
| HOT RODS Complete Crank Assembly | 4057 |
| HOT RODS Complete Crank Assembly | 4017 |
| HOT RODS Complete Crank Assembly | 4015 |
| HOT RODS Complete Crank Assembly | 4014 |
| HOT RODS Complete Crank Assembly | 4065 |
| HOT RODS Complete Crank Assembly | 4016 |
| HOT RODS Complete Crank Assembly | 4066 |
| HOT RODS Complete Crank Assembly | 4064 |
| HOT RODS Complete Crank Assembly | 4096 |
| HOT RODS Complete Crank Assembly | 4020 |
| HOT RODS Complete Crank Assembly | 4021 |
| HOT RODS Complete Crank Assembly | 4082 |
| HOT RODS Complete Crank Assembly | 4019 |
| HOT RODS Complete Crank Assembly | 4076 |
| HOT RODS Complete Crank Assembly | 4059 |
| HOT RODS Complete Crank Assembly | 4044 |
| HOT RODS Complete Crank Assembly | 4078 |
| HOT RODS Complete Crank Assembly | 4032 |
| HOT RODS Complete Crank Assembly | 4041 |
| HOT RODS Complete Crank Assembly | 4058 |
| HOT RODS Complete Crank Assembly | 4027 |
| HOT RODS Complete Crank Assembly | 4067 |
| HOT RODS Complete Crank Assembly | 4081 |
| HOT RODS Complete Crank Assembly | 4077 |
| HOT RODS Complete Crank Assembly | 4085 |
| HOT RODS Complete Crank Assembly | 4060 |
| HOT RODS Complete Crank Assembly | 4070 |
| HOT RODS Complete Crank Assembly | 4043 |
| HOT RODS Complete Crank Assembly | 4001 |
| HOT RODS Complete Crank Assembly | 4062 |
| HOT RODS Complete Crank Assembly | 4073 |
| HOT RODS Complete Crank Assembly | 4036 |
| HOT RODS Complete Crank Assembly | 4054 |
| HOT RODS Complete Crank Assembly | 4035 |
| HOT RODS Complete Crank Assembly | 4038 |
| HOT RODS Complete Crank Assembly | 4138 |
| HOT RODS Complete Crank Assembly | 4037 |
| HOT RODS Complete Crank Assembly | 4033 |
| HOT RODS Complete Crank Assembly | 4034 |
| HOT RODS Complete Crank Assembly | 4049 |
| HOT RODS Complete Crank Assembly | 4050 |
| HOT RODS Complete Crank Assembly | 4074 |
| HOT RODS Complete Crank Assembly | 4098 |
| HOT RODS Complete Crank Assembly | 4022 |
| HOT RODS Complete Crank Assembly | 4086 |
| HOT RODS Complete Crank Assembly | 4018 |
| HOT RODS Complete Crank Assembly | 4028 |
| HOT RODS Complete Crank Assembly | 4029 |
| HOT RODS Complete Crank Assembly | 4039 |
| HOT RODS Complete Crank Assembly | 4046 |
| HOT RODS Complete Crank Assembly | 4055 |
| HOT RODS Complete Crank Assembly | 4071 |
| HOT RODS Complete Crank Assembly | 4075 |
| HOT RODS Complete Crank Assembly | 4079 |
| HOT RODS Complete Crank Assembly | 4090 |
| HOT RODS Complete Crank Assembly | 4091 |
| HOT RODS Complete Crank Assembly | 4092 |
| HOT RODS Complete Crank Assembly | 4094 |
| HOT RODS Complete Crank Assembly | 4162 |
| HOT RODS Complete Crank Assembly | 4401 |
| HOT RODS Complete Crank Assembly | 4407 |
| HOT RODS Complete Crank Assembly | 4408 |
| HOT RODS Complete Crank Assembly | 4412 |
| HOT RODS Complete Crank Assembly | 4413 |
| HOT RODS Complete Crank Assembly | 4416 |
| HOT RODS Complete Crank Assembly | 4419 |
| HOT RODS Complete Crank Assembly | 4420 |
| HOT RODS Complete Crank Assembly | 4422 |