FMF
FMF

Titanium II Silencer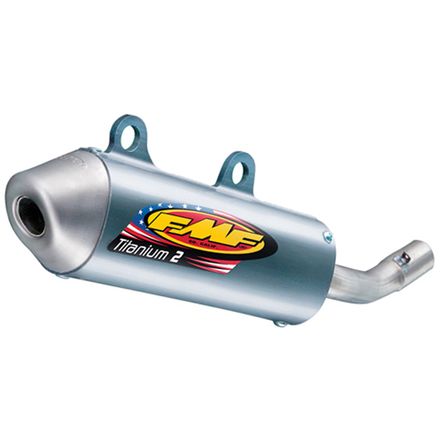 5 Star
6
4 Star
0
3 Star
0
2 Star
0
1 Star
0
Write a Review
Write your review and you'll automatically be entered in our monthly drawing. Include an image or video to DOUBLE your chances to win!
Write Your Review
2 months ago
Pleasant Prairie, WI, USA
Fmf is always well built
Put it on my kids yz 125. Superlight and sounds good too.
Over 5 months ago
Mechanicsville, MD 20659, USA
Best silencer on the market
Added a crazy amount of power to my 2014 kx85 and sounds great.
Best silencer ever
Got this for my 2005 yz 125. It is super light and sounds awesome way better than stock sound. It added more power too.
Over 5 years ago
Michigan
Braapp..
Made an immediate change in my powereband. Increased performance greatly. Also has a different distinct sound.
Brody
Q: Is it louder than a stock 2010 Yz85 exhaust?
David
2 months 12 days ago
A: Yes it is.
Carson
Q: Is this good for track?
robert
3 months 4 days ago
A: This would be a great track silencer, it is light weight and offers power benefits over stock.
anthony12
Q: Does it fit my 2004 cr250r?
I have a 2004 cr250r will it fit, I know it says it will fit a cr250 just want to make sure it's the same and will this go for all parts that a cr250 an cr250r??
anthony12
Q: Does it fit my 2004 cr250r?
So I have a 2004 cr250r and I was wondering if this will fit my bike you only have listed for a cr250..I was wondering what the exact difference is and whether or not this will fit..
SteveO
Q: Rejetting with silencer only?
If I am just replacing the silencer on a 2006 Kawasaki KX 100 do I need to rejet?
kxrider85
Location: Ford City, PA, USA
Q: Will this pipe fit a 13 kx 85?
MotoSportExpert
1 year 11 months ago
A: Yes the FMF Titanium II Silencer Fits your 2013 Kawasaki KX85. Just be sure to correctly select the Year/Make/Model of your bike before ordering so we can be sure to send you the correct silencer for your bike. Also, feel free to give us a call at 888-676-8853 and we would be happy to help you out with your order.
StovallRacing
Q: Drop in screen and 2016 figment.?
Do the FMF Ti 2 2-Stroke silencers come with a drop in screen like the FMF 4 stroke pipes? Also I have a 16' 150sx, I know it's a totally new bike but silencer mount points looks similar to 15'. Any idea on that? Or when exhaust will be avalible for it? Thanks
MotoSportExpert
2 years 5 months ago
A: No the FMF Titanium II Silencer does not have a spark arrestor screen. Unfortunately there is not much information available yet for the 2016 150SX so I can not say for sure if they will be the same. My guess is they will be.
Stingray
Location: Walden, NY, USA
Q: I have a 04 yz 250 with the stock pipe will a titanium 2 silencer off a 2011 ktm xcw 250 fit my bike?
MotoSportExpert
Over 3 years ago
A: No, the mounting points would not be the same.
Lol55
Q: Do I have to adjust the jetting if I install this on my 2013 yz85?
MotoSportGrantK
MotoSport Staff
Expert
Top 1 Contributor
Over 3 years ago
A: Typically, if the bike is currently jetted properly, you should not need to re-jet the carburetor. I would recommend installing the silencer, then see how the bike runs and re-jet if necessary.
simonmx33
Top 250 Contributor
Top 500 Contributor
Top 1000 Contributor
Over 3 years ago
Location: Clover, SC 29710, USA
A: nope unless you feel the need to if it gets too rich (fouling plugs and bogging) its a really easy process i could do it when i rode 85's. if you have v force reeds or some other engine modification or a fmf expansion chamber with that silencer it would probably need to be re jetted unless you get lucky :)
cr125
Q: Would this be better with a fmf sst pipe or would a fmf 2 shorty silencer be better. I have a cr 125?
MotoSportExpert
Over 4 years ago
Location: Portland, OR, USA
A: The Titanium 2 and the Shorty are actually the same length silencers and will have the same power characteristics. The Titanium 2 will be slightly lighter due to the use of titanium in the construction. If you want low end snap, go with a Titanium 2 or a Shorty. If you want top end pull, go with a Powercore 2.
See all bikes that this part fits...
| Product Variant | Manufacturer Part # |
| --- | --- |
| FMF Titanium II Silencer | 021016 |
| FMF Titanium II Silencer | 022010 |
| FMF Titanium II Silencer | 023013 |
| FMF Titanium II Silencer | 023028 |
| FMF Titanium II Silencer | 024011 |
| FMF Titanium II Silencer | 024016 |
| FMF Titanium II Silencer | 024020 |
| FMF Titanium II Silencer | 025125 |
| FMF Titanium II Silencer | 025137 |
| FMF Titanium II Silencer | 025066 |