FMF
FMF Fatty Pipe - 2-Stroke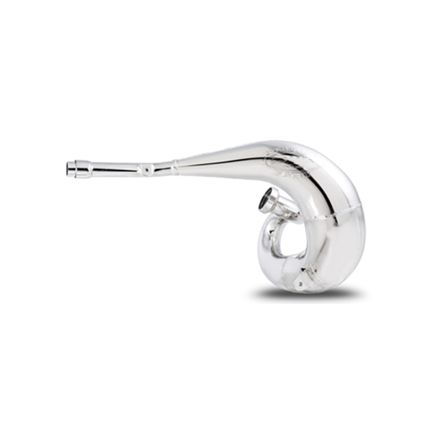 FMF Fatty Pipe - 2-Stroke
---
10% Off - Save up to $40.00
---
5 Star
87
4 Star
14
3 Star
0
2 Star
1
1 Star
1
Write a Review
Write your review and you'll automatically be entered in our monthly drawing. Include an image or video to DOUBLE your chances to win!
Write Your Review
1 month 5 days ago
New York
Amazing
Amazing power and sound, came is the best shape.
1 month 22 days ago
Macedon, NY 14502, USA
More low end on yz 125
Really woke up power across the board. I was most suprised with the added low end grunt. With some clutch play I can crawl through some gnarly single track I couldn't before. Highly reccomend.
1 month 25 days ago
Cedar Rapids, IA, USA
Awesome Pipe
We have run these on all of my son's Kawasaki race bikes, love the sound and the increase in power.
Huge gain in performance
Bought this for my sons Ktm 65sx. The stock pipe sounded like a skill saw and had a narrow powerband. The Fatty pipe changed the power and sound tremendously. I'm talking a true 2-stroke sound now with this pipe instead of the stockers annoying buzz. Add the powercore silencer and it gets even better.
Great product
i got this pipe for my 1998 cr250 when it came in the box was in bad shape but the pipe was excellent other than a minor scratch on the pipe good product
Over 6 months ago
Indiana, USA
Better results than what I had thought.
I bought this pipe hoping to get some low end torque for my 2017 YZ125 which in stock form is non existent. At $215.00 it isn't a bad price for what you get, I went ahead and got the Moose pipe guard to help protect my investment which put my total up to $350.00.
I already had a FMF Powercore 2 silencer so I thought mounting the pipe would be easy... WRONG.
The mounting points did not want to line up at all. I finally got it on going from front to back not tightening the bolts down all the way and it still took everything i had to get the silencer bolt in.
When I rode the bike for the first time I immediately felt the low end grunt i had been hoping for.
It was far better than I had imagined.
I did not have to re jet my carb. If your bike is jetted correctly you shouldn't have to re jet.
Great pipe, noticed more low end torque with my kx250 and it looks great to. You will need to reject your carbs but no big deal.
FMF Power!
Bought for KX85.. We dig it! Great power gains throughout and a good deal!
1 year 1 month ago
Huntersville, NC 28078, USA
Amazing Pipe!
Awesome pipe, installed it pretty easy. Made a huge difference in my power-band (I ride a 96kx125). Glad I bought this.
Satisfied
( 99 cr250 ).
YOU MUST RE-JET both MAIN (178) and PILOT (42) jets and check your needle clip position (2nd) after installing this pipe. FMF has a convenient drop down menu for application selection.. If you do not rejet you will flood your motor out trying to start it AND you'll run WAAAAY too rich. I went from SST to the FATTY. Low end torque is PHENOMINAL!! felt like i was on a 4 stroke while crawling thru the woods. i kept going lower and lower on RPMs in the woods, it would not flame out on me, WOW! You will lose some of the top end, not for drag racing. HOWEVER, I am still tinkering with my jetting, I'm using stock silencer with fatty pipe.
Q: Will this fit my 2006 Cr85 rb?
Alex
1 month 14 days ago
A: Yes it will! Be sure to put your Make/Model/Year in the fitment option before ordering, or call us anytime to place the order.
Q: Will this fit on a 92 kx125
David
2 months 15 days ago
A: This will not fit your 1992 KX125.
Q: What is the tail end of the pipe measure
David
2 months 21 days ago
A: It will vary based on what bike you have.
Q: Does this include just the pipe and not a muffler?
I Have a 2000 Polaris Scrambler 400 4X4, and I was wondering if there was a pipe and muffler combo for my Quad. Does this pipe include a muffler, if not, where can I find one that fits my Quad?
David
3 months 24 days ago
A: This is only for the pipe. Unfortunately we don't offer a muffler and pipe combo for your ATV.
Q: Just got a 2006 yz125 and was wondering if this smoothens out the power band enough to notice a difference. Right now it feels like a slingshot.
David
3 months 29 days ago
A: This will give you more bottom end. You might need to re-jet your carbs to smooth out the power band.
Q: Does the 2015 model ktm 250 exc fit?
Does the 2015 model ktm 250 exc fit?
CustomerAccountManager
Over 6 months ago
A: Yes it will! You will have to profile a 2014 250xc to get it to pop up though. The only difference is the exc has a headlight. both 2 stroke.


feel free to give me a call.

Jason Robbins
Customer Account Manager
503-783-5613
Q: Ive read that the mounts from the fatty dont line up excatly on a 1997 kx 250 and info on tha?
Looking to install fatty on it
Q: Wondering if it will fit my bike because when this pipe is hooked up it comes out on the right side but my stock pipe comes out on the left
jbam19
1 year 1 month ago
A: Yes it will fit the 1998 kx80, the photo is just representative and not the actual expansion chamber for your bike, it will come set up to whichever side came stock on the bike.
Q: I have a 2017 yz 250 2 stroke,what would be the best jetting or the bike?
MotoSportExpert
1 year 1 month ago
A: There is not a specific setting I could give you for jetting your bike. It would really depend on your location (altitude/temperature) and how your bike is running with the current jetting. Jetting can be very tricky, there isn't one setting that will work everywhere with every bike. I would recommend taking your bike to a local motorcycle dealership's service department to have your bike properly jetted.
Due to the variations that may come into effect when tuning an engine (i.e. pipes, intake, altitude, cams, displacement, standard or high compression pistons, etc.) we CANNOT offer jetting recommendations.
Q: Hi would this fit a Yamaha RXZ135 2stroker
See all bikes that this part fits...
| Product Variant | Manufacturer Part # |
| --- | --- |
| FMF Fatty Pipe - 2-Stroke | N/A |
| FMF Fatty Pipe - 2-Stroke | 020375 |
| FMF Fatty Pipe - 2-Stroke | 021036 |
| FMF Fatty Pipe - 2-Stroke | 021048 |
| FMF Fatty Pipe - 2-Stroke | 021021 |
| FMF Fatty Pipe - 2-Stroke | 020378 |
| FMF Fatty Pipe - 2-Stroke | 020020 |
| FMF Fatty Pipe - 2-Stroke | 021006 |
| FMF Fatty Pipe - 2-Stroke | 021040 |
| FMF Fatty Pipe - 2-Stroke | 021052 |
| FMF Fatty Pipe - 2-Stroke | 021000 |
| FMF Fatty Pipe - 2-Stroke | 021031 |
| FMF Fatty Pipe - 2-Stroke | 021044 |
| FMF Fatty Pipe - 2-Stroke | 023049 |
| FMF Fatty Pipe - 2-Stroke | 025073 |
| FMF Fatty Pipe - 2-Stroke | 025119 |
| FMF Fatty Pipe - 2-Stroke | 025130 |
| FMF Fatty Pipe - 2-Stroke | 025069 |
| FMF Fatty Pipe - 2-Stroke | 025006 |
| FMF Fatty Pipe - 2-Stroke | 025060 |
| FMF Fatty Pipe - 2-Stroke | 025091 |
| FMF Fatty Pipe - 2-Stroke | 025088 |
| FMF Fatty Pipe - 2-Stroke | 020050 |
| FMF Fatty Pipe - 2-Stroke | 022048 |
| FMF Fatty Pipe - 2-Stroke | 022003 |
| FMF Fatty Pipe - 2-Stroke | 020054 |
| FMF Fatty Pipe - 2-Stroke | 022015 |
| FMF Fatty Pipe - 2-Stroke | 022040 |
| FMF Fatty Pipe - 2-Stroke | 022052 |
| FMF Fatty Pipe - 2-Stroke | 020045 |
| FMF Fatty Pipe - 2-Stroke | 022000 |
| FMF Fatty Pipe - 2-Stroke | 022060 |
| FMF Fatty Pipe - 2-Stroke | 022006 |
| FMF Fatty Pipe - 2-Stroke | 022034 |
| FMF Fatty Pipe - 2-Stroke | 024023 |
| FMF Fatty Pipe - 2-Stroke | 023055 |
| FMF Fatty Pipe - 2-Stroke | 020107 |
| FMF Fatty Pipe - 2-Stroke | 023006 |
| FMF Fatty Pipe - 2-Stroke | 023018 |
| FMF Fatty Pipe - 2-Stroke | 023059 |
| FMF Fatty Pipe - 2-Stroke | 023000 |
| FMF Fatty Pipe - 2-Stroke | 020133 |
| FMF Fatty Pipe - 2-Stroke | 024041 |
| FMF Fatty Pipe - 2-Stroke | 024049 |
| FMF Fatty Pipe - 2-Stroke | 020147 |
| FMF Fatty Pipe - 2-Stroke | 024053 |
| FMF Fatty Pipe - 2-Stroke | 020149 |
| FMF Fatty Pipe - 2-Stroke | 020138 |
| FMF Fatty Pipe - 2-Stroke | 024000 |
| FMF Fatty Pipe - 2-Stroke | 020006 |
| FMF Fatty Pipe - 2-Stroke | 020014 |
| FMF Fatty Pipe - 2-Stroke | 020015 |
| FMF Fatty Pipe - 2-Stroke | 020017 |
| FMF Fatty Pipe - 2-Stroke | 020018 |
| FMF Fatty Pipe - 2-Stroke | 020048 |
| FMF Fatty Pipe - 2-Stroke | 020034 |
| FMF Fatty Pipe - 2-Stroke | 022044 |
| FMF Fatty Pipe - 2-Stroke | 020037 |
| FMF Fatty Pipe - 2-Stroke | 020039 |
| FMF Fatty Pipe - 2-Stroke | 020042 |
| FMF Fatty Pipe - 2-Stroke | 022012 |
| FMF Fatty Pipe - 2-Stroke | 020124 |
| FMF Fatty Pipe - 2-Stroke | 020127 |
| FMF Fatty Pipe - 2-Stroke | 020130 |
| FMF Fatty Pipe - 2-Stroke | 020143 |
| FMF Fatty Pipe - 2-Stroke | 020142 |
| FMF Fatty Pipe - 2-Stroke | 020135 |
| FMF Fatty Pipe - 2-Stroke | 024034 |
| FMF Fatty Pipe - 2-Stroke | 020137 |
| FMF Fatty Pipe - 2-Stroke | 020145 |
| FMF Fatty Pipe - 2-Stroke | 020150 |
| FMF Fatty Pipe - 2-Stroke | 020087 |
| FMF Fatty Pipe - 2-Stroke | 023037 |
| FMF Fatty Pipe - 2-Stroke | 020088 |
| FMF Fatty Pipe - 2-Stroke | 020089 |
| FMF Fatty Pipe - 2-Stroke | 020092 |
| FMF Fatty Pipe - 2-Stroke | 020104 |
| FMF Fatty Pipe - 2-Stroke | 020105 |
| FMF Fatty Pipe - 2-Stroke | 020109 |
| FMF Fatty Pipe - 2-Stroke | 020390 |
| FMF Fatty Pipe - 2-Stroke | 025019 |
| FMF Fatty Pipe - 2-Stroke | 025052 |
| FMF Fatty Pipe - 2-Stroke | 025040 |
| FMF Fatty Pipe - 2-Stroke | 025151 |
| FMF Fatty Pipe - 2-Stroke | 021058 |
| FMF Fatty Pipe - 2-Stroke | 025092 |
| FMF Fatty Pipe - 2-Stroke | 025115 |
| FMF Fatty Pipe - 2-Stroke | 025145 |
| FMF Fatty Pipe - 2-Stroke | 025150 |
| FMF Fatty Pipe - 2-Stroke | 025159 |
| FMF Fatty Pipe - 2-Stroke | 025182 |
| FMF Fatty Pipe - 2-Stroke | 025197 |
| FMF Fatty Pipe - 2-Stroke | N/A |