Driven
Driven

Blade Oversize Floating Front Brake Rotor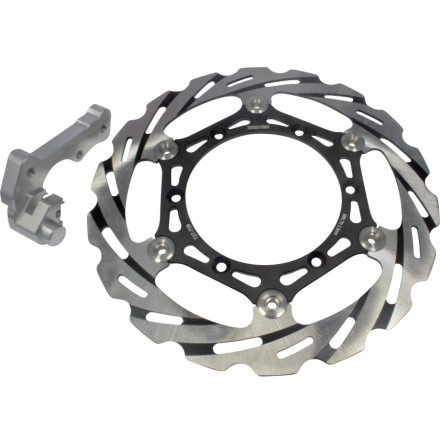 Driven Blade Oversize Floating Front Brake Rotor
---
10% Off - Save up to $16.00
---
5 Star
17
4 Star
6
3 Star
1
2 Star
0
1 Star
0
Write a Review
Write your review and you'll automatically be entered in our monthly drawing. Include an image or video to DOUBLE your chances to win!
Write Your Review
1 month 26 days ago
Centerville OH
Needed after big bore kit
Noticeable increase in stopping power.
Over 9 months ago
Fort Worth, TX, USA
Oversized brake rotor
This rotor performed just as good as my stock rotor. I did not notice any improved braking power. The bracket fit was perfect and the installation was simple. The best part is that now my 2015 YZ250f front wheel will now interchange with our 2016's YZ's (that come with oversized front brake rotors). Which is good in a pinch between motos.
One finger stoppies for days...
When brand new it's like any other rotor, but once broken in (rotor is loose and actually floats) the stopping power is unbeatable. Once you ride with a floating rotor it's hard to go back!

The rotor for KTMs has a spot for speed sensor for the speedometer.
1 year 1 month ago
East Texas, USA
Easy to install, but...
2014 YZ 250F. Installation was easy, but when it came time to put on the new EBC brake pads...that's where the trouble started. After the 3rd time of making sure the calipers were pushed in as far as they could go, we got the belt sander and ground down the EBC pads till they fit. We were measuring the pads while grinding to make sure they were the same thickness on the ends and in the middle. We measured the rotor and it was a few thousandths of an inch thicker than the OEM. My son has about 50 hours of riding and racing on this rotor with no complaints on performance and he said that it definitely has more pucker power than the OEM.
Cheap fix for weak brakes
Got this for my '12 RMZ450. Brakes were ok but would lock up or not slow the bike enough under heavy braking. Chose the Driven product because I wanted a budget fix. It works, fairly easy to install, and way better feel and stopping power. It's not going to get you on level with the Brembos that KTM runs but it helps with getting the bike slowed down, good improvement over stock. Like the way he rotor looks too, with the spiral effect.
1 year 10 months ago
Las Vegas, NV, USA
Looks great!
Great price and easy installation. Paired up with new pads and bled the lines. We'll see how she performs tomorrow!
Driven Blade Oversize Floating Front Brake Rotor
Much better brake feel with the oversized rotor compared to the KX450F OEM rotor.
Great Addition to Improve Front Breaking
great price, got it for a 2012 Ktm 350 and it was a great fit and the part it comes with is also nice, had a noticeable improvement on the break
2 years 9 months ago
Colorado
Excellent product
2006 RM 250
Replaced the stock rotor with the Driven rotor.
I was looking for more stopping power and I got that plus a much more progressive feel at the lever. 5 stars for performance
The caliper mount and rotor are nicely made and fit well. They look nice on the bike 5 stars for Style
It did not come with instructions however, installation is pretty straight forward and as mentioned the fit was spot on. 4 starts for no instructions
I have only 8 hours on the bike since installing so the durability is hard to say. I gave it 4 stars time will tell.
Overall one of the best dollar to performance upgrades I have ever used. A 5 star product.
Great product for the price.
Installed in minutes, and the feel is far better than stock.
Good Product
Bike 2010 & 2012 YZ450F
This product fit perfectly, caliper adapter fit perfectly, installs in about 1/2 hour with minimal effort.
Braking performance improved, the full floating rotor doesn't fade as easily as solid nit, though difference is very minimal.
Driven oversized rotor kit worth the cash
Looks great works good after married up to pads. 2013 kx450
BUY!!
Great price, stops on a dime and looks awesome on my RM250..
Over 3 years ago
California, USA
Driven Oversized Rotor Review
I purchased this oversized rotor and all I can say is WOW. The rotor works excellent. The mounting was very easy. The improved braking is simply awesome. I am a 220lb rider and this has added the extra stopping I was looking for. I can come into hard slow turns hotter with the confidence of being able to slow and make the turn. This is a great buy.
Over 4 years ago
Murrieta, CA, USA
Great Value!!
Great product for a great price!! And as always Motosport.com was flawless. Thanks guys!!! (And gals)
Over 4 years ago
North Carolina, USA
Great Product
Installed overside rotor on kx250f. Stops on a dime. A great upgrade over stock and worth the $$$.
Over 4 years ago
Okinawa Prefecture, Japan
No need to spend $300+
This rotor is on point and was a major improvement over the stocker. I recommend installing new pads and rebleeding your system, you will love it. Took a little while to get used to especially on a slick track, but you will stay on throttle longer and brake later.
Don't Let The Price Steer You Away
This is a good economical choice for anyone looking to get a oversized front brake rotor. Price is great, looks aren't bad and the performance is there. I was pleased with the performance of this rotor, a lot more control and confident going into turns.

The re-locator bracket came as cast, not billet which is O.K. The stock OEM bracket is cast as well.
Great buy
I got this for my 2002 yz125 because my old one was worn out and it makes a pretty big difference, i can now easily do stoppies and come into a turn really hot and stop wwith confidence plus its a great price!
Driven oversize floating front rotor
MotoSPORT are a great company to deal with, I would recommend them. They offer the consumer a many product choices with great prices to match.

The Driven oversize rotor comes with a brake caliper hanger and is very easy to install. Check them out...

Tony Vinent
nick
Location: Billerica, MA, USA
Q: Does this fit a 2005 crf250r?
MotoSportExpert
2 years 9 months ago
A: Just be sure to correctly select the Year/Make/Model of your bike before ordering so we can be sure to send you the correct rotor for your bike. Also, feel free to give us a call at 888-676-8853 and we would be happy to help you out with your order.
Barry
Q: What pads work the best with this for a mx comp?
MotoSportExpert
Over 3 years ago
A: You can always use the OEM pads for this Driven Blade Oversized Front brake rotor. Many magazine reviews on oversized rotors prefer the OEM pads actually. Another great brand would be the Renthal brade pads.
Swindler
Q: Are there any additional parts needed to bolt this onto a stock 14YZ450?
MotoSportRyanT
Over 3 years ago
Location: Portland, OR, USA
A: No. You would not need anything else to install this. It includes the caliper spacer bracket and bolt directly up to your '14 Yamaha YZ450F.
Froggy
Over 3 years ago
Location: California, USA
A: No, I have the same bike and the relocating bracket it comes with is all you need. you will use your stock OEM bolts and screws.

Good luck and have fun. You will enjoy the improved stopping power. I use this kit and it works great.
See all bikes that this part fits...