Devol
Devol

Radiator Guards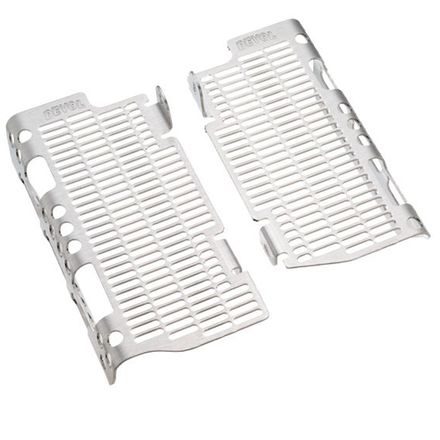 ---
13% Off - Save up to $18.36
---
5 Star
75
4 Star
30
3 Star
10
2 Star
0
1 Star
3
Write a Review
Write your review and you'll automatically be entered in our monthly drawing. Include an image or video to DOUBLE your chances to win!
Write Your Review
Great product
Great product to save your radiators.
3 months 28 days ago
Roseburg, OR
Look good
I like the look and full guard in front of the radiator. I just wish there was more support in the rear of it to bolt onto
Over 9 months ago
Pacific Northwest
New drz400 and new to duel sport bikes ... all i can speak to at this point is the quality and easy of installation which recieve highest marks.
Over 11 months ago
Denver, CO, USA
Must buy for any bike!!
These guards are awesome they look great and function amazing I have layed down my bike multiple times with no worry of my radiators needing to be to be replaced. The only problem I had during installing on my RM250 was the right side rubbed a little on my fatty pipe a side grinder took care of that pretty quick. Great product will defiantly buy for all my bikes.
Great product
Love them and would buy them for any future bike
Devol guard work great
These are great guards they may bend in a hard crash but they have saved my radiators plenty. And the only time I had to take off and re bend them was because I ride woods and well yeah I hit a tree dead on the left radiator. Was nice. Because I just got new oversized aluminum radiator for and the guards saved it just took them off rebrand them in my vice and they look brand-new thanks devol!!!!
Great product
Just picked the Devol Radiator Guards up for my 2015 WR450F and they look great. I haven't been able to truly test them out yet but I am sure they will do just what they were intended to do.

Installation was pretty easy until the very last bolt. The right guard hole was ever so slightly out of spec which required two modifications to mount. First I needed to use a rat-tail file to slightly shift the hole to the side to align with the final hole and I believe the guard was slightly bent as I fought the 6x20 bolt for over an hour to thread and attach. Finally I realized that getting a slightly longer 6x25 bolt was the only way I was going to get the last location to attach. One I put in a longer bolt, it was a piece of cake to wrap up.

Overall the installation wasn't terrible aside from that issue but I have to agree that the directions are lacking in refinement. Thankfully I watched a quick video on someone installing them on their bike so I knew what to do.

I'd definitely recommend this to buy for added protection.
1 year 4 months ago
Michigan
Radiator guards
Really nice durable built but not all the holes aligned correctly and the screews are too long and need to be trimmed apon installation otherwise if u drope ur bike it could puncture radiator
Nice product
Easy to install. Good protection. Decently priced
1 year 6 months ago
New hampshire
Great product
These radiator guards worked great,they protected my rafiator from alot of hits.
1 year 6 months ago
Charlotte, NC, USA
Good Design
I have a 2008 KX500AF so my bike is custom, so the modifications I had to make were expected, but those modifications were not critical and still easy to install. Bike still seems to cool down as expected. I would recommend to others.
1 year 6 months ago
Virginia, USA
Instructions with a diagram would be nice.
The fit is spot on and I believe they will protect the radiator. Took awhile to figure out how to install. A picture or diagram would have really helped.
Must buy product.
Wish I would have purchased these sooner. Great product to protect your radiator from being damaged.
Just OK
Had to bend and modify brackets to fit around radiator, semi easy installation... appears that it will hold up well
1 year 9 months ago
Nevada, USA
Desert Tough
I ride the Desert and the Roost can be Knarly the gaurds hold there own,
Good addition to protect your radiator
Solid construction and easy installation. I installed them on a KTM 300 XC-W without having to make any modifications. The reinforcement bar on the back side makes for great side impact resistance.
2 years 2 months ago
Houston, TX, USA
Seems good. Time will tell.
It seems adequate, but does not work with the Trail Tech fan. Rather, the fan's bracket will not work with the radiator guard.
2 years 2 months ago
California
Protects what's important
Bought this for my 13teen year old boys 1st 125cc 2stroke. Has taken a beating and has protected what I got it for. Now i will only have to buy new plastic not new radiators.
2 years 9 months ago
ohio
Very Nice
I really like these. They take a little time to install but its not too bad and can be done in bout an hour or less. Wish they wrapped around radiator tanks though.
2 years 11 months ago
Perry, KS 66073, USA
Devol Radiator Guards
very good product one the best a most if your riding in rough or rocky areas were you might lay your bike down and damage your radiator
whippo
Q: Is any hardware included ?
David
1 month 6 days ago
A: Yes.
Moore602
Q: Does this kit come with the side braces as well?
David
1 month 11 days ago
A: Yes.
Billy
Q: Will this fit the mishimoto radiator I bought for my 07 cr85?
Thumbs
3 months 4 days ago
Location: Portland, OR, USA
A: These will not fit your aftermarket radiators, these are only designed to fit the O.E radiators.
Brandon
Q: I have a 2013 crf450r if I get the devol radiator guards can I fit the acerbic 2.7 gallon gas tank?
Thumbs
Top 25 Contributor
Top 10 Contributor
3 months 19 days ago
Location: Portland, OR, USA
A: A little modification on the braces might be needed since the bigger tank comes really close to the back of the radiators you may have to take dome some of the corners on the braces.
Tboon
Q: Will these fit the mylers radiators?
MotoSportExpert1
Top 500 Contributor
Top 250 Contributor
Over 11 months ago
A: Yes this will fit your Mylers Radiators. Mylers uses stock mounting and so does this kit. Just be sure to correctly select the Year/Make/Model of your bike before ordering so we can be sure to send you the correct guards for your bike
TrailRacingIsBestRracig
Q: Which is better?
I have a 2004 yz250 and i'm looking for some radiator guards so I found the Devol radiator guards for $142.72 but I also found the Flatland racing radiator guards for $95.00 does anyone know which is better?
scott
Q: Mylers?
will these fit a kx250f 2007 with mylers supercool radiaters
Mike
Q: Will the stock plastic radiator grille fit over these guards?
My main concern is packing my radiator full of mud from roost, and small rocks denting my radiator though this guard.
FarmRider
1 year 4 months ago
Location: Virginia
A: I have these gaurds on a 2005 yz250 and a 2008 yz450f, they have worked flawlessly. They keep the bike cool and. The slots are small enough so that mud and small rocks are not a problem.
bixtown
Location: New Palestine, IN 46163, USA
Q: Will these guards fit a 1993 Kawasaki KDX 250?
MotoSportExpert
1 year 11 months ago
A: No sorry, Devol does not offer the Radiator Guards to fit your 1993 Kawasaki KDX250.
Reese
Q: Will these fit on a 2015 yz250 2t ?
MotoSportExpert
2 years 8 months ago
A: Yes. Just be sure to correctly select the Year/Make/Model of your bike before ordering so we can be sure to send you the correct guards for your bike. Also, feel free to give us a call at 888-676-8853 and we would be happy to help you out with your order.
See all bikes that this part fits...
| Product Variant | Manufacturer Part # |
| --- | --- |
| Devol Radiator Guards | N/A |
| Devol Radiator Guards | HC-0492 |
| Devol Radiator Guards | HC-0592 |
| Devol Radiator Guards | HC-0692 |
| Devol Radiator Guards | HC-0195 |
| Devol Radiator Guards | N/A |
| Devol Radiator Guards | N/A |
| Devol Radiator Guards | HCF-0092 |
| Devol Radiator Guards | HCF-0192 |
| Devol Radiator Guards | HCF-0094 |
| Devol Radiator Guards | HCF-0194 |
| Devol Radiator Guards | HCF-0294 |
| Devol Radiator Guards | HCF-0394 |
| Devol Radiator Guards | 0101-1208 |
| Devol Radiator Guards | HCX-0094 |
| Devol Radiator Guards | HCX-0194 |
| Devol Radiator Guards | N/A |
| Devol Radiator Guards | SR-0492 |
| Devol Radiator Guards | N/A |
| Devol Radiator Guards | KD-0292 |
| Devol Radiator Guards | KT-0692 |
| Devol Radiator Guards | KTF-0292 |
| Devol Radiator Guards | KT-0592 |
| Devol Radiator Guards | KT-0395 |
| Devol Radiator Guards | KX-0692 |
| Devol Radiator Guards | N/A |
| Devol Radiator Guards | N/A |
| Devol Radiator Guards | KXF-0192 |
| Devol Radiator Guards | KXF-0292 |
| Devol Radiator Guards | KXF-0392 |
| Devol Radiator Guards | KXF-0094 |
| Devol Radiator Guards | KXF-0194 |
| Devol Radiator Guards | KXF-0294 |
| Devol Radiator Guards | SR-0692 |
| Devol Radiator Guards | N/A |
| Devol Radiator Guards | RMZ-0092 |
| Devol Radiator Guards | RMZ-0192 |
| Devol Radiator Guards | SKF-0094 |
| Devol Radiator Guards | RMX-0094 |
| Devol Radiator Guards | WRF-0194 |
| Devol Radiator Guards | N/A |
| Devol Radiator Guards | YZ-0492 |
| Devol Radiator Guards | YZF-0092 |
| Devol Radiator Guards | YZF-0192 |
| Devol Radiator Guards | YZF-0292 |
| Devol Radiator Guards | YZ-0194 |
| Devol Radiator Guards | N/A |
| Devol Radiator Guards | YZF-0294 |
| Devol Radiator Guards | YZF-0394 |
| Devol Radiator Guards | 0101-5507 |
| Devol Radiator Guards | 0101-1210 |
| Devol Radiator Guards | 0101-2510 |
| Devol Radiator Guards | 0101-5601 |
| Devol Radiator Guards | 0101-1304 |
| Devol Radiator Guards | 0101-1303 |
| Devol Radiator Guards | 0101-2403 |
| Devol Radiator Guards | 0101-2511 |
| Devol Radiator Guards | 0101-2406 |
| Devol Radiator Guards | 0101-3103 |
| Devol Radiator Guards | 0101-3104 |
| Devol Radiator Guards | 0101-3401 |
| Devol Radiator Guards | 0101-3402 |
| Devol Radiator Guards | 0101-3108 |
| Devol Radiator Guards | 0101-4504 |
| Devol Radiator Guards | 0101-5402 |
| Devol Radiator Guards | 0101-5404 |