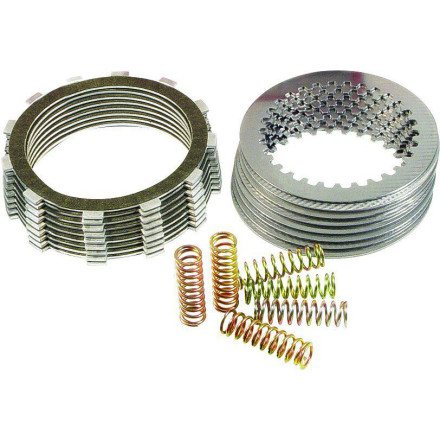 5 Star
95
4 Star
15
3 Star
4
2 Star
2
1 Star
18
Write a Review
Write your review and you'll automatically be entered in our monthly drawing. Include an image or video to DOUBLE your chances to win!
Write Your Review
1 month 11 days ago
Kansas City
Great product
You can't go wrong with this product . Quality as always .A little pricey but worth it.
Over 6 months ago
Pennsylvania
Great clutch
Great clutch for the price highly recommended! I have had a few of the kits and there great everytime. I am very hard on the clutch i race motocross and the barnett clutch kit holds up to the abuse
1 year 5 months ago
Greenfield, CA 93927, USA
Barnett clutch kit
Grabs in strong and smood gear shifting i havent really get to test it all way but my 400kfx feels way better fun to ride...thanks i ll be coming in for more parts
2 years 5 months ago
Kodiak,
What you would expect from Barnnett
This clutch fit as it was supposed to, works like it is supposed to, and according to my father who has run this clutch in his KTM 520 for years this clutch lasts. This is what I would expect from Barnett. The orange clutch springs are a nice touch even though they are covered by the clutch cover.
Excellent
qucik and easy installation. durable and nice
2 years 8 months ago
Parsons Tn
Good Product for good price.
Used these clutches quit a bit. Never had any problems with them.
Good and durable
These last longer than the pro circuit ones for me and seem to take more abuse. Also this kit was cheaper.
2 years 9 months ago
Fort Worth, TX, USA
2009 YZ125
I installed this clutch in a highly modified 2009 YZ125. I weigh 180 pounds and my skill level is novice. This clutch has great feel and grabs hard. I started off with the heavy spring, but I quickly changed to the softer springs. I have 4 hard hours on the clutch at Oak Hill MX in Decatur Texas and it is working great.
See all bikes that this part fits...
| Product Variant | Manufacturer Part # |
| --- | --- |
| Barnett Clutch Kit | 303-90-10050 |
| Barnett Clutch Kit | 303-90-10051 |
| Barnett Clutch Kit | 303-90-20071 |
| Barnett Clutch Kit | 303-90-20069 |
| Barnett Clutch Kit | 303-90-10064 |
| Barnett Clutch Kit | 303-90-10058 |
| Barnett Clutch Kit | 303-90-10049 |
| Barnett Clutch Kit | 303-35-10005 |
| Barnett Clutch Kit | 303-35-10014 |
| Barnett Clutch Kit | 303-90-10027 |
| Barnett Clutch Kit | 303-90-10061 |
| Barnett Clutch Kit | 303-35-10009 |
| Barnett Clutch Kit | 303-35-10019 |
| Barnett Clutch Kit | 303-35-10011 |
| Barnett Clutch Kit | 303-35-10003 |
| Barnett Clutch Kit | 303-35-10018 |
| Barnett Clutch Kit | 303-35-20044 |
| Barnett Clutch Kit | 303-35-200 |
| Barnett Clutch Kit | 303-48-20010 |
| Barnett Clutch Kit | 303-48-10002 |
| Barnett Clutch Kit | 303-48-10003 |
| Barnett Clutch Kit | 303-48-10009 |
| Barnett Clutch Kit | 303-48-100 |
| Barnett Clutch Kit | 303-48-10006 |
| Barnett Clutch Kit | 303-48-20011 |
| Barnett Clutch Kit | 306-48-100 |
| Barnett Clutch Kit | 303-48-10007 |
| Barnett Clutch Kit | 303-48-10001 |
| Barnett Clutch Kit | 303-45-10007 |
| Barnett Clutch Kit | 303-45-10008 |
| Barnett Clutch Kit | 303-45-10012 |
| Barnett Clutch Kit | 303-45-10020 |
| Barnett Clutch Kit | 303-45-10011 |
| Barnett Clutch Kit | 303-45-10002 |
| Barnett Clutch Kit | 3034510003 |
| Barnett Clutch Kit | 303-45-10004 |
| Barnett Clutch Kit | 303-70-10026 |
| Barnett Clutch Kit | 303-70-10050 |
| Barnett Clutch Kit | 303-70-10043 |
| Barnett Clutch Kit | 303-90-10028 |
| Barnett Clutch Kit | 303-90-40068 |
| Barnett Clutch Kit | 303-70-10027 |
| Barnett Clutch Kit | 303-70-10031 |
| Barnett Clutch Kit | 303-70-10045 |
| Barnett Clutch Kit | 303-70-20060 |
| Barnett Clutch Kit | 303-70-10008 |
| Barnett Clutch Kit | 303-70-10051 |
| Barnett Clutch Kit | 303-70-20061 |
| Barnett Clutch Kit | 3033510015 |
| Barnett Clutch Kit | 303-35-100 |
| Barnett Clutch Kit | 303-90-20070 |
| Barnett Clutch Kit | 303-35-20053 |
| Barnett Clutch Kit | 303-35-20054 |