Boyesen
Boyesen Quickshot 3 Accelerator Pump Cover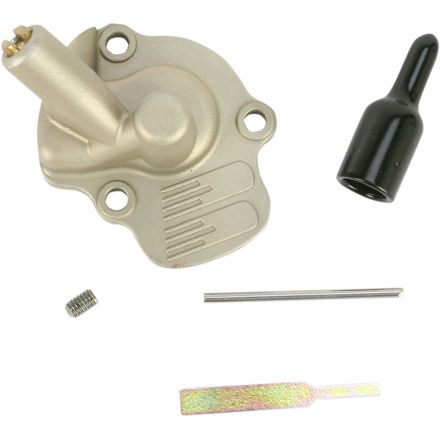 Boyesen Quickshot 3 Accelerator Pump Cover
5 Star
10
4 Star
3
3 Star
1
2 Star
0
1 Star
1
Write a Review
Write your review and you'll automatically be entered in our monthly drawing. Include an image or video to DOUBLE your chances to win!
Write Your Review
Quickshot 3
EZ installation and it works to help start my bike and that's why I bought it.
1 year 4 months ago
Fresno ca
Great purchase
Bike ran awesome ! Great performance .
1 year 7 months ago
Louisiana, USA
A must buy! '07 CRF250
The mid 2000's Honda 250's were notorious to have a TERRIBLE bog when you crack the throttle that most trail riders found when trying to clear a log or to pick up the front tire, the bike would fall on its face. This carb bowl mod COMPLETELY fixes this. Easy install and easy to tune after. No hesitation in the throttle response.NO MORE BOG! 5/5 great buy.
Great product
I have a 07 crf250r and it had the infamous Honda bog. No matter what I did. Now my bike never bogs and runs great... It really pulls out of corners too. Installation was easy even if you don't know much about carbs you can do it. If you are in the same situation as I was this is the product for you. It's like bolt on fuel injection.
Boysen Quick Shot 3
Installed the Boysen Quick Shot 3 on my 2011 KTM 530 XC-W. I was having issues with hard starting, inconsistent idle, deceleration popping and throttle bogging. Paired the BQS3 with the correct JD jetting, adjustable fuel needle and the bike is now crisp on throttle response and starts easy and has enhanced power that is clean. I would definitely recommend this to friends and family.
Don't touch AP timing screw
The QS 3 mentions adjusting timing screw if it was touched. do not adjust the screw if your bike isn't running bad. I touched mine and it has been a nightmare ever since.
Over 3 years ago
Jennings, LA 70546, USA
OFF idle bog
Easy to install on 13 crf250x carb, had to remove, was experiencing an off idle bog. will try again later once exhaust is installed and further research. If anyone has any suggestions or has installed QS3, I would really appreciate it. Mods: opened top of air box, 165 main jet, fuel mixture screw, removed baffle in stock exhaust, and back fire screen from air filter. After failed tuning, dropped to a 155 main jet, reinstalled stock APC, back fire screen, and exhaust baffle. This got rid of off idle bog.
Over 4 years ago
Lake Arrowhead, CA, USA
Awesome throttle response
Easy to install throttle response was alot crisper I have a 2004 Honda crf450 and always wanted fuel injection and this is the closest way.
Over 5 years ago
La Grande, OR 97850, USA
WOW
The QS3 did just what they say no more bog witch in turn freed up alot more of my crf 450's bottom end power, pulls alot better out of the tight corners. Great product. Easy to install expect for the fact you have to tear half the bike apart to get the carb out but it was in the carb in less then 5 minutes after pulling the it, fit perfect, looks good easy to adjust, what can i say another awesome product from Boyesen
A MUST HAVE!
I bought this for my 2008 honda crf250r, my bike had the worst bog ever and could hardly gap the throttle without it hesitating even while riding, so i took a chance and bought this product and WOW! Its a night and day difference no more bog whatsoever no matter how hard i gap the throttle, I knew it would help but never thought it would be this jurastic!
If your looking for the fuel injection response look no further this is bolt on fuel injection!
Q: Will BQ 3 APC reduce my fuel life
Hi, I ride a 2006 yz250f I currently experience the bog issues as well I do ride track nothing serious or competitive, just having fun on the weekends with friends I do a lot of trail riding so my concern was will it reduce my fuel life drastically or should I not be worried (Regardless i will be purchasing no matter the fuel life changes i was just concerned if i should invest in a desert tank?)
David
3 months 23 days ago
A: During certain stages of throttle use it will consume more fuel but it's not constant. So really no need for a larger tank.
Q: Will this fit on my 2006 crf250r?
DaveGearhead
Over 6 months ago
A: If you put your motorcycle in as the fitment on our site you will see that it does, in fact, fit your 06 CRF250R.
Q: Will this work on a 2008 CRF150R?
Q: What accessories will i need to install this on my 04 crf240r, and is my hot start still compatible? thanks.
MotoSportExpert
2 years 2 months ago
A: The Boyesen Quickshot 3 Accelerator Pump Cover Fits your 2004 Honda CRF250R. Just be sure to correctly select the Year/Make/Model of your bike before ordering so we can be sure to send you the correct cover for your bike. Simple bolt-on. Also, feel free to give us a call at 888-676-8853 and we would be happy to help you out with your order.
Q: I own a 2006 Kawasaki KX450F and experiencing bog when I snap the throttle. Does the Boyesen Quickshot 3 include a diaphram, or is that separate?
MotoSportExpert
2 years 11 months ago
A: This would be for the Boyesen Quickshot 3 Accelerator Pump Cover only for your 2006 Kawasaki KX450F.
Q: How easy is installation?
I'm debating on buying this product but I'm not sure how easy it is to install. Will it be an easy quick bolt on to my carb or does it involve taking the carb apart?
FREEMO
Over 3 years ago
A: Very easy install. the carb doesn't need to be taken apart, with me (07 crf250) only the bowl had to come off. The hardest part was getting to my carb.
MotoSportExpert
Over 3 years ago
A: The Boyesen Quickshot 3 is a Simple bolt-on product. If you have doubts installing it, I would suggest to have a shop or certified mechanic install it for you.
Q: Does the carby need re-jetting if this is installed?
MotoSportExpert
Over 3 years ago
A: If your bike is jetted correctly now you should not have to re-jet after installing the Boyesen Quickshot 3 Accelerator Pump Cover.
Q: Will it work on my 2005 ktm 525mxc
MotoSportExpert
Over 3 years ago
A: Boyesen Quickshot 3 Accelerator Pump Cover fits ALL Keihin FCR carbs
Q: Wondering if this would work
I just bought my first 4 stoke about 3 weeks ago. love it! BUT I'm having issues in nuetral if the bike is just idling and I snap it to full throttle. the bike boggs and dies. will this possibly help me with this problem? Thanks!
MotoSportExpert
Over 3 years ago
A: Yes, this will fit your 2003 YZ450F. However there may be other issues such as jetting that can be changed for your elevation and area. Jetting can be very tricky, there isn't one setting that will work everywhere with every bike. I would recommend taking your bike to a local motorcycle dealership's service department to have your bike properly jetted.
Q: What do I tune this product to I have a 2012 crf250x and I don't know what to tune this product to. I need help ?
I live at 3,300 ft elevation and my bike has a slight bog/hesitation I have the air box mod and pink wire mod and smog kit. And a 165 jet I need help I have played with it and i just can't get it right. I need help with this to get my bike running perfect and smooth thanks for your time.
MotoSportRyanT
Over 4 years ago
A: Without being there to know how exactly the bike is running, It would be very difficult for me to accurately help you jet your bike. There is not a specific setting I could give you for jetting your bike. Jetting can be very tricky, there isn't one setting that will work everywhere with every bike. I would recommend taking your bike to a motorcycle with a service department to have it properly jetted.
See all bikes that this part fits...
| Product Variant | Manufacturer Part # |
| --- | --- |
| Boyesen Quickshot 3 Accelerator Pump Cover | APC-3 |
| Boyesen Quickshot 3 Accelerator Pump Cover | APC-3K |