Barnett
Barnett Heavy Duty Clutch Springs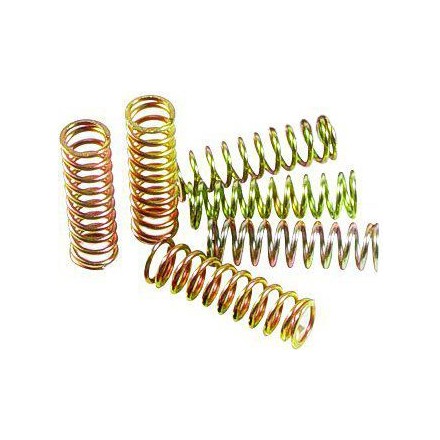 Barnett Heavy Duty Clutch Springs
5 Star
19
4 Star
2
3 Star
0
2 Star
0
1 Star
0
Write a Review
Write your review and you'll automatically be entered in our monthly drawing. Include an image or video to DOUBLE your chances to win!
Write Your Review
1 year 2 months ago
Mifflin, PA, USA
Good buy
These springs do there job. Nice pull with my asv short levers.
1 year 12 months ago
Portland, OR
Still going strong!
Installed a Barnett clutch 3 years ago and it's been great since then! I ride a lot, so I'm kinda surprised it's still going strong!
60+ HP TRX450er
My 450 has always been hard on clutches. It has 22 inch 8 paddle haulers with 14/39 gearing. It's on the third clutch and third set of springs. The second clutch springs were stiffer then stock but were not good enough. I would randomly get slippage in third and forth gear and go threw a clutch pack in about 15-20 hours. These springs are a HUGE difference from others I have used. I could tell as soon as I let the clutch out the first time. IF you have a Higher HP bike these are a must. I have not used them long enough to speak on their durability.
Over 3 years ago
Madison, MS, USA
Over 4 years ago
Spring, TX, USA
Best $30 I ever spent for a real performance gain
These clutch springs have got to be the best $30 I have ever spent on a bike. Much better clutch performance & longer clutch life. I no longer have to adjust my clutch cable when out riding. With the stock springs I had to make at least a couple clutch cable adjustments a day as the actuation point of the clutch would change. That hassle was totally eliminated with these springs. Clutch hooks up better as well. Clutch lever pull is only a tad stiffer. After running these springs I consider them a must have.
Better than stock
These springs were a huge improvement over stock. I could feel my friction zone much easier than oem springs.
Over 6 years ago
Woodward pa
Great purchase
Great product the springs are super stiff buy them
Over 6 years ago
Southern illinois
Great stuff
These springs are the best ive used... Very good quality ....Hands down best quality for the price.
Over 8 years ago
naples , fl
Nice clutch feel and strong.
Q: Yz85 Barnett kevlar clutch
do the heavy duty springs come in the yz 85 Barnett clutch kit or are they a different part numer?
MotoSportGrantK
Over 3 years ago
A: Yes, the Barnett Clutch Kit for your 2008 Yamaha YZ85 will come with heavy duty clutch springs. You can find the Barnett Clutch Kit for your bike here: http://www.motosport.com/dirtbike/Barnett-Clutch-Kit
Q: My clutch is engaging like extremly soon when letting out the lever. I cant even get my fingers inbetween the bar and the lever before it lets out
MotoSportGrantK
Over 3 years ago
A: Unfortunately, It sounds like its time to replace the friction discs on your 2004 Honda CRF250R. I would recommend getting a new clutch kit for your bike which you can find here: http://www.motosport.com/search/?textsearch=Clutch+Kit&currentrow=4
Q: Does the stiffness of the springs affect where the clutch grabs?
i have a 2012 kx250f, the problem i am having is that the clutch doesn't engage until late when the clutch is almost totally out, and i was wondering if i put stiffer springs in it if it would change where it lets out.
MotoSportRyanT
Over 4 years ago
A: From what you are describing it sounds like your clutch is out of adjustment or you need to replace the clutch plates because they may be worn out. I don't believe that just switching to a heavy duty spring kit would fix your problem you are having there.
Q: I recently put tracks and skis on my DVX, and because it takes so much power to get them going im worried about ruining my clutch. Will these help?
What else needs to possibly be replaced to improve clutch feel? Just the plates or the basket too?
DMATT41
Over 9 years ago
A: These springs will prevent clutch slippage and will improve the life of you clutch. I would highly recommend getting these springs for your dvx. If I were you I would take your clutch out, inspect the plates and if they're worn or if you can just tell that your clutch just isn't what it used to be I would definitely buy new plates. I would go with the 'Driven Industries' plates. That's what I did, but Barnett clutch springs with driven industries plates and my clutch has unbelievably increase. I would only go with getting a new clutch basket if you burn through clutches all the time. But besides that it doesn't really improve the feel of your clutch all that much, if any at all.
Q: Do these spring make the clutch pull harder?
MotoMoo1
Over 10 years ago
A: The heavy duty springs will make it harder to pull the clutch lever and they will engage harder as well. Hope this helps.
Generallee
Over 10 years ago
A: They could make if feel that way but in reality it will just help the clutch from slipping as much. Some times clutches in bikes can be slipping without you even realizing it
See all bikes that this part fits...
| Product Variant | Manufacturer Part # |
| --- | --- |
| Barnett Heavy Duty Clutch Springs | 501-38-06118 |
| Barnett Heavy Duty Clutch Springs | 501-34-05122 |
| Barnett Heavy Duty Clutch Springs | 501-61-04079 |
| Barnett Heavy Duty Clutch Springs | 501-43-06024 |
| Barnett Heavy Duty Clutch Springs | 501-50-05055 |
| Barnett Heavy Duty Clutch Springs | 501-50-05053 |
| Barnett Heavy Duty Clutch Springs | 501-58-05037 |
| Barnett Heavy Duty Clutch Springs | 501-58-06037 |
| Barnett Heavy Duty Clutch Springs | 501-24-06047 |
| Barnett Heavy Duty Clutch Springs | 501-40-05039 |
| Barnett Heavy Duty Clutch Springs | 501-25-05043 |
| Barnett Heavy Duty Clutch Springs | 501-32-05049 |
| Barnett Heavy Duty Clutch Springs | MT-36-5 |
| Barnett Heavy Duty Clutch Springs | 501-44-06135 |