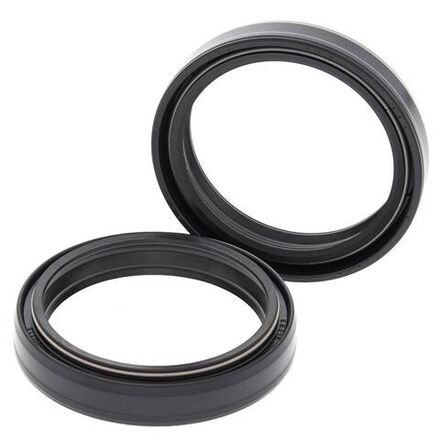 ---
10% Off - Save up to $1.99
---
5 Star
13
4 Star
2
3 Star
2
2 Star
2
1 Star
2
Write a Review
Write your review and you'll automatically be entered in our monthly drawing. Include an image or video to DOUBLE your chances to win!
Write Your Review
Over 10 months ago
Granada MN
Great Seals
These seals are better than original, in my opinion. Will purchase from them again.
Over 12 months ago
Dallas, TX, USA
Seals
They work well and fairly easy to install.
1 year 9 months ago
Livingston, MT 59047, USA
All Balls needs to update their product line
The fork seals do not fit my Ulysses XB12XT, which has 43mm forks, not 45mm which come in the kit. Be sure of your model; apparently All Balls does not make seals for the XB12XT.
1 year 10 months ago
Nashville, TN, USA
All Balls seals on a kx 65
I rebuilt the forks on a 2003 kx65 and used these. They fit great and been on the bike for over a year. No leaks and no problems. I have used All Balls products in the past and they have always been good.
1 year 10 months ago
Florida, USA
Purchase was ok
recommand other customers to buy this too.
Junk
These seals blow after 3 rides more like all junk
2 years 1 month ago
Texas, USA
All balls fork seal kit
Best bang for the money. Use them in all my bikes
2 years 2 months ago
Chicago, IL, USA
Really bad
while installing one of the seals it tore and was way to tight.
Over 3 years ago
Boston, MA, USA
Average kid
Bought these last year for my crf450r. worked good all summer then pulled my bike out this year and both my forks are leaking again. time to try another brand.
Over 3 years ago
Plattsburgh, NY, USA
All ball for seal for my R6
The all ball fork seal had an excellent fit in the installation was easy
Great value
Great product at a great price, have used in the past and will use again
Over 4 years ago
Sherwood, OR, USA
Great purchase
Looking for some affordable and quality seals these work great!
Kx450f 2010
Over 4 years ago
Tucson, AZ, USA
Amazing
I've had to replace fork seals in every bike that i have bought and these are by far the best ones. won't go back to msr or pro-x i'm all balls from now on
Over 5 years ago
lehi,utah
Do there job
Got one installed today with honda fork oil and it sealed good. I think i would go with oem next time tho.
Over 5 years ago
Jefferson City, Missouri
Great Price
While only one ride in, during install they seemed like well made seals and fit very snug. I do wish they would have a kit that offered a dust seal with the retention spring insted of the dust seal without the spring. But the seal itself seems like very good quality. No leaks so I'm happy, very smooth ride but that has to do with all the fork parts working properly and all parts fitting right. So these are right in there fort fit and quality.
Over 5 years ago
Owasso, OK
Great price and quality!!!
Bought these for my sons 2009 CRF150RB. Installed easy and work perfect. These are great! No need to buy the expensive ones.
Over 6 years ago
Harlingen, Texas
Affordable Seals
Very affordable for the do it yourself person. They seem to work just as good as the more expensive ones. Thanks Motosport for offering this product as a reasonable price.
Good Product for the Price
Even though I have just put them in I have had no leaks and installation was straight forward as with any seals. It takes more time to set the oil height then it does to install the seals even when you have the right tools.
rider194
Location: Visalia, CA, USA
Q: What comes with the fork seal kit?
I have been looking for dust seal but cant find them.Do they sell them on Motosport?
MotoSportGrant
Over 4 years ago
A: Yes, we do carry them. The All Balls Fork Seal Kit will include just the fork seals. The All Balls Fork Seal And Wiper Kit will include the fork seal and dust seal "wiper".
Asal
Q: Do this come with dust seals too?
Does this kit come with dust seals too? Is there a kit that comes with fork and dust seals to fit a 1997 Yamaha Virago xv750? I can't seem to find any dust seals for this bike.
MotoSportExpert
Over 4 years ago
Location: Portland, OR, USA
A: This kit is only going to be the oil seals and does not include the dust seals. Unfortunately the only dust seals i can find for your 1997 Virago 750 are the OEM seals available in the Yamaha parts Fiche here :

http://www.motosport.com/cruiser/oem-parts/YAMAHA/1997/VIRAGO-750-_-XV750/FRONT-FORK

Item # 7 and 25 : Part # 3EN-23144-01-00 SEAL, DUST
FoxsponsoredCr125
Q: Do these come in a set or just one at a time?
MotoSportExpert
Over 4 years ago
Location: Portland, OR, USA
A: These are sold as a pair. If you order this, it will come with one oil seal for each fork.
See all bikes that this part fits...
| Product Variant | Manufacturer Part # |
| --- | --- |
| All Balls Fork Seal Kit | 55-100 |
| All Balls Fork Seal Kit | 55-101 |
| All Balls Fork Seal Kit | 55-102 |
| All Balls Fork Seal Kit | 55-103 |
| All Balls Fork Seal Kit | 55-106 |
| All Balls Fork Seal Kit | 55-107 |
| All Balls Fork Seal Kit | 55-108 |
| All Balls Fork Seal Kit | 55-109 |
| All Balls Fork Seal Kit | 55-110 |
| All Balls Fork Seal Kit | 55-111 |
| All Balls Fork Seal Kit | 55-112 |
| All Balls Fork Seal Kit | 55-113 |
| All Balls Fork Seal Kit | 55-114 |
| All Balls Fork Seal Kit | 55-117 |
| All Balls Fork Seal Kit | 55-119 |
| All Balls Fork Seal Kit | 55-120 |
| All Balls Fork Seal Kit | 55-121 |
| All Balls Fork Seal Kit | 55-122 |
| All Balls Fork Seal Kit | 55-123 |
| All Balls Fork Seal Kit | 55-124 |
| All Balls Fork Seal Kit | 55-125 |
| All Balls Fork Seal Kit | 55-126 |
| All Balls Fork Seal Kit | 55-127 |
| All Balls Fork Seal Kit | 55-129 |
| All Balls Fork Seal Kit | 55-131 |
| All Balls Fork Seal Kit | 55-132 |
| All Balls Fork Seal Kit | 55-134 |
| All Balls Fork Seal Kit | 55-135 |
| All Balls Fork Seal Kit | 55-137 |
| All Balls Fork Seal Kit | 55-139 |
| All Balls Fork Seal Kit | 55-140 |
| All Balls Fork Seal Kit | 55-116 |
| All Balls Fork Seal Kit | 55-130 |
| All Balls Fork Seal Kit | 55-133 |
| All Balls Fork Seal Kit | 55-141 |
| All Balls Fork Seal Kit | 55-143 |
| All Balls Fork Seal Kit | 55-144 |
| All Balls Fork Seal Kit | 55-147 |
| All Balls Fork Seal Kit | 55-148 |
| All Balls Fork Seal Kit | 55-150 |
| All Balls Fork Seal Kit | 55-149 |
| All Balls Fork Seal Kit | 55-115 |
| All Balls Fork Seal Kit | 55-128 |
| All Balls Fork Seal Kit | 55-151 |
| All Balls Fork Seal Kit | 55-152 |
| All Balls Fork Seal Kit | 55-153 |
| All Balls Fork Seal Kit | 55-154 |